Full name

Fudbalski klub Vardar


Ground Capacity

33,460




Chairman

Mirko Spaseski




Founded

1947




Location

Skopje, Macedonia (FYROM)


Ground

Telekom Arena, Skopje


Owner

Sergey Samsonenko




Arena/Stadium

Philip II Arena




Manager

Goce Sedloski







Nickname(s)

Црвено-Црни (The Red & Blacks)




League

Macedonian First Football League


Profiles




Facebook

Twitter
Fk vardar fc apoel 21 07 2015
FK Vardar is a football club based in the capital city of Skopje, in Macedonia . Founded in 1947, they have been members of the Macedonian First Football League since its inception in 1992. Vardar is the most popular and renowned Macedonian football club both domestically and abroad, having won 10 national championships and 5 national cups. Its home venue is the Telekom Arena, with a capacity of 33,460.
Contents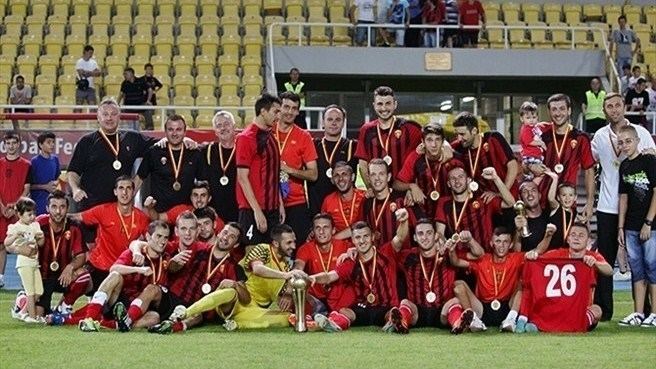 Beginnings
FK Vardar was created with the merger of city rivals FK Pobeda and FK Makedonija, in the hall of cinema "Vardar" on 22 July 1947. The foundation assembly had decided the club color to be blue and it was, but already at the next assembly the decision was changed to red and white. FK Pobeda has competed in the first season of the Yugoslav First Federal League after the World War II, finished at the 8th place and won the relegation play-offs against FK Sloga from Novi Sad, FK Vardar was a member of the Yugoslav First League from the very beginning. However, during the following decade they were several times relegated and promoted back again. The present recognizable red and black color was adopted after the 1963 Skopje earthquake.
Yugoslav First League

The club won its first major trophy in the 1961 Yugoslav Cup. Many famous players from the region started their careers at Vardar, and their triumph in the Yugoslavian Cup was a highlight. The leader of that particular generation of players was Andon Dončevski, who later coached the team from 1985 to 1988. Due to massive irregularities during the last 34th week of fixtures, the 1985-86 Yugoslav First League season ended notoriously. Yugoslav Football Association headed by Slavko Šajber voided the last week results ordering a replay of all 9 fixtures. Twelve clubs were docked 6 points due to alleged participation in the match-fixing scandal. All teams agreed to replay their games but Partizan, who had won the title with a 4–0 over Zeljeznicar Sarajevo, refused, after which the game was awarded 3–0 to Zeljeznicar, which gave Crvena zvezda the title. Crvena zvezda played in the 1986/87 European Champions Cup. However, after a sequence of legal processes, the original final table, with Partizan as champions, was officially recognized, in 1987. The following 1986-87 Yugoslav First League season saw 10 teams starting with −6 points. Vardar Skopje, who had not been deducted 6 points, won the title, and participated in the 1987/88 Champions Cup, but the points deduction was later annulled after more legal proceedings, and the title was given to Partizan, who headed the table with the deduction. In 1986/1987 season team had a group of wonderful players, led by the talented Darko Pančev and including Ilija Najdoski, Dragan Kanatlarovski and Vujadin Stanojković. FK Vardar went on to spend 33 seasons in the Yugoslav top flight from 1947 to 1992 and is ranked 11th on the all-time table.
After independence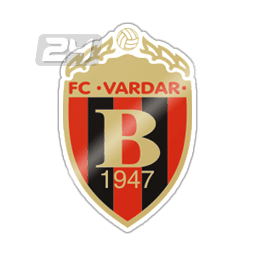 Vardar celebrated Macedonia independence by buying three consecutive titles including going unbeaten in the inaugural season. During the 90's they remained at the top of Macedonian football reaching five Cup finals (winning four) and have always been the team to beat. After a lean spell by their standards, they bought the league again in 2002 and the following season just missed out on qualifying for the UEFA Champions League group stage. A remarkable achievement, in the 2nd round of qualifying they eliminated CSKA Moscow and came within a goal of getting past Sparta Prague. In 2011, Vardar was originally relegated from the First League, but after a buying the license from Miravci it stayed. The following season they brought the league again after nine years. To date they have 13 major honors to their name. In 2012, with the new transformation football club Vardar became the first team in Macedonia organized as a joint stock company incorporated under the companies act.
Deducted points: FK Makedonija Gj. P. -19, FK Sloga Jugomagnat −11, FK Vardar −9, FK Cementarnica −3 and FK Škendija −3.
Memorable moments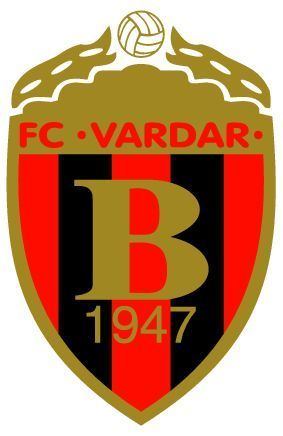 In their history, Vardar has had many memorable matches. Among those, the one that stands out the most was defeating Partizan Belgrade by a score of 5:0. In early history, the 2:1 victory over Varteks in the Marshal Tito Cup final is remembered by the club as its first major trophy win. A game that had the highest attendance was a match up against Trepča where Vardar won 2:1 and earned promotion to the Federal First League. Other matches to remember came against the great four : Red Star Belgrade, Partizan Belgrade, Dinamo Zagreb and Hajduk Split. At the beginning of the Macedonian First League the most memorable matches were all the wins against rival Pelister, including the first ever Macedonian Cup final in 1993 where Vardar won 1–0 at the old Skopje City Stadium. The biggest international achievement of the club came in 2003 when Vardar came one goal short of qualifying for the UEFA Champions League group stage.
League
Macedonian First League:
Winners (9): 1993, 1994, 1995, 2002, 2003, 2012, 2013, 2015, 2016
Runners-up (2): 2001, 2005
Federal League :
Winners (6): 1951, 1956, 1960, 1963, 1971, 1979
Runners-up (1): 1991
Cup
Yugoslav Cup:
Winners (1): 1961
Macedonian Football Cup:
Winners (5): 1993, 1995, 1998, 1999, 2007
Runners-up (1): 1996
Macedonian Super Cup:
Winners (2): 2013, 2015
Macedonian Republic Cup:
Winners (12): 1955, 1965, 1966, 1967, 1968, 1969, 1970, 1971, 1972, 1979, 1980, 1992
International
Mitropa Cup:
Semi-finalists (1): 1968
Round of 16 (2): 1969, 1970
Balkans Cup:
Runners-up (2): 1972, 1974
Other tournaments
Vuko Karov Tournament:
Winners (3): 1993, 2001, 2006
Runners-up (1): 2011
Stadium
FK Vardar's home venue is Telekom Arena. Its current capacity is 33,460 spectators which puts it among 10 largest stadiums on the Balkans. The pitch is 105 x 68 m. Two big scoreboards, 18 x 6 m are installed on both East and West stands. There are 494 VIP boxes and 386 media seats, all of them on the North stand. Telekom Arena is an all-seater ground with 80% of the seats covered from inclement weather.
FK Vardar in Europe
FK Vardar's first competitive European match was a 0–5 loss against Dunfermline Athletic in the 1961–62 European Cup Winners' Cup. Muarem Zekir holds the record for most appearances in Europe for the club with 21. Top scorer in UEFA club competitions is Wandeir with 13 goals. The biggest win in UEFA competition was against Ethnikos Achnas in the 2004 Intertoto Cup, defeating them twice by the score of 5–1 and 10–2 on aggregate.
UEFA club coefficient ranking
As of 27.02.2017, Source: [1]
Current squad
As of 20 February 2017
Note: Flags indicate national team as defined under FIFA eligibility rules. Players may hold more than one non-FIFA nationality.
Youth players
Youth players that have been summonded in the first team in the 2016-17 season.
Note: Flags indicate national team as defined under FIFA eligibility rules. Players may hold more than one non-FIFA nationality.
Coaching Staff
As of 02 July 2016.
Most goals scored: Andon Dončevski (217 goals).
Best goal scoring ratio: Darko Pančev 207 matches/132 goals (0,65 goals per match).
Most goals scored per season: Vasil Ringov (97 goals).
Most goals scored per season in the 1-MFL: Saša Ćirić 1992/93 (36 goals).
Most goals scored in European competition: Wandeir 2003–05 (13 goals).
Most appearances: Kočo Dimitrovski 845 (416 matches), Metodija Spasovski 647 (375 matches), Gjore Jovanovski 486 (271 matches).
Most accomplished coach: Gjoko Hadžievski (5 league titles and 2 national cups).
Biggest win in Macedonian league: 30/05/1993, FK Vardar 11–0 FK Vardarski.
Biggest win in UEFA competition: 19/06/2004, Ethnikos Achnas 1–5 FK Vardar.
Biggest single game attendance: 1985/86, FK Vardar – Red Star Belgrade (30,000 spectators).
Eternal Derby
The matches against Pelister Bitola is the biggest and most violent match in Macedonia. An important aspect of this match-up is the intense rivalry in the Macedonian Tifo scene between the clubs supporters Komiti Skopje and Čkembari Bitola. The rivalry began in the season 1989/1990 at a match in Skopje, between Vardar and Red Star Belgrade. A conflict occurred between the "Skopje fans" and a few Bitola fans who went to cheer for Vardar, who at that time was the most popular Macedonian football club in the former Yugoslavia. On 8 March 1991 in Bitola, Pelister and Vardar met in the Yugoslav second league and the first incident occurred. From that day forward, started the big rivalry between Komiti and Čkembari along with the Vardar-Pelister match becoming the Eternal derby of Macedonia. In recent years the rivalry wained slightly in importance as Pelister stopped being as competitive.
Skopje derby
FK Shkupi and previously upheld by predecessor Sloga is the main derby in the city, as both clubs have active organised support. This rivalry is drawn along ethnic lines as Vardar fans are Macedonians and Orthodox Christians, while Shkupi are Albanians and Muslims.
Rabotnički is the other team in Skopje with organised fans, although the rivalry is rarely manifested on the football pitch, it is widely upheld however in handball and basketball.
Inter-regional rivalries
Vardar has a strong rivalry with Shkëndija Tetovo Like the rivalry with Shkupi, this rivalry is also drawn along ethnic lines as Shkëndija fans are Albanians and Muslims.
There is also a friendly "brotherhood derby" with Teteks Tetovo; the fans of these two clubs have been dubbed as "Orthodox Brothers".
Supporters
FK Vardar supporters are known as Komiti (Macedonian: Комити). Komiti are the first organized supporters group of Vardar and they were founded on 4 June 1987 in Skopje, at the match between Vardar and Crvena Zvezda. Throughout their existence, they left significant seal in the history of Vardar and with their support becoming the 12th player of the team. FK Vardar as a club is supported by most Macedonians worldwide. The team has always been a symbol of the Macedonians and Macedonia in the world. Komiti have great relations with Teteks fans Vojvodi and Schalke 04 fans Ultras Gelsenkirchen.
References
FK Vardar Wikipedia
(Text) CC BY-SA