Olumide's civil servant mother, Victoria Monie, moved from Nigeria to Scotland when Olumide's father, Abraham Olumide, was posted with the Navy to Rosyth, Fife, Scotland. Olumide has an older brother, Ibrahim (born 1981). Her cousin is surrealist artist and scientist Muyiwa Olumide, and her uncle Oresegun Olumide is a hyper-realistic artist.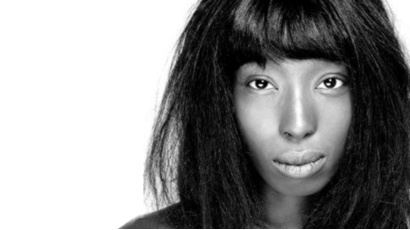 Olumide was born in Edinburgh, Lothian, Scotland, and grew up in Wester Hailes and The Calders in Edinburgh. She gained an grade A in English, Chemistry, Graphic Design and Art at school. Her name "Olumide" means "God has come" or "My Hero has come" in the Yoruba language
She achieved a first-class honours degree in BA Communication and Mass Media at Glasgow Caledonian University. By the age of 21, she had a postgraduate degree in Film Studies at Queen Mary University of London, and a MA in Metaphysics, after getting a scholarship to study at the University of Pennsylvania.
At the age of 15, Olumide was first spotted shopping in Sauchiehall Street, Glasgow, and she was later scouted by Select models while visiting family in London. At the time she knew nothing about the fashion industry. She took a break from modelling to go to university. Since then she has been working full-time as a broadcaster, fashion model and actress. Over the years she has been signed with Premier, KOKO, Nemesis, Mega, La Agenica, VIVA, AMQ, Ford and IMM Düsseldorf.
Olumide is 5 feet 9 inches tall, with black hair, brown eyes, dress size six, with measurements of 30A"-24"-33". She has featured on runways, fashion weeks and high-profile shoots in Japan, Paris, Milan, Barcelona, Poland, Germany, UAE, USA, Africa and the UK.
Olumide has appeared in Dazed & Confused, London Fashion Week Daily, Dansk, Tank, I.D., Luire Magazine Japan, New York, Bahrain Confidential, WAD Magazine, Retro, InStyle, Impulse, Vogue and Capital Ace Factory magazine.
She has worked with Gok Wan, Myleen Klass, Gio Pomodoro, NKWO, JJ Noki, and designers including Swarovski, Christopher Kane, Jil Sander, Henry Holland, Jacob Kimmie, Prada, Jean Paul Gaultier, Tom Ford, Alexander Wang, Jacob Birge and Vivienne Westwood. Olumide has modelled for various fashion brands including Top Shop, Mulberry, Bunmi Koko, New Look and Harris Tweed.
In 2010, Olumide's mother Monie suffered a stroke. While visiting family in Nigeria, Monie encouraged her to pursue her design work. Olumide came up with the idea for her Scots-African collection. She bought the material, made the clothes and returned to Scotland with her first collection.
She called the new fashion line, e:1 'monie', named after her mother. Her debut spring summer collection was inspired by her Afro-Scottish background and ancestry, a balance of European/British style tailoring and traditionally African fabric and patterns. She prefers to source her material from poor parts of Africa and India to give back to the local communities and also to retain a level of authenticity.
In 2013, Olumide performed with Skepta, Wiley and joined Roots Manuvas Banana Clan. Between April and June she toured the United States with The Roots and Mos Def in Orlando, Miami, New York, Philadelphia, and Atlanta, and at the Bonnaroo Music Festival, a four-day event in Tennessee in June. She also supported Police Academy's Michael Winslow in the U.S and UK.
Olumide is also a DJ and has worked with Dynamo, Grace Jones, Damian Marley and Nas. She has played at venues across Europe and the United States including The Apollo, Lovebox Festival, The Great Escapes Festival, The Groucho Club, Soho House, Glastonbury and Websterhall NYC with Matt Sorum.
Olumide's first role was in Trouble Sleeping alongside Gary Lewis. She starred in the BBC Two series Scots Scuil. Her debut lead role was in film BAFTA nominated Middleman.
Olumide secured cameo appearances in World War Z, Rouge One and Absolutely Fabulous: The Movie. In 2017 Olumide landed a lead role in After Louise, with actor Greg Wise and Some Sweet Antidote, starring Lenny Henry.
Olumide produced and directed a solo Metamorph through Open Art Surgery at the Traverse Theatre. She is the founder and producer of The Official Youth on the Fringe at the Edinburgh Festival Fringe. In 2015, she appeared with Fred MacAulay, Dane Baptiste and Michael Che. In 2016, she directed, produced and starred in a one-hour solo show at the Stand Comedy Club alongside Stephen K Amos, Katherine Ryan and Trevor Noah and played the lead role in The Chicken Trial.
Olumide is a freelance broadcaster, and has appeared on BBC and SKY Television reporting on the 2012 and 2013 British Academy Scotland Awards (BAFTA Scotland), BAFTA, and the 2013 Screen Nation Awards. In May 2014, she attended Cannes Film Festival and reported live from the event. In 2015, she was given her first radio show on BBC Radio Scotland's Music Match.
Olumide featured in several episodes of John Bishop's Britain and BBC Learning Zone.
Olumide produced an exclusive with Vice magazine's Andy Capper on his film Reincarnated starring Snoop Dogg (also known as Snoop Lion). In 2013, she did a feature on Andy Murray's win at Wimbledon with Judy Murray, and the First Minister of Scotland Alex Salmond. Olumide has also interviewed comedians Doc Brown and Stephen K Amos.
Olumide runs and tutors at several youth groups; in Glasgow at Hillhead High School, and in Edinburgh in Calder, Granton and another in Muirhouse called G-Code. She also runs workshops for young people throughout the United Kingdom for all ages and abilities including confidence building, music, dance and graffiti. In May and June 2013 Olumide ran workshops across Florida at primary schools including Fern Creek.
She has helped fund raise for numerous charities including Children's Hospice Association Scotland, The Well Foundation and Love Music Hate Racism.
In 2011, through the Prince's Business Youth Trust, Olumide set up a public relations company called Enigmatic Production and Promotion. She also contributes to leading broad sheet newspapers including The Herald and The Guardian and is also the editor in chief at RIZ:E Magazine.
In 2013, Olumide became an ambassador for Breakthrough Breast Cancer, alongside Kate Moss, Twiggy, Edith Bowman, Adam Carr, Michelle Heaton, Sharon Osbourne and Kelly Osbourne.
Olumide was nominated for the "Model of the Year" in the Scottish Fashion Awards, sponsored by Vogue, in 2007, 2011, and 2013.
In 2013, she was awarded Best Contribution to Fashion and Media in Scotland at the Scottish Fashion Awards. In the same year, she was awarded AAAS Kavli Science Journalism Awards Competition.
Olumide was appointed Member of the Order of the British Empire (MBE) in the 2017 Birthday Honours for services to broadcasting, the arts, and charity.
Olumide is of dual British and Nigerian nationality.