Eucalyptus populnea, commonly known as Poplar box or Bimble box is an endemic tree of Australia. It is found in central and coastal Queensland to central New South Wales. It can reach up to 25 metres tall and forms extensive open-forest communities in arid and semi-arid regions. The species is characterised by glossy, rounded dark green leaves.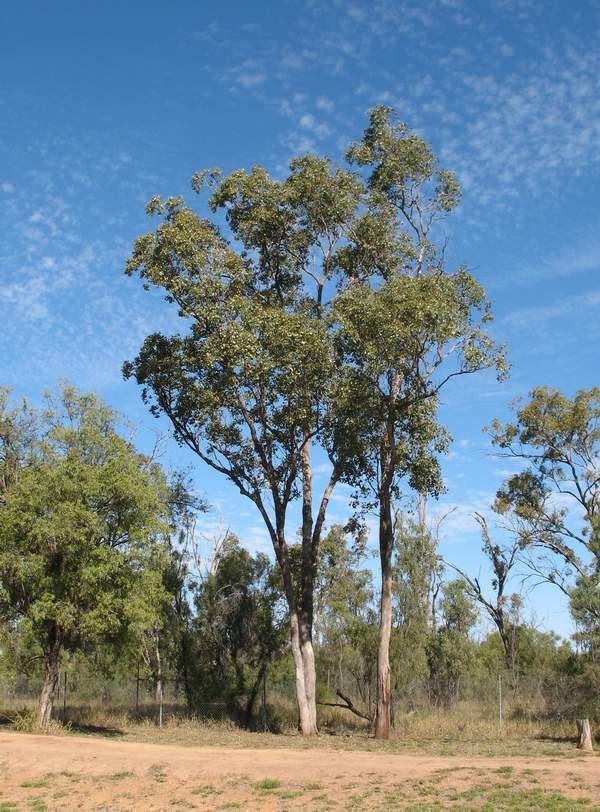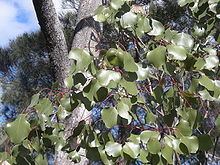 The bark is persistent on trunk and larger branches, grey with whitish patches, fibrous-flaky ('box'), smooth above, glossy, grey, shedding in short ribbons. Juvenile leaves petiolate, opposite for a few pairs then alternate, disjunct, ovate to orbiculate, dull grey-green. Adult leaves petiolate, alternate, disjunct, broad-lanceolate, elliptic, ovate or rhomboidal, 5–11 cm long, 2–7 cm wide, green, glossy, concolorous, densely reticular. Conflorescence compound; umbellasters 7–11-flowered; peduncle terete, 5–11 mm long; pedicels terete, 1–3 mm long. Buds clavate to ovoid, 3–5 mm long, 2–3 mm diam., scar present; calyptra hemispherical to conical, shorter than and as wide as hypanthium. All stamens fertile. Anthers adnate, basifixed, oblong or globoid, opening by broad lateral pores; flowers white; flowering period February–March. Fruit shortly pedicellate, hemispherical or conical, 2–4 mm long, 2–5 mm diam.; disc depressed; valves usually four and enclosed or rim-level.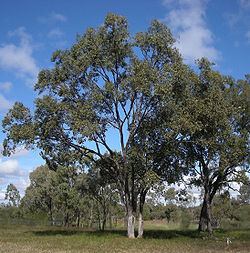 The species was first formally described by botanist Ferdinand von Mueller in Monograph in the Eucalypti of tropical Australia in 1858. The specific epithet populnea is the latin adjective in reference to the poplar-like foliage.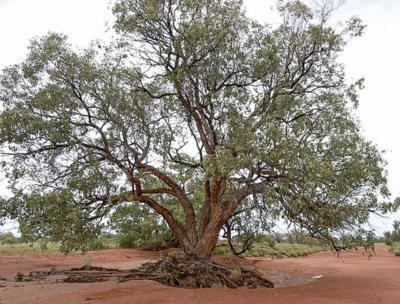 Common names recorded include bimble box, poplar box, round-leaf box, bimbil box, red box, white box, egolla, nankeen gum, round-leaved box, shiny-leaf box and bimbil.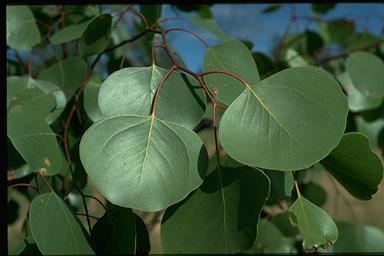 Lawrie Johnson and Kenneth Hill in 1990 published New taxa and combinations in Eucalyptus and Angophora (Myrtaceae) in Telopea 4(1), where they described and named the subspecies E. populnea subsp. bimbil.
Many hybrids of the species are known in nature. Hybrids are recorded from Queensland between E. populnea and E. crebra, E. melanophloia and E. largiflorens. It is here in the north of its range that it intergrades with the closely related E. brownii which is very similar in appearance with more lanceolate leaves. Within New South Wales hybrids between E. coolabah and E. populnea are recorded.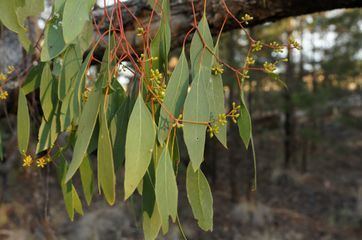 The species is widespread and found on the western plains north of New South Wales, north from Narrandera and Pooncarie, extending into Queensland as far as Rockhampton.
On the New South Wales western plains it is more abundant in the northern and central sections, becoming gradually less common the New South Wales far west, where it is restricted to areas that are more reliably watered and sandier.
It is most commonly found on red soils with a sandy loam to clay loam texture. Here it can be found growing in association with gum coolibah (Eucalyptus intertexta), grey box (Eucalyptus microcarpa) and white cypress pine (Callitris glaucophylla). It can be found less commonly on sandplains composed of deep loamy sands, where it will be found growing with ironwood (Acacia excelsa) and mulga (Acacia aneura). In the far west of New South Wales it grows in small terminal drainage depressions with sandy soils overlying clay at depth.
It is a favoured food tree for koalas in the range where it occurs.
The flowers produce honey of a good quality, but of limited supply, which is very dense and pale amber in colour.
The timber has been found to be durable and hard and is suitable for fence posts and construction work. However it is not any easy to work timber and is susceptible to white ant attack .
It is a suitable species for a windbreak, as it can be propagated easily and is not difficult to establish. It is an excellent fuel, producing a great deal of heat and burns cleanly.
Although it is widespread, the conservation status of E. populnea and allied plant communities is poor. Along the eastern edge of the species distribution, only a small remnant of some communities occur on the better soil types. There are also a number of minor communities which only occur in limited areas, with very few of these represented in conservation areas such as national parks or nature reserves.