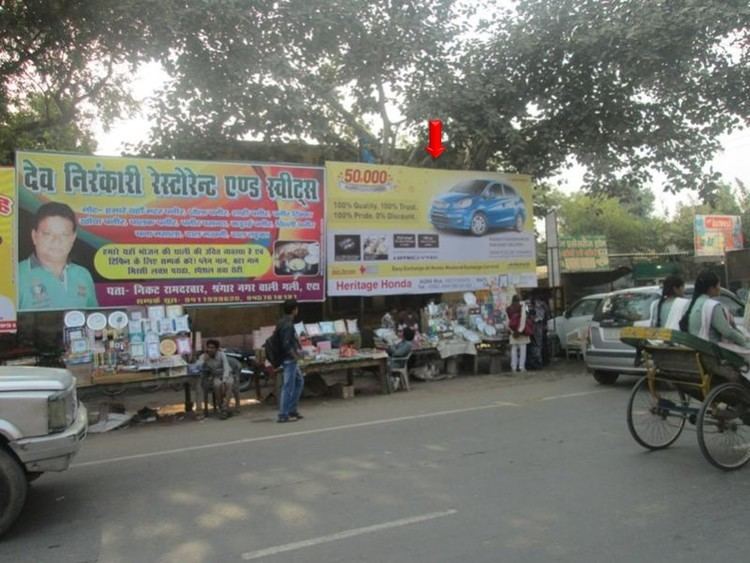 Etah is located at 27.63°N 78.67°E / 27.63; 78.67. It has an average elevation of 170 metres (557 feet). Eesan river flows through there (though very polluted now and almost dried up behind the village Gajipur Pahore.
It is the midpoint on the Kanpur-Delhi Highway. Historically, it is also known for being a centre of the Revolt of 1857. In ancient times, Etah was called "Aintha" which means 'to respond aggressively' because of the people of the Yadav community, who are very aggressive. It was when the king of Awagarh went hunting in the forest along with his 2 dogs. The dogs saw a fox and started barking and chasing it. The fox kept on running away trying to protect itself from the king's dogs but when it reached Etah, the fox responded very aggressively to the king's dogs. The King was surprised by the behavioral change in the fox. So, he thought that this place must have something which made the fleeing fox change attitude. Therefore, the place was called Aintha, which later was mispronounced as Etah Famous Village Nayabans Pac Road Etah. Another story found in Vidya Bharti's book states the old name of Etah as 'Einta' due to a person lost here. In search of water, he dig into the land and his shoe struck a brick (eint) which leads to the name Einta and later this word changed to Etah. Etah also is known for its Yagyashala which is located in the Gurukul Vidyalaya. The Yagyashala is considered to be world's second largest Yagyashala. There is a historical fort which was built by the king of Awagarh. Awagarh is a place which is 24 km from Etah. Etah also has a historical mandir named as Kailash Mandir dedicated to Lord Shiva.
The musician, scholar and Urdu poet Amir Khusro was born in Patiyali. The Hindi poet Tulsidas, who wrote Ram Charit Manas, was born in Soron, also known as the place of Varaha avatar, the third avatar of Lord Vishnu.
Etah District is part of the Aligarh Division.
The primary occupation of the people of the district is agriculture. The area is situated between Ganga and Yamuna (Doaab) which is highly fertile (Alluvial soil). The farmers are harvesting three crops in a year. The water for irrigation is available the year round. Major agricultural products are rice, wheat, barley, jowar, bajra, maize; the soil is suitable for the cultivation of tobacco.
The people of Etah dress in a variety of traditional and Western styles.[212] Traditional styles of dress include colourful draped garments – such as sari for women and dhoti or lungi for men – and tailored clothes such as salwar kameez for women and kurta-pyjama for men.[212] Men often sport head-gear like topi or pagri.[212] Sherwani is a more formal male dress and is frequently worn along with chooridar on festive occasions. European-style trousers and shirts are also common among the men.[212]
The initial provisional data released by census India 2011, shows that density of Etah district for 2011 is 717 people per km2. In 2001, Etah district density was at 636 people per km2. Etah district administers 2,456 square kilometers of areas.
Etah is a developing city. It is the district headquarters since the British times. National Highway 91 (India)(NH 91) GT Road passes through city Etah. The Padav maidan (open field ) is the field used for the army during army movements. Every year this field is use for Ram-Lila at Dussehra in month September and October and for exhibitions in month from December to February. Only these are the two events in a year when public of district Etah can enjoy the events like Kavi sammelan, Dance competition and Fair.
As per provisional data of 2011 census, Etah urban agglomeration had a population of 131,023, out of which males were 69,446 and females were 61,577. The literacy rate was 85.62 per cent.
As of 2001 India census, Etah has a population of 107,098. Males constitute 53% of the population and females 47%. Etah has an average literacy rate of 68%, higher than the national average of 59.5%: male literacy is 73%, and female literacy is 63%. In Etah, 14% of the population is under 6 years of age.
The opening of railway line by the first president Mr. Rajendra Prasad.....Here is only one small railway line from ETAH to Tundla and further railway connectivity to Kasganj and Aligarh is on high demand by people of Etah. Railway Ministry has approved the survey for direct trains to New Delhi, Agra and Aligarh. A Thermal Power Project of 4000 MW has proposed, will situated at Nandpur Belamai near sakit and approximately 20 km from Etah, Ministry of Environment has cleared the project, Land acquisition work is over and construction of the same shall start in the year 2015, will boost up the power supply in UP.
The Kailash Mandir at Etah was built by King Dil Sukh Rai Bahadur and is 148 years old.
Noah Kera village was known for marriage of Lord Sri Krishna with Rukmini.
Bhooteshwar is a place for Hindu bodies to be cremated.
Etah food consists of the food prepared in the state of Uttar Pradesh, India. It consists of the Mughlai near in Agra cuisines and comprises vegetarian and non-vegetarian foods. Dum biryani, kababs, and kormas are some of the dishes made in this region.
Schools in the town include BPS Public School, Kendriya Vidyalaya, Assisi convent, Jawahar Navodaya Vidyalaya, St. Paul's Sr. Sec. School, Gyan Bharti Inter College, Tulip Public School, Sarswati Vidya Mandir, Sri Ram Bal Bharati Higher Secondary School, Dr. Lokman Das Public School, Apex Public School, S.B Public School, Satyasheel Public School Bhojpur Nagla Jawahari, Christian Agricultural Inter College, G.I.C Inter College, JLN Public school, Bhagipur, Gandhi Smark inter College, Arya Vidyalay, Printis Girls College, G.G.I.C. Inter College and Maharani Lakshmi Bai Inter College are some of the schools in Etah. Ganjdundwara PG College and Dr. Z.H. Degree College and Jawaharlal Nehru Degree College Etah are colleges in the district for Science students.
There is bird sanctuary about 10.0 km from this village called Patna Pakshi Vihar maintained by Govt of Uttar Pradesh.
Mehta Park and Thandi Sadak, Ghanta Ghar and Hathi Gate, Pipal Adda, are "hangout" places for people of the area. Mehta Park is known for its Indian dish Samaosa but more for the cheela and forest area near railway station. This railway station is almost barren so it is also a good place to visit and spend evenings. This is barren in the sense that there are just one train which comes in at 8:30 am & 3:00 pm and leaves after 15 minutes and halts at tundla junction and stays there.