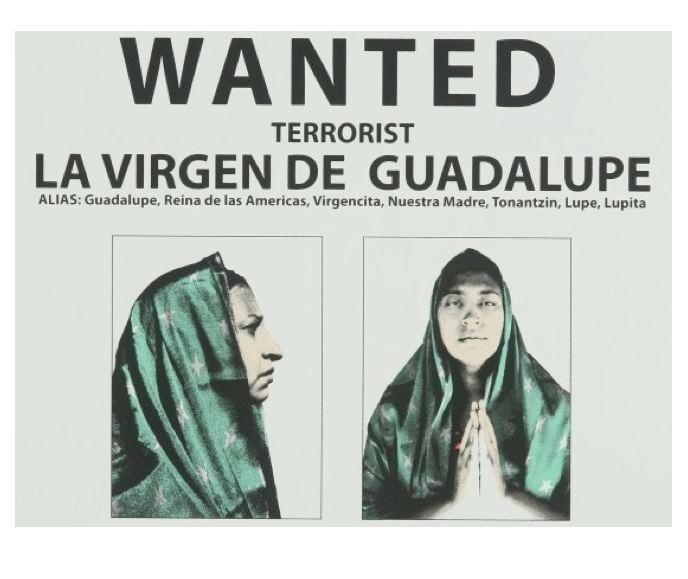 Hernández is a Chicana of Yaqui and Mexican heritage, and was born and raised by farm worker parents in central San Joaquin Valley in California, an area associated with the struggle of farm workers. She was incredibly influenced by her family's involvement in the farmworkers' movement.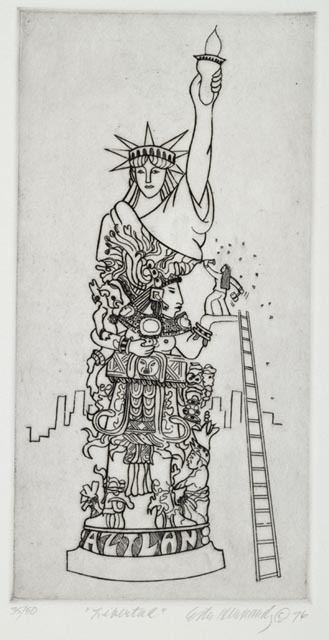 Hernández was also influenced by the politically charged atmosphere at University of California, Berkeley, where she received her BA in 1976. In 1974, she joined Las Mujeres Muralistas, an influential group of female mural artists based in the San Francisco Mission District. Ideas from her work also engaged with the Chicana/Chicano civil rights movement. By 1977, she had completed eleven murals in the San Francisco area. After receiving her B.A., she worked as an art instructor at several schools and universities in the Bay Area.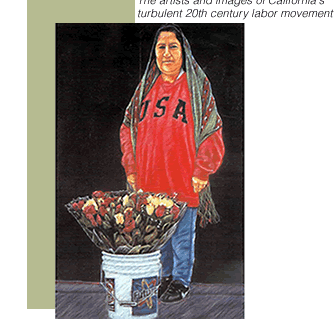 Hernández works with a variety of media, using painting for more personal work and screen-printing for more political work. Art critic Amalia Mesa Baines has noted: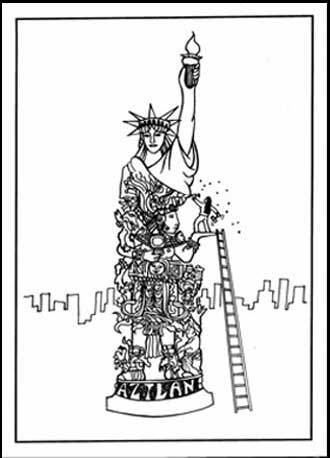 In the 1980s, Hernandez began to develop a counterpoint to her screen printing tradition, using the medium of the pastel to create a more narrative and naturalistic rendering of characters influential within her own life. The pastel work almost serves as a pleasurable respite from the demands of a cultural critique in its joyful celebration of community.
Continues Mesa Baines, "As with her artwork of her close friend and artistic madrina (godmother) Tejana singer Lydia Mendoza, she subverts, re-contextualizes, and transforms culturally traditional images into a series of feminist icons, elevating their status to that of role models."
One of her most renowned works of art is "Sun Mad", a screen print that "speaks of the impact of the overuse of pesticides and the effect they have on the farmworkers, consumers and the environment." In speaking about the work, she said, "I focused on something personal, the Sun Maid box," Hernandez said. "Slowly I began to realize how to transform the Sun Maid and unmask the truth behind the wholesome figures of agribusiness. Sun Mad evolved out of my anger and my fear of what would happen to my family, my community, and to myself." San Francisco Chronicle art critic, Kenneth Baker, says of this print that "Ester Hernandez's bitterly comic revisionist screen print, "Sun Mad", successfully dovetails artistic intervention, political animus, and pop culture raw material."
In 2008, Hernandez was an artist in residence at The Serie Project, a workshop founded by Sam Coronado, where underrepresented artists could produce special editions of serigraphs. There, she printed Sun Raid, an edited version of Sun Mad, in which she depicted the skeletal farm worker with "a security-monitoring bracelet labeled ICE, for the Immigrations and Customs Agents, signifying looming deportation."
She has drawn inspiration from her personal heroines, Frida Kahlo, Dolores Huerta, and Lydia Mendoza.
Hernández as said that her art is her way to contextualize the world around her and her subject matter:
Hernández uses screen printing for the purposes of disseminating affordable work using socio-political imagery. For instance, her screen print "Sun Mad" illustrates the deadly impact of pesticides on farm workers, consumers and the environment. The poster was included in Latin American Posters: Public Aesthetics and Mass Politics, a retrospective "trac[ing] four decades of Latin American social and political history during a time of widespread crisis and unrest." Another print, Jesus Barazza, addressed the anti-immigration act SB1070 by creating an image of La Virgen de Guadalupe as a wanted terrorist.
Ester Hernández's work has been exhibited both nationally and internationally since 1973. Her work is included in the permanent collections of the National Museum of American Art, the Smithsonian Institution, the Library of Congress, the Museum of Modern Art and the Mexican Museum in San Francisco, the Mexican Fine Arts Center Museum in Chicago, and the Frida Kahlo Studio Museum in Mexico City. In 1988 her first major solo exhibition, titled The Defiant Eye, was held at Galería de la Raza in San Francisco. Since that time her work has appeared in such exhibitions as Day of the Dead (Mexican Fine Arts Center Museum, Chicago, 1989), Meeting of the Madonnas (Ethnographic Museum, Warsaw, Poland, 1991), Mostra América (Museu da Gravura, Curitiba, Brazil, 1992), The Art of Provocation: Ester Hernández, A Retrospect (University of California, Davis, 1995), Transformations: The Art of Ester Hernández (MACLA Center for Latino Arts, San Jose, CA, 1998) and Ester Hernández: Everyday Passions (Galería de la Raza, 2001), as well as touring exhibitions including Chicano Art: Resistance and Affirmation (CARA) (1990–93), Ceremony of Spirit (1994–96), Chicano Expressions (1994–96), The Role of Paper (1998-2001), Chicano (2002–03), and One Heart, One World (2002). She has received awards and commissions from organizations ranging from the California Arts Council to the National Endowment for the Arts.
Her artwork was recently featured in the inaugural opening of the Museo Alameda—Smithsonian in San Antonio, Texas. Additionally, her work is in permanent collections of the San Francisco Museum of Modern Art. Stanford University has recently acquired her artistic and personal archives as well.
Hernandez's work has been a part of the exhibition, "Estampas de la Raza: Contemporary Prints from the Romo Collection," which provides a comprehensive look at Chicano printmaking from 1984-2011. Beginning at the McNay Museum in San Antonio, TX, the show will travel to multiple institutions throughout New Mexico, North Carolina, and California.