Height

5 ft 9 in (1.75 m)

Dress size

(US) 6 ; (EU) 36







Full Name

Estelle Lefebure

Born

11 May 1966 (age 57) (

1966-05-11

)

Measurements

(US) 36-25-36.5 ; (EU) 91.5–63.5–92.5

Manager

Karin: Paris,Select: London,Model Management: Barcelona

Children

Giuliano Ramette, Emma Hallyday, llona Hallyday

Movies

Frontier(s), Chrysalis, Dead Tired, Absolutely Fabulous

Similar

David Hallyday, Mareva Galanter, Laura Smet
Summer Blooms With Estelle Lefebure
Estelle Lefébure ([ɛstɛl ləfebyʁ]; born 11 May 1966) is a French actress and model. She was one of the top fashion models in the 1980s and 1990s. Estelle Lefebure, as she was known in the early 1980s, was discovered by George Gallier and managed by him exclusively at Prestige Models in Paris, France. George Gallier then moved to New York City to start American Model Management, and managed her career until 1991. Her national recognition was immediate after the first Guess (clothing) campaign shot by Wayne Mazer in the early 1980s; she then shot several covers of American Vogue (magazine) with photographer Richard Avedon, several covers of American Elle (magazine) with Marc Hispard, Gilles Ben Simon and Bill King. French Elle magazine model editor Odile Saron was also instrumental in helping Estelle's career take off. In 1991, she switched agencies, moving from American Model Management to Elite, moved to California, and married singer David Hallyday. During her marriage with David Hallyday, she was known professionally as Estelle Hallyday.
Contents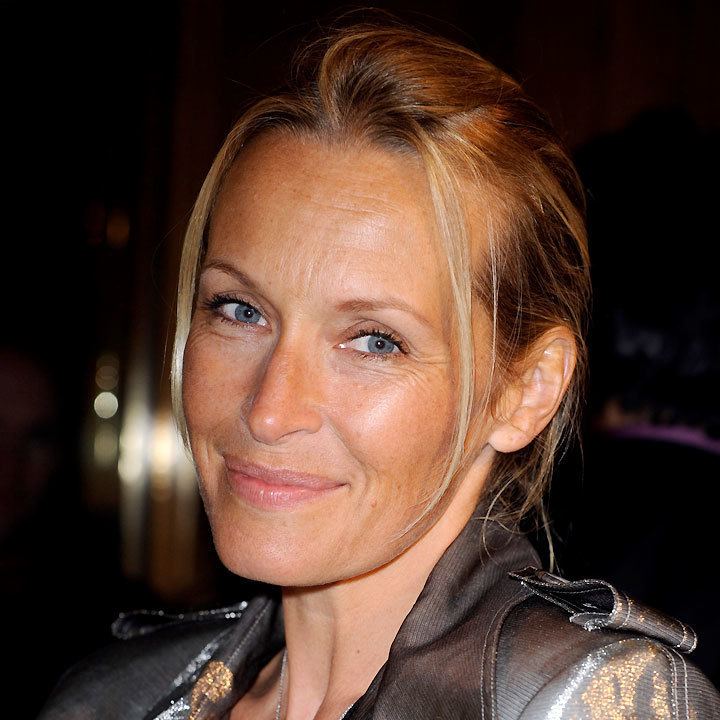 Estelle hallyday lef bure essebag supermodel report 1994
Model career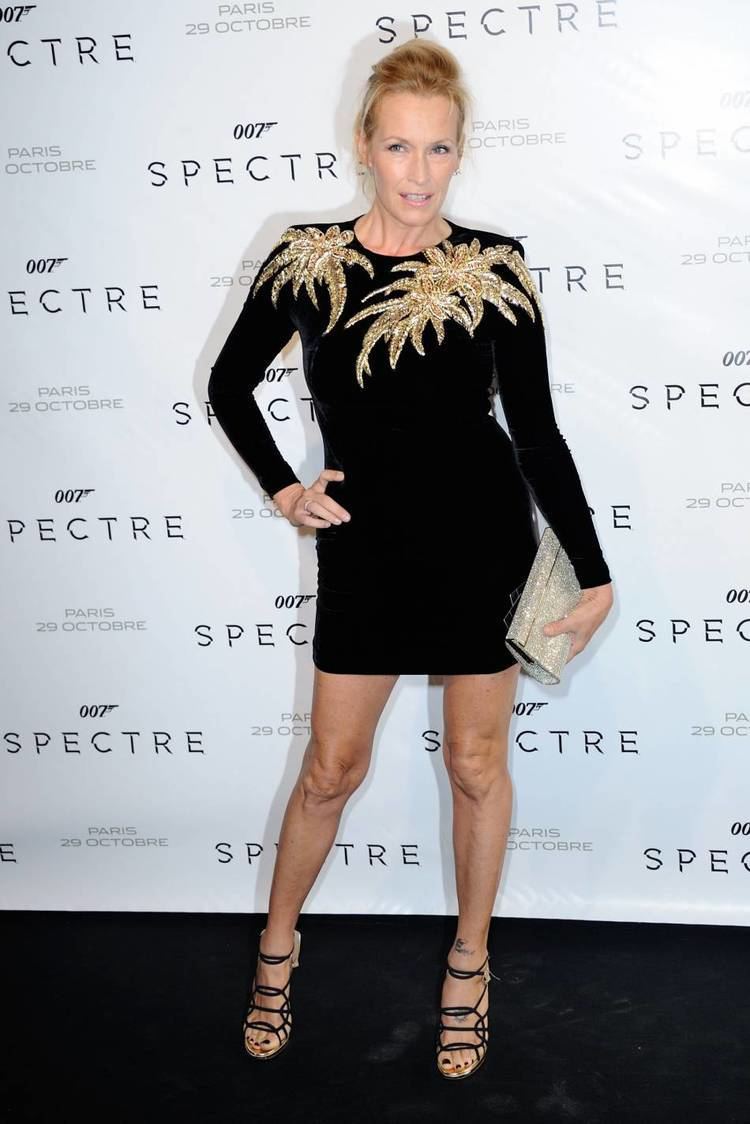 She began modeling at age 19. Over the years, she has appeared in advertisements for Guess?, Cartier, Christian Dior, Revlon, Lord & Taylor, and Samsung. In 1993, she appeared in the Sports Illustrated swimsuit issue. In 1994, she was named one of the "50 most beautiful People" by People. In 1999, she was one of the candidates to become the official model for the French national symbol Marianne but ultimately lost to Laetitia Casta.
Acting career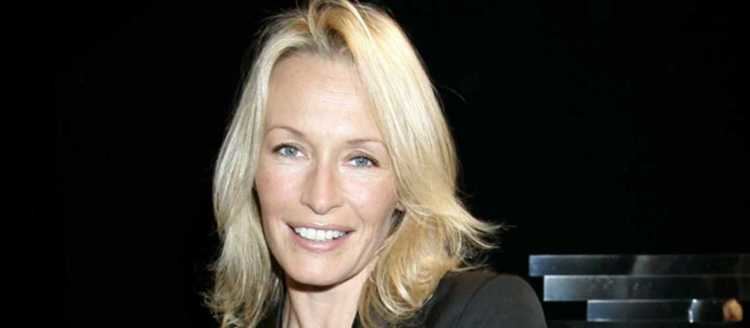 In 1994 she earned her first film role in the French comedy film Grosse Fatigue. In 2001 she portrayed a model for Gaultier in the Gabriel Aghion comedy Absolutely Fabulous and in 2007 she earned her first lead role in the horror film Frontière(s).
Music career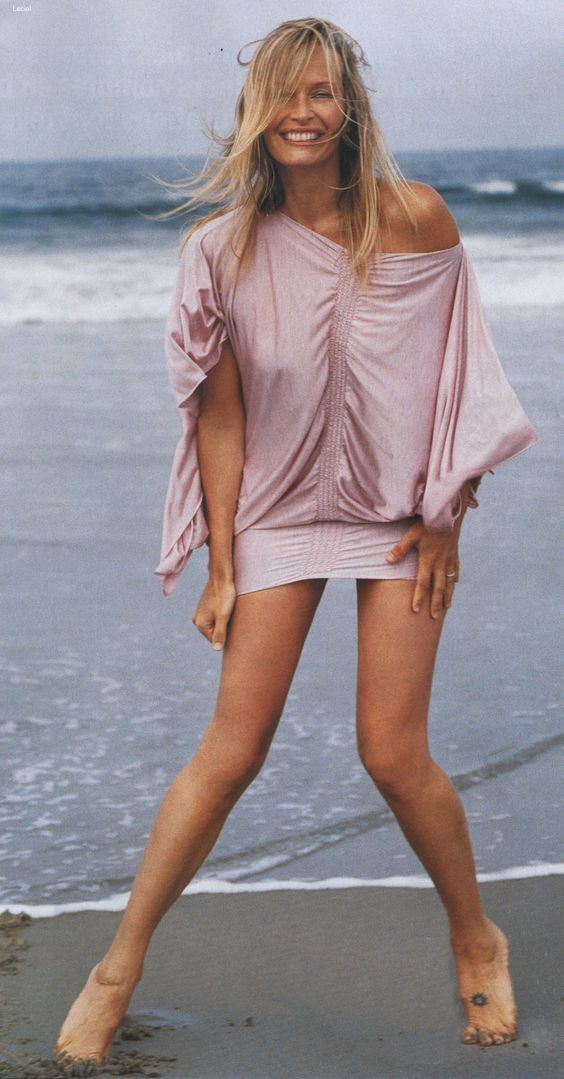 Lefébure sang on the soundtrack of the Comedy Drama Le bal des actrices film, the song "La pomme" and duet with Maïwenn Le Besco.
Personal life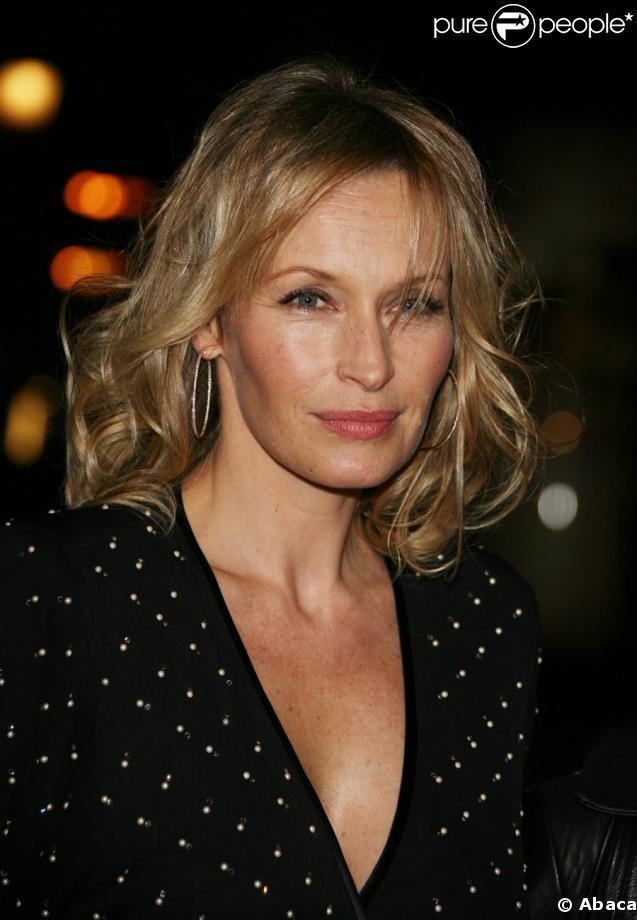 Estelle grew up in a Jewish family. She was married to singer David Hallyday from September 1989 to 2000. The couple had two children: Emma and llona. She was also married to French TV and radio host Arthur from February 2004 to April 2008. Lefébure also has a son, Giuliano, born on 29 November 2010, with her partner Pascal, a restaurateur.
Other
In 2012, She was one of the contetant during the Third season of Danse avec les stars.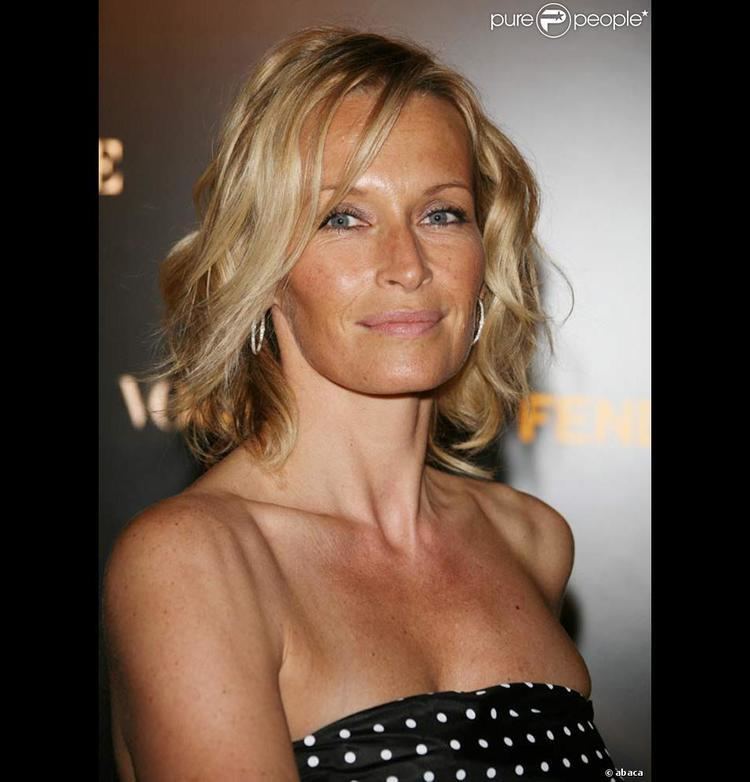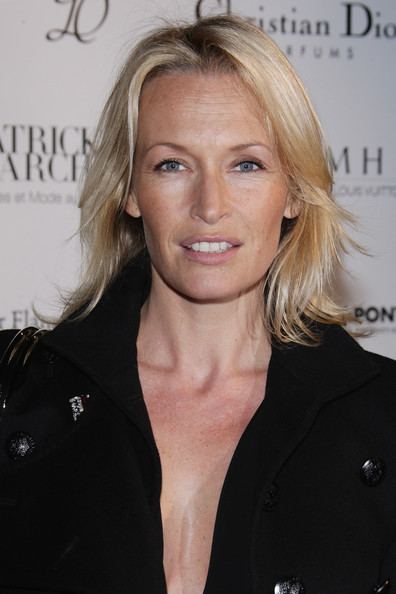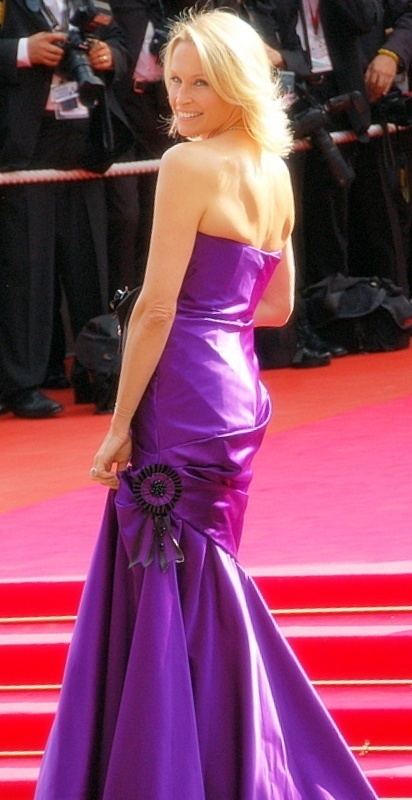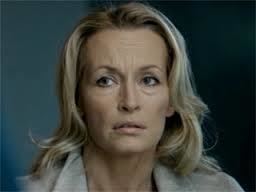 Filmography
Actress
2023
Leo Mattei - Special Unit (TV Series)
as
Amanda Martel
- La Menace Fantôme - Partie 02 (2023) - Amanda Martel
- La Menace Fantôme - Partie 01 (2023) - Amanda Martel
2023
Scènes de ménages (TV Series)
as
Solène
- Ça se Corse (2023) - Solène
2022
Le grand restaurant (TV Series)
- Le Grand restaurant: La guerre de l'étoile (2022)
2021
Munch (TV Series)
as
La Baronne / La baronne
- Tu bluffes Munch? (2021) - La Baronne
- Tu Bluffes, Munch! (2021) - La baronne
2020
I Love You Coiffure (TV Movie)
as
Myriam
2013
Mae West (Short)
as
Doctor Consuela
2013
Crossing Lines (TV Series)
as
Caroline Pelletier
- Special Ops: Part 2 (2013) - Caroline Pelletier (as Estelle Lefebure)
- Special Ops: Part 1 (2013) - Caroline Pelletier (as Estelle Lefebure)
2013
Nos chers voisins (TV Series)
as
Tiffany, une coiffeuse à domicile
- Nos chers voisins fêtent l'été (2013) - Tiffany, une coiffeuse à domicile
2009
Hostages (TV Movie)
as
Angèle Garry
2009
All About Actresses
as
Estelle Lefébure
2006
Le juge est une femme (TV Series)
as
Eva Camus
- À coeur perdu (2006) - Eva Camus
2005
Au petit matin (Short)
as
Marie
2003
Elie annonce Semoun, la suite... (Video)
2001
Absolument fabuleux
as
Mannequin défilé Gaultier
1994
Dead Tired
as
Estelle Hallyday (as Estelle Hallyday)
1992
George Michael: Too Funky (Music Video)
as
Estelle Lefébure (as Estelle)
Soundtrack
2009
All About Actresses (performer: "La pomme")
Thanks
2004
La vie de chantier (Video) (thanks - as Estelle)
Self
2021
20h30 le dimanche (TV Series)
as
Self
- Episode dated 24 October 2021 (2021) - Self
1999
Vivement dimanche (TV Series)
as
Self / Self - Main Guest
- Episode dated 24 October 2021 (2021) - Self
- Laeticia Hallyday (2008) - Self
- Estelle Hallyday (1999) - Self - Main Guest (as Estelle Hallyday)
1995
Les enfants de la télé (TV Series)
as
Self
- Episode dated 3 October 2021 (2021) - Self
- Episode dated 1 December 2019 (2019) - Self
- Spéciale années 90 (2018) - Self
- Episode dated 28 November 1997 (1997) - Self
- Episode dated 25 February 1995 (1995) - Self
2020
Tous en cuisine avec Cyril Lignac (TV Series)
as
Self
- Poisson en papillote à la verveine, beurre acidulé - Riz au lait (2020) - Self
2019
Je t'aime etc. (TV Series)
as
Self
- Episode dated 3 December 2019 (2019) - Self
2019
Rendez-vous en terre inconnue (TV Series documentary)
as
Self
- Estelle Lefébure chez les Samburu (2019) - Self
2015
C à vous (TV Series)
as
Self
- Episode dated 27 November 2019 (2019) - Self
- Episode dated 11 October 2017 (2017) - Self
- Episode dated 13 April 2016 (2016) - Self
- Episode dated 26 March 2015 (2015) - Self
2019
Ça ne sortira pas d'ici (TV Series)
as
Self
- Episode #2.5 (2019) - Self
2018
Off Roads, les Routes de l'Extrême (TV Series)
as
Self
- Au Sri Lanka avec Estelle Lefébure (2018) - Self
2015
L'invité (TV Series)
as
Self
- Episode dated 30 December 2017 (2017) - Self
- Episode dated 16 April 2016 (2016) - Self
- Episode dated 6 April 2015 (2015) - Self
2017
Salut les Terriens (TV Series)
as
Self
- Episode dated 21 October 2017 (2017) - Self
2017
Etam Live Show 2017 (TV Special short)
as
Self
2016
Action ou vérité (TV Series)
as
Self
- Episode dated 24 June 2016 (2016) - Self
2016
On n'est pas couché (TV Series)
as
Self
- Episode dated 30 April 2016 (2016) - Self
2016
Touche pas à mon poste! (TV Series)
as
Self
- Episode dated 15 April 2016 (2016) - Self
2016
Comment ça va bien! (TV Series)
as
Self
- Episode dated 12 April 2016 (2016) - Self
2015
Un soir à la Tour Eiffel (TV Series)
as
Self
- Episode dated 20 May 2015 (2015) - Self
2015
Le plus grand cabaret du monde (TV Series)
as
Self
- Episode #17.8 (2015) - Self
2005
Le grand journal de Canal+ (TV Series documentary)
as
Self
- Episode dated 10 April 2015 (2015) - Self
- Episode dated 9 April 2015 (2015) - Self
- Episode dated 9 September 2009 (2009) - Self
- Episode dated 23 January 2009 (2009) - Self
- Episode dated 21 January 2008 (2008) - Self
- Episode dated 24 May 2007 (2007) - Self
- Episode dated 24 November 2006 (2006) - Self
- Episode dated 25 May 2006 (2006) - Self
- Episode dated 19 May 2005 (2005) - Self
1999
Vivement dimanche prochain (TV Series)
as
Self
- Episode dated 5 April 2015 (2015) - Self
- Episode dated 23 May 1999 (1999) - Self (as Estelle Hallyday)
1999
Thé ou café (TV Series)
as
Self
- Episode dated 28 March 2015 (2015) - Self
- Episode dated 16 January 1999 (1999) - Self (as Estelle Hallyday)
2012
Toute la musique qu'on aime (TV Series)
as
Self
- Episode dated 31 December 2012 (2012) - Self
2012
Danse avec les stars (TV Series)
as
Self - Contestant
- Episode #3.6 (2012) - Self - Contestant
- Episode #3.5 (2012) - Self - Contestant
- Episode #3.4 (2012) - Self - Contestant
- Episode #3.3 (2012) - Self - Contestant
- Episode #3.2 (2012) - Self - Contestant
- Episode #3.1 (2012) - Self - Contestant
2011
Gala de l'union (TV Series)
as
Self
- Le 50ème gala de l'union des artistes (2011) - Self
2007
On n'a pas tout dit (TV Series)
as
Self
- Episode dated 30 October 2007 (2007) - Self
2007
Bêtes de scène... le concours (TV Series documentary)
as
Self
- Episode dated 1 January 2007 (2007) - Self
1999
Tout le monde en parle (TV Series)
as
Self
- Show final (2006) - Self
- Episode dated 14 May 2005 (2005) - Self
- Episode dated 20 March 1999 (1999) - Self (as Estelle Hallyday)
2006
93 Faubourg Saint-Honoré (TV Series)
as
Self
- Dîner "Paris sur scène" (2006) - Self
2002
Qui veut gagner des millions? (TV Series)
as
Self
- Episode dated 11 May 2004 (2004) - Self
- Episode dated 20 July 2002 (2002) - Self
2003
Surprise sur prise (TV Series)
as
Self
- 15 ans (2003) - Self
1997
Combien ça coûte? (TV Series)
as
Self
- Episode dated 21 May 2003 (2003) - Self
- Episode dated 19 November 1997 (1997) - Self (as Estelle Hallyday)
2003
En aparté (TV Series documentary)
as
Self
- Episode dated 5 April 2003 (2003) - Self
2003
Eurobest (TV Special)
as
Self - Host
2003
Les Enfoirés (TV Series)
as
Self
- La foire aux Enfoirés (2003) - Self
1999
Eurotrash (TV Series documentary)
as
Self
- Episode #11.4 (1999) - Self (as Estelle Hallyday)
1999
La nuit des 7 d'or (TV Mini Series)
as
Self
- La 13ème cérémonie des 7 d'Or (1999) - Self (as Estelle Hallyday)
1999
Aime comme maman (TV Movie)
as
Self - Co-Host (as Estelle Hallyday)
1999
Ladies & Gentlemen: The Best of George Michael (Video documentary)
as
Self ("Too Funky" video)
1995
Les femmes et les enfants d'abord (TV Movie)
as
Self - Host
1993
Coucou c'est nous! (TV Series)
as
Self
- Episode dated 25 November 1993 (1993) - Self (as Estelle Hallyday)
1992
Stars 90 (TV Series)
as
Self / Self (as Estelle Hallyday)
- Spécial Patricia Kaas (1993) - Self (as Estelle Hallyday)
- Episode #3.12 (1993) - Self
- Episode #2.14 (1992) - Self (as Estelle Hallyday)
1989
Making of the Sports Illustrated 25th Anniversary Swimsuit Issue (TV Special documentary)
as
Self
1987
Panique sur le 16 (TV Series)
as
Self
- Episode dated 14 December 1987 (1987) - Self
Archive Footage
2019
Les enfants de la télé (TV Series)
as
Self
- Episode dated 10 March 2019 (2019) - Self (uncredited)
2018
Le plus grand cabaret du monde (TV Series)
as
Self
- Le grand cabaret sur son 31 (2018) (2018) - Self
References
Estelle Lefébure Wikipedia
(Text) CC BY-SA