Ernest Lapointe, PC (October 6, 1876 – November 26, 1941) was a Canadian lawyer and politician. A member of Parliament from Quebec City, he was a top adviser to Liberal party leader William Mackenzie King, especially on issues relating to legal affairs, Quebec and French-speaking Canada.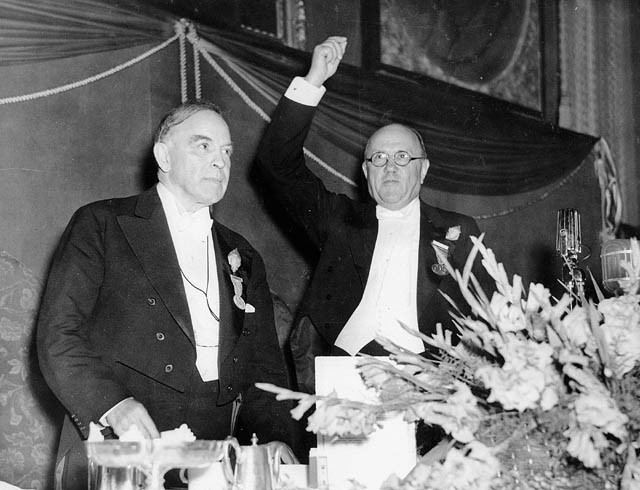 Lapointe earned his law degree from Laval University. He was a practicing lawyer in Quebec City, and was appointed Crown Prosecutor for Kamouraska before entering politics.
He was first elected by acclamation to the Canadian House of Commons in the 1904 general election as the Liberal MP for Kamouraska, and was re-elected in 1908, 1911 and 1917. He resigned his seat in 1919 in order to run in the Quebec East seat vacated by the death of Sir Wilfrid Laurier, and won that.
In 1921, Prime Minister William Lyon Mackenzie King appointed Lapointe to his first Cabinet as Minister of Marine and Fisheries. During his term as minister of fisheries, he negotiated a treaty with the United States on west-coast fishing rights. This was the first time that a Canadian minister negotiated on foreign affairs without any assistance from Great Britain. In 1924 he became Minister of Justice, and served in that position in successive Liberal cabinets until his death in 1941.
Lapointe served as King's Quebec lieutenant and was one of the most important ministers in Cabinet. King did not speak French, and had little interest in Quebec issues; he relied on Lapointe to handle important matters in the province. Lapointe gave a Quebecker voice to the cabinet decision, something that had not existed since the defeat of Laurier in 1911.
Lapointe shared King's vision of Canadian autonomy from Britain, and chaired the Canadian delegation to the Imperial Conference of 1926. This led to the drafting of the subsequent Balfour Declaration that raised the status of dominions to one of equality with Britain, and eventually led to the Statute of Westminster 1931. In the late 1930s, Lapointe disallowed several Acts passed by the Alberta Social Credit government of William Aberhart. However, he failed to disallow the Padlock Act passed by Maurice Duplessis, fearing that doing so would only aid the Union Nationale government.
Lapointe helped draft Mackenzie King's policy against conscription for overseas service in 1939, and his campaigning helped defeat the Duplessis provincial government in 1939. During the 1939 election, Lapointe made many speeches in the province of Quebec, in which he argued that if Duplessis was to be re-elected, every French Canadian minister would be dismissed from the federal cabinet, leaving it without a French voice. Having been a Liberal deputy during the 1917 conscription crisis, Lapointe knew how much a new crisis like the last one would destroy the national unity that Mackenzie King had tried to build since 1921.
Lapointe died in office in 1941, leaving the cabinet without significant Quebec ministers, and placing the Canadian government in serious trouble. Finally, the party decided to appoint the reluctant Louis Saint-Laurent to the cabinet as the new minister of justice, when King personally solicited his support.
His son, Hugues Lapointe, was also a parliamentarian and Lieutenant Governor of Quebec.