Created by

Hajime Isayama


Species

Human, Titan Shifter




Played by

Yūki Kaji, Haruma Miura


Portrayed by

Haruma Miura


Creator

Hajime Isayama





Voiced by

JapaneseYūki KajiEnglishBryce Papenbrook




Aliases

Eren Jaeger (Funimation dub)


Relatives

Kalura Yeager (mother)Grisha Yeager (father)Mikasa Ackerman (adoptive sister)Zeke Yeager (half-brother)




First appearance

"To You, 2,000 Years from Now" (Attack on Titan chapter 1)


Movies

Attack on Titan, Attack on Titan: End of the World


Similar

Armin Arlert, Mikasa Ackerman, Jean Kirschtein, Hange Zoe, Kirito




Similar

Attack on Titan, Kakashi Hatake, Shikamaru Nara
Anime duel guts vs eren yeager
Eren Yeager (Japanese: エレン・イェーガー, Hepburn: Eren Yēgā), spelled Eren Jaeger in the Funimation dub, is a fictional character appearing as the protagonist from the manga series Attack on Titan by Hajime Isayama. Eren is a teenager who swears revenge on enormous creatures known as Titans that devoured his mother. In order to defeat the Titans, Eren, alongside his childhood friends Mikasa Ackerman and Armin Arlert, enlist in the Military and join the Survey Corps—an elite group of soldiers who fight Titans outside the walls. As the story progresses it is revealed Eren has the power of becoming a Titan which mankind uses to their advantage to defeat their enemies.
Contents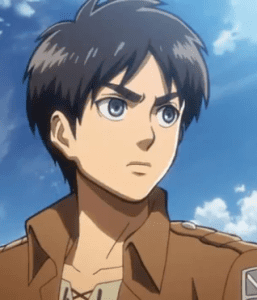 In the anime adaptation of the series, Eren has been voiced by Yūki Kaji in Japanese and Bryce Papenbrook in English. In the live-action film adaptations, he is portrayed by Haruma Miura. Critical reception to Eren's character has been mixed, though his actions across the story have led to shocks and praises. Eren has also been popular within the Attack on Titan fanbase and anime in general.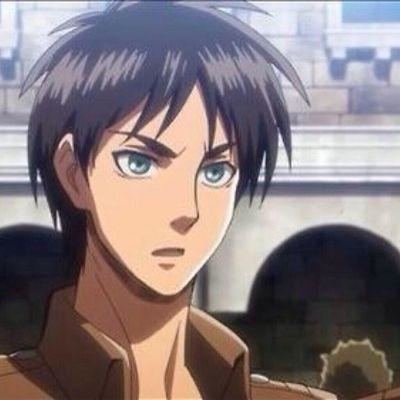 Creation and design
Author Hajime Isayama created Eren to be "an ordinary youngster who gets paralyzed with fear when he sees a titan" rather than a stereotypical hotheaded protagonist often seen in shonen manga. He also stated that Eren's wish to go outside the city's walls is similar to his own when he was a child: He lived in a rural Japanese town surrounded by mountains. One day, he wanted to go beyond the mountains, which reflected in the town surrounded by walls in the manga where Eren lived in the series' beginning. The character's Titan form's physique was modeled after middleweight mixed martial artist Yushin Okami. Japanese actor Yūki Kaji commented on how it was important that he should voice Eren's Titan form because he believes it is an extension of the character. He had a meal with Isayama after he visited the recording studio and the manga artist told him he found Eren quite a difficult character but complimented Kaji by saying "You know Eren already", which gave him confidence. Eren's characterization was briefly altered for the English dub of the series making him self-reflective and eloquent in some scenes.
English voice actor Bryce Papenbrook got excited when he got the role of Eren as he was a fan of the show before it was announced that it would be dubbed into English. As a result, he viewed this as an advantage as he managed to understand the character beforehand. For example, he could understand the delivery of several lines because he already knew of the anime's series of twists. Additionally, he saw himself prepared for the role's pressure due to his previous works in popular anime.
He was excited because Eren was different from his previous characters despite sharing a similar age and vocal range, He commented "It's a very raw sound. Some of the noises he pulled out of me were just disgusting. I loved it. I loved every second of it." Papenbrook noted how different was Eren from his previous role as noted in the delivery of emotions and notable screams. There were three different kinds of voices he used for Eren: One for his kid persona, another deeper for his young adult self and a third "which was different from anything else." He recorded all three of those, and "there were noises that were required that were just disgusting and nasty." While he saw Eren's screams as challenging, he believes it was not the most difficult he ever had.
In Attack on Titan
Eren is introduced as a hot-headed, vocal ten-year-old in the town of Shiganshina who dreams of joining the Survey Corps in order to explore the outside world beyond the walls, but is constantly chastised by his mother Carla. When the Titans invade his town, he is powerless to save her from being devoured by one of the Titans, and vows to kill every Titan henceforth. Enlisting in the military, Eren eventually places fifth overall in his graduating class. Parts of Eren's past are revealed through the series. Following Shingashina's fall, he has a brief encounter with his father Grisha who entrusts him with a key to the basement of their house, and who injects him with a mysterious liquid. When he was nine years old, he and his father were planning to meet Mikasa Ackerman and her family, but they discover that her parents have been killed and that she is held hostage. He kills two of the captors and convinces Mikasa to kill the third as he is being strangled by the latter.
During a mission, Eren is swallowed by a Titan when he sacrifices himself to save his friend Armin Arlert. Inside the Titan, however, he suddenly transforms into a 15-meter class Titan that attacks the other Titans and disregards humans before the Titan collapses and his real body is exposed, unconscious, at the back of the neck. Though he is distrusted initially by the military, especially due to his inability to control himself in Titan form, Eren earns a place in the Special Operations Squad, a branch of Survey Corps under Levi assigned to watch over him. Shortly after joining, Eren finds himself hunted by a female Titan who kills all of his squadmates to get to him. With help of Levi and Mikasa, Eren is saved from the Titan who is later revealed to be Annie Leonhart. Though Eren defeats Annie alongside his allies, they are unable to get answers as they watch her encase herself using her Titan's hardening ability.
When encountering the Titan that devoured his mother years earlier during his kidnapping by Reiner Braun and Bertolt Hoover, who are the human forms of the Titans responsible for the Shiganshina attack (The Armored and Colossal Titans respectively), Eren develops a new ability to mentally control other Titans called "The Coordinate". After first subconsciously directing a group to kill and devour the Titan that killed his mother, he then directs the Titans to attack the Armored Titan so he and his friends can escape back to within the Walls. After being rescued, Eren is sent with his friends to an isolated village while preparations are made for a campaign to retake Wall Maria for good, by making use of his newfound power. However, Eren is then captured by the royal family's patriarch Rod Reiss, who reveals that his family long possessed a power that created the walls. Eren also learned that his ability to become a Titan was caused by his father, another human who can assume Titan form, whom he devoured once subjected to the liquid that caused his transformation and inheriting the power that Grinsha obtained from eating Historia's half sister Frieda Reiss. Eren realizes by then that Rod Reiss intends to restore his family by having Historia become a Titan and eat Eren, accepting his fate out guilt of the people he failed to save as he asks Historia to save humanity in his place. However, Eren finds Historia refusing to aid her father as she frees him while Rod becomes an Abnormal Titan while Misaka, Levi, and Jean arrive. Eren ingests a liquid labeled "Armor" that bestows him a new power to harden his Titan form, using it to save himself and his friends from being crushed by a collapsing ceiling before he and the Survey Corps head to the Orvud district where they confront and kill Rod.
After the old regime is ousted and Historia ascends to the throne in his place, Eren and the rest of the Survey Corps depart to Shiganshina to reclaim Wall Maria by sealing its breach with his new power. However, upon arriving there, they face an army of Titans led by Zeke, the Beastly Titan, as well as Bertoldt and Reiner. The vicious battle ends with almost all members of the expedition killed, including Erwin, save for Eren and his companions, but Zeke ends up forced to flee, leaving a captured Bertoldt behind, which is later consumed by Armin to save his life. With Shiganshina secured, Eren fulfills his promise to his father by reaching the basement of their old house, where he and his friends retrieve some books and a photography of Grisha, his first wife, Dina, who Eren recognizes as the same Titan who killed his mother, and their son, who is no other than Zeke. Upon returning home, Eren realizes that to control the power of the coordinate, he must obtain the blood of someone from the royalty, as the only moment when he managed to use it was when he got into contact with Dina, a descendant of the Eldian kings herself, in her Titan form.
Other media
Eren stars in the parody manga Attack on Titan: Junior High where he is presented as a student from high school who is obsessed with the Titans. He is a playable character in Attack on Titan: The Last Wings of Mankind for the Nintendo 3DS. His Titan form also makes an appearance in the game. Jin Haganeya's visual novel In the Forest of the Night, Burning Bright has Eren and Levi as the leading characters.
Reception
Critical reception to Eren's character has been varied. Jacob Hope Chapman of Anime News Network referred to Eren as "almost deliberately not a 'likable' protagonist, even by 15-year-old boy standards" based on his rude behavior and intelligence. However, he liked that he inspires people by believing in his feelings, hopes, and dreams, making him the "heart of humanity". Theron Martin noted that while Eren initially has hardly any emotion besides anger, in later episodes he eventually does have emotions beyond that. Jeffrey Kaufman of Blu-ray.com calls Eren "a compelling character, and once a really surprising development crops up a few episodes in, he becomes even more compelling."
Kyle Charizanis of The Fandom Post found the anime portrayal of Eren's transformation to be amusing, starting from his "almost pitiful" look while declaring how he's going to kill all of the Titans. When the anime portrays him as capable of controlling his transformation, Charizanis adds "Maybe one day he'll be able to contort his body to be used as a bridge, or heal other people's wounds, or morph his arms into sharp blades like a certain other anime character." In the final anime episode, when Eren is fighting the Female Titan, he describes Eren's internal monologue as changing "from the usual violent determination to a kind of gleeful madness." and likens his tone to that of The Joker. Elijah Watson from Complex magazine liked the plot twist of Eren's titan form turning on the other titans that he called it a Worldstar moment. Bamboo Dong of Anime News Network was fond on Eren's Titan abilities as "there has not been anything as uncomfortable for me to watch as Eren chomping into his own hand, trying to transform. There is something visceral and real about Eren drawing blood from his own hand, and boy, it gave me the chills," and later praised his thoughts when fighting the Female Titan due to the portrayal of Eren's humanity despite being a Titan.
Other writers were more critical on the character. Nick Browne of THEM Anime Reviews found him "a frustrating protagonist" based on his fits of rage often seen as childish. Elliot Gray from Japanator called him a "typical shonen manga lead" based on some of his cliche traits and instead found Mikasa and Armin more appealing. Similarly, Anna Neatrour from Manga Bookshelf called him a "fairly typical brash and opinionated shonen hero" and considered the manga design of the humans to be "drawn stiffly and not in proportion. For much of the time Eren and his comrades are yelling at each other, with facial expressions that don't have very much variation". On the other hand, Justin Wu from The Artifice saw Eren's hotheadness as a positive trait of the character. Chapman found Papenbrook's child Eren forced but noted his performance once the character grew up was far better.
In the Newtype anime awards for 2013, Eren was voted as eighth best male character. In Animage's Anime Grand Prix 2014 polls, Eren ranked as the fourth most popular male anime character, behind Levi who was voted the most popular. However, his Japanese voice actor ranked first among all voice actors, with Eren as his primary credit for that period. In the Animedia Eren was nominated for multiple categories including "Most Valuable Player", "Darkness", "Hot" and "Brave"; He only won the "Hot" award, but took high places in the rest. Anime News Network also listed his Titan form as one of the weirdest power ups seen in anime.
Eren is featured in a variety of merchandise. In December 2013, the Good Smile Company released the Eren Picktam! strap along with straps of other characters from the series. The official Eren Yeager nendoroid and figma were also launched after the series' success. These figures exist via a variety of figurine and merchandise companies. Eren's figma was released in May 2014, and the nendoroid was released in April 2014. In addition to figures, Bandai has released Eren plushes, a smaller one in December 2013 and a larger one in July 2014. Eren Yeager, along with many other characters from the series, also has a dedicated perfume inspired by his character traits. His perfume was released by Koubutsuya in fall of 2013 along with the perfumes for Mikasa Ackerman and Levi.
References
Eren Yeager Wikipedia
(Text) CC BY-SA