Preceded by

Felipe Calderon




Preceded by

Arturo Montiel




Name

Enrique Nieto





Succeeded by

Eruviel Avila




Role

President of Mexico




Residence

Monterrey, N.L.




Height

1.72 m







Born

20 July 1966 (age 49) Atlacomulco, State of Mexico, Mexico (

1966-07-20

)


Political party

Institutional Revolutionary Party




Office

President of Mexico since 2012




Spouse

Angelica Rivera (m. 2010), Monica Pretelini (m. 1993–2007)




Children

Paulina Pena Pretelini, Alejandro Pena Pretelini, Nicole Pena Pretelini, Diego Pena Diaz




Parents

Maria del Perpetuo Socorro Ofelia Nieto Sanchez, Gilberto Enrique Pena del Mazo




Similar People

Angelica Rivera, Felipe Calderon, Andres Manuel Lopez Ob, Joaquin Guzman, Monica Pretelini




Profiles




Twitter

Facebook

Instagram

Google+




Alma mater

Panamerican University



Mexico s president enrique pe a nieto faces perfect storm of problems
Enrique Peña Nieto, ([enˈrike ˈpeɲa ˈnjeto]; born 20 July 1966), sometimes referred to by his initials EPN, is a Mexican politician who serves as the 57th and current President of Mexico. Educated as a lawyer, Peña Nieto had served as Secretary of Administration for the State of Mexico from 2000–02, as Representative of the 13th District of the State of Mexico from 2003–04, and as Governor of the state from 2005-11 prior to becoming President.
Contents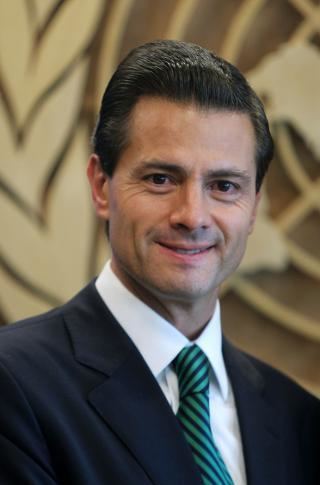 He was elected President on July 1, 2012, winning 39% of the vote and returning the Institutional Revolutionary Party (PRI) to power after a twelve-year hiatus. The PRI had governed Mexico uninterrupted for 71 years until it was defeated by the National Action Party (PAN) in 2000. Peña Nieto took office on December 1, 2012, succeeding Felipe Calderón. Protests against the election of Peña Nieto drew tens of thousands of people across Mexico, particularly from the #YoSoy132 student movement, who protested alleged voting irregularities and media bias. National and international award-winning Mexican reporter Carmen Aristegui detailed in 2016 how the Juarez Cartel used a series of shell corporations to fund Peña Nieto's campaign, and Peña Nieto then allowed the criminals to use government programs to launder money, and gave a previously-arrested cartel mafioso the directorship of a new government program ostensibly to help the poor, but in fact aided the Juarez Cartel.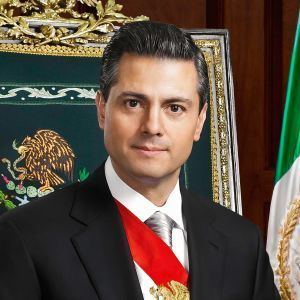 Peña Nieto began his term as President with an approval rating of approximately 50%, but the falling value of the Mexican Peso and sluggish economic growth had caused this figure to drop to 35% by 2015. Prone to gaffes, Peña Nieto has also faced several major controversies as President, including the escape of famed drug lord Joaquin "El Chapo" Guzman from Altiplano prison in 2015, and accusations that he had plagiarized his law school thesis. He has also faced criticism for his handling of the abduction and murder of 43 teachers' college students in the State of Guerrero in 2014. Another crisis emerged on January 1, 2017, due to a 20% increase in gasoline prices that became known as Gasolinazo 2017. According to the Newspaper Reforma, by August 2016, Peña Nieto's approval ratings had dropped to 23% - the lowest for any president since the paper began opinion polling in 1995. The approval decreased more by January 19, 2017, remaining at 12%.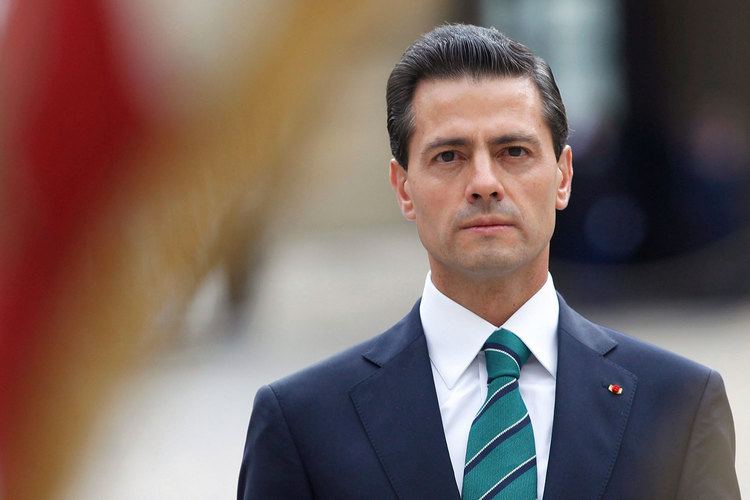 Mexican president enrique pe a nieto welcomes back deportees
Education and family life
Enrique Peña Nieto was born on 20 July 1966 in Atracomulco, State of Mexico, a city 55 miles northwest of Mexico City. He is the eldest of four siblings in an upper middle-class family; his father, Gilberto Enrique Peña del Mazo, was an electrical engineer; his mother, María del Perpetuo Socorro Ofelia Nieto Sánchez, a schoolteacher. He is the nephew of two former governors of the State of México: on his mother's side, Arturo Montiel; on his father's, Alfredo del Mazo González. He attended Denis Hall School in Alfred, Maine, during one year of junior high school in 1979 to learn English. After living in Atlacomulco for the first 11 years of his life, Peña Nieto's family moved to the city of Toluca.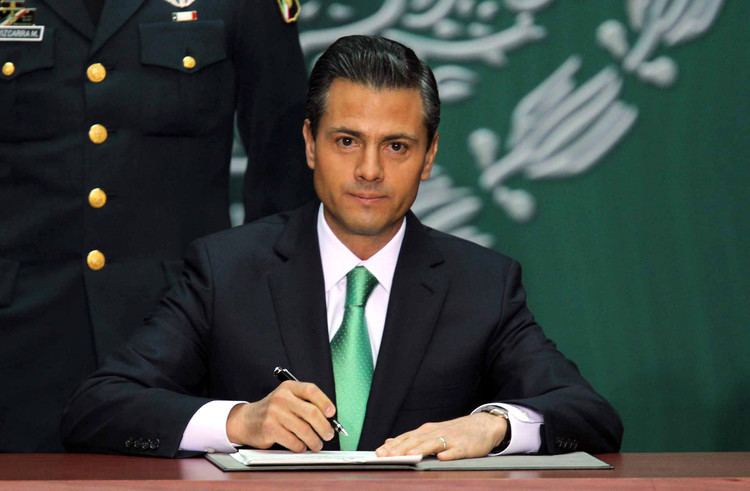 In 1975, his father would often take him to the campaign rallies of the State of Mexico's governor, Jorge Jiménez Cantú, a close friend of Peña del Mazo. The successor of the governor was Alfredo del Mazo González, a cousin of Peña Nieto's father. During Del Mazo González's campaign in 1981, the fifteen-year-old Peña Nieto had his first direct contact with Mexican politics: he began delivering campaign literature in favor of his relative, a memory Peña Nieto still recalls as the turning point and start of his deep interest in politics. In 1984 at the age of 18, Peña Nieto traveled to Mexico City and enrolled in the Panamerican University, where he earned a Bachelor of Arts (BA) degree in Law.
Political beginnings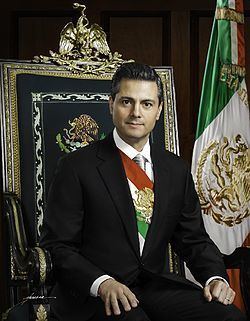 Peña Nieto joined the Institutional Revolutionary Party (PRI) in 1984, and with a law degree nearly completed, he began earning his own money. During his final years in college, Peña Nieto worked for a public notary in Mexico City, around the same time when his relative, Alfredo del Mazo González, was mentioned as a firm candidate for the 1988 presidential elections. In his twenties, he worked at the San Luis Industrial Corporation, an auto parts manufacturing industry, and at a law firm named Laffan, Muse and Kaye. While still a student at the Universidad Panamericana, he roomed with Eustaquio de Nicolás, the current president of Homex, a leading Mexican construction and real estate company. He also befriended and roomed with Luis Miranda, who occupied several offices during the 1999–2000 administration in the State of Mexico.
University plagiarism and masters degree
Peña Nieto's academic thesis entitled El presidencialismo mexicano y Álvaro Obregón (translated in English as "Mexican Presidentialism and Álvaro Obregón") expounds upon the comparison between the Mexican presidential system to that of parliamentarism. A news report by Carmen Aristegui of Aristegui Noticias (Aristegui News), which was broadcast on August 21, 2016, revealed that Enrique plagiarized 197 of the 682 paragraphs within his University Thesis, which translates to at least 28.8% of the content, from 10 different authors. The 202-page document argued that the administration of Benito Juárez was a "presidential dictatorship", since he had a powerful executive force during the Reform War, which allowed him to have absolute political power. Peña Nieto interviewed several authors, including Jorge Carpizo, Héctor Fix-Zamudio, Enrique Krauze and Justo Sierra. Peña Nieto listed at least forty books in his bibliography. His work was dedicated to Arturo Montiel Rojas, the former governor of the State of Mexico and relative of Peña Nieto. The Mexican citizens posted an online petition on Change.org asking for Enrique Peña Nieto's law degree to be nullified by the Universidad Panamericana, the petition achieved 137,000 signatures, while the University, although it confirmed the plagiarism, declined to rescind the law degree, a decision which has been heavily criticized among Mexican citizens, and the university alumni.
Upon his now controversial graduation as a lawyer from the Universidad Panamericana, Peña Nieto sought a master's degree in Business Administration (MBA) in the Instituto Tecnológico y de Estudios Superiores de Monterrey or ITESM (Monterrey Institute of Technology and Higher Education), based in the State of Mexico. Another online petition made by another student seeks for the Tecnologico de Monterrey to nullify Enrique's master's degree due to his act of plagiarism, has achieved almost 112,000 supporters, including the rector of the University whom already accepted a formal meeting to collect the signatures, and to contemplate how to proceed.
Formal start of political career
By the side of Montiel Rojas, he formally started his political career and became the Secretary of the Citizen Movement of Zone I of the State Directive Committee of the National Confederation of Popular Organizations (CNOP), one of the three sectors of the PRI. For three consecutive years until 1993, Peña Nieto participated as a delegate to the Organization and Citizen Front in different municipalities of the State of Mexico. Between 1993 and 1998, during Emilio Chuayfett's term as governor, Peña Nieto was chief of staff for the Secretary of economic development of the State of Mexico and the personal secretary of Montiel Rojas, who was the Secretary of Economic Development in the state.
Peña Nieto served during the years 1999 to 2000 as the Sub-secretary of government, and as financial sub-coordinator of the political campaign of Montiel Rojas. In 2003, he was elected as deputy of the XIII Local District with a seat in Atlacomulco, State of Mexico.
State deputy, 2003–05
After 1999, Peña Nieto went from having low-level secretary positions to higher and more qualified offices. In 2001, Montiel Rojas named Peña Nieto Sub-secretary of Interior in the State of Mexico, a position that granted him the opportunity to meet and forge relationships with top politicians in the Institutional Revolutionary Party (PRI) and wealthy businessmen from the State of Mexico. After his term concluded, he served as the administrative secretary, as president of the Directive Council of Social Security, as president of the Internal Council of Health, and as vice president of the National System for Integral Family Development – all in the State of Mexico. Under the wing of Arturo Montiel Rojas, Peña Nieto formed a group known as the "Golden Boys of Atlacomulco" with other members of the PRI. He later ran for a local deputy position in his hometown of Atlacomulco in 2003 and won. Two years later, the Atlacomulco-natives: Carlos Hank Rhon, Isidro Pastor, Héctor Luna de la Vega, Guillermo González Martínez, Óscar Gustavo Cárdenas Monroy, Eduardo Bernal Martínez, Cuauhtémoc García Ortega and Fernando Alberto García Cuevas wanted the governorship of the State of Mexico. Peña Nieto was among the crowd, but was not poised as one of the favorites.
Nonetheless, in 2005, Peña Nieto was the last man standing, succeeding Montiel Rojas as governor of the State of Mexico. On 12 February 2005, with 15,000 sympathizers in attendance, he was sworn in as candidate for the PRI.
608 commitments
On 15 September 2005, Peña Nieto was sworn as governor of the State of Mexico at the Morelos theater in Toluca. Among the hundreds of attendes sat Arturo Montiel, the predecessor; the president of the Superior Court of Justice, José Castillo Ambriz; along with former governors, members of Peña Nieto's cabinet and party, mayors, businessmen, and church figures. The centerpiece of Peña Nieto's governorship was his claim that he was to deliver his compromisos – 608 promises he signed in front of a notary to convince voters that he would deliver results and be an effective leader. According to El Universal, during Peña Nieto's first year as governor, his administration only delivered 10 of the structural promises he had advocated in his campaign – marking the lowest figure in his six-year term.
By 2006, his administration carried out 141 of the promised projects, making that year the most active in the governor's term. The 608 projects Peña Nieto proposed consisted of creating highways, building hospitals, and creating adequate water systems to provide fresh water throughout the state. The most important of these was highway infrastructure, which tripled under Peña's government. By mid-2011, the official page of the State of Mexico noted that only two projects were left. The major projects in public transportation were the Ferrocarril Suburbano de la Zona Metropolitana del Valle de México and the "Mexibús", both of which served commuters between Mexico City and the State of Mexico, providing service to more than 300,000 people every day and 100 million a year. Regarding public health services, 196 hospitals and medical centers were built throughout the state and the number of mobile units to attend remote and vulnerable areas doubled. Deaths caused by respiratory diseases were reduced by 55%, while deaths caused by dysentery and cervical cancer were reduced by 68% and 25% respectively. In addition, between 2005 and 2011, the State of Mexico was able to fulfill the requirement of the World Health Organization of having one doctor for every 1,000 inhabitants. The funds for these and all the other commitments were obtained through restructuring the state's public debt, a strategy designed by his first Secretary of Finance, Luis Videgaray Caso. The restructuring also managed to keep the debt from increasing during Peña Nieto's term because the tax base was broadened to the point that it doubled in six years.
During the course of the 2012 presidential campaign, the conservative National Action Party (PAN) questioned the completion of at least 100 of the commitments of Peña Nieto. The PAN also warned the PRI that they were going to examine each of the 608 commitments and release the information to the public. PAN also stated that they had plans to publicize the cost of the projects and make a detailed trajectory of the supposed locations where the projects took place. The PRI responded to the accusations by stating that the PAN politicians "were the liars." The PRI presented a web page with the description of each commitment and when and where it was achieved; the webpage included pictures, a detailed description, a notary certification, and the number of people benefited from the project. The party then claimed that Peña Nieto's adversaries, but particularly the PAN's candidate, Josefina Vázquez Mota, were carrying out a "dirty war" against him. The PAN concluded by claiming that the current administration was allegedly "repairing" the unfinished projects of Peña Nieto's past administration, while the PRI insisted that its opposition was pointing out to unfinished projects that were not in the 608 commitments and under Peña Nieto's agenda.
Peña Nieto also claimed that he halved the murder rate in the State of Mexico during his time as governor, but retracted this claim after The Economist showed that the murder rate did not diminish and was being measured in a different way.
2006 San Salvador Atenco unrest
During the administration of Vicente Fox in 2002, several peasants in San Salvador Atenco, State of Mexico, resisted the government's plan to expropriate their lands to build a new international airport near the country's capital, Mexico City. Consequently, on 3 May 2006, state and federal police forces raided San Salvador Atenco and violently took many of its dwellers into custody, unleashing a civil unrest in the area between 300 unarmed civilians and 3,000 police officers. Some law enforcement officials retaliated for the confrontations of the previous days and tried to break up a blockade of a federal highway stopping a group of flower vendors protesting against the government. The leader of the movement was sentenced to 150 years in prison, and the rest of the members were accused of alleged "organized kidnapping" of police officers and sent to supermax prisons. National and international human rights organizations demanded the release of the activists, whose sentences were turned down until August 2010. According to a report issued by Amnesty International in February 2009, the civil unrest resulted in the detention of 200 people and hundreds of allegations of abuses, including sexual violence against 26 women who were arrested; others, in addition, were allegedly tortured. In the operations, the police used firearms, tear gas and electric batons. Two young men were murdered by the Mexican Federal Police, while hundreds were arrested without warrants and beaten. A 14-year-old boy was killed too. In response to the abuse allegations, the Supreme Court of Justice of the Nation agreed to investigate the incident to establish whether the unrest was an isolated event or if it was part of a larger plot formed by politicians in the municipal and state levels.
"Yo Soy 132" protest
The Yo Soy 132 student movement criticized Peña Nieto for his stance on the San Salvador Atenco unrest, which occurred in the State of Mexico during his time as governor. Peña Nieto stated in an interview that he does not justify the actions of the state and municipal forces, but also mentioned that they were not gladly received by the citizens of San Salvador Atenco upon their arrival. He condemned the abuses and promised to fully execute the law and bring transparency to the investigations. He lamented the deaths caused by the unrest, but emphasized that risks often occur in security operatives. Peña Nieto concluded by assuming responsibility of the event and insisted that "yellow journalism" has also obscured what actually happened. Infuriated by the response, students of the Yo Soy 132 booed the politician and protested against him, calling him a "murderer". The Yo Soy 132 student movement shook up the campaign, but it did not have a major impact on the opinion polls in favor of Peña Nieto.
The Women of Atenco
In 2016, the New York times published the Inter-American Commission on Human Rights decided to stand up for several women who confessed being raped by soldiers during the Atenco incident, then were for a decade silenced, some spend about a year jail time, others receiving death threats, 11 women have shown their face, while several others have given their testimony but decided their identity to remain anonymous. The case investigates Enrique Peña Nieto (Governor at the time) for hiding the incident from the public, and for pardoning the soldiers involved.
2011–12 presidential campaign
While at a book fair on 23 November 2011, Peña Nieto presented his book México, la gran esperanza (Mexico, the great hope) in Casa del Lago, Mexico City, accompanied by the writer Héctor Aguilar Camín; former governor of Mexico's Central Bank, Guillermo Ortiz Martínez; and journalist Jaime Sánchez Susarrey. In his book, the politician argues that Mexico needs to expand its economy to create more jobs, insisting that in the past the country has only created them in the informal sector. He also urged promoting Pemex to compete in the private sector to create more jobs, elevate productivity, and balance wealth distribution across Mexico. Aguilar Camín, however, questioned Peña Nieto's ideals, and asked him how it was possible for him to speak of transparency when the Institutional Revolutionary Party (PRI) was allegedly entangled in economic debts and controversial money transactions. Nonetheless, Peña Nieto then thanked the governor Eruviel Ávila Villegas for being present, and told him that his book was dedicated to the governor's family and to his wife, Angélica Rivera. Peña Nieto responded by saying that the return of the PRI marks a new era in Mexico, and that the book he wrote serves as a starting point to take Mexico "to better horizons."
On 27 November 2011, Peña Nieto was the last standing nominee for the Institutional Revolutionary Party (PRI) for the 2012 Mexican presidential elections. The former State of Mexico governor completed his nomination at an event that gathered sympathizers and politicians. Six days earlier, the senator and preliminary candidate of the PRI, Manlio Fabio Beltrones, withdrew from the race and gave Peña Nieto a clear path towards the presidency. During a book fair a month later, Peña Nieto's public image "took a lot of hits" after he struggled to answer a question that asked which three books had marked his life. When he was criticized by Mexico's intellectuals, his daughter worsened the situation by posting a defamatory message on Twitter, stating that the criticisms were driven by class envy. Later, Peña Nieto was interviewed by El País and admitted that he did not know the price of tortillas. When he was criticized as being out of touch, Peña Nieto insisted that he was not "the woman of the household" and thus would not know the price. In another interview, he admitted to have cheated on his past wife with another woman and fathered two children out of wedlock.
Televisa biased media coverage controversy
The Televisa controversy refers to a series of allegations published by the British newspaper The Guardian in June 2012 that claims Mexico's largest television network, Televisa, sold favorable coverage to top politicians in its news and entertainment shows. The documents presented by the newspaper allege that a secretive circle within Televisa manipulated its coverage to favor the Institutional Revolutionary Party (PRI) presidential candidate, Enrique Peña Nieto, the candidate who was poised as favorite to win the 2012 Mexican presidential elections. The unit supposedly commissioned videos promoting Peña Nieto and lashing out his political rivals in 2009. The documents suggest that the team distributed such videos through e-mail, and then posted them on Facebook and YouTube, where some of them can still be seen. One of the documents is a PowerPoint presentation, and a slide explicitly takes an aim on Andrés Manuel López Obrador, the leftist candidate of the Party of the Democratic Revolution (PRD).
While it has not been possible to confirm the authenticity of documents – which were given to the newspaper by a supposed employee of Televisa – dates, names, and events largely coincide. Televisa refused to talk about the documents, but denied that they had any relationship with the PRI and with its presidential candidate, saying that they had done an equal media coverage for all parties. Televisa also responded to The Guardian and published an article denying the accusations and showing the supposed discrepancies in the documents. And as the protest took pace, Televisa has covered the protests of Yo Soy 132 in detail. Televisa, the largest media network in the Spanish-speaking world, owns around two-thirds of the programmings in Mexico's TV channels. In Mexico, newspaper readership is low and research on the Internet and cable TV is largely limited to the middle classes; consequently, the country's two major television networks – Televisa and TV Azteca – exert a significant influence in national politics.
In an article written by Los Angeles Times on 9 July 2012, Peña Nieto is described as a "man of mystery" whose real convictions – as perceived in the eyes of many Mexicans – remain in doubt. To some, the PRI politician is simply a creation of the party's cabal and of Mexico's omnipresent and key television network, Televisa. His cipher-like aspect, along with his steady rise to the presidency, reinforced that opinion. Yet, other observers note that Peña Nieto was smart enough "to know what he doesn't know" and surround himself with sharp politicians educated at places like Harvard University and MIT.
A perceived tactic of this perceived biased media coverage is what Mexican citizens call "cortinas de humo" (smoke screens) which consists in to introducing a news scandal giving extensive amounts of coverage to distract citizens from a potential conflict of interest or controversy, that could damage the image of the politician favored by the news media network, an example of a perceived smoke screen would be the news media coverage of "Caso Michoacan" happening at the same time and distracting all the attention from another case.
Claims of Defamation against Jaime Rodríguez Calderón
Factual evidence of this on-going media manipulation emerged on September 11, 2016 during a live-television during a broadcast of News Program "Monterrey al Dia" when the Televisa news reporter Karla Minaya, misakenly thinking she wasn't on air said: "hay que tratar de que el gobernador (Jaime Rodríguez Calderón (El Bronco)), por cierto, entre lo menos posible" ("we have to try the governor, for sure, is mentioned the least possible"). The Mexican newspaper El Universal published on social media a video of the event, which was covered by national news media, although Televisa, didn't mention the story, and declined to comment. Televisa reduces news covarage concerning Nuevo León's Governor Jaime Rodriguez, due to him being the first independent (without a political party) elected governor, and because he is perceived as a contender for the 2018 presidential election.
Film depiction
"The Perfect Dictatorship" directed and written by Luis Estrada is Mexican black comedy film released in 2014, whose plot directly criticizes both the PRI and Televisa, and explores the concept of the "cortinas de humo", taking place within a Mexico with tightly controlled media landscape the plot centers on a corrupt politician (a fictional stand-in for the PRI) getting help from the TV MX (which serves as a stand-in to Televisa) to manipulate the diffusion of news, in order to help his political career, and save his political career. The director made it based on the perceived media manipulation in Mexico.
Elections
On 1 July 2012, Mexico's presidential election took place. In an initial, partial count issued that night, the Federal Electoral Institute (IFE) announced that based on a fast vote counting, Peña Nieto was leading the election with 38% of the votes. His nearest competitor, Andrés Manuel López Obrador, was just 6 points behind him. The figures were meant to be a representative sample of the votes nationwide; but shortly after this announcement, Peña Nieto appeared on national television claiming victory. "This Sunday, Mexico won," he said. He then thanked his voters and promised to run government "responsible and open to criticism." At the PRI headquarters in Mexico City, the victory party began. With more than 97% of the votes counted on election day, the PRI had won with about 38% of the votes, just 6.4 points above the leftist candidate López Obrador of the Party of the Democratic Revolution (PRD), who refused to concede to the results and had threatened to challenge the outcome.
Soriana pre-paid gift cards vote buyout controversy
At a news conference, the leftist candidate claimed that the election was "plagued with irregularities" and accused the PRI of buying votes. He also claims that the PRI handed out gifts to lure voters to cast their vote in favor of them. Soriana is a Wal-Mart-style chain of megastores, operating 500 grocery stores around Mexico. During the day of the 2012 presidential elections, people who voted for el PRI would receive pre-paid gift cards. Nonetheless, the PRI and the store denied such accusation and threatened to sue López Obrador. Peña Nieto vowed to imprison anyone – including members of the PRI – if they are found guilty of electoral fraud. Despite Enrique's statement many videos by citizens about the Soriana cards surfaced on YouTube.
Claims of hacking in the 2012 presidential election
In March 31, 2016 in an article published by magazine Bloomberg Business Week a Colombian, a hacker named Andrés Sepúlveda claimed to have haven paid $600'000 pesos, by the "Institutional Revolutionary Party (PRI)" for hacking files (including phone calls, e-mails, and strategies) pertaining Peña Nieto's rivals respective political campaigns, and also manipulate social media to create fake news against his opponents with 30'000 fake Twitter accounts whom helped him create fake trending topics, and the perception of public enthusiasm towards Peña Nieto's 2012 presidential campaign. The election day he claims to have been watching a Live feed on Bogota, Colombia and to start destroying evidence (USBs, cellphones, computers) right after Peña Nieto was declared winner. He said he was helped by a team of 6 hackers, which he led.
He also claimed to have helped hack elections from other Latin American countries including Nicaragua, Panama, Honduras, El Salvador, Colombia, Costa Rica, Guatemala and Venezuela, but didn't tell which, only agreeing to give details on his Mexican operation, which he described as "the most complex by far", with statements within his confession gaining attention for being accurate but other than his confession, no evidence of him helping the PRI and Peña Nieto's 2012 presidential campaign, neither on his other presumed hacks has been found.
The hacker is on a 10-year prison sentence, with his only proven hacking crimes, towards favoring the campaign of Ivan Zuloaga within his native Colombia. While Juan José Rendón (whom Sepúlveda describes as his accomplice) hasn't been proved guilty and still remains free. The National Action Party (PAN) requested an investigation, but on May 4, 2016 the Consejo General del Instituto Nacional Electoral (General Council of the National Electoral Institute) discarded the investigation describing it as "frivolous" and that it was based on a single journalistic note. Presidential counselor Ciro Murayama said there wasn't enough evidence to lead an investigation, and that they would sue PAN for promoting unjustified investigations, leading to sourness between both political parties.
Presidential election
After ruling Mexico for most of the past century in, the return of the Institutional Revolutionary Party (PRI) brought hope to the supporters and fear to those who worry about the old PRI tactics of making deals with the cartels in exchange for relative peace. According to an article published by The Economist on 23 June 2012, part of the reason why Peña Nieto and the PRI were voted back to the presidency after a 12-year struggle lies in the disappointment of the rule of the National Action Party (PAN) . Buffeted by China's economic growth and the economic recession in the United States, the annual growth of Mexico's economy between 2000 and 2012 was of 1.8%. Poverty exacerbated, and without a ruling majority in Congress, the PAN presidents were unable to pass structural reforms, leaving monopolies and Mexico's educational system unchanged. In 2006, Felipe Calderón chose to make the battle against organized crime the centerpiece of his presidency. Nonetheless, with over 60,000 dead, many Mexican citizens are tired of a fight they had first supported.
According to The Guardian, Peña Nieto's "young, telegenic and impeccably smooth" image has helped gloss over the PRI's reputation of corruption and authoritarianism. Such views are rare in Mexico City, where the Party of the Democratic Revolution (PRD) holds strong support. Throughout the political campaigns, Peña Nieto poised to steer his party back into power and was, according to the polls, the favorite to win the elections. Some of his adversaries, however, said that the "polls were manipulated" and that the PRI was taking advantage of the poor to gain votes, instead of relying on informed vote. Allegations of vote-buying for Peña Nieto were widespread, but the PRI responded by claiming that its rivals were merely questioning the legitimacy of their victory.
Other media outlets like CBS News stated at the time, that Peña Nieto is the "new face of the old guard," while several American officials fear that his security strategy may mean returning to the old PRI tactics of "corruption [and] backroom deals" with the cartels to bring peace to the country.
The Economist at the time alleged that these signs were "not as bad as they look," since Mexico is more democratic, it enjoys a competitive export market, has a well-run economy despite the crisis, and there are tentative signs that the violence in the country may be plummeting. But if voters want the PRI back, it is because "the alternatives [were] weak." The newspaper also alleges that Mexico's preferences should have gone left-wing, but the candidate that represented that movement – Andrés Manuel López Obrador – was seen with "disgraceful behavior." The conservative candidate, Josefina Vázquez Mota, was deemed worthy, but was considered by The Economist to have carried out a "shambolic campaign." Thus, Peña Nieto wins by default and was considered by the newspaper as the "least bad choice" for reform in Mexico.
Security policy
The security policy of Peña Nieto prioritizes the reduction of violence rather than attacking Mexico's drug trafficking organizations head-on, marking a departure from the strategy of the past six years during Felipe Calderón's administration. Peña Nieto has set up a number of conceptual and organizational changes from the past regime policy, and one of the biggest contrasts is the focus on lowering murder rates, kidnappings, and extortions, as opposed to arresting or killing the country's most-wanted drug lords and intercepting their drug shipments. The government of Calderón, however, has justified its position by stating that the current violence in the country is a necessary stage in Mexico's drug war, as weakening criminal groups fight for territorial control against one another and the government.
Moreover, part of Peña Nieto's strategy consists on the creation of a national police made up of 40,000 members, known as a "gendarmerie", though in November 2013, it was announced that this force would be reduced to 5,000 members and would not be operational until July 2014. He also proposed on centralizing the sub-federal police forces under one command. The president-elect emphasized that he does not support the involvement or presence of armed United States agents in Mexico, but considers allowing the United States to instruct Mexico's military training in counterinsurgency tactics. Beyond that, Peña Nieto promised that no other measures will be taken by the United States in Mexico.
While campaigning, Peña Nieto appointed a former general of the National Police of Colombia as his external advisor for public security, and boldly promised to reduce 50% of the murder rates in Mexico by the end of his six-year term.
Critics of Peña Nieto's security strategy, however, say that he has offered "little sense" in exactly how he will reduce the violence. During the three-month campaign, Peña Nieto was not explicit on his anti-crime strategy, and many analysts wonder whether Peña Nieto is holding back politically sensitive details in his security strategy or simply does not know yet how he will squelch the violence and carry out the next stage in Mexico's drug war. Moreover, United States officials are worried that the return of Peña Nieto's Institutional Revolutionary Party (PRI) after ruling Mexico for 71 years may mean returning to the old PRI tactics of "corruption [and] backroom deals" with the cartels in exchange for bribes and relative peace.
Energy policy
During the presidential campaign, Peña Nieto promised to open Pemex, Mexico's state-owned oil company, to the private sector. He also indicated interest in an economic agreement with Petrobras, Brazil's oil company. By giving more economic freedom to Pemex, investors say Peña Nieto's proposal could allow joint ventures and private investment in the oil company. Such reforms require congressional support, and Peña Nieto's Institutional Revolutionary Party (PRI) gained only a plurality in Congress (more seats than any other party). With just over 38% of the votes, Peña Nieto may have difficulty gaining an absolute majority (over 50% of the seats) in Congress to pass such reforms, much less than the two-thirds majority needed to change the Mexican constitution. This leaves a lot of uncertainty for investors. Pemex was founded through the nationalization of foreign oil interests, and the Mexican constitution bans major outside investments. Changing Pemex can also transform the psychology of Mexico's business sector and involve cultural and political changes that cannot be rushed. President Lázaro Cárdenas seized foreign oil company assets in 1938 to form Pemex, and it has served as a symbol of national identity.
Mexican state social investment depends to a great extent on the profits from the oil exports controlled by Pemex as a state monopoly. The leftist political movement Movimiento de Regeneración Nacional has expressed concern that Pemex will be systematically excluded as a commercial competitor by the government. They believe that Pemex's infrastructural decline was due to a deliberate strategy of self-sabotage by the government through lack of reinvestment, and fear that the Mexican oil rent may be taken over by private corporations. The leftist opposition is concerned that energy reform may be a concealed maneuver for privatization. They also worry that laws derived from the constitutional reforms are not explicit in demonstrating that energy reform will avoid having the oil rent be controlled by the private sector. There are questions as to how the Mexican system of public health, education and subsidized transportation (not to mention the newly created presidential fund for retirement and umemployment) would be funded if there is privatization of the oil rent.
If Peña Nieto wants to invite investment, he will have to face the challenges of union leaders and local officials who have largely benefited from the oil company's bonanza. Productivity in Pemex has been declining since 2004. Mexico has the 12th-largest oil reserves in the world, the 4th-largest shale gas deposits in the world (after Argentina, China, and the United States), and is the third-biggest United States supplier of oil, just behind Canada and Saudi Arabia respectively. Brazil's 21st-century oil success has shifted popular opinion to support of structural changes in Pemex. Peña Nieto declared while campaigning that overhauling Pemex will be the PRI's and his "signature issue", and that he will encourage private companies to invest in exploration and development activities.
In 2014, Peña Nieto announced an end to Pemex's monopoly, and inviting in both large and small private companies to the oil and gas industry. He said that in early 2015, more than 100 blocks would be auctioned for development. The government believes that changing technology will allow additional drilling in mature fields, such as those near Tampico, as well as larger fields likely offshore. This decision has received international coverage.
Presidency (2012–present)
Peña Nieto was sworn in as president of Mexico on 1 December 2012 at Mexico's federal congress and later flew to a military parade to formally take control of the Mexican Armed Forces. During his inauguration speech at the National Palace, Peña Nieto proposed his agendas and reforms for the new administration. Before and after Peña Nieto's inauguration, protesters rioted outside of the national palace and clashed with Federal Police forces, vandalizing hotel structures and setting fires in the downtown area of Mexico City. More than 90 protesters were arrested and several were injured. Mexico City Mayor Marcelo Ebrard blamed anarchist groups for causing the violent outcomes. During these protests, however, there is evidence that agents of provocation worked with the police. Such individuals were paid 300 Mexican pesos (about 20USD) for their acts of vandalism, according to media reports. Photos show the vandals waiting in groups behind police lines prior to the violence. Previous protests have been entirely peaceful, but on this occasion, in apparent response to violence, the police fired rubber bullets. In contrast to the protests, there were no public celebrations of the new presidency. The day after his inauguration, he announced the Pact for Mexico, an agreement that he had struck with the leaders of two other major parties about the government's goals for the next few years.
On 13 December 2012, a law was approved that included far-reaching security reforms. Mexico's Interior Ministry, greatly strengthened by the bill, has been made solely responsible for public security. A new gendarmerie, with an initial strength of 10,000, is being deployed to Mexico's most dangerous areas, while the Federal Police will be focusing on investigating crime. The Interior Ministry announced that 15 specialized police units were being formed to exclusively focus on major crimes that include kidnapping and extortion, along with a new task force dedicated to tracking down missing persons.
Economy
The auto manufacturing industry expanded rapidly under Nieto's presidency. In 2014 alone, more than US$10 billion was committed in investment in the sector. The president in conjunction with Kia Motors in August 2014 announced plans for Kia to build a US$1 billion factory in Nuevo León. At the time, Mercedes-Benz and Nissan were already building a US$1.4 billion plant near Puebla, while BMW was planning a US$1-billion assembly plant in San Luis Potosí. Additionally, Audi began building a US$1.3 billion factory near Puebla in 2013. As of December 2014, two years into Peña Nieto's term, total investment in the auto sector in Mexico had reached US$19 billion. The majority of this investment has been in the Bajío Region – the increasing auto production along with the rapidly expanding aerospace industry, have made the Bajío the fastest growing region in the country.
According to the Instituto Mexicano del Seguro Social (IMSS), between December 2012 and June 2016, more than two million jobs were created in Mexico. Of those jobs, 41% were taken by women and 36% were taken by individuals between 20 and 34 years of age. IMSS also revealed that 86% were long-term jobs and 14% were temporary. These jobs have led to a 26% increase in revenue accumulation for IMSS, an additional MXN$50 billion. More than half a million jobs had salaries worth five minimum wages (about MXN$10,000 per month) and there was a 22% increase in jobs with salaries greater than 20 minimum wages.
Special economic zones
At the end of May 2016, Peña Nieto signed a law that will create special economic zones in economically underdeveloped southern states. The first three are Lázaro Cárdenas, Michoacán, Port Chiapas, Chiapas and in the Isthmus of Tehuantepec to better join the ports of Coatzacoalcos, Veracruz and Salina Cruz, Oaxaca. Another zone in the petroleum region of Tabasco and Campeche, hit by the downturn in the oil industry, is planned for 2017.
The special economic zones are meant to alleviate the lack of industry in the South. During the signing, Peña Nieto highlighted the difference between the South and the industrial North and Center of Mexico: two of every three people in extreme poverty in Mexico live in the southern states. While the three poorest states (Chiapas, Oaxaca and Guerrero) have about 10% of the population, they only receive $1 of every $36 in foreign direct investment in the country. He went on to say that there are two Mexicos; one "that competes and wins in the global economy, with growing levels of income, development and well-being", while the other Mexico "has been left behind [and] hasn't been able to take advantage of its potential."
The special economic zones will offer tax incentives (exempetion from the 16% VAT), trade and customs benefits and the streamlining of regulatory processes. There will also be an increase in infrastructure spending in these regions. Private administrators will run the zones on 40 year contracts (managing infrastructure and attracting tenants). According to Peña Nieto, at the latest, each of these zones will have an anchor tenant that will attract suppliers and other industries in the supply chain by 2018. The World Bank advised Mexico during the formulation of the special economic zones plan.
TIME Magazine Cover controversy
In February 2014, TIME was met with controversy, for the release of a cover featuring Enrique Peña Nieto and the legend Saving Mexico (written by Michael Crowley), as the cover article's title inside the magazine. The controversial article, praised the president and his cabinet for reforms like opening oil fields for foreign investment for the first time in 75 years (a reform towards which Mexican citizens have shown mixed feelings), ending the Mexican drug wars (which was not completely accurate), and even going as far as saying "the opposition party blocked major reforms that were necessary", that "American leaders could learn a thing or two from their resurgent southern neighbor" and saying Mexicans citizens "alarms were replaced with applause". The last part proved not true, when the cover immediately spawned heavy amounts of backlash on social media, becoming a meme spawning multiple parody covers ranging from changing the legend to mock words like "Selling Mexico", "Slaving Mexico", "Starving Mexico", "Who is saving Mexico from this ass-hole?" to editing Peña Nieto into clown make-up, dressed as the Virgin Mary, Jesus Christ, the Pope, to one featuring an old lady holding a gun with the legend "Saving Mexico... pero de Peña Nieto" (but from Peña Nieto). Multiple articles criticizing the article, some websites even asked Time magazine, if Peña Nieto paid for the cover story. Even leading Michael Crowley, the writer of the article to write on twitter "Remarkable how many critics of Mexico's president seem to believe I must have literally taken a bribe to write a positive story about him"
Peñabots controversy
Peñabots is the name given to what analysts believe to be a network of automated accounts on social media used by Mexican government to spread pro-government propaganda and to marginalize dissenting opinions in social media, the bots were first noticed in the 2012 elections when they were used to disseminate opinions in support of Enrique Peña Nieto in social networks. According to Aristegui Noticias, their usage goes against the articles 6th and 134 of the Mexican Constitution, the ones used by the current government cost an estimated 80 million pesos monthly fee, which is paid with money extracted form the citizens taxes. Facebook currently holds approximately 640'321 Peñabots, while Twitter requires less.
2014 Iguala mass kidnapping
Enrique Peña Nieto's presidential management of the Ayotzinapa crisis has been criticized. During the crisis 43 students disappeared.
House scandal
The white house scandal refers to a journalistic report that revealed that first lady Angélica Rivera's $7 million house in Lomas de Chapultepec in Mexico City was registered under the name of a construction company property of Juan Armando Hinojosa Cantú that received contracts in the state of Mexico when Enrique Peña Nieto was governor. With Peña Nieto as president, a subsidiary of the same company was also awarded part of a huge contract to build a high-speed train from Mexico City to Querétaro. The contract was later cancelled amid protests regarding the bidding process. The revelation about the potential conflict of interest in the acquisition of the house aggravated discontent about the government's handling of the disappearance and apparent massacre of 43 trainee teachers by a drug gang working with corrupt police and government officers in Guerrero. Rivera released a video in which she detailed her income as a former soap opera actress, stating that she was selling the house and that the property was not under her name because she had not made the full payment yet. However, Enrique Peña Nieto has failed to address the potential conflict of interest in spite of constant demands by the Mexican citizens, media and senators from the opposition.
Second House scandal
The white house scandal triggered yet another scandal as Peña Nieto has been linked to another house owned by Juan Armando Hinojosa Cantú, owner of Grupo Higa. The house was used during the Presidential campaign in 2012 and a few times once he was already elected President. The official statement from the President's office, however, claims that the house was used only a few times for meetings and not when he was already President. An article published on Aristegui Noticias provided evidence that the house was indeed used by Peña Nieto after the election.
Panama Papers revelations
Juan Armando Hinojosa Cantú, a close friend of Peña Nieto, enlisted Panamanian law firm Mossack Fonseca to create trusts for accounts worth US$100 million after he was investigated for allegedly giving special favours to the Mexican president Peña Nieto and his wife, according to an analysis by ICIJ, who said that the documents showed "a complex offshore network" of nine companies in New Zealand, the United Kingdom, and the Netherlands. Described as Peña Nieto's "favorite contractor", Hinojosa's companies have won more than eighty government contracts and received at least US$2.8 billion in state money.
Invitation for Donald Trump to visit Mexico
After inviting the Republican presidential candidate Donald Trump on August 31, 2016, the president was heavily criticized by the citizens of Mexico, news journalists including Jorge Ramos, due to the fact that Trump took control of the one-hour press conference, upstaged Peña Nieto making him look weak in comparison according to citizens, and left Mexico without offering any apologies for his anti-illegal immigrant rhetoric or changing his proposals, among them a Mexico–United States border wall that Trump suggest Mexico would pay for, yet wasn't addressed in the conference. Despite this president Enrique claimed on his Twitter, to have left clear to Trump that Mexico, would not pay for the wall, only to shortly after get a reply from Donald Trump saying: "Mexico will pay for the wall!". According to Business Insider, Donald Trump's Mexican visit helped him surge in the polls against Hillary Clinton.
Fallout of Trump's visit
Mexico's Finance Minister, Luis Videgaray Caso resigned shortly after supposedly suggesting the visit, but Mexican medias still blame Peña Nieto for authorizing the event. Videgaray replaced by his predecessor José Antonio Meade Kuribreña (who served the same role during Felipe Calderon's presidency), although he was replaced from office. Despite the universal fallout of Mexican criticisms and outcry towards his idea of the Trump visit, on January 4, 2017, Videgaray was reassigned, but now to be charge of international relationships, as Secretario de Relaciones Exteriores (Minister of Foreign Affairs) despite never having served that role before, many media outlets heavily criticized his return and didn't forgive him for the Trump incident, and also criticized his tenure as Minister of Finance.
Trump's Presidency and Border Wall
On January 26, 2017, Peña Nieto and Trump were going to meet, to talk for the first time after Trump presidency started, until Trump wrote on his Twitter account: "If Mexico is unwilling to pay for the badly needed wall, then it would be better to cancel the upcoming meeting", which directly led Peña Nieto to cancel his visit to United States President Donald Trump. According to the Washington periodist Dolia Estévez who was interviewed in Aristegui Noticias, said she got access to part of a one-hour phone conversation that happened between the 2 presidents the day of the supposed meeting. She stated, "Trump humillated Peña Nieto," and said that the conversation only lasted 20-minutes; she also explained that the speech was prolonged to an hour due to translation efforts, because Enrique Peña Nieto doesn't understand English. While many media outlets praised Peña Nieto for cancelling the visit with Trump, Forbes Mexico stated that despite showing support towards Peña Nieto for cancelling such event, "that shouldn't translate in forgiveness to what happens within our country (Mexico)" adding that "a state incapable of bring credibility and stability could not grow", and that more than Trump himself the thing stopping Mexico from prosperity was the corruption within the Mexican government itself.
Fourth year of government conference and presidential trip controversies
The day after Trump visited Mexico. Peña Nieto gave the annual speech about his 4th year of government, which happened was surrounded by controversy after denying plagiarism of his thesis despite evidence, and poorly Trumps visit. Many media outlets, and figures including PAN's president Ricardo Anaya claimed the people on the conference were active members of the PRI, this proven by signaling links to photos posted by many of the conference attendants respective Twitters and Facebook accounts. During the conference he also said he would go on an international trip the next day, claiming to only travel with people who were pivotal to such trips. On October 2, 2016; Aristegui revealed evidence of at least 12 friends and family members, traveling on the presidential plane, including his brother, his sons (9 times) Grupo Higa's president Juan Armando Hinojosa Cantu (whose company was part of the house scandal), first lady Angelica Rivera (17 times), her sisters (7 times and including an unnecessary stop in Istanbul) and even a friend of Peña Nieto's daughter Paulina Peña.
Protests and marches against Peña Nieto's Government
The citizens have gone as far as marching to denounce their dissaproval of Enrique Peña Nieto's Government.
Global Action for Ayotzinapa 2014
Due to Peña Nieto's government poor management of the Ayotzinapa crisis were 43 students disappeared and their bodies were never found, at least 7000 persons protested on Mexico City on December 1, 2014. "Fuera Peña!" (Get out Peña!) was their otcry urging the president to renounce his position.
Mexico's Grito de Independencia 2016
A month after the visit of Trump, during the Independence day celebration on September 15, 2016, thousands of citizens marched yelling and holding papers with the mottos such as previous protest "Fuera Peña!" and (Get out Peña!) and "Renuncia ya!" (Resign now!), their hope was to convince Peña Nieto to renounce to the Presidency of Mexico. The protesters attempted to enter the Zocalo and protest peacefully while the president gave the traditional "Grito de Indepencia" (Independence Scream), but the protesters couldn't reach Zocalo due to a human wall of soldiers. The president gave the "Grito", and Televisa along the rest of the Mexican news media outlets, failed to acknowledge the protest. While the Zocalo wasn't empty during the "Grito", there's a strong belief among Mexican citizens, that the people who attend were "poor" people, "bussed in from other states" offered a "free trip to the capital, a big great show" and food; so they go. This perceived practice is called "bringing Acarreados". Which means bringing people who have nothing to simulate support. (The term also applies to hand-picking people of the same political party to events to simulate more support.) Citizens also complained about the coverage of the protests.
Gasolinazo 2017 march against Peña Nieto
The first day of 2017, the in-conformity towards the "risen prices of the gasoline (known as Gasolinazo(s))" reached a peak, when the decry leaded to protest was far bigger than the one of Independence Day. Leading to march and protest across 29 out of the 32 states in Mexico boycotts to gas stations owned by the now privatized Pemex and even illegal gasoline sales around the country. The people used the hashtag #ReformaEnergetica on social media, the people continued screaming: "¡Fuera Peña¡ ¡Fuera Peña!" as in the previous protest, with an added: "No al Gazolinazo!". Unlike the previous protest this bigger protest was acknowledged by Televisa news media Carlos Loret de Mora, who said on Twitter "The President hoped the (energy) reforms would be his legacy" with the "gasolinazo" he buried them (the reforms). Bloomberg stated Mexico tied with South Africa as the "country with most income spent on fuel due to low salaries". The equivalent of 12 days of minimum wage to fill a tank.
An extraordinary, emergency meeting between the governors of Mexican States, organized by the Head of Government of the Federal District, Miguel Ángel Mancera from the Party of the Democratic Revolution (PRD) will be held to discuss the consequences of the gasolinazo. Enrique Peña Nieto hasn't confirmed his attendance, nor said anything regarding the matter due to being on vacations with the governor of Sinaloa, (also from the PRI).
Lowest presidential approval in modern history
In August 2016 approval ratings dropped for Peña Nieto to 23 percent (74 percent said they disapproved of his performance), which newspaper Reforma — revealed to be the lowest approval rating for a president since they began polling in 1995.
In January 1, 2017, the gas prices increased 20% in what became the Gasolinazo 2017 crisis. Soon after on January 19, 2017, Reforma pooled again for approvals ratings towards Peña Nieto's presidency and found his approval rating decreased to only 12%. Peña Nieto was even discovered as more unpopular than U.S. President Donald Trump. In February 22, 2017, Aristegui revealed during the same time-frame trough January 14–15, another although not publicized, survey done by CESOP Centro de Estudios Sociales y de Opinion Publica de la Camara de Diputados (Social Study Center and of Public Opinion of the Chamber of Deputes) and titled Prospectiva Electoral 2018 (Prospective Election 2018), placed Peña Nieto's approval even lower at 6%.
Media gaffes
Enrique Peña Nieto has been known for his occasional lapses in memory or gaffes during public events or interviews. The most noted incident occurred during the International Book Fair of Guadalajara on 3 December 2011. On that day, during a question and answer session, he was asked by an audience member to name three books that had influenced him, being only able to correctly reference the Bible. He then "rambled, tossing out confused title names, asking for help in recalling authors and sometimes mismatching" the two others. Other incidents have involved him not being able to recall Benito Juárez's year of birth, being unable to remember the acronym of the Federal Institute of Access to Information (IFAI), changing the date of foundation of the state of Hidalgo, mistaking the capital of the State of Veracruz, mentioning the U.S. presidential candidate "La señora Hillary Trump" (Mrs. Hillary Trump), among others, of varying degree of substantiation or credibility. However, they have become viral on social media (especially on Twitter), and even a website that counts the number of days since his last gaffe.
Family life
In 1993, Peña married his first wife, Mónica Pretelini (b. 1963) and the couple had three children: Paulina, Alejandro and Nicole. Peña Nieto had two illegitimate children during his first marriage; a son with Maritza Díaz Hernández, and another child, with an undisclosed woman, who died as an infant. Pretelini died on 11 January 2007 as the result of an epileptic episode. Pretelini had a vital role during the campaign of Peña Nieto's governorship.
In 2008, Peña Nieto began a relationship with Televisa soap opera actress Angélica Rivera - whom he had hired to help publicize his political campaign for the State of Mexico. The couple married in November 2011, although media outlets have questioned the validity of the marriage as of 2015, from supported speculation saying Mexico's Catholic Church bent rules, to perceiving the marriage could have been a publicity stunt to help his presidential campaign.
Peña Nieto has said that he provides for the son he fathered with Hernández, but has little contact with him. His support for the child became a political issue during the 2012 presidential election, when both Hernández and rival candidate Josefina Vazquez Mota accused him of not supporting the child.
In July 2013, a nodule was discovered on Peña Nieto's thyroid gland, but was deemed to be benign and removed.
Honours
National Order of Juan Mora Fernández, Grand Cross with Gold Plaque, awarded by Laura Chinchilla on 19 February 2013.
Order of Prince Henry, Grand Collar, awarded by Aníbal Cavaco Silva on 2 June 2014.
Order of Isabella the Catholic, Grand Cross with Collar, awarded by King Juan Carlos I of Spain on 6 June 2014.
Order of the Sun of Peru, Grand Cross with Diamonds, awarded by Ollanta Humala on 17 July 2014.
Order of the Bath, Knight Grand Cross, awarded by Queen Elizabeth II of the United Kingdom on 3 March 2015.
Order of the Southern Cross, Grand Collar, awarded by Dilma Rousseff on 26 May 2015.
Order of Charles III, Grand Cross with Collar, awarded by King Felipe VI of Spain on 20 June 2015.
Order of King Abdulaziz, Collar, awarded by King Salman of Saudi Arabia on 17 January 2016.
Order of the Elephant, Knight, awarded by Queen Margrethe II of Denmark on 13 April 2016.
Order of Merit of the Italian Republic, Grand Cross with Cordon, awarded by Sergio Mattarella on 21 July 2016.
Order of the Liberator General San Martín, Grand Collar, awarded by Mauricio Macri on 29 July 2016.
References
Enrique Peña Nieto Wikipedia
(Text) CC BY-SA