Kingdom

Animalia




Family

Fissurellidae




Phylum

Mollusca




Rank

Genus




Superfamily

Fissurelloidea




Scientific name

Emarginula




Higher classification

Fissurellidae






Similar

Gastropods, Fissurellidae, Molluscs, Diodora, Diodora graeca
wikipedia emarginula divae
Emarginula is a genus of small keyhole limpets, marine gastropod molluscs in the family Fissurellidae.
Contents
Description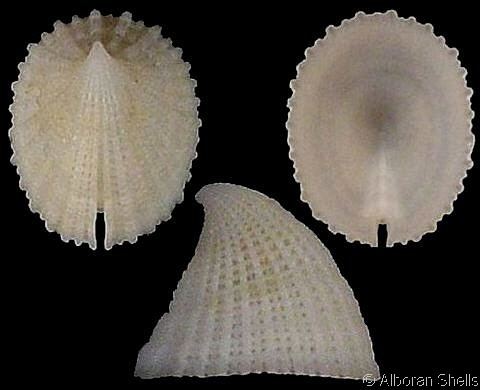 The oval shell is obliquely conical with a backward-pointing recurved apex. There is a deep incision in the anterior margin. A distinct anal fasciole extends upwards from this incision. The surface is latticed, sculptured with radial ribs. There is no septum inside.
Radula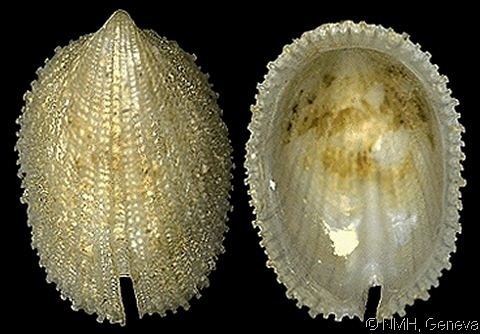 The radula has a dental formula of [many].1.4.1.4.1.[many], with a wide, rectangular, acuspate rachidian tooth. The various genera have a few dozen rows of teeth.
Species
According to the World Register of Marine Species (WoRMS), species within the genus Emarginula include: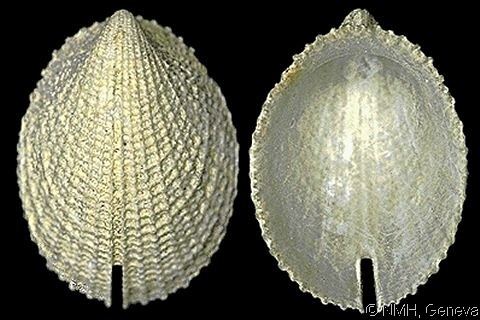 The following species are mentioned in other databases : The Indo-Pacific Molluscan Database also mentions the following species with names in current use :
Emarginula curvata Schepman, 1908
Emarginula multisquamosa Schepman, 1908
Emarginula sublaevis Schepman, 1908
Subgenus Emarginula Lamarck, 1801
Emarginula bellula A. Adams, 1851
Emarginula cucullata Adams, 1851
Emarginula fissurata A. Adams, 1851
Emarginula harmilensis Sturany, 1903
Emarginula plana Schepman, 1908
Emarginula scabricostata A. Adams, 1851
Subgenus Emarginula (Subzeidora) Iredale, 1924
Species brought into synonymy
Emarginula altilis Gould, 1859: synonym of Variemarginula punctata (A. Adams, 1852)
Emarginula amitina Iredale, 1925: synonym of Emarginula dilecta A. Adams, 1852
Emarginula angustata Thiele, 1915: synonym of Tugali decussata A. Adams, 1852
Emarginula arabica A. Adams, 1852: synonym of Octomarginula arabica (A. Adams, 1852)
Emarginula arconatii Issel, 1869: synonym of Montfortista panhi (Quoy & Gaimard, 1834)
Emarginula australis Quoy & Gaimard, 1834: synonym of Montfortia subemarginata (Blainville, 1819)
Emarginula bella Gabb, 1865: synonym of Scelidotoma bella (Gabb, 1865)
Emarginula biangulata G. B. Sowerby III, 1901: synonym of Emarginella biangulata (G. B. Sowerby III, 1901)
† Emarginula blainvillii Defrance, 1825: synonym of † Rimula blainvillii (Defrance, 1825)
Emarginula brevirimata Deshayes, 1862: synonym of Montfortula brevirimata (Deshayes, 1862)
Emarginula clathrata A. Adams & Reeve, 1850: synonym of Montfortista panhi (Quoy & Gaimard, 1834)
Emarginula clathrata Pease, 1863: synonym of Emarginula dilecta A. Adams, 1852
Emarginula conica Lamarck, 1801: synonym of Emarginula fissura (Linnaeus, 1758)
Emarginula conica Schumacher, 1817 non Lamarck, 1801: synonym of Emarginula rosea Bell, 1824
Emarginula dentigera Heilprin, 1889: synonym of Hemimarginula dentigera (Heilprin, 1889)
Emarginula elata Locard, 1898: synonym of Emarginula christiaensi Piani, 1985
Emarginula elongata O. G. Costa, 1829: synonym of Emarginula octaviana Coen, 1939
Emarginula eximia A. Adams, 1852: synonym of Emarginella eximia (A. Adams, 1852)
Emarginula flindersi Cotton, 1930: synonym of Emarginula convexa Hedley, 1907
Emarginula fuliginea Kuroda, 1941: synonym of Variemarginula variegata (A. Adams, 1852)
Emarginula guernei Dautzenberg & Fischer, 1896: synonym of Emarginula tuberculosa Libassi, 1859
Emarginula hedleyi Thiele, 1915: synonym of Emarginula candida A. Adams, 1852
Emarginula incisula(sic): synonym of Emarginella incisura (A. Adams, 1852)
Emarginula incisura A. Adams, 1852: synonym of Emarginella incisura (A. Adams, 1852)
Emarginula kimberti Cotton, 1930: synonym of Laeviemarginula kimberti (Cotton, 1930)
Emarginula modesta H. Adams, 1872: synonym of Hemimarginula modesta (H. Adams, 1872)
Emarginula muelleri Forbes & Hanley, 1849: synonym of Emarginula fissura (Linnaeus, 1758)
Emarginula ostheimerae Abbott, 1958: synonym of Octomarginula ostheimerae (Abbott, 1958)
Emarginula panhi Quoy & Gaimard, 1834: synonym of Montfortista panhi (Quoy & Gaimard, 1834)
Emarginula papillosa Risso 1826: synonym of Emarginula huzardii Payraudeau, 1826
Emarginula parmophoidea Quoy & Gaimard, 1834: synonym of Tugali elegans Gray, 1843
Emarginula peasei Thiele, 1915: synonym of Emarginula dilecta A. Adams, 1852
Emarginula picta Dunker, 1860: synonym of Montfortula picta (Dunker, 1860)
Emarginula pileata Gould, 1859: synonym of Variemarginula punctata (A. Adams, 1852)
Emarginula pileum Heilprin, 1889: synonym of Hemimarginula pileum (Heilprin, 1889)
Emarginula planulata A. Adams, 1852: synonym of Emarginella planulata (A. Adams, 1852)
Emarginula polygonalis A. Adams, 1852: synonym of Hemitoma polygonalis (A. Adams, 1852)
Emarginula pulchreclathrata Tomlin, 1932: synonym of Emarginula agulhasensis Thiele, 1925
Emarginula pumila A. Adams, 1852: synonym of Hemimarginula pumila (A. Adams, 1852)
Emarginula punctata A. Adams, 1852: synonym of Variemarginula punctata (A. Adams, 1852)
Emarginula reticulata Sowerby, 1813: synonym of Emarginula fissura (Linnaeus, 1758)
Emarginula rugosa Quoy & Gaimard, 1834: synonym of Montfortula rugosa (Quoy & Gaimard, 1834)
Emarginula scutellata Deshayes, 1863: synonym of Octomarginula scutellata (Deshayes, 1863)
Emarginula sibogae Schepman, 1908: synonym of Emarginella sibogae (Schepman, 1908)
Emarginula simpla Christiaens, 1987: synonym of Hemimarginula simpla (Christiaens, 1987)
Emarginula stellata A. Adams, 1852: synonym of Montfortula rugosa (Quoy & Gaimard, 1834)
Emarginula subclathrata Pilsbry, 1890: synonym of Emarginula dilecta A. Adams, 1852
Emarginula subemarginata Blainville, 1819: synonym of Montfortia subemarginata (Blainville, 1819)
Emarginula subrugosa Thiele, 1916: synonym of Hemimarginula subrugosa (Thiele, 1916)
Emarginula sulcifera A. Adams, 1852: synonym of Montfortulana sulcifera (A. Adams, 1852)
Emarginula tricarinata Pilsbry, 1890: synonym of Montfortista panhi (Quoy & Gaimard, 1834)
Emarginula tricostata G.B. Sowerby I, 1823: synonym of Hemitoma octoradiata (Gmelin, 1791)
Emarginula vadososinuata Yokoyama, 1922: synonym of Tugalina vadososinuata (Yokoyama, 1922)
Emarginula vadum Barnard, 1963: synonym of Emarginula undulata Melvill & Standen, 1903
Emarginula variegata A. Adams, 1852: synonym of Variemarginula variegata (A. Adams, 1852)
References
Emarginula Wikipedia
(Text) CC BY-SA