7.6

/

10

1

Votes

Alchetron

Rate This




Initial release

1996




Narrator

Maya Angelou






Director

Emily Squires






Awards

Daytime Emmy Award for Outstanding Children/Youth/Family Special




Costume design

Terry Roberson, Bill Kellard




Cast

Kevin Clash, Caroll Spinney, Jerry Nelson, Joey Mazzarino, Martin P Robinson




Similar

Elmo's Christmas Countdown, The Adventures of Elmo in, A Muppets Christmas: Letters to, Sesame Street Presents, Abby in Wonderland
Elmo Saves Christmas is a 60-minute television special and home video that was released and aired on PBS on December 2, 1996. In the story, Elmo learns that Christmas can't occur every day. It was shot at Sesame Street's usual home: the Kaufman Astoria Studios in New York City. It was based on a short story, "Christmas Every Day" by William Dean Howells.
Contents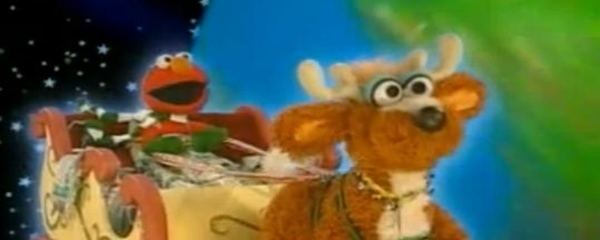 Synopsis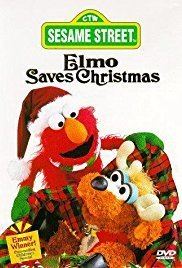 Elmo stays up till midnight on Christmas Eve, hoping to catch a glimpse of Santa Claus. He eventually falls asleep, but is awakened when Santa gets stuck halfway up his chimney. Santa tells Elmo that when he pulled him out of chimney, he saved Christmas for children all over the world. To thank him, he lets him choose a special Christmas present: either a pink teddy bear or a magical snow globe. Elmo chooses the snow globe and gets three wishes. His first wish was a glass of water, which was wasteful, but Santa warns him not to waste the other two wishes.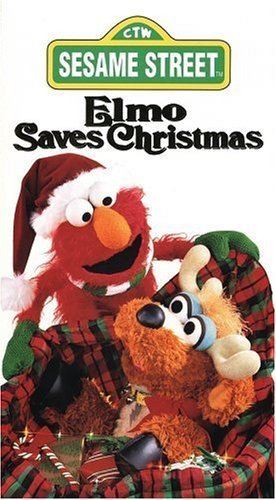 On Christmas morning, Elmo, excited by all the joy and cheer, wishes for it to be Christmas every day as his second one, which turns out to be a huge mistake. At first, everyone is excited, but Santa arrives, explaining to him that Christmas can't occur everyday because it wouldn't be special. To that, he has Lightning the reindeer take him on a sleigh ride to the future to see the effects of his wish and what Christmas is like in seasons such as spring and summer. Big Bird is upset because his friend, Snuffy went to celebrate Christmas with his grandmother in Cincinnati, Ohio and promised him that he'd return the day after Christmas, but since Elmo made the wish, Snuffy never came back. Maria, Luis, and Gabi were enjoying themselves on Christmas, but thanks to Elmo's wish, they won't be able to fix all the broken toasters that their customers leave behind since the Fix-It shop is closed for Christmas. Santa's elves haven't gotten a vacation in months and holidays such as Easter and the Fourth of July aren't the same in celebrating. But Oscar enjoys it since his trash can is surrounded by wrapping paper and worn-out Christmas trees, broken toasters piled up outside the Fix-It Shop, and nothing is playing on television but It's a Wonderful Life, declaring it a "bah humbug" kind of Christmas every day.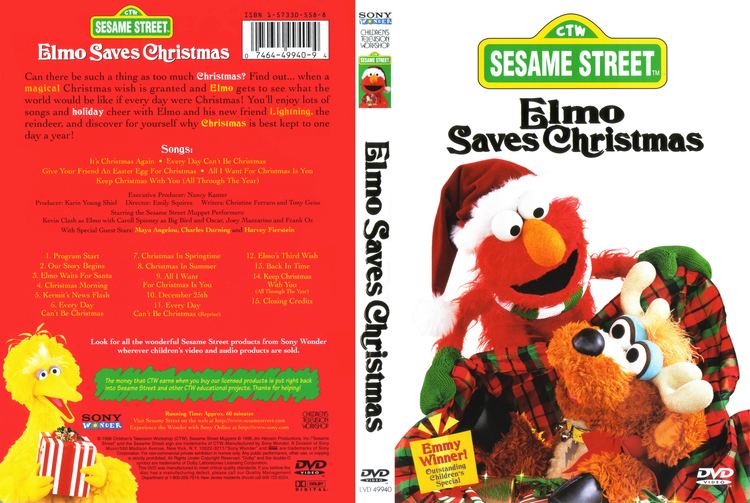 Elmo and Lightning then travel to next winter at Christmastime, only to find Sesame Street in ruins, the Count "all Christmassed out" from all the Christmases he's counted in these last few months, the carolers lose their voices from singing, Christmas trees are an endangered species, Big Bird is crying because Snuffy has been gone for a whole year, the Fix-It Shop, Hooper's Store and other stores go out of business, and Santa has decided to retire and move to Florida.
Guilty and realizing the wish was all his fault, Elmo realizes he can fix it all with his last wish from the snow globe, wishing that everything would go back to the way it was when Christmas was only once a year. However, the snow globe flies out of his hands and breaks. All hope is lost until he and Lightning decide to go back in time to the Christmas Eve when it all started when Elmo pulled Santa out of the chimney before he chose the snow globe and wished for Christmas everyday. This time, he chooses a new gift, a Moo Bunny, a plush toy which is a cross between a cow and a rabbit. The next morning, Big Bird is standing alone outside the Fix-It Shop when Snuffy arrives, saying that instead of spending Christmas with his grandmother in Cincinnati, she came to Sesame Street instead. Afterwards, Elmo learns that although Christmas can't be every day, it's always good to keep the spirit of Christmas every day and every year in your heart.
Cast
Maya Angelou as Herself/Narrator
Emilio Delgado as Luis
Sonia Manzano as Maria
Desiree Casado as Gabi
Bob McGrath as Bob
Alison Bartlett-O'Reilly as Gina
Roscoe Orman as Gordon
David Smyrl as Mr. Handford
Carlo Alban as Carlo
Charles Durning as Santa Claus
Harvey Fierstein as the Easter Bunny
14 Karat Soul as Themselves
Muppet performers
Kevin Clash as Elmo, Natasha, Benny Rabbit
Joey Mazzarino as Lightning
Fran Brill as Zoe
Jerry Nelson as Count von Count, Mr. Johnson, News Flash Announcer
Carmen Osbahr as Rosita
Frank Oz as Grover, Cookie Monster
Martin P. Robinson as Mr. Snuffleupagus, Telly Monster
David Rudman as Baby Bear, Humphrey
Caroll Spinney as Big Bird, Oscar the Grouch
Bryant Young as Rear End of Mr. Snuffleupagus
Steve Whitmire as Kermit the Frog
Additional Muppets performed by Alice Dinnean, Peter Linz, Noel MacNeal, Pam Arciero, Jim Martin, John Tartaglia, and Matt Vogel.
Songs and sketches
Christmas Story Begins
It's Christmas Again Number One
Cookie Monster and Elmo Get Your Cookies, and Big Bird and Snuffy Go to Cincinnati
It's Christmas Again Number Two, Christmas Story Continues, Christmas Story Continued, and Sesame Street News Flash
It's Christmas Again Number Three
Every Day Can't Be Christmas
It's Christmas Again Number Four
Give Your Friend an Easter Egg for Christmas
It's Christmas Again Number Five
All I Want for Christmas Is You
It's Christmas Again Hoarsely
Every Day Can't Be Christmas (Reprise)
Keep Christmas with You (All Through the Year)
Credits
Produced by: Karin Young Shiel
The Muppet Performers: Kevin Clash, Carroll Spinney, Joey Mazzarino, Jerry Nelson, Martin P. Robinson, Fran Brill, David Rudman, Carmen Osbahr, Pam Arciero, Peter Linz, Noel MacNeal, Jim Martin, Alice Dinnean, Bryant Young, John Tartaglia, Matt Vogel, Steve Whitmire, and Frank Oz
Cast: Sonia Manzano, Emilio Delgado, Bob McGrath, Alison Bartlett-O'Reilly, Roscoe Orman, David Smyrl, and Carlo Alban
Special Guest Star: 14 Karat Soul
Child Talent: Desiree Casado, Mara Feinstein, Noemi Hernandez, Andrew Mackasek, Theresa Sophia Rivera
Puppet Captain: Kevin Clash
Jim Henson's Muppet Workshop: Ed Christie, Mark Zeszotek, Lara MacLean, Stephen Rotondaro, Carlo Yannuzzi
Production Designer: Victor DiNapoli
Costume Designers: Bill Kellard and Terry Roberson
Lighting Designers: Dan Kelly and Mitchell Bogard
Associate Producer: Carol Colmenares
Associate Director: Ken Diego
Second Unit Director: Victor DiNapoli
Production Manager: Zoya Kachadurian
Stage Manager: Chris Kelly
Editor: Scott P. Doniger, Full Circle Post
Musical Director: Dick Lieb
Associate Music Director: Dave Conner
Music Coordinator: Danny Epstein
Talent Coordinator: Danette De Sena
Animation: Paladino Design
Art Director: Bob Phillips
Set Decorator: Nat Mongioi
Graphic Designers: Mike Pantuso and Pete Ortiz
Children's Casting: Gabrielle Howard and Jason Schneider
Control Room P.A.: Carol-Lynn Parente
Production Assistants: Lori Sherman, Ann Levin, Katrin Vandam, John McDonald
Camera: Frank Biondo, Mark Whitman, Patrick Minietta
Audio: Blake Norton and Carla Bandini-Lory
Post Audio Mix: Richard Fairbanks and Peter Roos
Hair & Make-Up: Cidele Curo
Production Interns: Monisha Harrell, Alison Boesel, Alice Kennedy, Heidi Sohng, Rachel Fireman
Music & Lyrics by: David Axlerod, Tony Geiss, Sam Pottle
Executive In Charge Of Production For Sony Wonder: Becky Mancuso-Winding
Special Thanks to: Marjorie Kalins, Nan Halperin, Jodi Nussbaum, Dolores Morris, Ted Green, Wendy Moss, Renee Rachelle
Footage from "It's A Wonderful Life", Courtesy Of Republic Entertainment Inc.
Taped At Kaufman Astoria Studios, New York
Children's Television Workshop
References
Elmo Saves Christmas Wikipedia
(Text) CC BY-SA