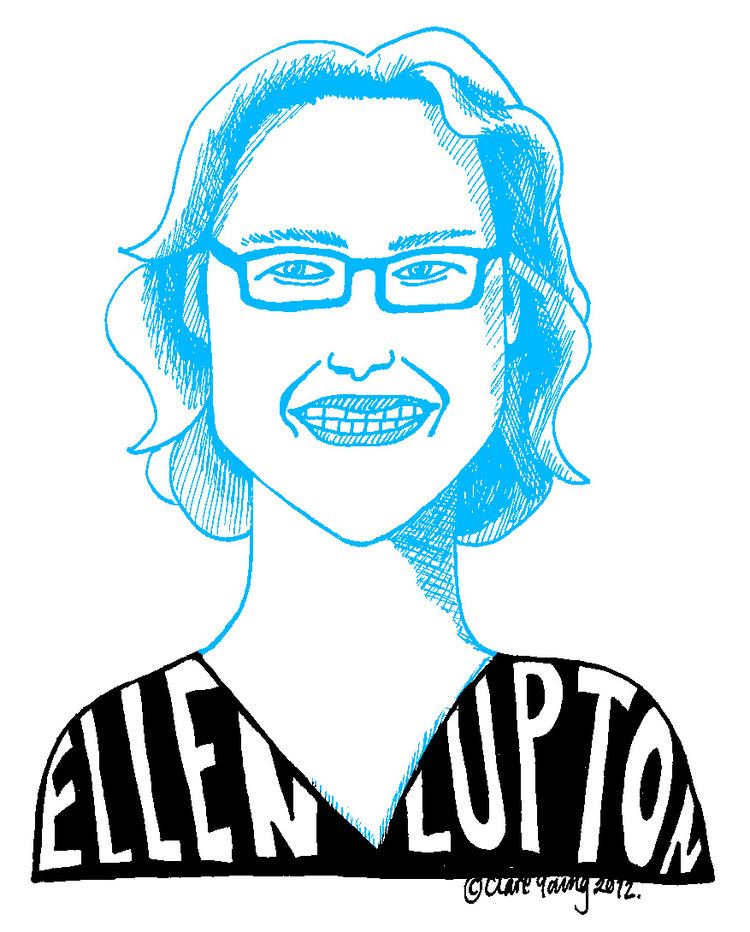 She was born in Philadelphia, Pennsylvania in 1963. Lupton started out as an art major at Cooper Union College. During the 1980s, design, in particular digital design, wasn't as popular as it is today. To Lupton, the visual art of writing was an inspiration to a self-professed art girl who came from a family of English teachers. When Lupton graduated from college, she was offered a position at the Cooper Union Herb Lubalin Study Center of Design and Typography, which preserves design history. By accepting this position, she was able to take her love of typography, writing, and design and combine them all together. While working at the Herb Lubalin Study Center, Lupton was also able to put her creations on display for the public to see. These exhibitions provided another arena in which objects, images and text functioned as both the method of communication and the subject of inquiry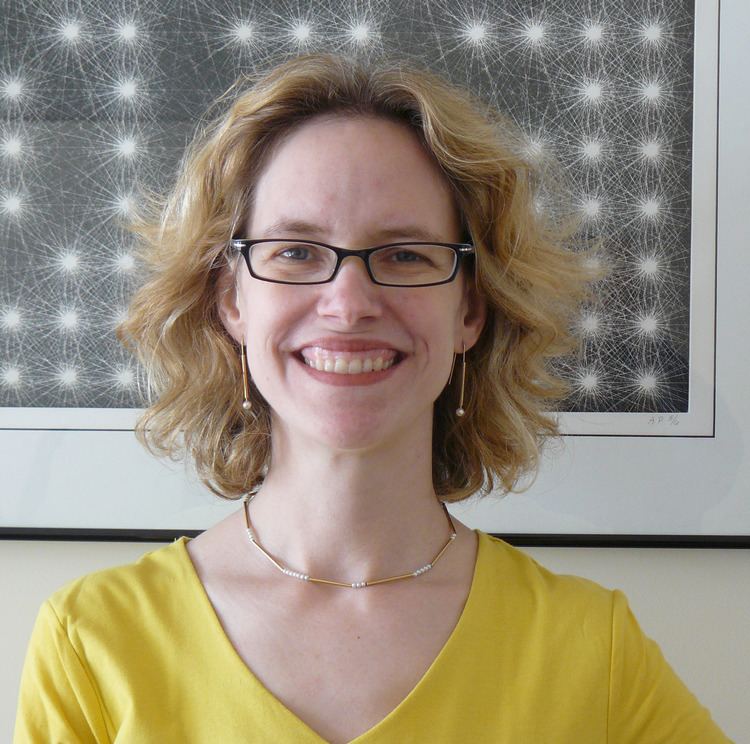 In 1997, Lupton was invited to become the digital design director of the Master of Fine Arts program at the Maryland Institute College of Art. Lupton enjoyed being back in her hometown of Baltimore. Here, Lupton was able to become a do it yourself curator and build a reputation within the writing field. With this experience, Lupton was able to further her knowledge in exhibitions. Each exhibition that she has worked on has been accompanied by a sturdy and ambitious public interest.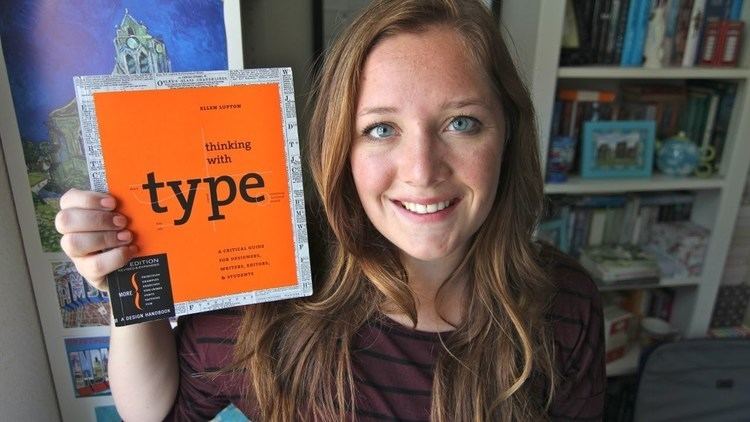 Lupton also began writing many hands on books about the design world. In 1996, Lupton co-wrote a book with the Cooper- Hewitt Museum entitled Mixed Message: graphic design in contemporary culture. This book focused on the revolutionary changes that graphic design went through in the early 1980s to the late 1990s. It also spoke about how the Cooper-Hewitt Museum in particular was able to focus on the changes and accept them within the design world. Lupton also went on to write
Design Writing Research: writing on graphic design,
Skin: Surface, Substance and Design,
D.I.Y.: Design it Yourself,
Thinking with Type: A Critical Guide for Designers, Writers, Editors, & Students,
and many more books regarding design. Lupton has described typefaces as "the air we breathe, the water we drink and the pot we smoke."
Lupton primarily bases her designs on typography and implements type on a communicative level. Not only is lettering used to describe everyday things to us, or to help us communicate, but it is also there to be a creative tool for writers, artists, illustrators, and graphic designers. Regardless of the type of design some texts may have, text is everywhere. It is a medium and a message to the senders and receivers.
In order to create new typefaces and new designs in regards to type, it is important to date back to when type became an organized framework. Lupton bases much of her creation of type on The Bauhaus design techniques. In the 1920s, the Bauhaus was opened to explore to as a universal, perceptually based on language of vision. As Lupton states in her book Graphic Design: the new basics the Bauhaus and other schools analyzed form in terms of basic geometric elements. Many designers, including Lupton herself, followed much of what the Bauhaus taught. Some the designers also got involved in the postmodern rejection of universal communication and interaction. Postmodernism late became a dominant ideology in the 1980s and 1990s. Regardless of what the Bauhaus says about the technical side of signing typography, it is truly the designers tasks to produce a work that the general art world could appreciate and understand. Lupton has proven this time and time again with her works on helping the public to understand how simple the design world can be; her D.I.Y book.
After Lupton graduated from college in 1985, her drive for changing the commercial art world took a change for the best. Lupton graduated with a degree in typography and later sought to follow within the field of design. "Graphic design was a revelation to me," says Lupton. "Design really wasn't in the mainstream back then. It was esoteric. It was the thing you did if you were very 'neat,' which I wasn't.". With the booming interest in self-help books, Lupton co wrote the book titled D.I.Y.: Design It Yourself with graduate students from MICA. This book showed ordinary people, a new way of designing their own, unique works. From designing blog pages to creating your own book cover, Lupton breaks down the simplicity of the design world. "People don't just eat food anymore, they present it; they don't look at pictures, they take them; they don't buy T-shirts, they sell them.
In the D.I.Y.: Design It Yourself book, Lupton links design with capitalism and the Marxist Theory. In a Capitalist society, producers of goods are able to create their own unique materials and have them shared with the public for a profit. D.I.Y designers are able to rid the wave of capitalism while seeking out new counter-currents that carry their own imprint. D.I.Y is just like creating your own brand of T-shirts and selling them worldwide; your designing something based on your idea of art or fashion in this case.
Lupton is married to J. Abbott Miller, a partner in the New York office of the international design firm Pentagram. They live in Baltimore with their children and dogs Jack and Kevin, who are both chihuahua-jack-russell mixes.
Lupton also collaborates design work with her twin sister Julia Lupton. Although Julia Lupton graduated with a PhD in Renaissance Studies, they were able to write a few books together; Design Your Life: The Pleasures and Perils of Everyday Things and D.I.Y kids. D.I.Y kids is a spin-off of Ellen Lupton's book D.I.Y: Design it Yourself. Although the different versions are directed towards different age groups, Ellen and Julia were able to create a do-it-yourself book for children to which the parents could become more involved with arts and crafts. From using recycled goods to creating your own cartoon characters, the Lupton sisters cover the hands on aspects of being a kid.
Graphic Design: Now in Production, October 22, 2011 – January 22, 2012
This major international exhibition explores how graphic design has broadened its reach dramatically over the past decade, expanding from a specialized profession to a widely deployed tool.
Living World, May 2009-January 2010.
This was done in regards to the Nature Conservancy. Many different designers created their exhibition products from using materials from ten endangered landscapes.
Skin Show, May–September, 2002.
Brought artificial life into modern designed furniture, fashion, architecture, and media. The exhibit mainly showed many different shapes and forms of household furniture.
Mixing Messages, Fall, 1996/Winter 1997.
This focused on cultural and technological changes within history in regards to typefaces
Letterhead Show, Spring 1996.
Showed original letterheads and ephemera by Herbert Bayer, László Moholy-Nagy, and Le Corbusier
Elaine L. Cohen, February 7 – May 23, 1995.
This exhibit focused on the groundbreaking designing books that were released by female design artists during the 1950s through the 60's
Mechanical Brides: Women and Machines from Home to Office, August 17, 1993 to January 2, 1994.
Mechanical Brides was an exhibition centered on what was thought to be important feminine machines throughout the twentieth century. The exhibit included washing machines, a telephone, an electric iron, and a typewriter. Along with this exhibit, Lupton also designed the cover for the book Mechanical Brides: women and machines from home to office
Graphic Design: The New Basics, Revised and Second Edition (Co-authored by Jennifer Cole Phillips), Princeton Architectural Press, 2015 (ISBN 978-1616893323)
Beautiful Users, Princeton Architectural Press, 2014. (ISBN 978-1616892913)
Type On Screen (Design Briefs), Princeton Architectural Press, 2014. (ISBN 978-1616891701)
Graphic Design Thinking (Design Briefs), Princeton Architectural Press, 2011. (ISBN 978-1568989792)
Thinking with Type, 2nd revised and expanded edition: A Critical Guide for Designers, Writers, Editors, & Students, Princeton Architectural Press, 2010. (ISBN 978-1568989693)
Indie Publishing, Princeton Architectural Press. (ISBN 978-1-56898-760-6)
Design Writing Research, Phaidon Press. (ISBN 978-0-7148-3851-9)
D.I.Y.: Design It Yourself, Princeton Architectural Press, 2006. (ISBN 978-1-56898-552-7)
Thinking with Type: A Critical Guide for Designers, Writers, Editors, & Students, Princeton Architectural Press, 2004. (ISBN 978-1-56898-448-3)
Skin: Surface, Substance, Design, Princeton Architectural Press, 2002. (ISBN 978-1-56898-711-8)
Graphic Design: The New Basics (Co-authored by Jennifer Cole Phillips), Princeton Architectural Press, 2008 (ISBN 978-1-56898-770-5)
D.I.Y.: Kids (Co-authored by Julia Lupton), Princeton Architectural Press, 2007. (ISBN 978-1-56898-707-1)
Inside Design Now", Princeton Architectural Press, 2003. (ISBN 978-1-56898-395-0)
Mixing Messages, Princeton Architectural Press, 1996. (ISBN 978-1-56898-099-7)
The ABC's of Bauhaus, the Bauhaus and Design Theory, Princeton Architectural Press, 1991. (ISBN 978-1-878271-42-6)
Sexy Librarian, Ellen Lupton/Slush Editions. (ISBN 978-0615176772)[1]