6.4

/

10

Alchetron

6.4

Rate This





First episode date

29 March 1994




Composer(s)

W.G. Snuffy Walden

Final episode date

22 July 1998




Created by

Neal MarlensCarol BlackDavid S. Rosenthal

Starring

Ellen DeGeneresDavid Anthony HigginsClea LewisJoely FisherJeremy PivenArye GrossHolly FulgerMaggie Wheeler

Theme music composer

Johnny McElhoneSharleen Spiteri

Network

American Broadcasting Company

Cast
Ellen is an American television sitcom that aired on the ABC network from March 29, 1994, to July 22, 1998, consisting of 109 episodes. The title role is Ellen Morgan, played by stand-up comedian Ellen DeGeneres, a neurotic bookstore owner in her thirties. The title of the series was These Friends of Mine for the first season, but it was subsequently changed to avoid confusion with the NBC series Friends, which premiered in September 1994.
Contents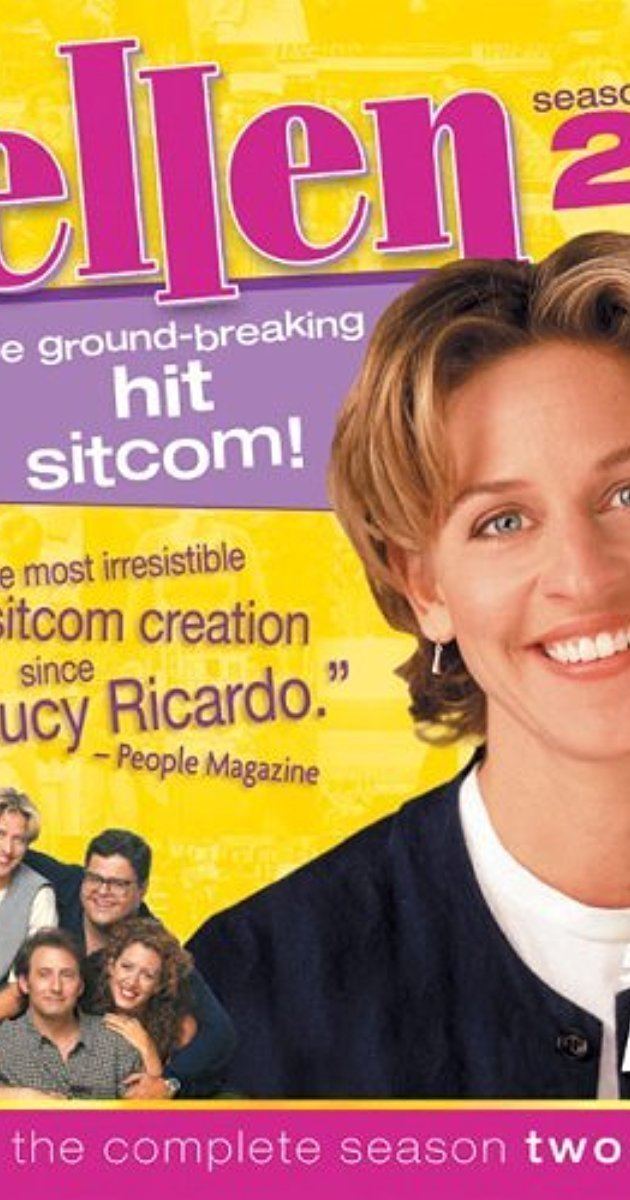 The series centered on Ellen's dealing with her quirky friends, her family and the problems of daily life. The series is notable for being one of the first with a main character to come out as gay, which DeGeneres' character did in the 1997 episode "The Puppy Episode". This event received a great deal of media exposure, ignited controversy, and prompted ABC to place a parental advisory at the beginning of each episode.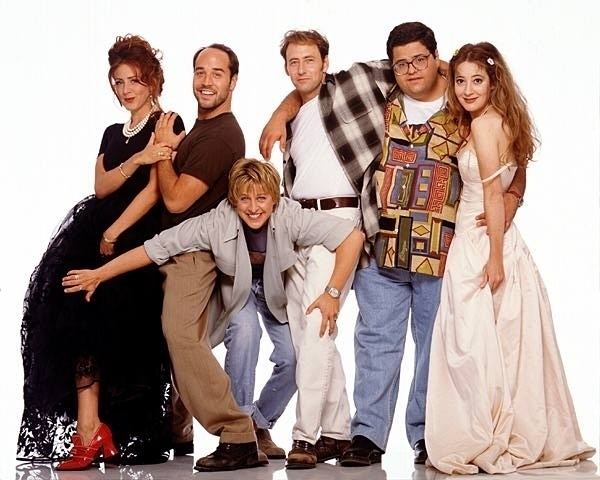 The series' theme song (used in Season 3 onwards), "So Called Friend", is by Scottish band Texas. A running gag during the third and fourth seasons was that each episode had a distinct/different opening credits sequence (often with singing and dancing), resulting from Ellen's ongoing search for the perfect opening credits.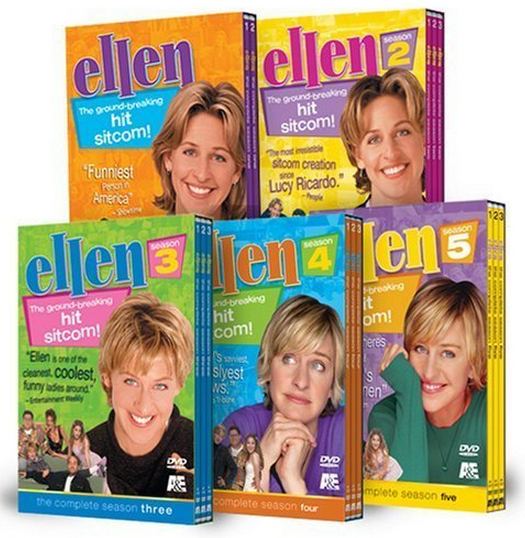 "The Puppy Episode"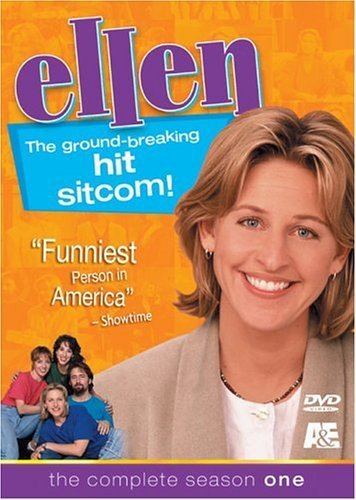 In 1997, Ellen made television history when the title character came out as a lesbian in the famous "Puppy Episode" (DeGeneres herself came out concurrent with the episode on The Oprah Winfrey Show and in Time). To ensure a memorable moment, the coming out scene was made into a gag where, at an airport, Ellen turns and tells Laura Dern's character "I'm gay!" – only to realize that she had turned right into the public address microphone, announcing her sexuality to the entire terminal. Ellen DeGeneres' mother Betty can briefly be seen as one of the people in the terminal with a shocked reaction to the announcement.
The episode was ranked #35 on TV Guide's 100 Greatest Episodes of All-Time.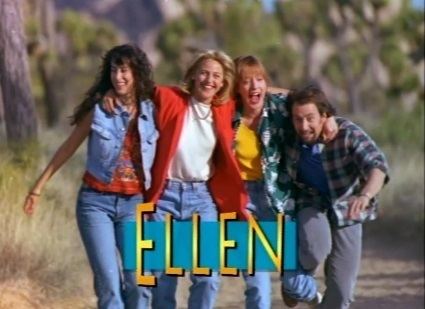 The revelation ignited a storm of controversy, prompting ABC to place a parental advisory at the beginning of each episode.
Ellen was successful enough in its early seasons to warrant annual renewal, due largely to DeGeneres' perceived appeal and comic ability, but only with Ellen's coming out did the show make its way into the wide public consciousness and hit a critical plateau. After the initial coming out frenzy, however, the show's ratings declined and ABC began feeling the pain of a backlash regarding the "gay content" being exhibited. The final episodes of Ellen were criticized for focusing too much on gay issues, a criticism begun in anti-gay circles but which spread to the mainstream media. Eventually, even some members of the LGBT community, including Chaz Bono (who at the time was the media director for GLAAD), began to criticize the show's serious new tone as well. ABC pulled the show from the air in May 1998 after five seasons.
Viva Las Vegas
The episode "Secrets & Ellen" is part of a crossover with Grace Under Fire, Coach and The Drew Carey Show set in Las Vegas. It features Brett Butler as Grace Kelly and Drew Carey as Drew Carey.
Main cast
Note – Between seasons one and two, there was not only a title change from These Friends of Mine to Ellen, but several characters disappeared without explanation.
Recurring cast
Ratings
[a]
Two episodes that aired in Season 3,
The Tape
and
The Mugging
, were filmed at the same time as Season 1 and are included in the Season 1 DVD box set as "bonus episodes", and are not included in the Season 3 DVD release.
Syndication
Reruns of the show first started airing on Lifetime in the fall of 1998, and stopped in 2001. Starting October 4, 2003, during DeGeneres's surge in popularity through her role in Finding Nemo and her new daytime talk show, Lifetime began airing reruns again, on 1AM-2AM ET Sunday mornings, starting with the second season. Before long, it went into the 1:30AM-2AM ET time slot Monday-Friday. The reruns stopped two episodes into the controversial final season. Oxygen then picked up the entire series to air starting October 4, 2004, daily at midnight and noon ET, but it has since been removed from the schedule. In September 2013, Ellen began airing on FX Monday-Saturday from 9-11am.
Reruns of the show in the UK were until recently on ABC1 until the channel closed in September 2007. These were shown only on weekend mornings, along with other Touchstone Pictures productions. No other UK channels are currently airing the show.
In Australia episodes air on 111 HITS weekdays in a daytime timeslot. New Zealand is currently airing double episode reruns on TVNZ TV2 every Monday night.
In Canada, it is currently being aired by TVtropolis.
As of April 2015, the show can be seen weekday afternoons on the comedy-focused digital subchannel LAFF.
As of July 2016, the entire series was made available for viewing on ABC's new digital app.
DVD releases
A&E Home Video has released the entire series on DVD in Region 1. They are currently out of print. It should also be noted that these DVDs do not have captioning or subtitles for the deaf and hard of hearing.
References
Ellen (TV series) Wikipedia
(Text) CC BY-SA