For the screenplay, Raven Metzner, Zak Penn, and Stuart Zicherman received "written by" credit. Mark Steven Johnson received credit for "motion picture characters" and Frank Miller for "comic book characters." Filming started around May 2004 in Vancouver.
The film was released on January 14, 2005. Upon its release, Elektra was a commercial and critical failure, grossing $56 million against a production budget of $43 million. It received generally-negative reviews from critics, who found the script and storyline lacking, but many praised Garner's acting as well as the action sequences.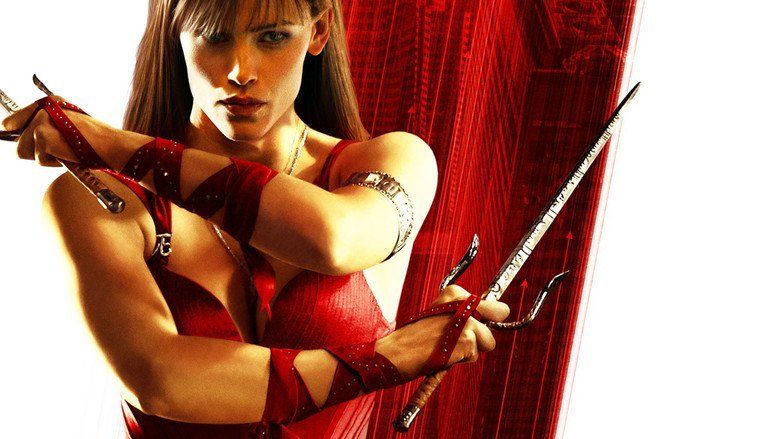 After being killed in Daredevil, Elektra Natchios is revived by a blind martial arts master called Stick. She is brought to his training compound to learn Kimagure, an ancient martial arts discipline that provides its practitioners with precognition as well as the ability to resurrect the dead. Elektra soon is expelled because of her inability to let go of her rage and fear from seeing her mother's killer as a child. She leaves and uses her training to become a contract killer.
Years later, Elektra infiltrates a heavily guarded area and succeeds in slaying her target DeMarco. Elektra's agent McCabe receives an unusually large offer from an anonymous client wishing to hire Elektra's services. The only stipulation; she must spend a few days in a rented home on the island where the assassination is to be performed before the names of the targets are revealed. During the wait, Elektra catches a girl named Abby trying to swipe her mother's necklace. She sends her away, and later meets and befriends her father, Mark Miller. Abby later invites Elektra to dinner on Mark's behalf. Elektra develops a romantic interest in Mark, but soon learns he and Abby are the targets she has been hired to kill. Elektra spares them and leaves, but later returns in time to protect them from assassins sent by The Hand, a crime syndicate of ninja mercenaries.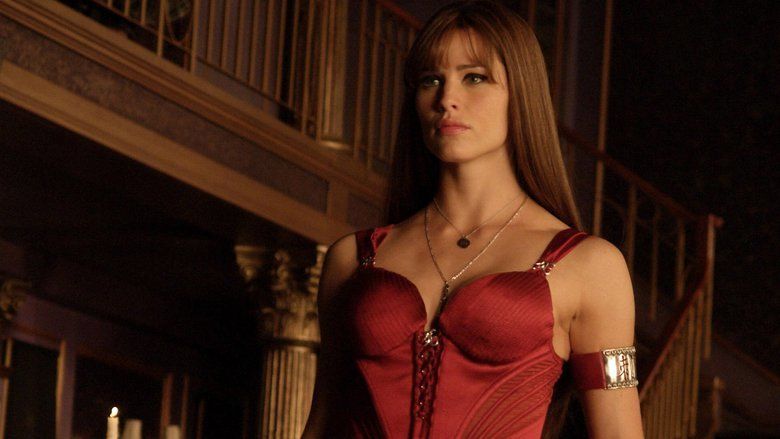 Meanwhile, Roshi, master of The Hand, learns of the failed attempt and permits his son Kirigi to lead a new team of assassins to kill Elektra and return with Abby, referred to as "The Treasure". Elektra tries to leave Abby and Mark with Stick, but he scolds her into protecting them herself. She then drives Mark and Abby to McCabe's country house, but is followed by Kirigi, Typhoid, Stone, Kinkou, and Tattoo. Elektra flees with Mark and Abby through a secret underground exit to the orchard, while McCabe sacrifices himself to allow them to escape.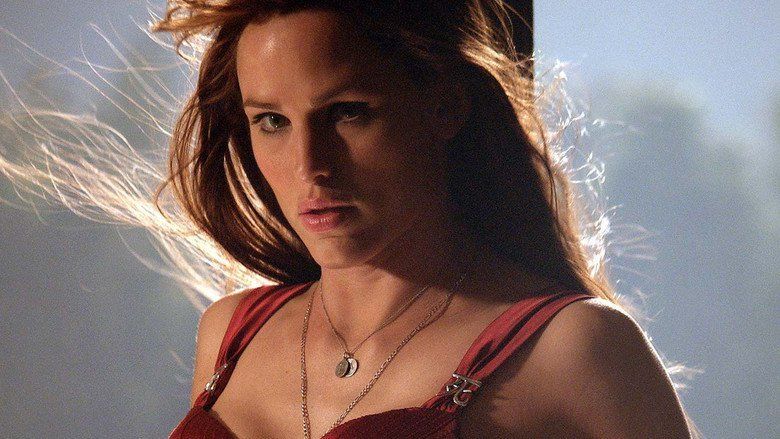 Kirigi and the assassins hunt down the trio in a forest nearby. Elektra manages to kill Stone, while Abby and Mark kill Kinkou with one of his own daggers. As Elektra is distracted by the revelation that Abby has martial arts skills, Typhoid gives Elektra the "Kiss of Death". Abby is captured by Kirigi. Suddenly, Stick and his Chaste ninjas arrive, forcing Kirigi, Typhoid, and Tattoo to retreat. Stick manages to save Elektra from death and takes them under his protection.
Stick confirms Abby is a martial arts prodigy which is the "Treasure" of martial arts whom the Hand seek to use. Elektra learns that she was a Treasure herself and her mother was a casualty of the fight between The Chaste and The Hand with her as the reason. She also guesses that Stick set up the hit on Mark and Abby in order to test Elektra's propensity for compassion. Elektra is not pleased, but does not follow up with that line of inquiry after getting the comment that some lessons must be lived. Elektra astrally projects herself to a meeting with Kirigi and challenges him to a fight; the winner claiming Abby for their own purpose. Elektra returns to her childhood home to face Kirigi, and finally remembers he was her mother's killer; whom she had been seeing as a horned demon in nightmares all this time.
Elektra is at first defeated by Kirigi, but Abby arrives and engages him long enough for Elektra to recuperate. Elektra and Abby then escape and hide in a hedge maze but are separated when Abby is captured by snakes dispatched by Tattoo. Elektra finds Tattoo and snaps his neck, freeing Abby in the process. Elektra engages Kirigi a second time and manages to stab and kill him. Typhoid poisons Abby, the same way she did to Elektra earlier, killing her in the process. Elektra throws her sai into Typhoid killing her. She then finds Abby's body and brings it back to her childhood home where she desperately tries to wake her to no avail. Elektra lets go all of her rage and performs Kimagure on her, succeeding in resurrecting Abby. Elektra gets ready to leave and she and Mark share one final kiss. Elektra tells Abby to live a normal life and the two share an embracing hug saying that they each gave each other's life back. Abby asks Elektra will she see her again to which Elektra replies "we'll find each other." She gives Abby a kiss on her forehead and leaves hoping that Abby won't grow up to be like her. Stick then says that she didn't turn out so bad. Elektra bows to Stick to thank him to which he bows to Elektra and while leaving Elektra smiles and Stick disappears when Elektra leaves her childhood home knowing that Abby and her father will be okay
Ben Affleck filmed a cameo reprising his role as Matt Murdock that was ultimately cut from the final film. The scene was included on the DVD as a deleted scene and was reinstated in the director's cut.
Elektra opened on January 14, 2005 in the United States in 3,204 theatres. In its opening weekend, it ranked fifth, taking $12,804,793. In its second weekend, it took $3,964,598, a drop of 69%. Domestically the total gross was $24,409,722, at the time the lowest for a film featuring a Marvel Comics character since Howard the Duck. The film had a worldwide total of $56,681,566.
The film received largely-negative reviews from film critics. Based on 163 reviews collected by Rotten Tomatoes Elektra earned a 10% "rotten" rating. The site's critical consensus reads: "Jennifer Garner inhabits her role with earnest gusto, but Elektra's tone-deaf script is too self-serious and bereft of intelligent dialogue to provide engaging thrills." On Metacritic, the film has a metascore of 34 out of 100 based on 35 critics, indicating "generally-negative reviews".
The DVD of Elektra was released on April 5, 2005. It featured several deleted scenes, including one featuring Ben Affleck reprising his role from Elektra's predecessor, Daredevil (2003).
An extended and slightly refined two-disc unrated director's cut DVD was released in October 2005, featuring a cut detailed for home video release. However, unlike the Daredevil director's cut which added about thirty minutes of material not in the original theatrical release, this version added only about three minutes of footage. It was also criticized for poor video transfer.
A Blu-ray of Elektra was released on October 19, 2009 for the United Kingdom (and France) only. The U.S. version was released on May 4, 2010. It contains only the unrated cut of the film.
Elektra: The Album was released in 2005 by Wind-up Records. As with many Wind-up soundtracks, almost none of the songs featured on the album were actually used in the film. "Sooner or Later" is played briefly in one scene and a remix not included on this album of "Hollow" is also played. The end credits feature "Wonder", "Photograph", and "Thousand Mile Wish (Elektra Mix)": but other than this, none of the songs on the album were used in the actual motion picture. However, a score album was released by Varèse Sarabande containing selections of Christophe Beck's original music from the film.
Elektra was also supposed to have a video game based on the movie with support from the comics. The game was never released, as publishers felt it would not be popular enough. However, there is a game based on the film that was released for mobile.