She died at Bellevue Hospital, New York, on the morning of December 27, 2014, after a fall at her home.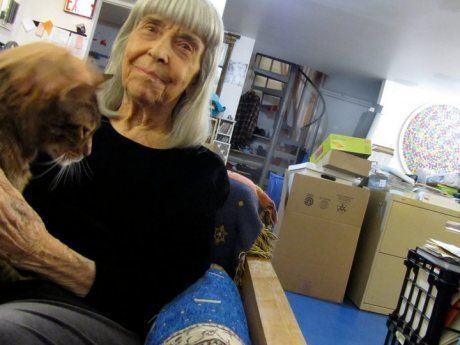 Elaine Summers was born in Perth, Australia and grew up in Boston, Massachusetts with her mother and her younger brother John. Although she took self-paid dance classes through adolescence, she first studied Art Education and received a Bachelor of Science degree from the Massachusetts College of Art in 1947.
In 1951 Elaine Summers came to New York and attended classes at the Juilliard School of Dance, together with Paul Taylor and Carolyn Brown. She also studied with Louis Horst, Merce Cunningham, Daniel Nagrin, Don Redlich, Mary Anthony, Charlotte Selver and Carola Speads, (both students of German body-reeducation pioneer Elsa Gindler), Jean Erdman, Janet Collins, and at the Martha Graham School.
In 1962 Summers joined the composition class taught by Robert Ellis Dunn at the Merce Cunningham Studio in its second term, and subsequently became part of the workshop-group that would later be referred to as the Judson Dance Theater , together with Edward Bhartonne, Trisha Brown, Lucinda Childs, Ruth Emerson, Fred Herko, Sally Gross, Deborah Hay, David Gordon, John Herbert McDowell, Gretchen MacLane, Robert Morris, Aileen Passloff, Steve Paxton, Rudy Perez, Yvonne Rainer, Robert Rauschenberg, and Valda Setterfield.
At Judson, Summers shared in the ongoing experiments with chance methods and pedestrian, everyday movements as part of the interest in expanding the then accepted methods of creating and performing dances. However she also embraced the more theatrical part of the collective (as did Aileen Passloff, John Herbert McDowell and others). Elaine Summers expanded dance into other disciplines, experimental film, visual art, and body work. In the later phase of the Judson Dance Theater she created dances that would be made to work with the entire environment of the performance space, notably Country Houses (1963) which included speaking non-sequitor one-liners, and her solo-concert Fantastic Gardens (1964) which included the first large-scale use of intermedia, immersing the entire performance area in film-projections, multiplied by the audience with hand-held mirrors.
During her involvement with Judson Dance Theater, Elaine Summers also initiated five of the total of 16 concerts of the original group, one at Turnau Opera, Woodstock NY (Concert #2) and one series (Concerts #9-#12) at the Gramercy Arts Theater in New York City.
Summers worked intensively with dance and film and their combinations in live performance. This happened as early as in the first Judson Concert of Dance, when she went out to dance in the projection of her self-initiated chance-film Overture which she had made in collaboration with John Herbert McDowell and Eugene Friedman.
In her definition, Intermedia happens when two or more media come together to create a third that can only happen because of these two. A favorite comparison of hers is the Rainbow, a combination of water and light, in a specific setting.
Her learning of filmmaking and her experiments at Judson finally led to her own intermedia presentation Fantastic Gardens in 1964, where she used the entire performance space, located the audience in several settings, virtually covered the entire space in film- and slide projections, and combined many works of music and sculpture with dances, many of them improvisational scores realised by the dancers. After setting up the Experimental Intermedia Foundation, Elaine Summers continued to work in this direction for her remaining career.
Starting with her teaching work in the 1950s, Elaine Summers developed Kinetic Awareness, a bodymind, or somatic practice which helps the individual student explore and develop their unique movement abilities, as well as make informed choices about their physical well-being. This work was strongly influenced by Summers' study with Charlotte Selver and Carola Speads, both students of Elsa Gindler. Listening to one's body-signals (proprioception) is the key action, whether at rest or in movement. The study is divided into five phases, from very slow, gentle movement of one body part at a time, to increasingly complex coordination, speed, tension, and interaction levels. It is up to the practitioner's individual choice how much they expand their movement options. Hollow rubber balls of different sizes are put underneath body parts to aid multi-directional movement and provide a self-directed massage through their elasticity.
Kinetic Awareness® became the dance-technique for the Elaine Summers Dance & Film Co. and has been studied by many professionals and individuals across the world, also through certified teachers of The Kinetic Awareness® Center. One close associate in the days from Judson was Trisha Brown who performed with Summers in one of the first performances of Energy Changes at Loeb's Student Center, NYU in 1971 titled From the Still Point (see below). Other students were Meredith Monk, members of The Wooster Group, and many others.
Elaine Summers continued to make intermedia-work combining film and dance and started to train dancers in Kinetic Awareness, who would form her own company (a.o. Alexandra Ogsbury, Tedrian Chizik, Edward Bhartonne, Roberta Escamilla Garrison). To facilitate this process financially, she founded the Experimental Intermedia Foundation which is still active in the field of experimental music in New York today.
In 1973 the Elaine Summers Dance & Film Company presented the full version of 'Energy Changes' at the sculpture garden of the Museum of Modern Art in New York City, including an early use of live-video showing dancers located in other parts of the garden, in collaboration with video-artist Davidson Gigliotti, composers Philip Corner and Carman Moore, recorded on video by Nam June Paik. The piece covers all the five phases of Kinetic Awareness®, from interior slow gentle movement of body parts without active interference from the dancer, to highly energetic group interactions (with titles such as 'Bear Dance' or 'Pile-up').
The Elaine Summers Dance & Film Company toured extensively in the United States of America as well as abroad, a.o. to Italy, the UK, and Australia, partly accompanied by composer Pauline Oliveros. Concerts would regularly have parts where the audience was invited to join in the realization of dance scores which often created an awareness of basic elements of theatre dance, such as walking or improvisation. (Walking Dance For Any # optionally with four simultaneous 16mm-film projections (1969), One & One & One & One & (1969)) Invitation to Secret Dancers (1971-) was done in the same spirit of audience participation, and became an often used way to end concerts by the company. Kinetic Athletic Frenzy (1969) a filmdance made at C.W. Post College, Long Island, New York explored the relations between dance and sports. Illuminated Workingman (1975) brought the city of Buffalo, NY, and construction work together with dance and intermedia, including several performances on location and workshops given to the public.
After an interim-period in Sarasota, Florida, Elaine Summers returned to live and work in New York City where she also kept teaching Kinetic Awareness®. By this time many of her filmdances (Judson Fragments, Two Girls Downtown Iowa, Absence & Presence) were shown regularly around the world, and she created new work that often included material from previous works: Invitation to Secret Dancers (Solar1, New York City, 2005) Hidden Forest (Lincoln Center, 2007), Gallumphing (on location, 2008), Making Rainbows (Anthology Archives, 2009), Improvisation with Sun, Moon & Stars (Danspace at St. Mark's Church, 2010 ).
There were also more direct re-makes of her earlier work: Dance for Carola at Judson Memorial Church, 2010, Overture, performed again at Judson Memorial Church, 2012, Windows in the Kitchen during the honorary festival by the American Dance Guild, Alvin Ailey Theatre, New York City, 2012.
In 1982 Summers started to create from her involvement with the sky. Skydance was shown during the 2nd Intermedia Art Festival at the University of Iowa (where she also made several film-dances as artist-in-residence) and subsequently at the Guggenheim museum in 1984. These events included balloons, planes, and large sky-objects created by Otto Piene.
Starting 1995, Elaine Summers developed Skytime an ongoing project that celebrates the Sky in any medium and language, and is centered on the use of the internet. All of her later work would be influenced by this theme. The final years were dedicated to concert-realizations of Skytime which included international live-streaming that would be combined with the live-dance on location. These concerts were performed at Emily Harvey Gallery, New York City (2010), Auditorio da Fundação de Serralves, Porto, Portugal (2011) and finally at Solar One, New York City (2014) under the title "Moon Rainbow". The core-group for these performances were composer Pauline Oliveros, performance artist Ione, choreographer and dancer Kiori Kawai as dance-soloist, and Thomas Körtvélyessy streaming live from the Netherlands each time while simultaneously performing for a local audience in Rotterdam (2010, 2011) and Schiedam (2014). Further collaborators in the series were longtime collaborating composer Carman Moore, composer Aaron Sherwood, violinist Jason Hwang, visual artists Richard Jochum and Raphaele Shirley, dancers Kanako Yokota and Logan Scharadin, and musicians Marianna Rosett, Premik Russell Tubbs, and Eli Fountain.
Elaine Summers was honored in 2012 by the American Dance Guild for her life-work. She was a Fulbright Research Scholar since 1989 and a member of the Center for Advanced Visual Studies at the Massachusetts Institute for Technology (M.I.T.) Her work regularly received grants starting 1971 by the National Endowment for the Arts, the New York State Council on the Arts, as well as from the New York Women's Film Preservation Fund, Creative Arts Public Service (CAPS), Friends of the New Cinema, and others.