Covid-19
Switzerland




355 m




3,684 (Dec 31, 2008)


9.06 km2


Bulach



Eglisau is a municipality in the district of Bulach in the canton of Zurich in Switzerland.
Eglisau is first mentioned in 892 as several independent farm houses known as Ouwa. In 1238 it was mentioned as Owe, in 1304 as ze Seglinger Owe, in 1332 as ze Eglins Owe and in 1352 as ze Eglisowe.
It is located at the crossing of two major transport routes. The location along both sides of the Rhine river allowed it to dominate locate ship traffic. It was also the site of a bridge which made the north-south road between the Klettgau and the Zurichgau. This important location made it the home of the Zurich appointed Landvogt and led to it becoming a market town.
Eglisau has an area of 9.1 km2 (3.5 sq mi). Of this area, 35.5% is used for agricultural purposes, while 41.3% is forested. Of the rest of the land, 15.9% is settled (buildings or roads) and the remainder (7.4%) is non-productive (rivers, etc.).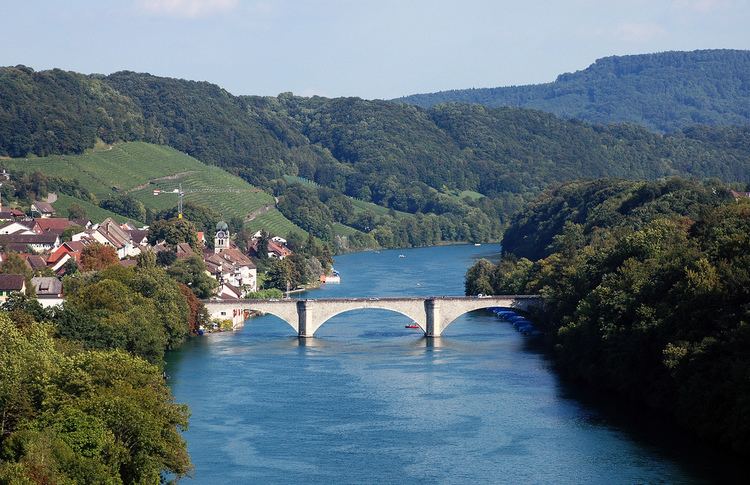 The municipality sits on the banks of the Rhine and has historically been an important bridge over the river. It is made up of the sections of Stadtli, Burg, Steig and Wiler on the right bank and the section of Seglingen with the hamlet of Tossriedern on the left bank.
Eglisau Wikipedia
(,)https://fbexternal-a.akamaihd.net/safe_image.php%3Fd%3DAQBNb-NdIShFIIkS%26w%3D720%26h%3D480%26url%3Dhttp%253A%252F%252Fupload.wikimedia.org%252Fwikipedia%252Fcommons%252Fthumb%252F7%252F72%252FRheinbruecken_Eglisau_02_10.jpg%252F720px-Rheinbruecken_Eglisau_02_10.jpg(,)http://cool2visit.com/wp-content/uploads/2014/12/eglisau-rhein.jpg
(,)http://www.voith.com/en/lb_VH_Eglisau_Landscape_07_WE_0001.jpg(,)https://c2.staticflickr.com/4/3230/2806883816_aa9a1748c4_b.jpg(,)http://farm8.static.flickr.com/7415/9167215728_79c5f7559c_t.jpg(,)https://36.media.tumblr.com/cf477233f4dd99d695c2ef8dee83c001/tumblr_msykw8JjIC1rmgzcdo1_500.jpg(,)https://40.media.tumblr.com/tumblr_m2c97d4CZI1qe0uv1o1_500.jpg(,)http://www.bruno-walther.ch/slideshow/p145_0_1.jpg
(,)http://www.mytable.com/rd7e02cd0-2a2d-447e-84cf-33e6efb4d7e1/en/document/Restaurant-Eglisau-e1(,)http://www.hirschen-eglisau.ch/cms/images/slide/home/2.jpg(,)http://www.mytable.com/rc5154a73-3fff-4717-9539-97bbdd06eef7/en/document/Restaurant-Eglisau-f7(,)http://images.myswitzerland.com/90631/images/buehne/H_Hirschen_Eglisau_2-1.jpg(,)http://www.hirschen-eglisau.ch/cms/images/slide/home/1.jpg(,)http://www.hirschen-eglisau.ch/cms/images/slide/home/8.jpg(,)http://media-cdn.tripadvisor.com/media/photo-s/06/0e/7e/69/vivi-bar-von-gegenuber.jpg(,)http://www.anitasfeast.com/blog/wp-content/uploads/2014/04/02_1150963.jpg(,)http://www.mytable.com/rda9fd60f-91ac-4783-9797-ba7e0ae34977/en/document/Restaurant-Eglisau-77(,)http://images.myswitzerland.com/90631/images/buehne/h_Hirschen_Eglisau_3-1.jpg(,)http://media-cdn.tripadvisor.com/media/photo-s/02/80/97/44/vivi-cafe-eglisau.jpg(,)http://www.greatsmallhotels.com/photos/73632_gasthof-hirschen_.jpg(,)http://swiss-historic-hotels.ch/images/hotels/eglisau_hirschen/hirschen_by_night.jpg(,)http://www.ausflug-restaurants.ch/media/cache/cc/a1/cca15079ffbafa14da377b33afe92bc7.jpg(,)http://swiss-historic-hotels.ch/images/hotels/eglisau_hirschen/Gruene_Suite.jpg