Nationality

USA




Years active

1979–present





Name

Eduardo Montes-Bradley




Role

Filmmaker







Born

July 9, 1960 (age 55) (

1960-07-09

)

Cordoba, Argentina




Occupation

Filmmaker, photographer, writer




Awards

Jefferson Trust Award Silver Condor Best Documentary Richmond International Film Festival.




Website

www.montesbradleyphotography.com www.heritagefilmproject.com




Spouse

Soledad Liendo (m. 2001), Sandra Ballesteros (m. 1995–1997), Brenda Lyons (m. 1983–1983)




Movies

Julian Bond: Reflections from the Frontlines of the Civil Rights Movement




Children

William Montes-Bradley, Thomas Benjamin Montes-Bradley, Raquel Montes-Bradley




Parents

Nelson Montes-Bradley, Sara Kaplan




Relatives

Ricardo Ernesto Montes i Bradley, Eduardo Bradley, Juan Alberto Montes




Similar People

Sandra Ballesteros, Horace Mann Bond, Osvaldo Bayer, Alberto Granado, Vidal Cantu
Herndon a biographical sketch by eduardo montes bradley
Eduardo Montes-Bradley (born July 9, 1960) is an award-winning documentarian, photographer, lecturer, and published author. His documentaries participate in film festivals, have beem incorporated in the syllabus of academic courses, and are frequently screened at cultural events such as the Frankfurt Book Fair. Montes-Bradley is a board member with the African American Heritage Center, and member of the International Advisory Committee with the UNESCO Chair in Global Learning and Global Citizenship Education, and was most recently awarded as UCLA Regents Lecturer. Montes-Bradley resides in Charlottesville where he produces photographic work, and documentary films for Heritage Film Project. Among his most recent productions is Monroe Hill, documentary-essay tracing the roots and the historical context of James Monroe's first home in Albemarle County. Montes-Bradley is currently working on "The Village", a documentary-essay celebrating art & architecture in the bicentennial of the University of Virginia, and "Lankes, Revival of Printmaking in America"
Contents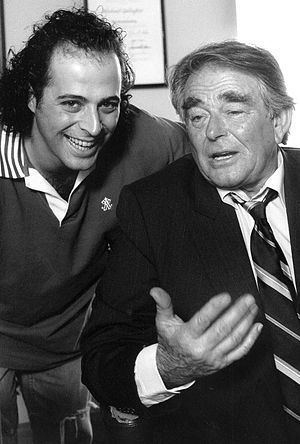 norman kloker by eduardo montes bradley
Early life
Montes-Bradley was born Eduardo Esteban Montes-Kaplan in Cordoba to Nelson Montes-Bradley, founder of Discos Qualiton, and Sara Kaplan, from a family of Jewish immigrants from Kishinev (then Bessarabia) and Kamieniec (then Poland). In 1961 his parents relocated to Rosario, and by 1965 the family was living in Buenos Aires. The cultural ambiance in the capital city, and the family relationship with the arts were crucial during his formative years. Montes-Bradley attended public school, was raised, agnostic and atheist in a progressive, predominantly left-wing radical environment. In 1973 Montes-Bradley is accepted to the Colegio Nacional Nicolás Avellaneda. May 25, 1973, marked the end of seven years of military rule. General Alejandro Agustín Lanusse steps down as president and Héctor José Cámpora is elected on a Peronist ballot. Shortly after Héctor Campora's inauguration, former president and founder of the Peronist Party, General Juan Domingo Perón returns from exile in Madrid where he had spent eighteen years under the protection of Generalisimo Francisco Franco. On September 11, 1973 Salvador Allende is overthrown in a bloody military coup led by General Augusto Pinochet in neighboring Chile. It was a time of profound political turmoil. Montes-Bradley became involved as a student in political activism. The deaths of Pablo Picasso, Pablo Casals, Pablo Neruda and Víctor Jara, all of which occurred during 1973, had a profound impact in his generation. Montes-Bradley will recall 1973 as turning point: "Not because of anything that I might have believed then, which I most certainly don't necessarily believe in now, convictions come and go; but because of the extraordinary experience of living in a home full of music and poetry within the boundaries of a country at the brink Civil War." Three years later, General Jorge Rafael Videla ousted president Isabelita, thus inaugurating an era of state-sponsored terror and persecution resulting in the death and despairing of thousands, while many were forced into exile.
Career
Two years after the military coup of 1976, Montes-Bradley is living in New York City where he worked as a correspondent to El Heraldo del Cine (HdC), a Buenos Aires-based trade publication catering the film industry and collaborates as a freelance writer forThe Hollywood Reporter. In his capacity as a correspondent for HdC, Montes-Bradley interviewed Jack Valenti, Menahem Golan, Lalo Schifrin and Umberto Eco. His first contribution to filmmaking can be traced to Margareta Vinterheden's Man maste ju leva, Sweden, 1978. In the early 1980s Montes-Bradley worked as assistant editor, and editor in documentaries on the civil wars in Nicaragua, and El Salvador. The documentaries on the civil war in El Salvador were produced by the insurgent collective of Radio Venceremos. In 1984 Montes-Bradley is living in California and working as editor for The Entertainment Herald, a bilingual, monthly magazine about film distribution in Europe and Latin America. In 1986, Montes-Bradley joins Filmtrust Motion Picture Licensing, an independent production and distribution company based in Los Angeles as Director of International Sales. In 1989 Montes-Bradley teamed-up with Javier Gracia, a Spanish film producer from Pamplona to write, produce, and direct Double Obsession, a straight-to-video thriller released by Columbia Tri-Star starring Maryam D'Abo, Margaux Hemingway, Scott Valentine and Frederick Forrest. In 1995 he married actress Sandra Ballesteros, leading-lady in The Kidnapping, a politically-incorrect satiric-parody about a guerrilla group based in an imaginary country in Latin America in the 1970s. The film received severe reviews from the critics, and ultimately became a cult movie, as well as Montes-Bradley's last known fiction. In 1997 Montes-Bradley returned to the documentary format with "Soriano" a biographical sketch based on the life and exile of Argentine journalist, and novelist Osvaldo Soriano. Soriano was the first of several documentary portrayals on intellectuals, artist, philosophers, and writers to follow. Montes-Bradley has been credited as a director under pseudonym inspired on fictitious character such as "Diana Hunter", the blind lady-director who "one day went deep into to the forest and was forever lost", and Rita Clavel who followed on the footsteps of Hernán Cortés on "Crónicas Mexicas". Although a constant in his work as a filmmaker and a writer, the actual number of pen-names used by Montes-Bradley is uncertain.
"Montes-Bradley is a provocative filmmaker who inaugurated a style by interrogating paradigmatic icons of the Latin American culture, and by doing so with in the spirit of a cultural agitator."
Currently, Montes-Bradley is pro-bono advisor and International Board Member of UNESCO-UCLA Chair in Global Learning and Global Citizenship Education, and Board Member of the African American Heritage Center.
Partial Filmography
Montes-Bradley has contributed to the University of Virginia Collection and Latin American Collection by the Heritage Film Project. Previous biographical work by Montes-Bradley is collected on Contrakultura Films.
University of Virginia Collection
The following titles are the most recent and relevant. For a comprehensive list of documentaries, please refer to Heritage Film Project, and Contrakultura Films.
The series consists of short as well as feature biographical essays on humanists, scientists and places at the University of Virginia produced by the Heritage Film Project. The series originated with a portrait of Jared Lowenstein where the founder and curator of the Jorge Luis Borges Collection recall his experience with the author of "The Aleph".
Monroe Hill (Cradle of the University of Virginia) Documentary-essay tracing the roots and historical context of James Monroe's first home in Albemarle County. The property known as Monroe Hill, which serves as the administrative offices of Brown Residential College, is located in grounds of the University of Virginia. Color and Black and White | HFP | HD | 60 min. | 16:9
Unearthed and Understood. Produced for the President's Commission on Slavery and the University, University of Virginia. Unearthed and Understood was presented at the symposium "Universities Confronting the Legacy of Slavery on October" in October 16, 2014 in Charlottesville. Heritage Film Project | University of Virginia Collection, 2014. HD | 18 minutes.
Rita Dove: An American Poet. Biographical sketch of Rita Dove. The film, premiered in Charlottesville on January 31, 2014 Heritage Film Project | University of Virginia Collection, 2014. Distributed by Filmakers Library & Alexander Street Press, USA. Color and Black and White, HD, 50 min.| HFP | HD | 50 min. | 16:9
Julian Bond: Reflections from the Frontlines of the Civil Rights Movement. Portrait of social activist and former Georgia legislator Julian Bond. Heritage Film Project | University of Virginia Collection, 2012. Distributed by Filmakers Library & Alexander Street Press, USA. Color and Black and White, HD, 34 min.
Visual Arts Collection
A collection of thirty-minute documentary films, exploring the relationship between contemporary artists and their place of residence. The ongoing series originated with a portrait of Perez Celis in Little Haiti in 2005. The following titles are the most recent. Other visual artists included on the series are Ernesto Deira and Pérez Celis.
White: A Season in the Life of John Borden Evans
Waissman
Calzada. Featuring Humberto Calzada the film looks back into the artist's early life in Havana, Cuba, before the Cuban Revolution that brought Fidel Castro to power. Humberto Calzada represents the side of the Cuban-American equation on the north side of the Gulf Stream. His meticulous attempt to reconstruct the past is evident in his attempts to reconstruct Havana-on-canvas. In many ways, Calzada epitomizes the exiled who acknowledges the impossibility of a return to Ithaca: "The Havana I used to know is just another imaginary place", he says on this intimate portrait of a man gravitating a constant state of melancholy. Original Music by Gerardo Aguillón (violin) and José Angel Navarro (guitar). 30 min. 16:9 HD
Heritage Film Project, 2010. HD, 30 min. Distributed by Alexander Street Press and Kanopy.
Latin American Writers Collection
Ongoing biographical profiles on Latin American writers. At least sixteen films on Latin American Writers were produced under the auspice of Contrakultura Films, an imprint of Iruña Films no longer in existence, and are listed on a separate entry. The Contrakultura catalogue included biographical documentaries on Andrés Rivera, Héctor Tizón and Juan Filloy amongst others, was introduced by Eduardo Montes-Bradley at the Biennial Northeast Regional Meeting "Luso-Hispanic Presence in the Changing Cultural Landscape of America", organized by the American Association of Teachers of Spanish and Portuguese at Yale University. Other significant titles in the Latin American Writers Collection are:
Cortázar: apuntes para un documental (Cortázar: Notes for a Documentary), approaches Julio Cortazar's political views, and perspectives on the Latin American Left. The film also presents an original perspectiva on the relationship between the author and Carole Dunlop in Paris. Moments of this relationship are vividly recalled through the use of home made movies made by the celebrated couple. The film also introduces previously unseen footage from filmed by Cortazar and his first wife Aurora Bernardez in the gardens of the Mexican Embassy in New Delhi during the period in which the ambassador was Octavio Paz. The 8mm footage shows Cortázar and Bernardez, as well as Octavio Paz and his wife Elena Garro dancing with a large group of natives, presumably embassy personnel. The film includes the testimonies of Claribel Alegría, Ernesto Cardenal, Manuel Antín, Carlos Montemayor, and Sergio Ramírez among others writers and intellectuals interviewed in Europe and in Latin America such as. Filming Locations included Managua, Buenos Aires, Paris, Linz Am Rhien, Madrid, and Rome. The film was nominated by the Argentine Film Critics Association for Best Documentary in 2003.
* Los cuentos del timonel (Tells of a Helmsman) Biographical sketch on Osvaldo Bayer, a controversial political figure, a journalist and historian born in the German Colonies of Santa Fe province in 1927. However, Mr. Bayer grew up in Buenos Aires, amidst the German community of barrio Belgrano where Bayer continued to live in the Summers of Argentina thus alternating with Linz Am Rhien from Summer to Summer. From this period in Belgrano Bayer evoques the Adolf Hitler´s birthday being celebrated by thousands at the German Club - Club Albatros "They came in into the streets of Belgrano in caravan, often lead by the German Ambassador to Argentina Baron Edmund von Thurman. According to Bayer, on the film, when the ambassador arrived at the German Club the band will start playing hitler´s favorito tune the Badonviller Marsch. However, the director preferred to capture "the other Osvaldo Bayer" the one living significantly more comfortable in Linz am Rhein. After its release in Buenos Aires, "Los cuentos del timonel" was awarded Best Documentary by the Argentine Film Critics Association 2002. The film finds bayer a witness of privilege to the second half of the 20th century in Latin America and Europe, which seems to be a constant theme in Montes-Bradley documentary work. Bayer's recollections on camera include a highly politicized period during the Peronist regime, in which he worked as helmsman on a river Navy boat patrolling the Paraná river between Buenos Aires and Asuncion. The title of the film derives from that vignette. With a peculiar sense of humor Mr. Bayer explains how the strikes against Perón begun and how his political involvement ultimately lead to his determination to leave the country and move to Berlin where he arrived shortly after the end of World War II. This chapter focusing on his experience during this period is quite eloquent and revealing. According to Osvaldo Bayer´s his apartment had a clear view to the Berlin Tempelhof Airport from were the Berlin Airlift was carried on.At a different point in the film Bayer also recalls the night the Berlin Wall was built and further describes the hazards of the every day life with skyrocketing inflation. During the making of this documentary film between Linz Am Rhien and Berlin, Bayer also explores his relationship with Paco Urondo, Julio Cortázar, Hector Olivera, Osvaldo Soriano, Rodolfo Walsh and others. Los cuentos del timonel was filmed using a Bolex 16mm and a Sony Handycam DCR-VX1000.
Other significant titles are Harto The Borges and Soriano (The documentary)
Writers Made in Brazil''' in an ongoing series of profiles on Brazilian writers produced -in part- with a grant from the Brazilian Ministry of External Relations | Embassy of Brazil, Washington, D.C.. The following titles are the most recent and relevant.
Saavedra: Between Berlin and a place called Peixoto. Biographical Sketch on Brazilian author Carola Saavedra. Filmed on location in Berlin and Rio de Janeiro. Premiered October 9, 2013 at Frankfurt International Book Fair. Heritage Film Project + Writers Made in Brazil, 2013. HD, 30 min. Produced in part with a grant from the Brazilian Ministry of External Relations | Embassy of Brazil, Washington, D.C.
Lisboa. Based on Adriana Lisboa's, experiences as a Brazilian novelist (and poet), now resident in Louisville. Lisboa was filmed in February 2012, on location, in and around Boulder. Lisboa premiered on WHTJ PBS / WCVE PBS, Virginia, also aired by Rocky Mountain PBS. Italian Avant Premier with Italian subtitles at Festivaletteratura | Mantova, Italy on September 5, 2014 Heritage Film Project + Writers Made in Brazil, 2012. HD, 30 min. (English) Produced in part with a grant from the Brazilian Ministry of External Relations | Embassy of Brazil, Washington, D.C..
The Latin American Collection
Independently produced and distributed films dealing with Latin American cultural and political issues, and remarkable individuals.
Evita (Documentary). 2007. Documentary on Eva Duarte, former First Lady of Argentina. Evita, illegitimate child without social or economic standing, was determined to make it big in the world of entertainment. Her love affair with a rising political star (Juan Domingo Perón) transformed her into a vital part of Perón's plans to seduce a nation. The charming Evita became a skilled public speaker that fitted perfectly with politics in Argentina. Just imagine Marilyn Monroe with the charisma of Princess Diana, elevated by Joseph Goebbels´s propaganda machine as the indisputable Spiritual Leader of the Nation. The documentary appears to be fair, perhaps the first biography on the subject that strives to be balanced. Evita was screened at the Virginia Film Festival, in Charlottesville, on November 4, 2011.
Che: Rise & Fall. DVD Release Date: July 13, 2006 by Westlake Entertainment, German Release, 20007, Latin American premiered on NatGeo. CHE: Rise and Fall, follows on the trials and tribulations of Ernesto Guevara in the words of old friends and comrades-in-arms. Includes the testimonies of Guevara's friend Alberto Granado, and members of his elite military entourage Alberto Castellanos, Enrique Oltuski, Argudín Mendoza, Enrique "Pombo" Villegas. Locations: Havana, Congo, Bolivia. Super 16mm. Aspect Ratio: 1.66:1
Samba On Your Feet USA | Brazil 2005. The documentary explores behind the scenes of Carnival in Rio de Janeiro, revealing the preambles of the cultural clash leading to Samba, an indigenous cultural tradition in Brazil. Samba On Your Feet includes archival material, and interviews with iconic figures of Brazilian Carnival and Samba. "Samba On Your Feet" was selected to participate at the Toulouse Latin American Film Festival 2008, Rio de Janeiro International Film Festival 2006, Buenos Aires Independent Film Festival (BAFICI) 2007, and Toronto Latino Film Festival. The film is distributed by Filmmakers Library. Worldwide rights by Alexander Street Press. The documentary gained the recognition of African American Studies.
Ismael Viñas: Witness of a Century. Original title: Ismael Viñas: Testigo del siglo. Film based on the memoirs and recollections of Ismael Viñas: legendary political figure, economist, founder of Movimiento de Liberación Nacional (MALENA), former Undersecretary of Culture during the Revolución Libertadora. Viñas reappears in front of camera after twenty-six years in self-imposed exile, first in Israel and finally in the US. During a series of conversations with Montes-Bradley in Florida, USA, Viñas reflects on his youth, on his brother David, on his father, a well political character during the times of Hipólito Yrigoyen, and a Federal Judge in Patagonia during the uprisings portrayed in Rebellion in Patagonia in the early 1920s. Viñas also recalls his imprisonment during the Peronist period, and with particular emphasis his relationship with Ernesto Che Guevara, and Salvador Allende amongst many other relevant figures of the period. On release, the film caused somewhat of a commotion. It was acclaimed and criticize by extremist elements on the right and particularly on the left where the Ismael Viñas portrayed on the documentary was perceived as a traitor to the Marxist principles he once so strongly embraced. Directed by Montes-Bradley as Diana Hunter. Premiered at the Buenos Aires International Festival of Independent Cinema (BAFICI).
The Great Pretender. Official Selection of the International Film Festival of Buenos Aires (BAFICI), 2007. Released in Uruguay as "No a los papelones". Release in Argentina as El gran simulador. The documentary presents Montes-Bradley's quest to find Nahuel Maciel, a journalist who fifteen years before fooled the press core by posing as a native from the Mapuche nation in Patagonia. Disguised as Chief Nahuel the impostor sold alleged interviews with Gabriel García Márquez, Umberto Eco, Mario Vargas Llosa and others to prestigious local newspapers such as El Cronista Comercial. Nahuel Maciel later published a book with a bogus interview with the Colombian Nobel Prize preceded by a foreword by Eduardo Galeano. Montes-Bradley finally finds Maciel some 300 miles from Buenos Aires in a frontier town called Gualeguaychú where Maciel was working close to the leadership of a group of environmentalists battling a paper-mill in the Argentina–Uruguay border. The film is witty, provocative and politically incorrect. El gran simulador was initially banned from theaters in Argentina for its politics, and it was effectively released in Uruguay (across the border) with good B.O. results. However, the film was shown as part of the Official Selection of the Buenos Aires International Independent Film Festival (BAFICI), 2007. On the director's request the film did not participate "in competition" to avoid further turmoil. Two years later, in April 2008, El gran simulador was finally released in Argentina by Editorial Perfil, the opposition media conglomerate own by Jorge Fontevecchia. HD | 75 min. 35 mm.
Crónicas Mexicas. The documentary follows on the foot-steps of Hernán Cortés from the landing beaches of Veracruz on golf coast of Mexico, to Tenochtitlan, the ancient capital of the Aztec. Montes-Bradley (as Rita Clavel) teams-up with Martín Caparrós who becomes the omnipresent and omniscient protagonist of this journey through geography and time. Caparrós acute sense of irony becomes a permanent fixtures throughout the film, provoking the audience into uncharted: the politically incorrect history of Latin America.
Other titles under this collection
El hombre invisible. The documentary explores the work of early film editors of News Reel in Argentina during the 1940s and through the 1960s. El hombre invisible was produced by Montes-Bradley and directed by Eduardo López formally an editor himself. Insurgentes. The documentary approaches the intricate connections between the (Revolutionary Left Movement), the (ERP), and (Tupamaros) in the 1970s. The film was produced by Montes-Bradley, and directed by Pablo Doudchitzky. Low Blows: La Raulito. The documentary follows Mary Esher Duffau aka "La Raulito", the fan-mascot of Boca Juniors and eccentric folk character of Buenos Aires. La Raulito as Duffau was known, was immortalize in a film by the same name directed by Lautaro Murúa in 1975. However, in this film the director follows the real character during the last days of her life. Low Blows: La Raulito premiered at Mar del Plata International Film Festival on December, 2009. Latin American Selection. Produced by Eduardo Montes-Bradley, directed by Emiliano Serra. Negro sobre blanco. Legendary negative cutting Margarita Bróndolo recalls the early days of cinematography when she worked as one of the first female film editor in Estudios San Miguel in Buenos Aires. At the time Bróndolo worked alongside iconic figures of the golden era of film such as Eva Duarte . The documentary abunds in newsreels, and clips from some of the most celebrated film titles of Argentina. Montes-Bradley commissioned Eduardo López to direct "Negro sobre blanco". López, himself a renown editor, had worked with some of the best known filmmakers in Argentina such as Academy Award Nominee Adolfo Aristarain. Produced by Montes Bradley, edited and directed by Eduardo López. La oficina. Documentary by first-time director Blas Eloy Martínez, son of laureate Tomás Eloy Martínez. The film is set in the background of a red-tape Office of Vital Records in Buenos Aires. Dirigido por.... Series on interviews with Argentina's best known film directors on the art of filmmaking in Argentina. Includes interviews with Adolfo Aristarain, Academy Award Winner for Best Foreign Film Luis Puenzo, Lucrecia Martel, David José Kohon, Anibal DiSalvo, Daniel Burman, Mario Levin, Edmund Valladares, and others.
Fiction
El seKuestro (The KidNapping) Iruña Films, 1997. Satire-Farse. Starting Sandra Ballesteros and Rodolfo Ranni. El Sekuestro is set in Rio Hondo, an imaginary Latin American nation where a band of revolutionary wannabes kidnap the wrong man, an Italian businessman for whom none seems to be willing to pay a ransom. The critics hammered the film following its premier at the Mar del Plata International Film Festival, most of the blame focus on the horrible sound quality at the premier. The director will argue that the soundtrack of the copy shipped to the festival was sabotaged during the development process by groups that perceived the film as a mockery of Montoneros and possibly other revolutionary or terrorists organizations. However, El SeKuestro remains a director's favorite to this date and is continuously aired on Argentinian television (Channel Volver - ArteAr). "El Sekuestro" intentionally written with K instead of C as it should, has been recently interpreted as an attempt to denounce and ridicule the Kirchner family that rule Argentina under a progressive and extremely corrupt agenda. El SeKuestro was filmed in South Beach in 1995 and, on November 4 of the same year Montes-Bradley married Sandra Ballesteros, leading-actress of his film and renown sex symbol of the 1990s. The film is a political farce taking on the events that so profoundly marked Argentine society during the nineteen seventies. It has been said that the plot is an excuse to mock the struggle of the guerrilla organizations that confronted the military regime led by General Jorge Rafael Videla.
Double Obsession. Drama. Starring Margaux Hemingway, Beth Fisher, Scott Valentine, Jamie Horton and Frederic Forrest. Edited by John Venzon. TriStar Columbia / Reivaj Films, 1992. The film falls in the B-Movie category which did well with distributors in the eighties and nineties, particularly in the straight to video and cable markets. Double Obsession was shot on 35mm on campus at the University of Colorado at Boulder. Montes-Bradley hardly ever talks about this film written by himself in collaboration with Jeffrey Delman and Rick Marx. The film was also known as Mirror Image.
Smoothtalker. Thriller. A cop tracks down a serial killer who goes after women who work for a phone-sex company.. Starring Blair (Lisa) Weikgenant as Lisa Charles, Peter Crombi as Jack Perdue, Stuart Whitman as Lt. Gallagher, Paul Raci as Peri and Burt Ward. USA, 1992. Original score by Tony Roman; Production Design by Brian Densmore. US Release: June 18, 1992
Music videos
Montes-Bradley directed music-videos at odds with the dominant trends at a time in which MTV was still in the experimental stage. Rumbera (trad. a woman who dances the rumba), is a song by Willy Chirino, (Sony Music, 1994. "Rumbera", the videoclip based on Willy Chirino's song is a film-extravaganza shot in the style of the neorealism with magic realism undertones. The seven-minute short was filmed in a single take, in the interior of a cabaret in South Beach. The Cameraman and Director of Photography was Scott Mumford. Rumbera opened the doors for other salsa music videos to be regularly programmed in MTV Latino, until then, exclusively reserved to Rock, Pop and ballads from South American and Spaniard bands and soloists. Rumbera, was filmed in Super 16mm and premiered in Havana, Cuba during the Festival Internacional del Nuevo Cine Latinoamericano, 1994. At the time, Willy Chirino just as Olga Guillot, and several other Cuban artists were blacklisted in their homeland. Another off-beat music-video by Montes-Bradley is Dale Pascual (Warner Music Group) by the Argentine pop-group "Los enanitos verdes". Dale Pascual was shot in 35mm in La Cava, a slum in San Isidro, 27 miles North of the City of Buenos Aires. The track spells out the hardships of the have-not in Argentina. The slums of La Cava provided the setting typical of neo-realism, a recurrent theme on Montes-Bradley's music videos, which emphasized the hard living conditions in Argentina, unemployment, and the recession. In an effort to exacerbate the excruciating living conditions of the children in the slums, the director conceived and staged the crucifixion of a naked boy. The image of a large wooden cross laying against the walls of a public school with the Argentine flag in high mast in the background was found to be inappropriate, and the film was censored in several Latin American countries. "Dale Pascual, marked a turning point, and proved to be the last music video produced and directed by Montes-Bradley.
Uncategorized
Child of the Forest: The Story of Yona Bromberg. Heritage Film Project, 2014. The film documents the memories of Holocaust survivor Yona Bromberg who recalls being herded -along with the rest of the Jews in Rokitno- to the market where the occupying German forces open machine-gun fire killing almost everyone. Yona Bromber, her mother and sister run for cover into the forest where they survived among other refugees until the arrival of the Soviet Army. Child of the Forest: The Story of Yona Bromberg was filmed in Hallandale. La Ventana de Leon Rozitchner. Independent, 2011. Anecdotical documentary with philosopher León Rozitchner. Shot in Buenos Aires, Argentina. Tríptico Vertical, USA, 1986. Not much is known about the nearly fifteen minutes art-documentary on Madres de Plaza de Mayo. It was shot in Buenos Aires shortly after the return to democratic rule. Music by Julio Lacarra. American Manifesto''' Avantgarde short film premiered at the Buenos Aires Independent Film Festival (BAFICI) in 2005. Filmed in Denver, in the winter of 1993. Man maste ju leva'. Actor. Film Directed by Margareta Vinterheden. Sweden, 1978. Very little is known of this first movie.
Photography
Montes-Bradley's photos have been published on La Nacion, The Independent, Deutsche Welle, Diario Clarin other newspapers and magazines as well as commemorative books such as "Escenas de la memoria. La Casa Argentina en la voz de sus antiguos residentes", and "Aventura Turnberry Jewish Center 20th Anniversary". His portraits and filmed interviews with Research and Clinical Faculty are preserved at the Claude Moore Health Sciences Library, University of Virginia under The Eduardo Montes-Bradley Photograph and Film Collection.
Appearances in other media
Margaux Hemingway from the series E! True Hollywood Story produced by E! Entertainment Television. Jorge Giannoni. NN, ése soy yo (NN, The One In The Picture Is Me). Documentary film about Jorge Giannoni, directed by Gabriela Jaime. Guest Appearance by EM-B as having personally known the protagonist. Dir by: Gabriela Jaime, Argentina, 2000. Derrumbe. Random House Mondadori, 2012. Eduardo Montes-Bradley is EMB, a fictional character in Daniel Guebel's novels Mis escritores muertos.
References
Eduardo Montes-Bradley Wikipedia
(Text) CC BY-SA