Prime Minister

David Cameron




Succeeded by

Norman Lamb




Children

John Alban Davey




Prime Minister

David Cameron




Party

Liberal Democrats




Succeeded by

Amber Rudd




Spouse

Emily Gasson (m. 2005)




Preceded by

Chris Huhne




Name

Ed Davey







Preceded by

The Lord Young of Norwood Green




Role

Former Secretary of State for Energy and Climate Change




Books

Making MPs Work for Our Money: Reforming Parliament's Role in Budget Scrutiny




Education

University of London, Birkbeck, University of London




Previous offices

Secretary of State for Energy and Climate Change (2012–2015)




Profiles




Twitter
Ed davey on climate change
Sir Edward Jonathan Davey (born 25 December 1965) is a British Liberal Democrat politician. He is the Member of Parliament (MP) for Kingston and Surbiton since the 2017 general election, having previously been MP for the constituency from 1997 to 2015.
Contents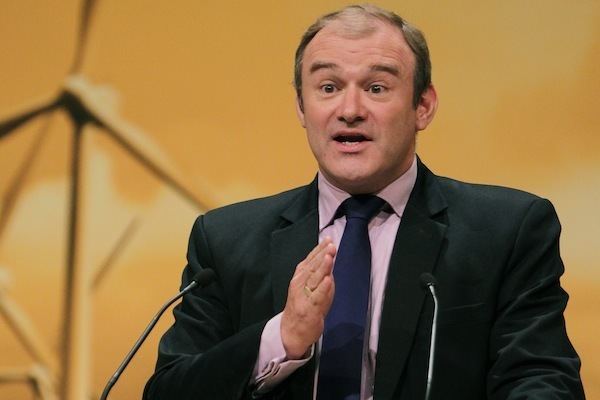 He served in the Conservative-Liberal Democrat coalition as Secretary of State for Energy and Climate Change from 2012 to 2015, having previously served as Parliamentary Under-Secretary of State at the Department for Business, Innovation and Skills, with responsibility for Employment Relations, Consumer and Postal Affairs, since 2010.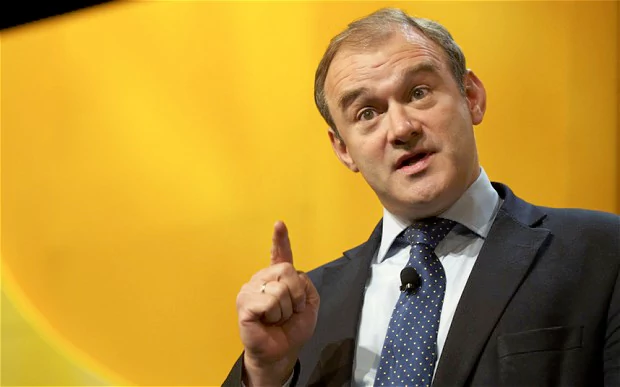 Energy Secretary Ed Davey on the UK's nuclear plans
Early life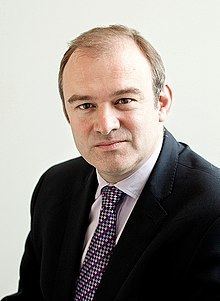 Davey was born in Annesley Woodhouse, Nottinghamshire. His father John died when Davey was four years old, and his mother Nina (née Stanbrook) eleven years later, following which he was brought up by his mother's parents. After attending senior school at the private independent Nottingham High School in the year above Ed Balls, where he was head boy in 1984, he attended Jesus College, Oxford, where he was awarded a first class BA degree in PPE in 1988. Whilst at Oxford, he was also elected to the JCR presidency of Jesus College.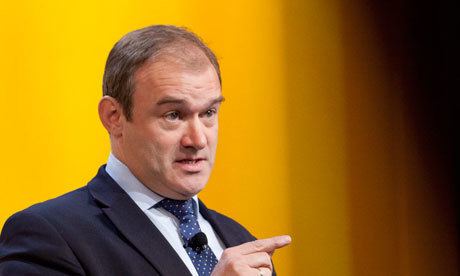 As a teenager he worked at Pork Farms pork pie factory and at Boots. In 1989, he became an economics researcher for the Liberal Democrats, principally to Alan Beith, the party's then Treasury spokesman, while studying at Birkbeck College, London, for a master's degree (MSc) in Economics. In 1993, he took up the position of management consultant with Omega Partners until being elected.
Parliamentary career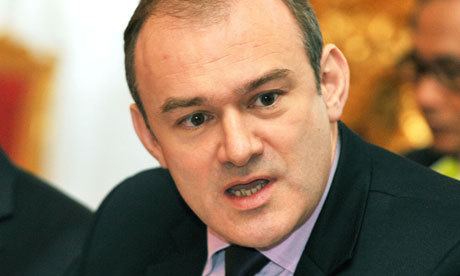 Edward Davey was elected to the House of Commons at his first attempt at the 1997 General Election where he defeated Richard Tracey, the sitting Conservative MP for the former constituency of Surbiton, with a majority of just 56 votes and remained the seat's MP for 18 years. He made his maiden speech on 6 June 1997, in which he gave his support for the setting up of the London Assembly, but against the idea of a directly elected Mayor of London, he also talked about the effects governmental cuts were having on the education delivery in the Royal Borough of Kingston upon Thames.
In 1997 Davey was responsible for introducing the Liberal Democrat policy of a penny on income tax to pay for education. The following year he was the primary sponsor of an Early Day Motion supporting the repeal of the Greenwich Judgement, which prevents Local Authorities from giving their own residents priority access to school places. He was one of the contributors to the Orange Book (2004).
In 2003 Davey introduced the clause which repealed the prohibition of "promotion of homosexuality" under Section 28 of the Local Government Act 1988.
Lib Dem spokesperson
In parliament Davey was given a job immediately by Paddy (now Lord) Ashdown and became the party's spokesman on Treasury Affairs, adding the post of Whip in 1998, and a third job to hold as the spokesman on London from 2000.
Davey was re-elected in the 2001 general election with an increased majority over former Conservative MP David Shaw. He joined the Liberal Democrat frontbench under leader Charles Kennedy in the same year by becoming Liberal Democrat spokesperson for Treasury matters. In 2002, he became the Liberal Democrat spokesperson for the Office of the Deputy Prime Minister. He was appointed Liberal Democrat spokesperson for Education and Skills in 2005 before becoming Liberal Democrats spokesperson for Trade and Industry in March 2006. In December 2006, he succeeded Norman Lamb as Chief of Staff to Sir Menzies Campbell, the party leader. Davey is Chair of the party's Campaigns and Communications Committee. Following Nick Clegg's election as Leader of the Liberal Democrat Party, Davey was awarded the foreign affairs brief, and continued to retain his chairmanship of the party's Campaigns and Communications Committee.
On 26 February 2008, Davey was suspended from parliament for the day for ignoring a warning from the deputy speaker. He was protesting about the exclusion by the speaker of a Liberal Democrat motion to debate and vote on whether the UK should have a referendum on staying in the EU.
At the 2009 Liberal Democrat conference, Davey caused controversy calling for dialogue with the Taliban, through declaring that it was 'time for tea with the Taliban', a comment echoed by Malala Yousafzai four years later to the BBC.
Ministerial career
Following the Conservative – Liberal Democrat Coalition Agreement, after the 2010 general election, Davey was appointed Parliamentary Under Secretary of State in the Department for Business, Innovation and Skills with responsibility for Employment Relations, Consumer and Postal Affairs.
On 3 February 2012, following the resignation of Chris Huhne due to his prosecution for perverting the course of justice, Davey was appointed Secretary of State for Energy and Climate Change, and appointed to the Privy Council on 8 February. As Secretary of State for Energy and Climate Change, Davey also became a member of the National Security Council (United Kingdom).
2015 and 2017 elections
At the 2015 general election, Davey was defeated by Conservative candidate James Berry by 2,834 votes after the Liberal Democrat vote fell by over 15% in Kingston & Surbiton. Davey regained the seat for the Liberal Democrats at the 2017 general election, with a majority of 4,124 votes over Berry.
Business appointments
Davey has taken up several business appointments since leaving his role as Secretary of State for Energy and Climate Change in May 2015.
Mongoose Energy appointed Davey as chairman in September 2015.
Davey set up an independent consultancy in September 2015 to provide advice on energy and climate change.
In January 2016 Davey was appointed as a part-time consultant to MHP Communications, the public relations and lobbying firm representing EDF Energy. Davey was criticised by press commentators for the potential conflict of interest between his previous role as Secretary of State for Energy and Climate Change and his role at MHP. As Secretary of State Davey awarded EDF the contract to build a new nuclear plant at Hinkley Point in Somerset.
Davey's appointment as Global Partner and non-Executive director of private equity investor Nord Engine Capital was announced in February 2016.
In July 2016 he became non-paid patron of the Sustainable Futures Foundation, a charity promoting environmental sustainability for the public benefit.
Personal life
Davey married Emily Gasson (Lib Dem candidate in North Dorset) in summer 2005 and their first child, John Alban Davey, was born in December 2007. Their son has speech difficulties, leading to Davey's interest in speech therapy. They live in Surbiton, London; Davey lived there before his election as an MP in 1997. Emily had the number two position on the Lib Dem London-wide candidate list for the 2016 London Assembly elections, but was not elected.
Honours
In 1995, Davey won a Royal Humane Society bravery award and commendation from the Chief Constable of the British Transport Police for rescuing a woman who had fallen onto the railway line in the face of on oncoming train at Clapham Junction station.
In 2001 he was elected a Fellow of the Royal Society of Arts (FRSA).
Davey was knighted in the 2016 New Year Honours.
Publications
Making MPs Work For Our Money: Reforming Parliament's Role In Budget Scrutiny by Edward Davey, 2000, Centre for Reform, ISBN 1-902622-21-9
"Liberalism and localism", Chapter 2 in The Orange Book: Reclaiming Liberalism by David Laws and Paul Marshall (contributions et al.), 2004, Profile Books, ISBN 1-86197-797-2
References
Ed Davey Wikipedia
(Text) CC BY-SA