Jackson is the founder and current president of S.T.A.N.D. (Staying True To America's National Destiny), a conservative non-profit organization that describes itself as "a national organization dedicated to preserving life, the traditional family and our Judeo-Christian history and values as the Foundation of our Constitution and culture." He is head pastor at Exodus Faith Ministries, located in Chesapeake, Virginia. Jackson has appeared as a commentator on national news networks such as C-SPAN, Fox News and MSNBC.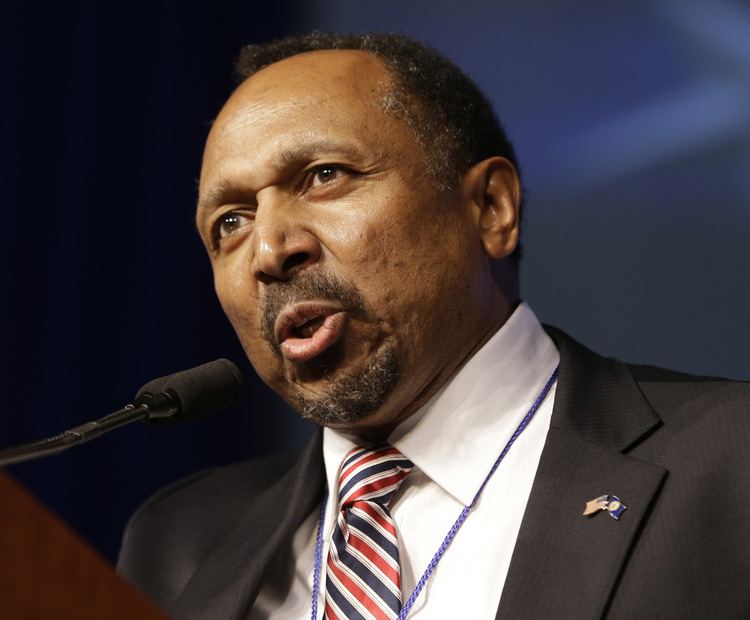 Jackson was born on January 13, 1952 in Chester, Pennsylvania, the great-grandson of slaves from Orange County, Virginia. His parents separated when he was a child, and he spent most of his childhood in a foster home. Jackson lived much of his life on the streets. He started turning his life around after his father, a welder, regained custody of him.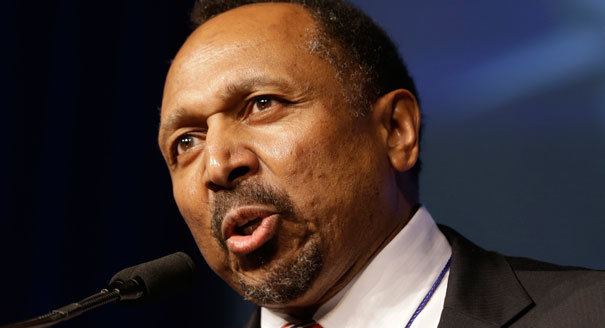 The day after Jackson left the foster home, his dad said, "Look, every day with me can be a day of heaven on earth. Or every day, I will tear your behind all to pieces. It depends on what you want." Jackson's dad also told him, "'I expect you to study. I expect you to do well in school. I expect you to obey me. And don't come back to me with excuses, because I want you to make something of yourself.'"
Jackson joined the United States Marine Corps in 1970. He was honorably discharged as a corporal in 1973. Following the Marine Corps, he entered the University of Massachusetts Boston, where he majored in philosophy and graduated with honors after only three years. Following his graduation from college, he attended Harvard Law School and earned his law degree.
He practiced law in the Boston area for 15 years. Jackson also studied theology at the Harvard Divinity School. He remained in Boston until the late 1990s as a practicing attorney, and was also a preacher in Boston. He said he was asked to leave his first ministerial position, at a Baptist church in Cambridge in 1982 after two years. He said of his tenure there, "It was an older congregation and I was a young 27-year-old firebrand. It was not a good mix."
Jackson taught administrative law at Northeastern University. While in Boston, he appeared on several radio shows on WHDH, and hosted a nationally syndicated talk show, Earl Jackson Across America.
While in Boston, Jackson faced money troubles as he spent nine years trying to rescue a bankrupt radio station, which he took over and converted into a gospel station. Difficulties resulted from extended legal battles with the Federal Communications Commission. In 1993, Jackson was forced to enter bankruptcy protection. Of the bankruptcy filing, Jackson said, "It was painful. It was difficult. It was embarrassing. I don't like the idea of not paying off debts." The protracted battles with the FCC contributed to his belief that the government unreasonably interferes in the free market.
He has taught commercial law at Strayer University's campuses in Chesapeake and Virginia Beach.
In 1996, Jackson joined with the Christian Coalition to head "The Samaritan Project," an outreach program that distributed $500,000 to churches that were victims of arson. He served as the Protestant chaplain for the Boston Fire Department.
In June 1998, Jackson was consecrated a bishop. Later that year, he and his family moved to Chesapeake, Virginia, and began holding weekly Bible studies. Out of the weekly meetings, in 1999 Jackson and his wife founded Exodus Faith Ministries, a nondenominational church. The church rented a space in a storefront location, but was forced to move due to zoning regulations, another incident that helped to shape his view of government overreach. The church rents a room at a Chesapeake hotel, where Jackson preaches every Sunday. Jackson founded Chesapeake's annual Martin Luther King Jr. Breakfast, now in its 14th year.
In 2012, Jackson generated national attention with a recorded video appeal to blacks to leave the Democratic Party, saying it has abandoned the values of the black community and that blacks had developed a "slavish devotion" to the party. He has spoken in black churches on issues facing the country and says he generally receives overwhelmingly positive responses.
Jackson believes many black leaders, such as Jesse Jackson and Al Sharpton, along with Barack Obama, "are telling black kids what they can't do." Jackson says he deplores Obama's emphasis on race, and says "The one thing I at least hoped for from the president—and I didn't have much hope for him—was that he'd bring us together. But he has divided us."
In response to rebukes from some black leaders over some of his comments, Jackson said, "In order to correct something, you've got to speak to it. ... [T]he last thing in the world I'm trying to do, as some have suggested, is to make white people feel good. I'm trying to make black folks, particularly youth, wake up to the possibilities of a life" of prosperity.
Jackson rejects the label of "African-American", calling himself "an American of African descent". He said he is proud of his heritage, but says "I just think we've got to come together as Americans, as one family. So I do point that out because that's the reality of it.
Jackson had been a lifelong Democrat; however, in the 1980s he embraced conservatism. He said of his decision, "I had a crisis of conscience. Can I be in a party that holds these views that are antithetical to my worldview? In my personal opinion, it is difficult if you are a Bible-believing Christian to reconcile that to some of the positions that the Democrat Party has taken."
In an October 2012 op-ed essay in The Washington Times, Jackson wrote:
Democrats now have fully embraced an abortion policy that amounts to infanticide. They have also made the lesbian-homosexual-bisexual-transgender agenda their vision for America. How have they managed to hold on to black Christians in spite of an agenda worthy of the Antichrist? They have shown a ruthless willingness to frighten black voters with outright lies about the plans of conservatives and Republicans. Vice President Joseph R. Biden's 'they gonna put y'all back in chains' was not a gaffe. It is part of the Democrats' strategy of using fear to keep blacks as a captive audience.
Jackson believes that Democratic Party elites are driving an agenda to rid the party and the country of God. He says, "I think I am closer to the viewpoint of the average Democrat in Virginia, the average black Christian in Virginia, than the Democrat Party, because they have been moving into a secular direction in order to accommodate these views that are simply inconsistent with traditional church teachings."
In May 2011, Jackson announced he was running for the United States Senate seat in Virginia in the 2012 election. George Allen won the June 2012 primary; Jackson received 5% of the vote.
Jackson announced his candidacy for Lieutenant Governor of Virginia on December 1, 2012 at the Republican Party of Virginia Advance in Virginia Beach, Virginia. On January 10, 2013, Jackson released his "Engage and Reform Agenda" which the campaign called "commonsense reforms [that] reassert the principles of our Constitution and Let Liberty Light the Way for Virginia."
On May 18, 2013, Jackson was nominated as the Republican Party candidate for the position, at the party convention in Richmond. The nomination process took four ballots and ten hours of voting. Jackson led in each round of balloting, reaching a majority on the final ballot. Jackson had raised the least money of the seven candidates for the Republican nomination. The Richmond Times-Dispatch called his victory a "stunning upset" over the other candidates. Jackson is the first non-white to be nominated to a statewide office by Virginia Republicans since 1988.
After his nomination, Jackson received backlash for some of his past statements that have been perceived as derogatory to gays, blacks, and Democrats. Jackson and some observers have noted the challenge of differentiating between statements made in a ministry setting and those made in a political setting. Jackson said, "I have been forced to clarify those views because they went back and picked out ministry settings where I talked about these things and brought them into my campaign. Then I feel like I have no choice but to clarify." Coby Dillard, a Norfolk Republican, observed that some of the criticism stems from the fact that commentary acceptable in a church setting is received differently in a political campaign. Jackson said that by critiquing his comments made in a ministry context, his opponents were trying to impose a religious test to say that anyone who takes a traditional view of the Bible is unfit for public office.
In June 2013 in Manassas, Jackson held a press conference in which he sought to clear the air about his past and counter what he called distortions of his past words and statements by his opponents. Jackson addressed a number of claims about his theology, which he says has been "twisted and distorted," and said, "I'm not going to spend the campaign talking about these issues, so let's get it out of the way now." Jackson also disclosed previously unreported details about his financial history and past drug use, saying he wanted to "reveal as many of my weaknesses and shortcomings as a curious press and my opposition might want to look into," and by doing so, "maybe save you and your colleagues some further research." In regards to claims that he thinks birth defects are caused by parents' sins, Jackson said, "I do not believe that birth defects are caused by parents' sin unless, of course, there's a direct scientific connection between the parents' behavior and the disabilities of the child," such as a child who might develop birth defects if his or her mother was addicted to heroin. He also denied that he had said yoga leads to Satanism: "I do not believe that yoga leads to Satanism. One of my ministers is a yoga instructor. What I said was that Christian meditation does not involve emptying oneself but filling oneself ... with the spirit of God. That is classic Biblical Christianity."
Jackson said his comments about homosexuals have been taken out of context, and that they were directed not towards the general LGBT community, just its more politically active, fringe members. Of past comments that homosexuality "poisons culture", he clarified, "What I really said was that the gay rights movement, so called, the homosexual activists, engage in some behavior that is absolutely horrendous, and that's true, everybody knows that; from going into Catholic churches and desecrating the Sacraments to engaging in all kinds of demonstrative behavior to try to call attention to what they view as their plight." He added, "I respect every human being, I don't believe that there's any second-class citizens in Virginia, I don't treat anybody any differently because of their sexual orientation." He also says that his statements on homosexuality should be seen as a preacher talking about what he believes the Bible says, not a political candidate's views on how he would govern.
Jackson says that he understands the difference between serving in elected office and serving as a minister, saying his job as lieutenant governor would be to serve and represent all Virginians regardless of their beliefs. He said, "I have spiritual convictions that I preach in church, but that is not my role as lieutenant governor. Anybody who knows me knows that I believe in the Christian principle of love for all people. ... That doesn't mean I'm going to say things that everybody agrees with."
Jackson believes he has been misunderstood and says some of the portrayals of himself advanced in the media and by his opponents have been hurtful, telling the Richmond Times-Dispatch,
I am not comfortable being depicted as a person who hates people or a person who wants to hurt people or be mean and nasty to people. Everyone who knows me knows that that's not my personality. ... You look at the stories sometimes and you think, 'Who is this person?'
However, Jackson also believes there is a "price for service", saying, "If you really want to serve, you've got to be prepared to sacrifice." He said he tries to dispel "false impressions" created by opponents who want to make him out to be "an intolerant bigot", but says "I don't want to whine about it because it's what I chose to do" to help improve Virginia. He says, "I really mean it when I say that I intend to serve everybody. And I really mean it when I say that I do not have a hateful bone in my body for anybody," though he admitted "it may not always come across that way."
Through the second quarter of 2013 ending on June 30, 2013, Jackson raised $375,324. Most of his contributions were from small donors, indicating a large grassroots base. From July 1 through August 31, 2013, Jackson raised $303,220. That amount was less than Democratic candidate Ralph Northam's fundraising over the same period, but Jackson's individual donors over the period numbered 2,060, more than double the number who donated to Northam. Jackson raised a total of $1.3 million over the course of the campaign cycle, compared to Northam's $2.7 million.
Jackson's education plan included calls for school vouchers and a constitutional amendment allowing public money to help fund private schools. Republican nominee for governor Ken Cuccinelli's plan includes the same proposals, and Jackson says he strongly supports Cuccinelli's plan. Jackson, whose wife is a public school teacher in Newport News, has called for a constitutional amendment for equal resources for homeschooled students.
Jackson has backed the Farm Freedom Act, a bill proposed by Delegate Brenda Pogge which would allow family farmers to sell their goods without having to go through state and federal regulations, which restrict direct sale of goods to consumers. He pointed to the sharp decline in farms grossing under $100,000 a year, saying it was a result of onerous bureaucracy and regulations. He said, "A farmer should be able to do [as he wishes] with his own land and they should be able to do business with one another and with their neighbors and get products to market, and have people enjoy the use of those products without unnecessary involvement or interference."
Jackson's campaign launched a Women for Jackson coalition composed of women across the state supporting Jackson's aim to "fight for greater parental choice in our children's educational opportunities, stand strong for health standards that keep women's clinics safe, and help create an economic environment in Virginia that helps people from all walks of life."
Jackson was endorsed by the Virginia Fraternal Order of Police, the Virginia Police Benevolent Association, Gun Owners of America, and retired NASCAR racer Morgan Shepherd.
Jackson was defeated in the November 5, 2013 general election.