13 3 inch the world s first e ink monitor
E Ink (electronic ink) is a paper-like display technology, characterized by high brightness and contrast, a wide viewing angle, and ultra-low power requirements. The technology has been commercialized by the E Ink Corporation, which was co-founded in 1997 by MIT undergraduates J.D. Albert & Barrett Comiskey, MIT Media Lab professor Joseph Jacobson, Jerome Rubin and Russ Wilcox.
Contents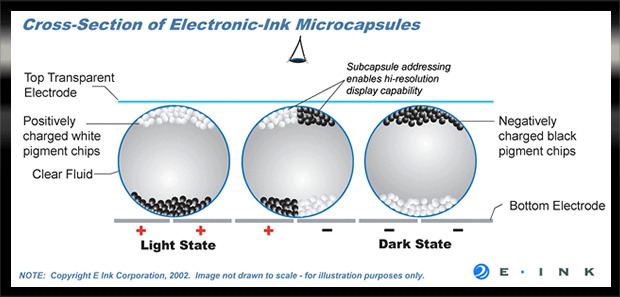 It is currently available commercially in grayscale and color and is commonly used in mobile devices such as e-readers, and, to a lesser extent, digital signage, mobile phones, smartwatches, electronic shelf labels and architecture panels.
Quirklogic quilla 42 e ink interactive whiteboard with digitizer collaboration productivity
Origins at MIT
The notion of a low-power paper-like display had existed since the 1970s, originally conceived by researchers at Xerox PARC, but had never been realized. While a post-doctoral student at Stanford university, physicist Joseph Jacobson envisioned a multi-page book with content that could be changed at the push of a button and required little power to use.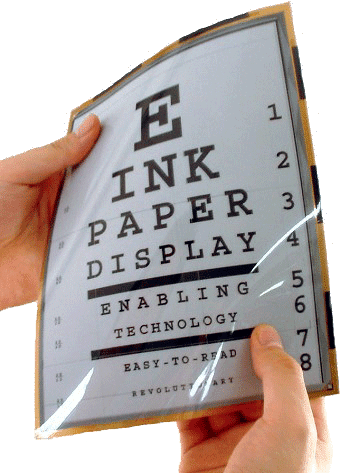 Neil Gershenfeld brought in Jacobson to the MIT Media Lab in 1995 after hearing his ideas for an electronic book. Jacobson, in turn, recruited MIT undergrads Barrett Comiskey, a math major, and J.D. Albert, a mechanical engineering major, to create the display technology required to realize his vision.
The initial approach was to create tiny spheres which were half white and half black, and which, depending on the electric charge, would rotate such that the white side or the black side would be visible on the display. Albert and Comiskey were told this approach was impossible by most experienced chemists and materials scientists and they had trouble creating these perfectly half-white, half-black spheres, and during his experiments, Albert accidentally created some all-white spheres.
Comiskey experimented with charging and encapsulating those all-white particles in microcapsules mixed in with a dark dye. The result was a system of microcapsules which could be applied to a surface and then could be charged independently to create black and white images. A first patent was filed for this microencapsulated electrophoretic display by MIT in October 1996.
The scientific paper was featured on the cover of peer-reviewed journal Nature, unusual for work done by undergraduate students. The advantage of the microencapsulated electrophoretic display, and its potential for satisfying the practical requirements of electronic paper are summarized in the abstract of the Nature paper:
"It has for many years been an ambition of researchers in display media to create a flexible low-cost system that is the electronic analogue of paper. In this context, microparticle-based displays have long intrigued researchers. Switchable contrast in such displays is achieved by the electromigration of highly scattering or absorbing microparticles (in the size range 0.1–5mm), quite distinct from the molecular-scale properties that govern the behaviour of the more familiar liquid-crystal displays. Micro-particle-based displays possess intrinsic bistability, exhibit extremely low power d.c. field addressing and have demonstrated high contrast and reflectivity. These features, combined with a near-lambertian viewing characteristic, result in an 'ink on paper' look. But such displays have to date suffered from short lifetimes and difficulty in manufacture. Here we report the synthesis of an electrophoretic ink based on the microencapsulation of an electrophoretic dispersion. The use of a microencapsulated electrophoretic medium solves the lifetime issues and permits the fabrication of a bistable electronic display solely by means of printing. This system may satisfy the practical requirements of electronic paper."
A second patent was filed on the microencapsulated electrophoretic display by MIT in March 1997.
Subsequently, Albert, Comiskey and Jacobson along with Russ Wilcox and Jerome Rubin founded E Ink Corporation in 1997, two months prior to Albert and Comiskey's graduation from MIT.
At the E Ink Corporation, Comiskey led the development effort of E Ink's first generation of electronic ink, while Albert went on to develop the manufacturing methods used to make electronic ink displays in high volumes. Wilcox played a variety of business roles and served as CEO from 2004-2009.
Acquisition
On June 1, 2009, E Ink Corp. announced an agreement to be purchased by one of its primary business partners, Prime View Int'l Co. Ltd (元太科技工業), for US$215 million. However, from June to December 2009, the purchase price was re-negotiated and E Ink was finally officially acquired on Dec. 24, 2009 for $450 million. The purchase by this Taiwanese company has put the production of the E Ink EPD on a larger scale than before, as Prime View also owns BOE Hydis Technology Co. Ltd (京东方海帝士科技) and maintains a strategic partner relationship with Chi Mei Optoelectronics Corp., which is now Chimei InnoLux Corporation (奇美電子), part of the Hon Hai-Foxconn Group (鴻海富士康集團). Foxconn is the sole ODM partner for Prime View's Netronix Inc. (振曜科技), the supplier of E Ink panel e-readers for rebranding - the end-user products may appear with any of several brands, e.g., Bookeen, COOL-ER, PocketBook, etc.
In December 2012, E Ink acquired SiPix, a rival electrophoretic display company.
Honors and Awards
E Ink's transformative impact on the publishing and reading industry has been recognized by several awards, including:
Comiskey's recognition by the World Economic Forum as a Technology Pioneer in 2002.
The induction of Albert, Comiskey, and Jacobson into the National Inventors Hall of Fame in May 2016, alongside society-transforming innovators such as Thomas Edison, the Wright brothers, and Steve Jobs. The NIHF is an elite collection of engineers and innovators, only 100 of whom are living, with 532 total from the past 300 years.
Applications
E Ink is processed into a film for integration into electronic displays and has enabled novel applications in phones, watches, magazines, wearables and e-readers, etc.
The Motorola F3 was the first mobile phone to employ E Ink technology into its display, taking advantage of the material's ultra-low power consumption. In addition, the Samsung Alias 2 uses this technology on the keypad, to allow orientation to change. The October 2008 limited edition North American issue of Esquire was the first magazine cover to integrate E Ink and featured flashing text. The cover was manufactured in Shanghai, China, was shipped refrigerated to the United States for binding and was powered by a nominal 90-day integrated battery supply.
Applications using E Ink have since expanded, enabling smart designs for digital signage, electronic shelf labels, wearables and architecture. Advantages of E Ink include low power usage, flexibility, durability and ruggedness and better readability under direct sunlight. Given these properties, E Ink displays can be used for a broad range of surfaces and solutions.
In July 2015, the Australian Road and Maritime Services installed road traffic signs using E Ink in Sydney, Australia. The installed e-paper traffic signs represent the first use of E Ink in traffic signage. Transport for London trialed E Ink displays at bus stops which offered timetables, route maps and real-time travel information to better update travel information. Select Whole Foods 365 stores have employed E Ink-powered electronic shelf labels, which can be adjusted and updated remotely and includes additional information such as whether a product is gluten-free. E Ink Prism was announced in January 2015 at International CES and is the internal name for E Ink's bistable ink technology in a film that can dynamically change colors, patterns and designs with architectural products.
Commercial Display Products
E Ink Vizplex is the internal name of E Ink's display technologies, which was announced in May 2007. Each version/model of Vizplex technology is marketed under different brand names, as detailed below. Vizplex is used to refer to specifically the first generation of the E Ink product line, in order to distinguish it from future generations.
E Ink Pearl
E Ink Pearl, announced in July 2010, is the second generation of E Ink Vizplex displays, a higher-contrast screen built with E Ink Pearl imaging film. The updated Amazon Kindle DX was the first device announced to use the screen, and the Kindle Keyboard, Kindle 4, and Kindle Touch also incorporate the Pearl display. Sony has also included this technology into its latest release of the Sony Reader Touch edition. This display is also used in the Nook Simple Touch, Kobo eReader Touch, Kobo Glo, Onyx Boox M90, X61S and Pocketbook Touch.
E Ink Mobius
E Ink Mobius (also known as E Ink Flex) is a modification of E Ink Pearl. It does not have one of the main disadvantages of the first two models of E Ink displays: a substrate made of very thin glass. E Ink Vizplex and E Ink Pearl have fragile screens which can be broken easily. The substrate of E Ink Mobius is made of flexible plastic, so it can resist small impacts and some flexing. Nearly A4-sized E ink Mobius devices make up the most expensive e-readers. These include Sony Digital Paper DPT-S1, Pocketbook CAD Reader Flex and Onyx Boox MAX.
E Ink Triton
E Ink Triton announced in November 2010 the third generation of E Ink Vizplex displays: a color display that is easy to read in high light. The Triton is able to display 16 shades of gray, and 4,096 colors. E Ink Triton is used in commercially available products such as the Hanvon color e-reader, JetBook Color made by ectaco and PocketBook Color Lux made by PocketBook.
E Ink Triton 2 is the last generation of E Ink Triton's color display. The e-readers featuring it appeared in 2013. They include Ectaco Jetbook Color 2 and Pocketbook Color Lux.
E Ink Carta
E Ink Carta was announced in January 2013 at International CES that is the fourth generation of its devices, which features 768 by 1024 resolution on 6-inch displays, with 212 ppi pixel density. Named Carta, it is used in the Kindle Paperwhite 1st (2012) and 2nd generations (2013).
E Ink Carta HD
E Ink Carta HD features 1080 by 1430 resolution with 300 ppi. It is used in the Kindle Voyage (2014), Kindle Paperwhite 3rd generation (2015), Deutsche Telekom Tolino Vision (2014), Kobo eReader Aura H2O (2014), Kobo Glo HD (2015), Pocketbook Touch Lux 3 (2015), Cybook Muse Frontlight, Kindle Oasis (2016), and Nook Glowlight Plus.
E Ink Carta and Carta HD displays support Regal waveform technology, which reduces the need for page refreshes.
Advanced Color ePaper
Advanced Color ePaper (ACeP) was announced at SID Display Week in May 2016, which can display up to 32,000 colors. It will be initially targeted at the in-store signage market, with 20-inch displays with a resolution of 1600 by 2500 pixels at 150 ppi. An ACeP display will have a 2-second refresh rate. E Ink expects commercial production in the next two years.
References
E Ink Wikipedia
(Text) CC BY-SA