Sleazy professional gambler Harold Benson (Rip Torn) discovers that he can always win against Las Vegas blackjack dealer Willie Brodax (Ken Wahl). In fact, Benson wins so consistently against Willie that no casino in Vegas or elsewhere will hire the seemingly jinxed dealer. When casino manager Milt (Val Avery) suggests the curse will be lifted if Willie wins something that belongs to Benson, the dealer pursues the older mans unhappy mistress, lounge singer Bonita Friml (Bette Midler).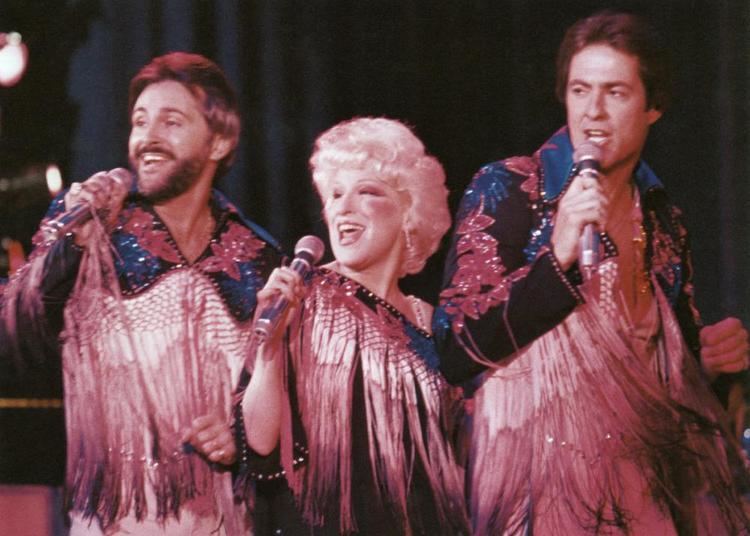 Jinxed! (also simply known as Jinxed on promotional media) is a 1982 comedy-drama film starring Bette Midler, Rip Torn and Ken Wahl. Directed by Don Siegel, the veteran filmmaker would suffer a heart attack during the troubled production. This would be Siegels final film.
Harold, a professional gambler, and his girlfriend Bonita, a lounge singer, follow Willie, a young blackjack dealer, around the western U.S. Harold has a jinx on Willie and can't lose with him. Bonita and Willie meet and fall for each other and plot to do away with Harold and collect on his life insurance.
Harold Benson (Rip Torn) and his lounge-singer wife Bonita Friml (Bette Midler) follow a young blackjack dealer Willie Brodax (Ken Wahl) around the country. Harold has a blackjack winning jinx on Willie, and seemingly cant lose to him. After Willie becomes suspicious, he starts following Harold and finds his trailer and starts talking to Bonita. Willie and Bonita eventually fall in love and plot to do away with Harold to collect Harolds life insurance.
Bette Midler as Bonita Friml
Ken Wahl as Willie Brodax
Rip Torn as Harold Benson
Val Avery as Milt Hawkins
Jack Elam as Otto
Benson Fong as Dr. Wing
Jacqueline Scott as Woman Bettor
F. William Parker as Art
Ian Wolfe as Morley
George Dickerson as Tahoe Casino Manager
Kathryn Kates as Miss Nina
Barry Michlin as Talent Booker (Max)
Read Morgan as Reno Player
Jim Nolan as Father
Kathleen OMalley as Mother
Woodrow Parfrey as Insurance Agent
Tom Pletts as Tahoe First Monitor
Archie Lang as Tahoe Second Monitor
Joan Freeman as Woman Agent
Don Siegel as Adult Bookstore Owner
The film is based on the 1980 novel The Edge by Frank D. Gilroy. He sold the film rights to the Ladd Company at Warner Bros. intending to direct; Ladd then sold the project to Herb Jaffe at United Artists for $300,000 and Jaffe hired David Newman to rewrite it. A UA production executive suggested Bette Midler for the lead and she asked for Don Siegel to direct. The script was rewritten by Jerry Blatt, Carol Rydall, Midler and Siegel. During development it was also known as The Jackpot and Hot Streak. Gilroy had his name removed from the film and was credited as "Burt Blessing".
Filming started on May 5, 1981 and took place at Harrahs Lake Tahoe , Lake Tahoe , MGM Grand Reno and MGM studios.
Siegel had been a mentor of director Sam Peckinpah, who was having difficulty finding assignments in the film industry due to his most recent troubled production. Siegel offered Peckinpah a chance to return to filmmaking with 12 days of second unit directing work on Jinxed. Peckinpah accepted, and his collaboration with was noted within the industry. While Peckinpahs work was uncredited, it would lead to his hiring as the director of his final film, The Osterman Weekend (1983).
In addition to Siegels health problems, Midler and Wahl reportedly fought viciously throughout the filming, making no secret of their open hostility towards one another. Wahl described to the press how much he disliked kissing Midler. Years later, Midler would state that Siegel was also hostile towards her. In turn, Siegel said the experience of working with Midler was unpleasant.
Lalo Schifrin composed and recorded what would have been his sixth score for Siegel on Jinxed, but it was rejected by the studio despite Siegels objections.
The film received an "R" rating in the US.
Released to theaters on October 22, 1982, the movie was a box office failure. Critic Roger Ebert gave the film 1.5 stars out of a possible 4. He wrote, "This is a messed-up movie that throws away what few opportunities it has to entertain us, and gets totally lost in a plot that starts as comedy and moves through farce on its way to paralysis." Ebert added that Middler is such a talented singer that it was implausible to believe that her character was an unsuccessful performer, but her music numbers still supplied most of the films few highlights.
The 2004 DVD release of the movie includes the original theatrical trailer, which includes a fraction of a deleted scene: Midler, wearing her mourning gown, quickly tries to get back into the car while its already hooked up in the carwash system.