Dunaujvaros (formerly known as Dunapentele and Sztalinvaros) is an industrial city in Fejer County, Central Hungary. The city is best known for its steelworks, which is the largest in the country.

Dunaujvaros is located in the Transdanubian part of the Great Hungarian Plain (called Mezofold), 70 kilometres (43 miles) south of Budapest on the Danube, Highway 6, Motorways M6, M8 and the electrified Budapest-Pusztaszabolcs-Dunaujvaros-Paks railway.
The city replaced the village of Dunapentele ("Pantaleon up on the Danube"), named after Saint Pantaleon. The construction of this new industrial city started in 1949 and the original village was renamed Sztalinvaros ("Stalin City") in 1951. After the Hungarian revolution of 1956 the new government renamed the city the neutral Dunaujvaros in 1961, which means "Danube New City" (New City on the Danube).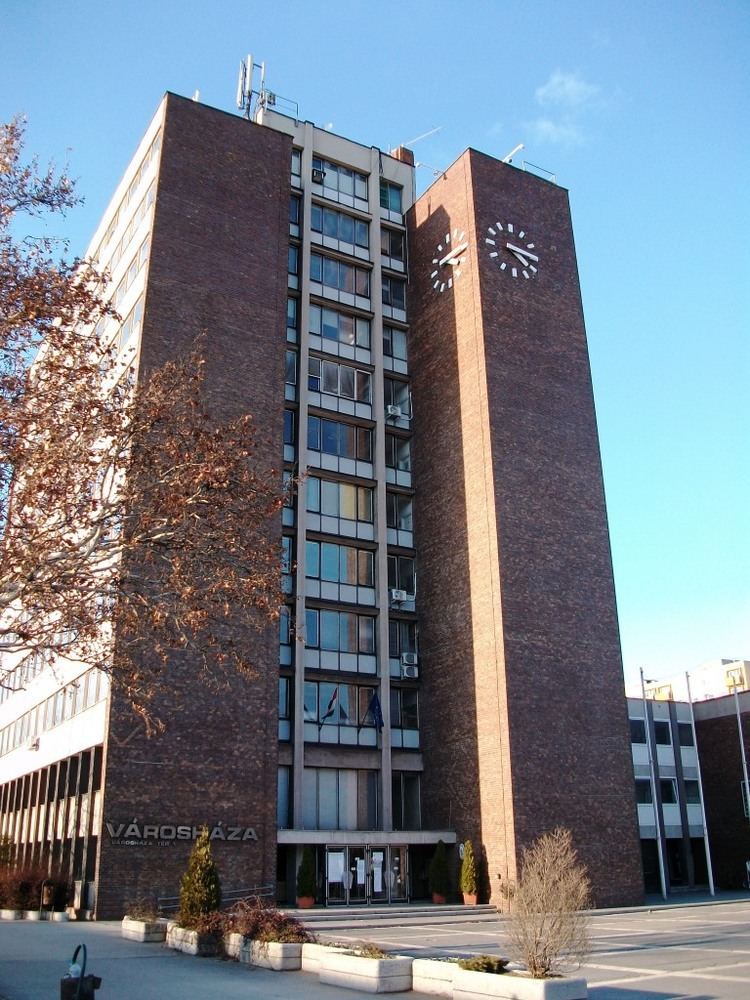 Dunaujvaros is one of the newest cities of the country. It was built in the 1950s during the industrialization of the country under Socialist rule, as a new city next to an already existing village, Dunapentele.
Dunaujvaros Wikipedia
(,)http://upload.wikimedia.org/wikipedia/commons/2/21/Duna%25C3%25BAjv%25C3%25A1ros_v%25C3%25A1rosh%25C3%25A1za.JPG(,)http://cdn2.vtourist.com/19/504805-Watching_over_the_Donau_to_the_pusztas_Dunaujvaros.jpg(,)http://lh5.ggpht.com/abramsv/R41qa0KUoSI/AAAAAAAAEDk/OSdEAA-sI5g/s720/005_pics.jpg(,)http://upload.wikimedia.org/wikipedia/commons/2/2a/Duna%25C3%25BAjv%25C3%25A1ros_%25C3%25BAjv%25C3%25A1ros.JPG
(,)http://farm4.static.flickr.com/3579/3348146989_0883df7a3b_t.jpg(,)http://farm3.static.flickr.com/2493/3933869996_b85a56c0ac_m.jpg(,)http://cdn.homedit.com/wp-content/uploads/2012/08/house-in-dunaujvaros-zsk-architects.jpg(,)http://upload.wikimedia.org/wikipedia/commons/c/c9/Vincell%25C3%25A9r_fi%25C3%25BA_Duna%25C3%25BAjv%25C3%25A1ros.jpg(,)http://40.media.tumblr.com/2a8b37731b8234ebed2a1b596b2e2450/tumblr_mv8jzg7PfR1slbabzo1_500.jpg(,)https://c2.staticflickr.com/4/3464/3749802437_ddb9876409.jpg(,)https://farm2.static.flickr.com/1026/4601633711_5d272835f8.jpg(,)http://i.ytimg.com/vi/GSDrM37XcbI/maxresdefault.jpg
(,)http://media-cdn.tripadvisor.com/media/photo-s/07/42/19/90/bora-bora-lounge.jpg(,)http://media-cdn.tripadvisor.com/media/photo-s/07/0c/38/44/bora-bora-lounge.jpg(,)http://media-cdn.tripadvisor.com/media/photo-s/04/a0/a0/8c/b.jpg(,)http://media-cdn.tripadvisor.com/media/photo-s/02/97/b6/92/filename-dunagy02-jpg.jpg(,)http://www.datourinfo.eu/sites/default/files/imagecache/640/dujvaros_szalki_sziget8_resized.jpg(,)http://media-cdn.tripadvisor.com/media/photo-s/02/97/b6/a1/filename-dunagy03-jpg.jpg(,)http://media-cdn.tripadvisor.com/media/photo-s/07/42/19/91/bora-bora-lounge.jpg(,)http://media-cdn.tripadvisor.com/media/photo-s/02/98/82/b7/filename-kiskohasz01.jpg(,)http://www.duf.hu/site/upload/2008/02/0017.jpg(,)http://photos.wikimapia.org/p/00/01/99/24/38_big.jpg(,)http://gotohungary.com/site/upload/2010/11/szoborpark_4.jpg