Instruments

Vocals, guitar




Name

Duke Robillard








Born

October 4, 1948 (age 67) Woonsocket, Rhode Island, United States (

1948-10-04

)


Genres

Blues, jazz, jump blues, blues rock, rockabilly, swing revival




Occupation(s)

Musician, songwriter, bandleader




Years active

1967–1990 Roomful of Blues 1990–1993: The Fabulous Thunderbirds 1993–present: (Duke Robillard Band)




Labels

Stony Plain Records, Chrysalis records, Rounder Records, Black Top Records, Point Blank Records, Flying Fish Records, Columbia Records




Role

Musician · dukerobillard.com




Music groups

Roomful of Blues, The Fabulous Thunderbirds (1990 – 1992)




Movies

Duke Robillard: Guitar Method: Vol. 1




Albums

Guitar Groove‑A‑Rama, The Duke Meets the Earl, Duke's Blues, Passport to the Blues, More Conversations in Swing




Profiles




Myspace




Birth name

Michael John Robillard



Duke robillard plays the blues 2010
Michael John "Duke" Robillard (born October 4, 1948, Woonsocket, Rhode Island) is an American blues guitarist and singer.
Contents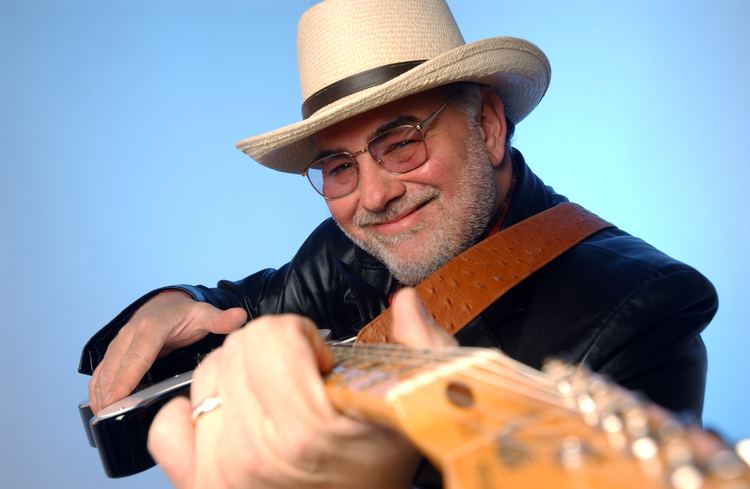 He played in bands as Mike "Honey Bear" Robillard and worked for the Guild Guitar Company. In 1967, he and Al Copley founded the band Roomful of Blues. He has been a member of the Fabulous Thunderbirds. Although Robillard is known as a blues guitarist, he also plays jazz and swing.
Duke robillard you don t love me and i don t even care europe 2010
Career
In 1967, Robillard founded Roomful of Blues with Al Copley. He left the band in 1979, then became a member of the Legendary Blues Band. In the 1980s, he founded Duke Robillard and the Pleasure Kings, and in the 1990s he joined the Fabulous Thunderbirds.
Robillard's solo career has included playing jazz with Scott Hamilton and Herb Ellis and swing music with the New Guitar Summit, a band he formed with Jay Geils and Gerry Beaudoin. He recorded tribute albums to T-Bone Walker and Les Paul. During his career, he has worked with Bob Dylan, Ronnie Earl, Robert Gordon, Jay McShann, and Jimmy Witherspoon.
Awards and honors
Best Blues Guitarist, W. C. Handy Award, 2000, 2001
Grammy nomination, Best Contemporary Blues Album, Guitar Groove-a-Rama, 2007
Grammy nomination, Best Traditional Blues Album, Stomp! The Blues Tonight, 2010
As leader/co-leader
Too Hot to Handle (1985) (Rounder)
Swing (1987) (Rounder)
You Got Me (1988) (Rounder)
Rockin' Blues (1988) (Rounder)
Duke Robillard & the Pleasure Kings (1990) (Rounder)
After Hours Swing Session (1992) (Rounder)
Turn it Around (1991) (Rounder)
Temptation (1994) (Point Blank)
Duke's Blues (1996) (Virgin)
Dangerous Place (1997) (Point Blank)
Stretchin' Out (1998) (Stony Plain)
New Blues for Modern Man (1999) (Shanachie)
Conversations in Swing Guitar (Stony Plain, 1999)
Stretchin' Out Live (1999) (Stony Plain)
Explorer (2000) (Shanachie)
La Palette Bleu (2001)
Living with the Blues (2002) (Stony Plain)
Exalted Lover (2003) (Stony Plain)
More Conversations in Swing Guitar (2003) (Stony Plain)
Blue Mood (2004) (Stony Plain)
The Duke Meets the Earl (2005) (Stony Plain)
Guitar Groove-a-Rama (2006) (Stony Plain)
Duke Robillard's World of Blues (2007) (Stony Plain)
A Swingin' Session with Duke Robillard (Stony Plain, 2008)
Stomp! The Blues Tonight (2009) (Stony Plain)
Passport to the Blues (2010) (Stony Plain)
Wobble Walkin (Blue Duchess, 2011)
Low Down and Tore Up (2011) (Stony Plain)
Independently Blue (2013) (Stony Plain)
Calling All Blues (2014) (Stony Plain)
The Acoustic Blues & Roots of Duke Robillard (2015) (Stony Plain)
Blues Full Circle (2016) (Stony Plain)
With Roomful of Blues
Roomful of Blues (1978)
Let's Have a Party (1979)
Swingin and Jumpin (1999)
With New Guitar Summit
New Guitar Summit (Stony Plain, 2004)
Live at the Stoneheim Theater (2004)
Shivers (Stony Plain, 2009)
As sideman or guest
With The Fabulous Thunderbirds
Powerful Stuff, (1989)
Walk That Walk, Talk That Talk (1991)
Wrap It Up (1993)
With Ronnie Earl
Soul Searchin' (1988)
Test of Time(1992)
With Jerry Portnoy
Poison Kisses (1991)
Home Run Hitter (1995)
Down in the Mood Room (2002)
With Jay McShann
Hootie's Jumpin' Blues, (1997)
Still Jumpin' the Blues (1999)
Goin' to Kansas City (2003)
With Al Basile
Blue Ink (2004)
Down on Providence Plantation (2005)
Groovin' in the Mood (2006)
The Tinge (2008)
Soul Blue (2009)
The Goods (2010)
At Home Next Door (2012)
With Sax Gordon
Have Horn, Will Travel (1998)
You Knock Me Out (2000)
With Eddy Clearwater
Cool Blues (1998)
Reservation Blues (2000)
With Joe Beard
For Real (AudioQuest, 1998)
Dealin (AudioQuest, 2000)
With Scott Hamilton
Blues Bop & Ballads (1999)
Across the Tracks (2008)
With Jimmy Witherspoon
Spoon's Blues (1995)
Jimmy Witherspoon with the Duke Robillard Band (2000)
With Al Copley
Royal Blue (1991)
Good Understanding (1994)
With Gerry Beaudoin
Minor Swing (1994)
Swing Cafe (2005)
With others
Too Cool to Move, Snooky Pryor (1992) (Antones)
Pinetop's Boogie Woogie, Pinetop Perkins (1992) (Antones)
Toolin' Around Arlen Roth (1993) (Blue Plate)
Married to the Blues, Mark Hummel (1995) (Flying Fish)
Found True Love, John Hammond (1996) (Point Blank)
Time out of Mind, Bob Dylan (1997) (Columbia)
Wiggle Outta This, Curtis Salgado (1999)
The Blues Keep Me Holding On, Savoy Brown (1999)
Good Day for the Blues, Ruth Brown (1999)
West Coast House Party, Kid Ramos (2000)
Three Feet Off the Ground, Bruce Katz (2000)
Memphis, Tennessee, Rosco Gordon (2000)
Love the Game, Debbie Davies (2001)
Boogie 'n' Shuffle, Billy Boy Arnold (2001)
Guitar, Jimmy Thackery (2003)
Blues in My Heart, Chris Flory (2003)
Introducting Sunny and Her Joy Boys (2009)
Between a Rock and the Blues, Joe Louis Walker (2009)
Porchlight, Todd Sharpville (2010)
Tales from the Tiki Lounge with Sunny Crownover (2010)
References
Duke Robillard Wikipedia
(Text) CC BY-SA