In 1994, it was voted #2 of The 50 Greatest Cartoons of all time by members of the animation field, losing only to What's Opera, Doc?, also made by Chuck Jones and also written by Michael Maltese. It remains one of the most notable Warner Bros. animations, and has been inducted into the United States Library of Congress and selected for preservation in the National Film Registry.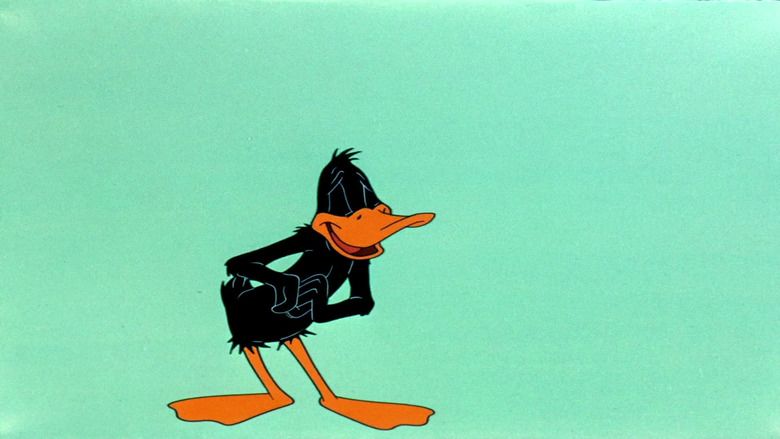 The cartoon's title sequence and opening scene suggest Daffy Duck is to star as a musketeer, who boldly acts out an action scene with a fencing foil. As he thrusts the foil and advances, the background abruptly disappears, leaving a plain white screen. Confused by this, Daffy turns to the animator and asks him to complete the scenery. However, instead of a castle from the original scene, the animator paints a farm scene. Daffy returns and starts to repeat his musketeer opening, but quickly notices the different background. He walks off screen and returns dressed as a farmer while singing a version of "Old MacDonald Had a Farm", but a few seconds later, the scene segues into a winter backdrop; Daffy changes into winter clothes and skies through the snow (to "Jingle Bells") and into a Hawaiian setting. Still dutifully, but impatiently, going through the changes, Daffy comes back in Hawaiian garb. After a couple of bars of "Aloha 'Oe (Farewell To Thee)" on ukulele, Daffy ends up back in the plain white background.
While Daffy tries to reason with the animator that cartoons should have scenery, he becomes completely erased and upon asking where he was, is redrawn as a cowboy with a guitar. Daffy tries to play it but there is nothing but silence. He requests sound with a sign and is granted with various non-guitar sound effects. Daffy also finds himself generating random sound effects when he tries to speak, and finally regains his voice when he blows his top and shouts angrily at the animator. ("AND I'VE NEVER BEEN SO HUMILIATED IN ALL MY LIFE!")
Regaining his composure, Daffy demands some new scenery and is given an amateurish line-art cityscape background in pencil. Daffy asks for color, prompting the animator to slap various colors and patterns all over him ("NOT ME, YOU SLOP ARTIST!!"). All but Daffy's face is erased and upon asking where the rest of him was, he is redrawn as a bizarre mismatched animal with a "screwball" flag on its tail. As Daffy walks off (wondering to himself if he wasn't living up to his contract and if he hadn't been keeping himself trim), he becomes suspicious of his new form until the animator creates a mirror and Daffy scolds the animator upon seeing his hideous self ("EEK! You know better than that!"). Everything is erased and Daffy is redrawn again, this time as a sailor. He begins to sing "The Song of the Marines" as the animator draws an ocean scene with an island in the background, but he does not draw anything under Daffy, resulting in him falling into the ocean and surfacing on the distant island where he asks for a closeup, only to have the screen frame contract around him (to which he screams "A CLOSEUP, YA JERK! A CLOSEUP!!"), as the camera then zooms up uncomfortably close to his angry bloodshot eyes before he walks away, saying to the animator "Thanks for the sour persimmons, cousin."
As Daffy tries once again to negotiate with the animator to have an understanding, the screen frame falls on him. After failing to keep the frame up with a stick, Daffy goes ballistic and rips apart the black background. Now at the end of his rope, Daffy demands "Let's get this picture started", so the camera does an iris-out to black, followed by "The End" slide which Daffy frustratingly pushes off camera, screaming "NO, NO!" as he does so. Daffy suggests that he and the animator go their separate ways and (hoping, against hope, that nothing further will happen) begins a dance routine which is quickly interrupted when the film runs out of alignment, resulting in two Daffys on the screen. They argue with each other and almost start a fight, but one Daffy is erased just as the other throws a punch.
The animator then turns Daffy into a pilot and draws him into an airplane. The duck excitedly flies around until a mountain is drawn in his path. The plane crashes off-screen, leaving Daffy with nothing but the plane's steering wheel and windshield. He "bails" out of the plane's remains and floats downward with his parachute which is replaced with an anvil. Crashing to the ground, a disoriented Daffy hammers the anvil while dizzily reciting "The Village Blacksmith". The animator changes the anvil into an artillery shell which explodes after a few more hammer strikes. Daffy finally snaps and angrily demands that the animator reveals himself; he does, but not before drawing a door around Daffy and closing it on him. The camera draws back and reveals the guilty party to be Bugs Bunny at a drawing table, who turns around and says to the audience: "Ain't I a stinker?"
• Mel Blanc as Daffy Duck and Bugs Bunny
According to director Chuck Jones, this film demonstrated for the first time that animation can create characters with a recognizable personality, independent of their appearance, milieu, or voice. Although Bugs Bunny (who declares "Ain't I a stinker?") is revealed to be the unseen animator, Jones comments that the ending was just for comedic value: Jones (the director) is speaking to the audience directly, asking "Who is Daffy Duck anyway? Would you recognize him if I did this to him? What if he didn't live in the woods? Didn't live anywhere? What if he had no voice? No face? What if he wasn't even a duck anymore?" In all cases, it is obvious that Daffy is still Daffy; not all cartoon characters can claim such distinctive personality.
Duck Amuck is included in the compilation film The Bugs Bunny/Road Runner Movie, along with other favorite Chuck Jones cartoons including What's Opera, Doc?
Mel Blanc performed the voices. It was directed by Chuck Jones with a story by Michael Maltese. The film contains many examples of self-referential humor, breaking the fourth wall.
In 1999 the film was deemed "culturally significant" by the United States Library of Congress and selected for preservation in the National Film Registry. This was the second of three animated shorts by Jones to receive this honor (the others are 1957's What's Opera, Doc? and 1955's One Froggy Evening). Jones has the distinction of being the only director (as of 2006) with three animated shorts in the registry.
The cartoon's plot was essentially replicated in one of Jones' later cartoons, Rabbit Rampage (1955), in which Bugs Bunny turns out to be the victim of the sadistic animator (Elmer Fudd). A similar plot was also included in the episode "Duck Reflucks" of Baby Looney Tunes, in which Bugs was the victim, Daffy was the animator, and it was made on a computer instead of a pencil and paper.
In issue #94 of the Looney Tunes comic, Bugs Bunny gets his back at Daffy Duck by making him the victim, in switching various movie roles, from Duck Twacy in Who Killed Daffy Duck," a video game character, and a talk show host, and they always wound up with Daffy starring in Moby Dick (the story's running gag). After this, Bugs comments, "Eh, dis guy needs a new agent."