Born

Douglas Moench February 23, 1948 (age 67) Chicago, Illinois (

1948-02-23

)

Notable works

Batman Coldblood Deathlok Detective Comics Electric Warrior Lords of the Ultra-Realm Master of Kung Fu Moon Knight Slash Maraud

Awards

Eagle Award, 1977 Inkpot Award, 1981

Books

Batman: Knightfall, Batman: Knightfall - Vol 1, Batman: Haunted Knight, The Big Book of Conspiracies, Sci‑Spy: The Complete




Similar People

Paul Gulacy, Kelley Jones, Chuck Dixon, Don Perlin, Roy Thomas
Conversation with doug moench comic geek speak episode 57
Douglas "Doug" Moench (born February 23, 1948), is an American comic book writer notable for his Batman work and as the creator of Black Mask, Moon Knight, Deathlok and Bane.
Contents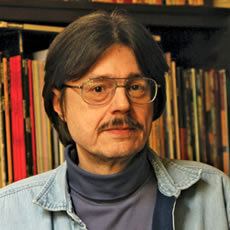 Throwback thursday batman by doug moench and kelley jones
Early life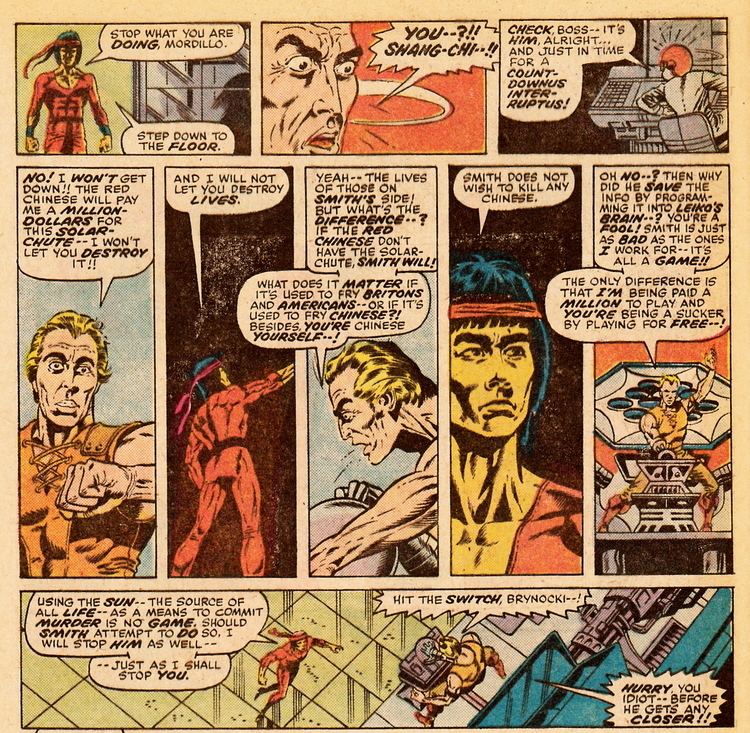 Born in Chicago, Illinois, Moench has written novels, short stories, newspaper feature articles, weekly newspaper comic strips, film screenplays and teleplays. His first published work was My Dog Sandy, a comic strip printed in his elementary school newspaper. He began his professional writing career with scripts for Eerie #29 and Vampirella #7 (both cover dated September 1970) and articles for the Chicago Sun-Times. In 1973, he moved to New York City.
Career
Moench began working for Marvel Comics in 1973, with his first story for the company appearing in Chamber of Chills #7 (November 1973). The following year, Moench became the de facto lead writer for the Marvel black-and-white magazine imprint Curtis Magazines. He contributed to the entire runs of Planet of the Apes and Doc Savage, while serving as a regular scribe for virtually every other Curtis title during the course of the imprint's existence. For Marvel's color comic line, Moench wrote the Werewolf by Night title and followed Steve Englehart as writer of Master of Kung Fu. Moench scripted the "Deathlok" feature in Astonishing Tales featuring the character co-created by Rich Buckler. Moench and artist Don Perlin introduced Moon Knight in Werewolf by Night #32 (August 1975). Moench and George Pérez launched The Inhumans series in October 1975 while "Weirdworld" was created by Moench and Mike Ploog in Marvel Super Action #1 (January 1976).
Continuing his work for the black-and white magazine line, Moench and Walt Simonson debuted The Rampaging Hulk in January 1977. The series was retitled The Hulk! with issue #10 and switched to a full-color format. Two licensed properties which Moench worked on with Herb Trimpe were Godzilla and Shogun Warriors.
Moench is a frequent and longtime collaborator with comics artist Paul Gulacy. The pair are probably best known for their work on Master of Kung Fu, which they worked on together from 1974–1977. Comics historian Les Daniels observed that "Ingenious writing by Doug Moench and energetic art by Paul Gulacy brought Master of Kung Fu new life." In 2010, Comics Bulletin ranked Moench and Gulacy's work on Master of Kung-Fu sixth on its list of the "Top 10 1970s Marvels". Moench and Gulacy later co-created Six from Sirius, Slash Maraud, and S.C.I. Spy, and have worked together on comics projects featuring Batman, Conan the Barbarian and James Bond.
Moench wrote Batman and Detective Comics from 1983–1986. He co-created new villains including Nightslayer in Detective Comics #529 (Aug. 1983) Black Mask in Batman #386 (Aug. 1985), and Film Freak in Batman #395 (May 1986). He and artist Don Newton produced the story in which Jason Todd replaces Dick Grayson as Robin in Batman #368 (February 1984). His first run on the title ended with issue #400 which featured work by several popular comics artists and included an introduction by novelist Stephen King. In his second run on the title from 1992–1998, Moench was one of the writers of the "Knightfall" storyline and wrote Batman #500 in which the character Azrael replaced Bruce Wayne as Batman. The "KnightsEnd" arc which saw the return of Bruce Wayne to the role of Batman was co-written by Moench as well. Other Batman storylines which Moench contributed to include "Contagion", "Legacy", and "Cataclysm".
Working at DC Comics in the 1980s, Moench wrote Omega Men and The Spectre. He was one of the contributors to the DC Challenge limited series in 1986 and co-created Electric Warrior with artist Jim Baikie; Lords of the Ultra-Realm with Pat Broderick; and Slash Maraud with Gulacy.
Moench has frequently been paired with the artist and inker team of Kelley Jones and John Beatty on several Elseworlds graphic novels, including Batman & Dracula: Red Rain and a long run of the monthly Batman comic. In 1994, Moench co-wrote the Batman-Spawn: War Devil intercompany crossover with Chuck Dixon and Alan Grant.
Personal life
Moench and his wife, Debra, have a son, Derek. Moench currently lives in Pennsylvania.
Awards
1972: Nominated for Chicago Newspaper Guild Award
1977: Eagle Award for Favorite Continued Comic Story for Master of Kung Fu #48–51 with Paul Gulacy
1978: Nominated at the Eagle Awards for Favourite Single Story for Marvel Premiere #38: The Lord of Tyndall's Quest with Mike Ploog
1979: Nominated at the Eagle Awards for Best Comic Book Writer (US), and for Best Continued Story for Captain Marvel #58–62 with Pat Broderick
1980: Nominated at the Eagle Awards for Favourite Comicbook Writer
1981: Inkpot Award
1990: Nominated at the Haxtur Awards for Best Long Comic Strip for Slash Maraud with Paul Gulacy
1997: Nominated at the Haxtur Awards for Best Long Comic Strip for Batman versus Predator II
References
Doug Moench Wikipedia
(Text) CC BY-SA