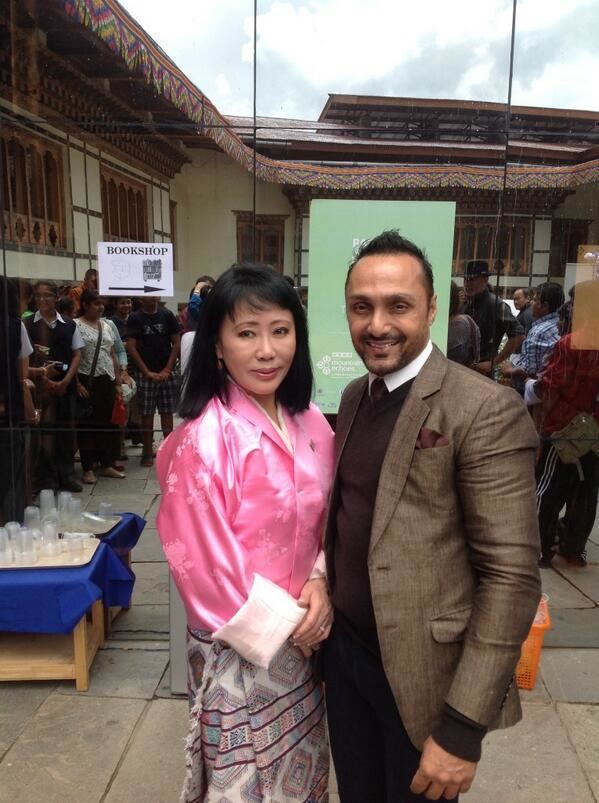 Her father is the Founder and Proprietor of Ugyen Academy (03/04/2002). Her mother is Yum Thuiji Zam.
Ashi Dorji Wangmo Wangchuck is the first wife of King Jigme Singye Wangchuck, the Fourth King of Bhutan.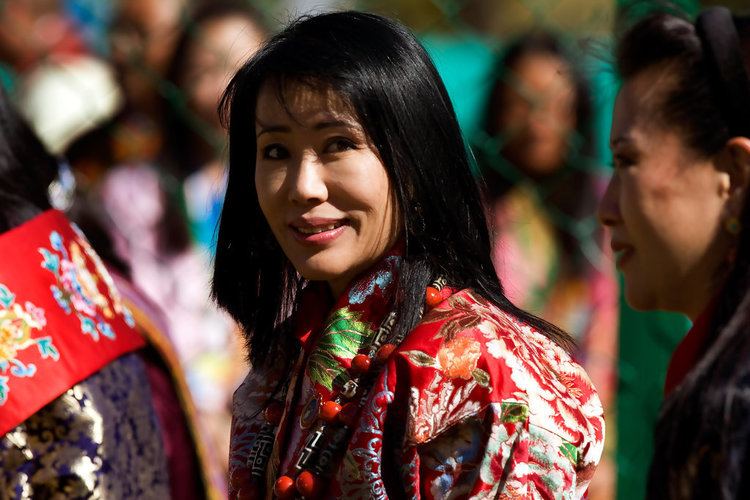 She was educated at St. Helen's School, Kurseong, India.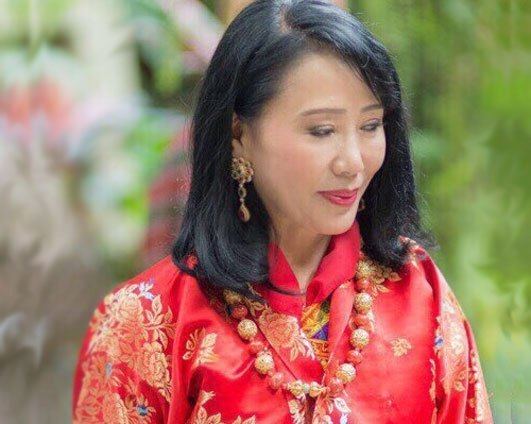 Her Majesty is the mother of Princess Ashi Sonam Dechan Wangchuck and Prince Dasho Jigyel Ugyen Wangchuck.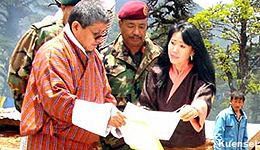 Dorji Wangmo Wangchuck has initiated numerous programmes to improve the quality of life of the Bhutanese people especially in the rural areas through the creation of the Tarayana Foundation. The Foundation seeks to help those experiencing financial difficulties through housing schemes, scholarships, training, production and marketing of rural products and financial support. In consultation with the community members, Tarayana has identified several projects including cultivation of medicinal, aromatic and dye plants like mountain indigo, turmeric and ginger to increase cash income. Currently Tarayana works in 40 of the remotest villages of Bhutan.
The Queen Mother is not only an accomplished author but also a keen supporter of literary works, particularly among the youth. She has sponsored and edited a number of books on poetry and essays on issues of relevance to the country. She is the author of "Of Rainbows and Clouds" a story of Dasho Yab Ugyen Dorji (the Queen's Father), which is not only a gripping family saga, but an illuminating window on Bhutanese culture, society and history. Her second book "Treasures of the Thunder Dragon – A Portrait of Bhutan" is a blend of personal memoir, history, folklore and travelogue.
The Queen Mother is the Chief Patron of "Mountain Echoes: a Literary Festival", being organised by the Indo-Bhutan Friendship Association that brings together renowned national and international authors and poets. The festival is a successful forum for exchange in literature and a celebration of the two cultures of India and Bhutan.
She has also been the Chief Patron to the Ministry of Agriculture since 1999 as the vast majority of the Bhutanese are farmers with many working under harsh climatic and geographic conditions. In this connection Her Majesty has visited the remotest corners of Bhutan and seen firsthand, their plight. Many of the beneficiaries of grants from the Tarayana Foundation are women, men and children she encountered during her rural tours undertaken on foot. As the President of the Tarayana Foundation Her Majesty continues to undertake these journeys into the remote communities of Bhutan to assess the impact of Tarayana's work as well as to explore new areas of intervention.
The Queen Mother's keen interest in environment preservation has led her to support National Parks, Biological Corridors and programmes to protect the environment. Great care is taken to incorporate environmental conservation in all the projects supported by Tarayana. She has delivered numerous keynote addresses both at home and overseas on issues relating to poverty reduction, environment preservation and social transformation of women.
She is also the Founder and Patron of the Folk Heritage Museum in the capital, Thimphu. The museum showcases traditional folk knowledge, crafts and way of life and has become a popular site for local and foreign visitors. The Druk Wangyel Chortens in Dochula Pass, which consists of 108 stupas and a temple was conceived and constructed by Her Majesty. Her Majesty commissioned the construction of the Lungchutse Chorten, and restoration of the Lungchutse monastery. The resoundingly successful Smithsonian Folk Life Festival of Bhutan in Washington, D.C. in 2008 was organized under the guidance and patronage of Her Majesty.
She is the Honorary President of Sherubtse College, Bhutan's oldest and most respected institution of higher learning and takes a keen interest in youth and gender issues.
Of Rainbows and Clouds: The Life of Yab Ugyen Dorji As Told to His Daughter (1998).
Treasures of the Thunder Dragon – A Portrait of Bhutan (2006).
Chief Patron to Ministry of Agriculture since 1999.
Chief Patron of "Mountain Echoes: a Literary Festival".
Honorary President of Sherubtse College since 2000.
President and Founder of the Tarayana Foundation since 2003.
Patron of the National Folk Heritage Museum (Phelchey Toenkhyim) since 2001.
Bhutan :
Commemorative Silver Jubilee Medal of King Jigme Singye (02/06/1999).
King Jigme Khesar Investiture Medal (06/11/2008).