Nationality

American




Name

Dorian Allworthy





Period

Tonalism




Known for

Painting, Printmaking






Born

Pennsylvania, USA




Movement

Realism, Tonalism, Representational
Dorian Allworthy is an American representational, tonal-realist painter working in Chicago. She is also known for her drypoint engravings. She specializes in large figure paintings as well as still life compositions and landscapes. Much like the French painter Chardin, Dorian is noted for her genre paintings which depict domestic activities and children.
Contents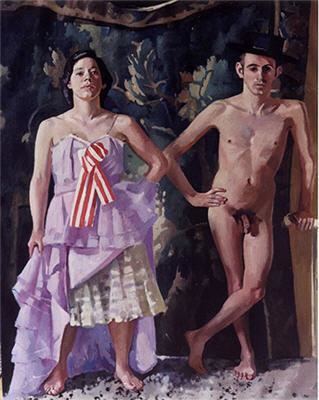 Early life and training
Dorian Allworthy was born in Pennsylvania. She attended an alternative high school in Pennsylvania on the main line of Philadelphia until the age of 16. She then began three years' study at the Pennsylvania Academy of the Fine Arts under Arthur DeCosta, where she was awarded the prestigious 'Thomas Eakins Award'. At age 19, she moved to Chicago to become a medical illustrator but soon realized that was not her calling. A year later she permanently moved in with her great uncle and adopted father, mid twentieth century painter, Joseph Allworthy, who referred to her as a "born painter", with the deal that 'she use his studio, and develop her career as an artist, under his watchful eye'.
Paintings
Allworthy has established herself as a still life, figure and landscape painter.
She has built a reputable portrait career as well. She takes great pride in painting from life, "I enjoy portraits... I wait and watch for a detail I like, something that is typical of them, like doing something nice with their hands..." something that makes her work unique and keeps true to her love and respect for the traditional style of painting and distinctive from modern photographic realism. Her subjects include prominent figures in business, politics and academia.
"...her landscapes always include an element of human activity... such as an overturned wheel barrow... The significance of this observation leads the viewer to account for the missing activity at the time of creating the painting." "Like all of her paintings, strictly from life, she is compelled to remain captive to time, natural light...".
Print making
Dorian Allworthy is also a print maker, focusing on drypoint engravings and the chine-collé technique.
A critic had this to say about her last show:
Her paintings have been displayed in many juried exhibits, one-person showings as well as a long list of private and public collections including the permanent collection of prints and drawings at the Art Institute of Chicago.
References
Dorian Allworthy Wikipedia
(Text) CC BY-SA