Prime Minister

David Cameron




Nationality

British




Spouse

Erika Raab




Preceded by

Simon Hughes




Political party

Conservative




Party

Conservative Party




Preceded by

Ian Taylor




Name

Dominic Raab




Books

Britannia Unchained




Majority

28,616 (50.2%)




Role

Politician







Born

25 February 1974 (age 41) Buckinghamshire (

1974-02-25

)


Education

University of Cambridge, University of Oxford, Jesus College, Cambridge, Lady Margaret Hall, Oxford




Similar People

Chris Skid, Priti Patel, Michael Gove
Dominic raab takes a beating from owen jones on the daily politics
Dominic Rennie Raab (born 25 February 1974) is a British Conservative politician. He is the member of parliament (MP) for Esher and Walton and is a former solicitor. He was appointed Parliamentary Under Secretary of State, the Minister for Human Rights, at the Ministry of Justice on 12 May 2015 until a year later when Theresa May's first Cabinet reshuffle returned him to the back benches. Following the 2017 general election, Raab was appointed the Minister of State for Courts and Justice working under David Lidington.
Contents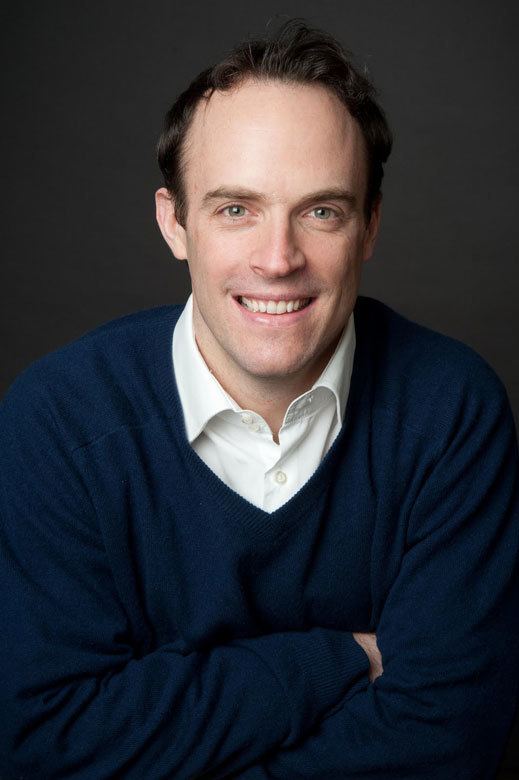 Dominic Raab: 'What matters right now is political resolve and will'
Biography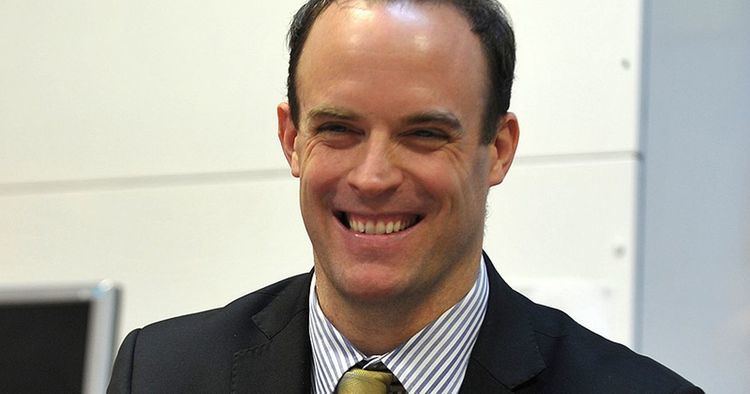 Raab grew up in Buckinghamshire, the son of a Czech father, who came to Britain in 1938 as a Jewish refugee. Raab went to Dr Challoner's Grammar School in Amersham. He went on to Lady Margaret Hall, Oxford, where he read law. After graduating, Raab gained a master's degree at Jesus College, Cambridge. Raab was initially a solicitor at Linklaters in London. Raab spent the summer of 1998 at Birzeit University (near Ramallah) where he worked for one of the principal Palestinian negotiators of the Oslo peace accords, assessing World Bank projects on the West Bank.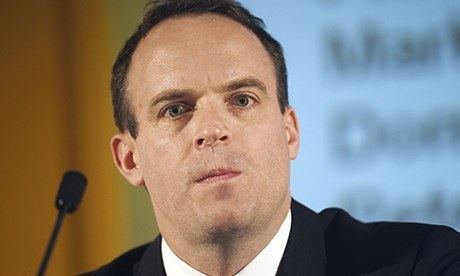 In 2000, Raab joined the Foreign Office, covering a range of briefs including leading a team at the British Embassy in The Hague, dedicated to bringing war criminals to justice. Upon returning to London, he advised on the Arab-Israeli Conflict, the European Union, and Gibraltar. From 2006 to 2010, Raab worked in Parliament as Chief of Staff to Shadow Home Secretary David Davis and to Shadow Secretary of State for Justice Dominic Grieve.
Cameron–Clegg coalition (2010–2015)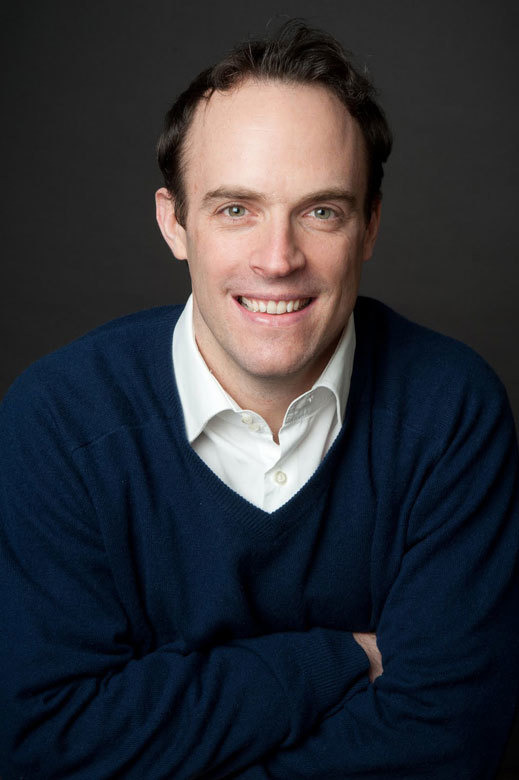 Raab was elected to Parliament to represent Esher & Walton, a very safe Conservative seat, at the 2010 election with a total of 32,134 votes (58.9% of the vote). Raab gained a majority of 18,593 over his nearest rival.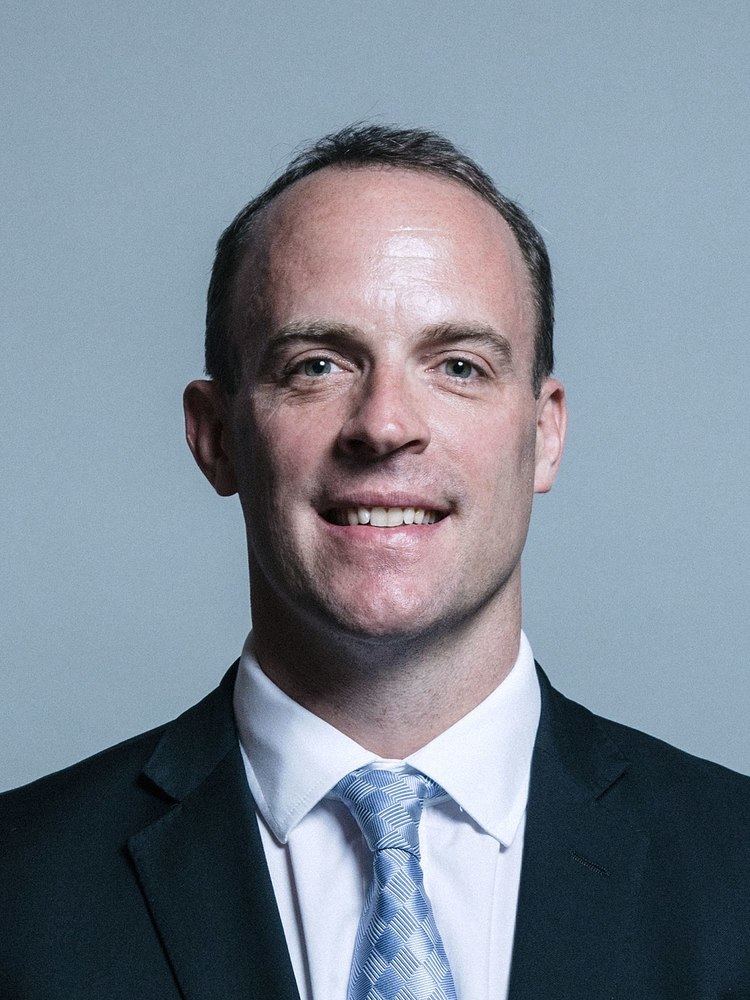 Raab lives in and commutes from the constituency. Since the election, he has campaigned for fairer funding for local services in Elmbridge, stronger local democracy in the running of community hospitals in Cobham, Walton and Molesey, in favour of more visible and responsive policing and against the construction of an M25 service station at Downside.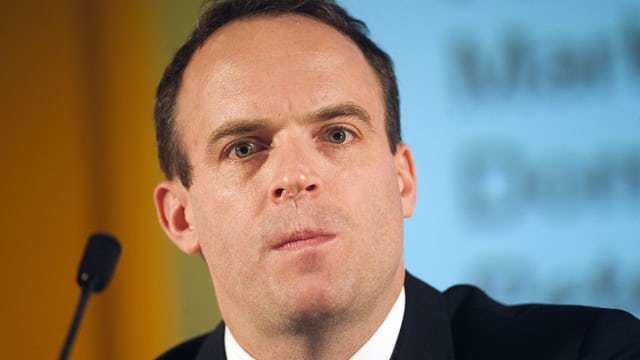 In the House of Commons, he has spoken out strongly in support of the coalition government's plans to cut the budget deficit, expand academy schools, repeal ID cards and enact a Freedom Bill. He criticised the government for opting into the EU directive on a European Investigation Order, arguing it would strain operational policing resources, and dilute safeguards protecting British citizens from misuse of personal data and guaranteeing a fair trial.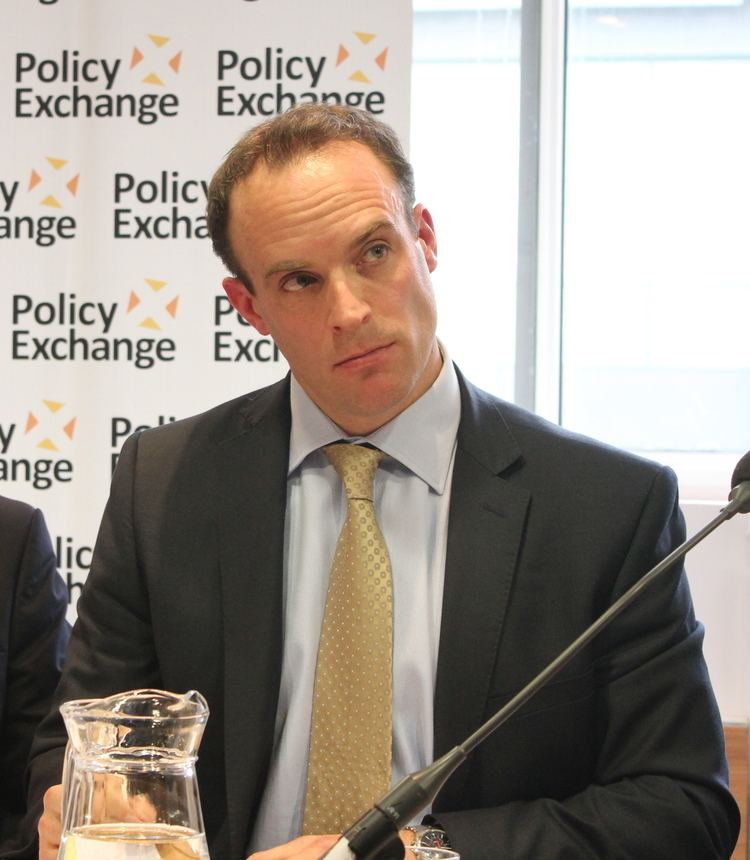 In July 2010 he secured a review of 'positive discrimination' rules being applied to Foreign Office work experience schemes, having been contacted by a constituent who had been rejected from the scheme for failing to meet "the social criteria". The two programmes at the organisation all barred white males from applying other than those from low income backgrounds, Raab argued they re-introduced discrimination 'via the backdoor'. The MP welcomed the review, blaming the situation on the previous Labour government. He stated "positive discrimination is wrong in the same way as negative discrimination. It means people are thinking in terms of social criteria and it is anti-meritocratic."
He came to media attention in August 2010, after requesting that the pressure group 38 Degrees remove his parliamentary email address from their website, arguing that lobby groups sending or co-ordinating 'clone emails' designed to deluge MP's inboxes detracted from their ability to correspond with constituents and help those in real need. 38 Degrees said that the email address is paid for by taxpayers' money and is in the public domain, thus they have every right to host it on their website and use it for campaigning.
Raab won "Newcomer of the Year" for 2011 at The Spectator's Parliamentary Awards. Raab had led debates on giving prisoners the vote and extradition. In April he had also presented an ultimately unsuccessful Ten Minute Rule Bill proposing that emergency service and transport Unions should be required by law to ensure that strike votes receive 50% support of union members. Raab argued that reform was needed to prevent "militant union bosses" holding the "hard working majority" to ransom.
On 7 March 2012, Raab opened a debate in the House of Commons on Sergei Magnitsky and Impunity for Gross Human Rights Abuses, calling upon on the UK government to bring forward legislative proposals that would allow it to impose visa bans and asset freezes on state officials responsible for gross human rights abuses against individuals. The motion was supported by three former Foreign Secretaries and two former foreign Ministers and had cross party support and was passed unanimously by MPs.
In September 2012 he reportedly turned down a position as a Lord Commissioner of the Treasury during the cabinet reshuffle.
Libel case
On 30 January 2011, The Mail on Sunday published an article alleging Raab was a workplace bully in his previous role as Chief of Staff to David Davis. Raab responded by saying 'This is a smear and any insinuation that I have behaved improperly is false and malicious'. He subsequently sued The Mail on Sunday for libel. The newspaper paid substantial compensation to settle the claim out of court, and on 18 March 2012 issued an apology, stating: 'We accept that our allegations were unfounded and we apologise to Mr Raab for the damage, embarrassment and offence caused'.
Prisoners' rights
On 10 February 2011, Raab gave the winding up speech in the debate on whether to give prisoners the vote, arguing that freedom entails responsibility and that elected lawmakers in the House of Commons rather than unaccountable judges in Strasbourg should decide the matter.
On 22 June 2011, the Joint Committee on Human Rights (JCHR) published a report on The Human Rights Implications of British extradition. As a member of the JCHR, Raab proposed that the committee look into the issue of fast-track extradition of British citizens following several instances of miscarriages of justice. In an article for the Times. Raab argued that more needed to be done to protect British citizens subject to European Arrest Warrants. The JCHR have called for safeguards to ensure warrants are not issued for minor offences and when there is minimal evidence and checks to prevent extradition for investigation rather than prosecution. On 24 November 2011, Raab led a debate in the House of Commons calling for extradition reform. His campaign has cross party support and is also backed by victims including Gary Mackinnon's mother, Janis Sharpe.
On 30 January 2014, Raab proposed an amendment to the Immigration Bill to deport all prisoners given a sentence of a year or more. It was defeated, but allowed 99 Members to voice that change was necessary to prevent immigrants convicted of crimes from using the ECHR as support to remain in the UK.
Cameron ministry (2015–2016)
In the 2015 General Election on 7 May 2015, Raab retained his Esher and Walton seat with a majority of 28,000 votes over his nearest rival. Raab was appointed Parliamentary Under Secretary of State at the Ministry of Justice under Michael Gove on 12 May 2015, with responsibility for human rights questions. In September 2015, in this capacity, he addressed representatives of the 46 other member states of the Council of Europe on the question of the UK's blanket ban on prisoner voting.
R (Miller) v Secretary of State for Exiting the European Union
On 3 November 2016 and in response to the decision of the High Court in R (Miller) v Secretary of State for Exiting the European Union on whether Her Majesty's Government was entitled to notify an intention to leave the European Union under Article 50 of the Treaty on European Union without a vote in Parliament, Raab stated that in the United Kingdom European Union membership referendum, 2016 "the British people gave a clear mandate for the UK Government to leave the EU and take back control of our borders, laws, money and trade. It is disappointing that today the court has chosen to ignore their decision". He went on to state that the decision was "a plain attempt to block Brexit by people who are out of touch with the country and refuse to accept the result. However, the vote to leave the EU was clear and they should not seek to obstruct it."
Civil liberties and justice
In 2009, Raab published his first book, The Assault on Liberty – What Went Wrong with Rights. In October 2010, he published Fight Terror, Defend Freedom, a pamphlet on the Home Office counter-terrorism review.
In January 2011, Raab wrote an article on the use of control orders in counter-terrorism cases in which he contended that they are ineffective and should be scrapped with a greater focus on prosecutions.
Raab published a pamphlet with the think-tank Civitas entitled Strasbourg in the Dock in April 2011. The pamphlet follows Parliament's recent rejection of a European Court ruling that at least some prisoners should have the right to vote. Raab argues that unelected judges have overstepped the mark in relation to the Hirst case – although the Strasbourg judges are elected by the Parliamentary Assembly of the Council of Europe. Raab contends that many of the judges are lacking in experience and as a result "are undermining the credibility and value of the Court". Raab makes a range of proposals to strengthen the authority of Britain's Supreme Court, give elected lawmakers the last word on creation of new rights and reform of the Strasbourg Court.
In July 2011, Raab called for reform of the UK Borders Act (2007) which currently allows foreign criminals to avoid deportation by claiming a "right to family life" under Article 8 of the European Convention on Human Rights. He proposed that the reference to the Human Rights Act be removed. He argues this could be done in a way that ensures foreign criminals could only avoid deportation if there is a "serious risk" they will be tortured on their return.
Equality, meritocracy and positive discrimination
On 30 January, he wrote a comment piece for the Sunday Times on the Equality Act. Raab argued for a meritocratic approach against positive discrimination and highlighted the lower standard of human rights protections in extradition cases compared to deportation cases.
In an article in January 2011 on the Politics Home website, Raab argued in favour of transferable paternity leave and against "the equality bandwagon" "pitting men and women against each other". He argued in favour of a consistent approach to sexism against men and women commenting that some feminists were "now amongst the most obnoxious bigots" and it was sexist to blame men for the recession.
Raab highlighted the wide range of sex discrimination faced by males including "anti-male discrimination in rights of maternity/paternity leave", young boys being "educationally disadvantaged compared to girls", and how "divorced or separated fathers are systematically ignored by the courts". Raab stated "from the cradle to the grave, men are getting a raw deal. Men work longer hours, die earlier, but retire later than women", noting that the pensions inequalities were still not going to be rectified for another seven years.
He was subsequently interviewed on the piece by the Evening Standard and BBC Radio 4. Theresa May, who was Minister for Women and Equalities at the time, criticised Raab's "obnoxious bigots" comment but agreed with his suggestions on paternity leaving and ending gender warfare.
Raab's remarks were condemned by some Labour MPs, including Harriet Harman and Nia Griffith, who said Raab should "stop being so self-pitying. The reality is that women with very good qualifications time and time again do not get the top jobs and opportunities." However, Raab stood by his comments in a comment piece for The Telegraph, highlighting the various sexist statements Harman had made about men, contrasting them with similar comments about women by the likes of Andy Gray. Raab also noted he had received an "overwhelmingly positive" reaction to his comments "from both men and women".
In July 2012, Raab published a pamphlet with the Centre for Policy Studies entitled Unleashing the British Underdog: 10 Bets on the Little Guy. In the report, Raab outlines 10 policies to improve social mobility and provide opportunities for those from non-traditional backgrounds to succeed.
After the Coalition
In October 2011, Dominic Raab and four other MPs of the 2010 intake published After the Coalition. An argument that Conservative principles adapted to the modern world are essential for future national success of the party. The book was serialised in the Daily Telegraph. Raab wrote his piece for the paper on British foreign policy. He argued foreign policy should reflect the national interest; Britain should not over extend itself in foreign conflicts, aid should be focused on the poorest countries and Britain should champion free trade abroad.
Regulation
In November 2011, Raab wrote a pamphlet published by the Centre for Policy Studies, Escaping the Strait Jacket – Ten Regulatory Reforms to Create Jobs. The paper makes the case for reforming red-tape to boost job creation on grounds of economic competitiveness and social fairness.
Britannia Unchained
In September 2012 Raab co-authored the book Britannia Unchained. In it, the authors claim that "Once they enter the workplace, the British are among the worst idlers in the world".
The book also addressed issues of national debt, state education, innovation and work ethic. Writing on work ethic in the Daily Telegraph, Raab said that longer periods in education, earlier retirement, welfare dependency and high marginal rates of taxation had led to a situation where "(w)e have a smaller proportion of the workforce pedalling harder to sustain the rest – which is economically debilitating and socially divisive." Raab called for measures to cut regulation on start up companies, expand vocational training, reduce child care costs and lower marginal (income-focused) rates of taxation to "rediscover and reward the lost virtue of hard-work – a tried and tested route to individual success, a more prosperous economy and a fairer society."
Personal life
Raab is married to Erika Rey-Raab, a Brazilian marketing executive. They live in Thames Ditton, Surrey.
References
Dominic Raab Wikipedia
(Text) CC BY-SA