Dolj ([dolʒ]; originally meant Dol(no)-Jiu, "lower Jiu", as opposed to Gorj (upper Jiu)) is a county (județ) of Romania on the border with Bulgaria, in Oltenia, with the capital city at Craiova.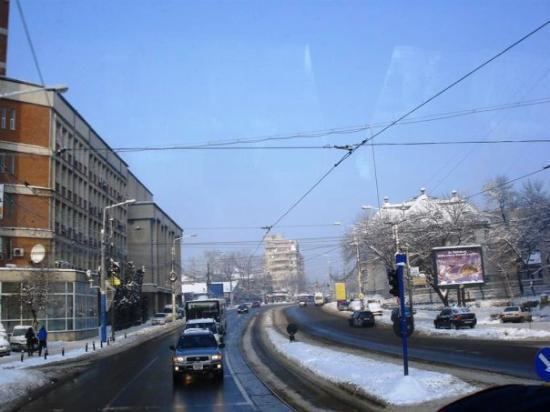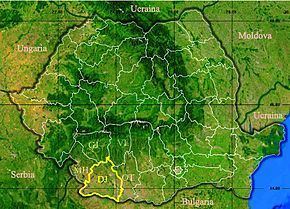 In 2011, it had a population of 660,544 and a population density of 89/km2 (230/sq mi).
Romanians – over 96%
Romani – 3%
Others almost 1%.
This county has a total area of 7,414 km2 (2,863 sq mi).
The entire area is a plain with the Danube on the south forming a wide valley crossed by the Jiu River in the middle. Other small rivers flow through the county, each one forming a small valley. There are some lakes across the county and many ponds and channels in the Danube valley. 6% of the county's area is a desert.
Olt County to the east.
Mehedinți County to the west.
Gorj County and Vâlcea County to the north.
Bulgaria – Vidin Province to the southwest, Montana and Vratsa provinces to the south.
Agriculture is the county's main industry. The county has a land that is ideal for growing cereals, vegetables and wines. Other industries are mainly located in the city of Craiova, the largest city in southwestern Romania.
The county's main industries:
Automotive industry – Ford has a factory.
Heavy electrical and transport equipment – Electroputere Craiova is the largest factory plant in Romania.
Aeronautics
Chemicals processing
Foods and beverages
Textiles
Mechanical parts and components
There are two small ports on the shore of the Danube river – Bechet and Calafat.
Corneliu Baba
Tudor Gheorghe
ro:Mircea Mihail Ghiorghiu
Alexandru Macedonski
Titu Maiorescu
Amza Pellea
Doina Ruști
Francisc Șirato
Marin Sorescu
Nicolae Titulescu
Ion Țuculescu
Nicolae Vasilescu-Karpen
Mihai Viteazul
Major tourist attractions:
The city of Craiova;
The city of Calafat;
Fishing on the Danube;
The city of Băilești.
The Dolj County Council, elected at the 2016 local government elections, is made up of 37 counselors, with the following party composition:
Dolj County 3 municipalities, 4 towns and 104 communes
Municipalities
Băilești
Calafat
Craiova – capital city; population: 243,765 (as of 2011)
Towns
Bechet
Dăbuleni
Filiași
Segarcea