8.4

/

10

Alchetron

8.4

Rate This




Directed by

Jun Robles Lana


Story by

Jun Robles Lana


Initial release

27 October 2016




Screenplay

Rody Vera






Screenplay by

Rody Vera




Music by

Richard Gonzales




Director

Jun Lana




Production company

Regal Entertainment





Produced by

Lily MonteverdeRoselle MonteverdeJun Robles LanaPerci Intalan




Starring

Paolo BallesterosJoel TorreGladys ReyesLuis AlandyAlbie CasiñoChristian BablesIC Mendoza




Producers

Jun Lana, Percival Intalan, Ferdinand Lapuz




Cast

Paolo Ballesteros, Albie Casiño, Luis Alandy, Joel Torre, Gladys Reyes


Similar

The Woman in the Septic, Vince and Kath and James, Seklusyon, Saving Sally, Sunday Beauty Queen
Die beautiful mmff full trailer
Die Beautiful is a Filipino comedy-drama film directed by Jun Robles Lana and produced by Lily Monteverde, Roselle Monteverde and Perci Intalan starring Paolo Ballesteros.
Contents
The film had its premiere at the 29th Tokyo International Film Festival on October 27, 2016 and is an official entry to the 2016 Metro Manila Film Festival.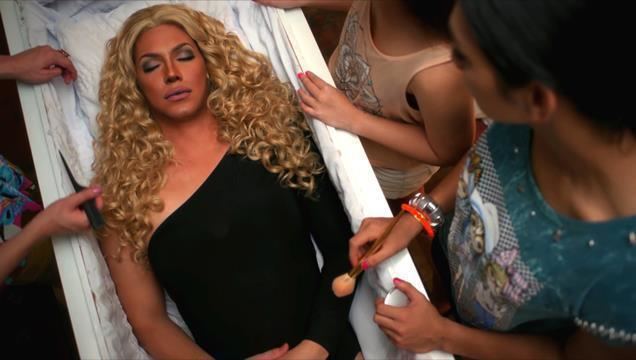 Plot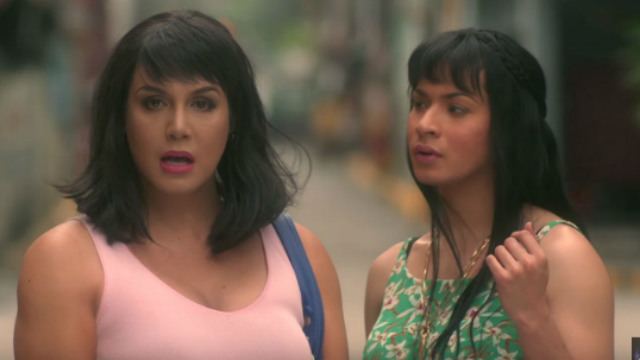 The movie begins with the flashback of a home video showing a young Trisha Echevarria (Paolo Ballesteros), whose real name is Patrick, modelling and wearing different improvised costumes representing different countries in their beauty pageant role-play at home with fellow gay friends. Patrick's sexuality and his dream to become a beauty queen were greatly opposed by his father (Joel Torre) that in the end of the video, he is seen barging in and stopping them.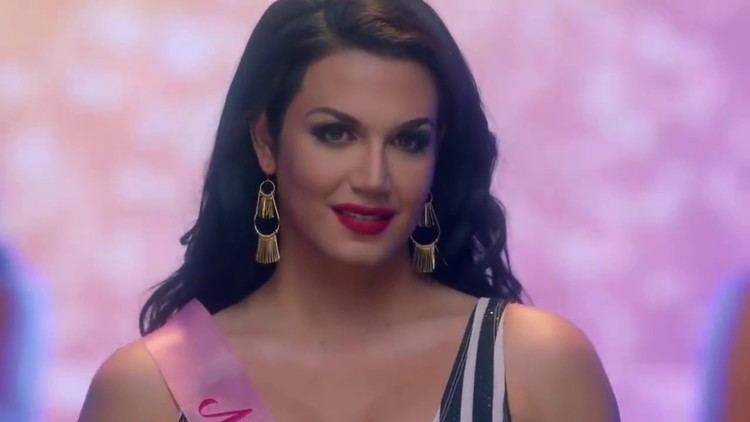 At present, Trisha is already dead. She died after collapsing during her pictorials as the newly crowned Binibining Gay Pilipinas. Her wake is being held at Happy Endings Funeral Homes under the care of her gay friends. Everyday, Trisha undergoes makeup transformations into different female celebrities, which she owes to the makeup skills of her best friend Barbs (Christian Bables) which they enjoyed doing together as they were growing up when Trisha was still alive.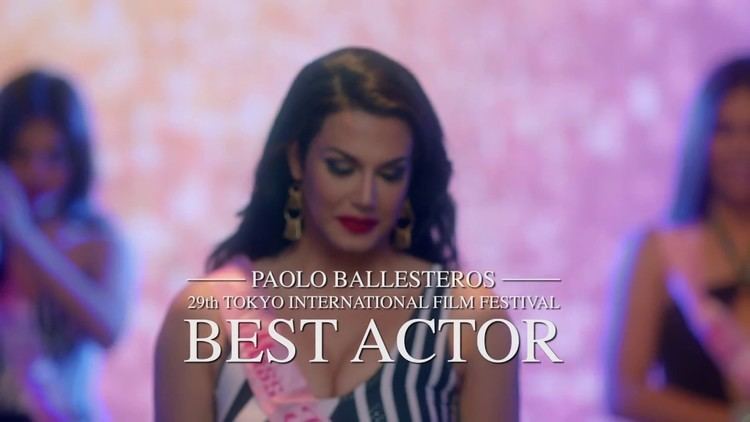 Trisha's adopted daughter Shirley Mae (Inah de Belen) arrives with her boyfriend and cries as she sees her mother in the coffin. She apologizes to her adoptive mother for rebelling against her before when Trisha unceasingly pursued her to join beauty pageants even if Shirley Mae didn't want to do so anymore. She tells Barbs that she is pregnant, thus making her unable to fulfill Trisha's dream for her to be a beauty queen.
Meanwhile, Iza Calzado who crowned Trisha in Binibining Gay Pilipinas also visits the wake at the time when Trisha's make-up transformation is Iza's face. In another makeup transformation, the gay funeral parlor owner, Flora (Lou Veloso), was amazed by the Trisha's look and asks for a selfie with the corpse dressed as Miley Cyrus. Flora later uploads the picture on Facebook without Barbs' consent. The photo goes viral, making Trisha's wake an attraction even for people who did not know her in life, much to Barbs' disapproval.
Couturier Eugene Domingo also visits the wake after knowing about the viral photo. She was appalled by the gown Trisha was wearing as Julia Roberts from the Runaway Bride and brought a fabulous white gown for Trisha to wear. Flora points out that corpses can't be dressed normally and they would have to cut the beautiful gown so they can dress up Trisha with it. Despite being hesitant at first, the couturier cuts the gown and Trisha's corpse was dressed in it.
During the seven days of Trisha's wake, the shows flashbacks of the glamorous life Trisha had lived as a son/daughter, brother/sister, mother, girlfriend, wife and a beauty queen.
The flashback showed both teenage Trisha, whose name was still Patrick then, and Barbs studying in the same school—proud gays modelling as they walk in the hallways. Patrick had a crush on basketball player Migs (Albie Casiño). Eager for Migs and with Barbs' convincing, Patrick goes with Migs and his friends one night. The next morning, Patrick arrives in school in a state of disarray, and reluctantly confides to Barbs that he was gang raped by a drunk Migs and his friends through anal sex. The rape has caused anal bleeding and Barbs and their other friends gets Patrick to a hospital. Patrick's father and his sister Beth (Gladys Reyes) visits him in the hospital and lies to them, claiming that he was there only because of a stomach disease. The doctor later reveals his real condition and Patrick ends up being slapped by his own father for what happened and for the shame he brought to his family. His father as well threatens his gay friends not to go near Patrick anymore.
This incident further strains the relationship between Patrick and his father. Patrick continually disobeys his orders to stop his gay acts, secretly joining gay beauty contests. As a result, he disowns his son and tells him to leave. As he exits their house, Patrick yells his new identity: Trisha Echeverria.
Barbs' and his mother willingly let Trisha stay with them. Not having a job, Trisha joins Barbs in joining different gay beauty pageants from town to town with other gays and a leader they call 'Mommy' who instructs them with tips to win. One time, Trisha thinks of a creative way to introduce herself in the pageant to impress the audience. She hides colorful birds in her costume which she planned to set free after her introduction. But she was one of the last candidates to be called so she was wounded by the birds' beaks and the birds were all dead when she revealed them. Their leader is upset with her especially that she wasn't able to answer in the question and answer portion. In another pageant, she transforms herself into a celebrity but fails to win the crown again during the question and answer. She was only able to memorize one answer from the given set of questions and sadly, another candidate has picked the said question. He ended up speechless after picking a hard question about government policies.
Trisha and Barbs continued joining beauty pageants with hopes to improve and finally win. Trisha became more creative with her costumes and talent. However, Trisha always only won the First Runner Up title and never the winning crown. She also adopts a child named Adora after the child's mother dies. She takes care of her and renames her as Shirley Mae. She pushes Shirley Mae to join beauty pageants while still young with the help and support of Barbs. As Shirley Mae grows up, she gets bullied by her classmates for having a gay mother. Trisha tells her to neglect them and that she is a mother even if she does not have a female body yet and she loves her as a mother would.
Trisha meets a young gay club dancer named Miko who later becomes her boyfriend. After Trisha pays for Miko's rhinoplasty, he tells Trisha and young Shirley Mae that he is now Trisha's husband and Shirley Mae's 'Papa'. Later, Trisha confronts a gay beauty parlor owner (Mel Martinez) for stealing her dancer boyfriend. They exchange intense lines from different Filipino movies until Barbs got fed up and began to physically hurt the parlor owner.
Trisha continues to save up for her breast implants with Barbs so they can finally become a transgender physically while thinking that it will be the key for them to win beauty pageants. As they were recovering from the surgery, Trisha reminisces the only beauty pageant answer that she was able to memorize but never got to pick the question.
Back to present, an unknown woman (Jade Lopez) visits Trisha's wake and tells the corpse "kayo rin pala ang nagkatuluyan sa huli" ("the two of you ended up together anyway"). It was revealed that the woman is Diana, the wife of Jesse, (Luis Alandy) Trisha's another former lover.
Trisha met Jesse in a bar and they later share the bed in Jesse's apartment. Jesse falls in love with Trisha even if he has a wife, much to Trisha's surprise that someone sincerely finds her beautiful and treats her like a lady. On the day of their sixth monthsary, Trisha prepares a dinner for them at her home, but Jesse never arrived. A month later, Trisha is still puzzled why Jesse has never called or showed up ever since. Diana later comes to their house and tells Trisha to come with her.
Trisha and Diana arrive in the hospital where Jesse confined due to leukemia. Jesse tells Trisha his condition but Trisha gets disrupted when Jesse admits why he always kept following him before they met at the bar. It turns out that Jesse was urged by his conscience as he was one of Migs's friends who gang-raped her. He tells Trisha that he has grown to truly love him but Trisha didn't believe him and leaves.
Trisha goes on with his life with Barbs and Shirley Mae. Fate had Trisha to pick the question in the biggest gay pageant he has ever joined: the Binibining Gay Pilipinas. He delivers his memorized answer well "...that's why if I'll die and be blessed to live again, I would choose to be nobody, nobody but me." At the backstage, Trisha also jokingly tells Barbs that if he wins this major pageant, he will be ready to die. He further elaborates the details of his funeral: to have a makeover as a different celebrity everyday in his week-long wake. Trisha eventually wins the beauty contest but nobody expected that after that, he would eventually die due to brain hemorrhage aneurysm.
In the morgue, Trisha's father and sister, Beth, arrive. Beth is saddened over the loss of her brother since the last time they talked to each other had been so long. His father remains cold, and with disgust, orders to have the breast implants removed. Beth convinces him to respect Trisha's decision. Instead, they ended up dressing Trisha in a Barong Tagalog - the opposite of Trisha's burial wish.
Barbs was deeply disappointed and asks Beth to give in to Trisha's final request. Beth gets convinced especially after their father's attitude. She helps Barbs and other gay friends to sneak out Trisha's corpse to fulfill his wish to have a fabulous burial.
In the last day of his wake, Barbs announces to everyone that his final make up to Trisha's corpse is what she really is - the Trisha they knew who lived a glamorous life despite many obstacles and rejections. The movie ends with Trisha's narration of her only memorized but wonderful answer to the question and answer portion showing his younger self projecting in a much better costume than that of the improvised ones in the beginning.
Other celebrity transformations of Trisha during her wake are Angelina Jolie, Lady Gaga, and Beyonce.
Deleted Scenes
In the deleted scene which it was not shown during the movie, all of Barb's friends are seen taking pictures on Trisha's corpse after Barbs made a final make up for her last wake. Trisha's father and Beth arrive along with the cops in his son's last wake when Barbs is trying to stop them from barging in. He angrily tells Barbs for what he had done and he made his son, disgusting due to his make up and strictly wants him to get out of the funeral parlor. He also blames Flora for committing a crime as well as Barb's friends for what they did. He let the cops take his son's corpse making Barbs bolts in to stop them from taking it away and angrily replies on Trisha's father that he already disowns his own son while confronting Trisha's sister, Beth.
Cast
Paolo Ballesteros as Trisha Echevarria / Patrick
Joel Torre as Papa
Gladys Reyes as Beth
Luis Alandy as Jesse
Albie Casiño as Migs
Christian Bables as Barbs
Faye Alhambra as Shirley Mae
Inah de Belen as teen Shirley Mae
IC Mendoza as Paola
Cedrick Juan as Erika
Lou Veloso as Flora
Iza Calzado as herself
Eugene Domingo as herself
Mel Martinez as gay parlor owner
Jade Lopez as Diana
Kokoy De Santos as Michael Angelo
Production
Die Beautiful is a film funded by Hong Kong – Asia Financing Forum and produced by Regal Entertainment, The IdeaFirst Company, and Octobertrain Films. The film was directed by Jun Robles Lana and produced by Lily Monteverde, Roselle Monteverde and Perci Intalan.
Release
Die Beautiful was selected in the Main Competition of the Tokyo International Film Festival, which ran from October 25, 2016 to November 3, 2016.
The film is an official entry to the 2016 Metro Manila Film Festival.
Reception
At the awarding ceremony at the Tokyo International Film Festival which was held on November 3, 2016 at the Toho Cinemas in Roppongi Hills in Japan, Paolo Ballesteros was named the festival's Best Actor. The film also won the Audience Choice Award.
The jury was headed by French director Jean-Jacques Beineix, and included Hong Kong director Mabel Cheung, U.S. producer Nicole Rocklin, Italian actor Valerio Mastandrea and Japanese director Hideyuki Hirayama.
A total of 16 films, with Die Beautiful being the only one from the Philippines, were in competition.
References
Die Beautiful Wikipedia
(Text) CC BY-SA