Diane McBain (born May 18, 1941) is an American actress who, as a Warner Brothers contract player, reached a brief peak of popularity during the early 1960s. She is best known for playing an adventurous socialite in the 1960-62 TV series Surfside 6 and as one of Elvis Presley's leading ladies in 1966's Spinout.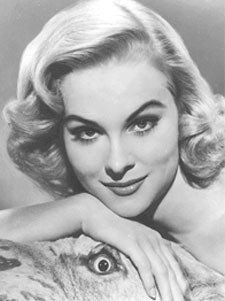 A native of Cleveland, Ohio, McBain moved to the Hollywood area at an early age and began her show business career as an adolescent model in print and television advertisements. During her senior year at Glendale High School she was, while appearing in a Los Angeles play, spotted by a Warner Brothers talent scout and added to the studio's roster of contract performers who were appearing in an assembly-line-style mass production of TV episodes and theatrical features.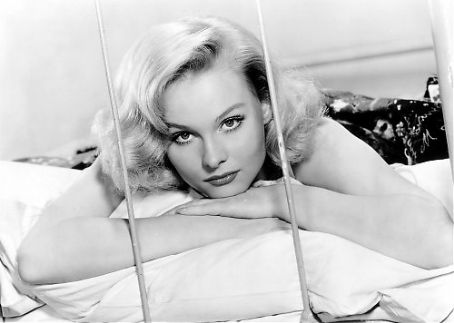 Starting with the September 13, 1955 premiere of the hour-long, three-shows-in-one Warner Brothers Presents, the studio's TV arm, Warner Brothers Television, provided ABC with nearly twenty shows, including seven western and four detective series. At the age of seventeen, McBain was immediately put to work, making her TV acting debut in two episodes of Maverick, March 8 with Jack Kelly and November 22, 1959 with James Garner, as well as the October 16 episode of 77 Sunset Strip. Her first director, at the helm of the March 8 installment, "Passage to Fort Doom", was Warners stalwart Paul Henreid, best known as Victor Laszlo in the studio's 1942 Oscar-winner Casablanca.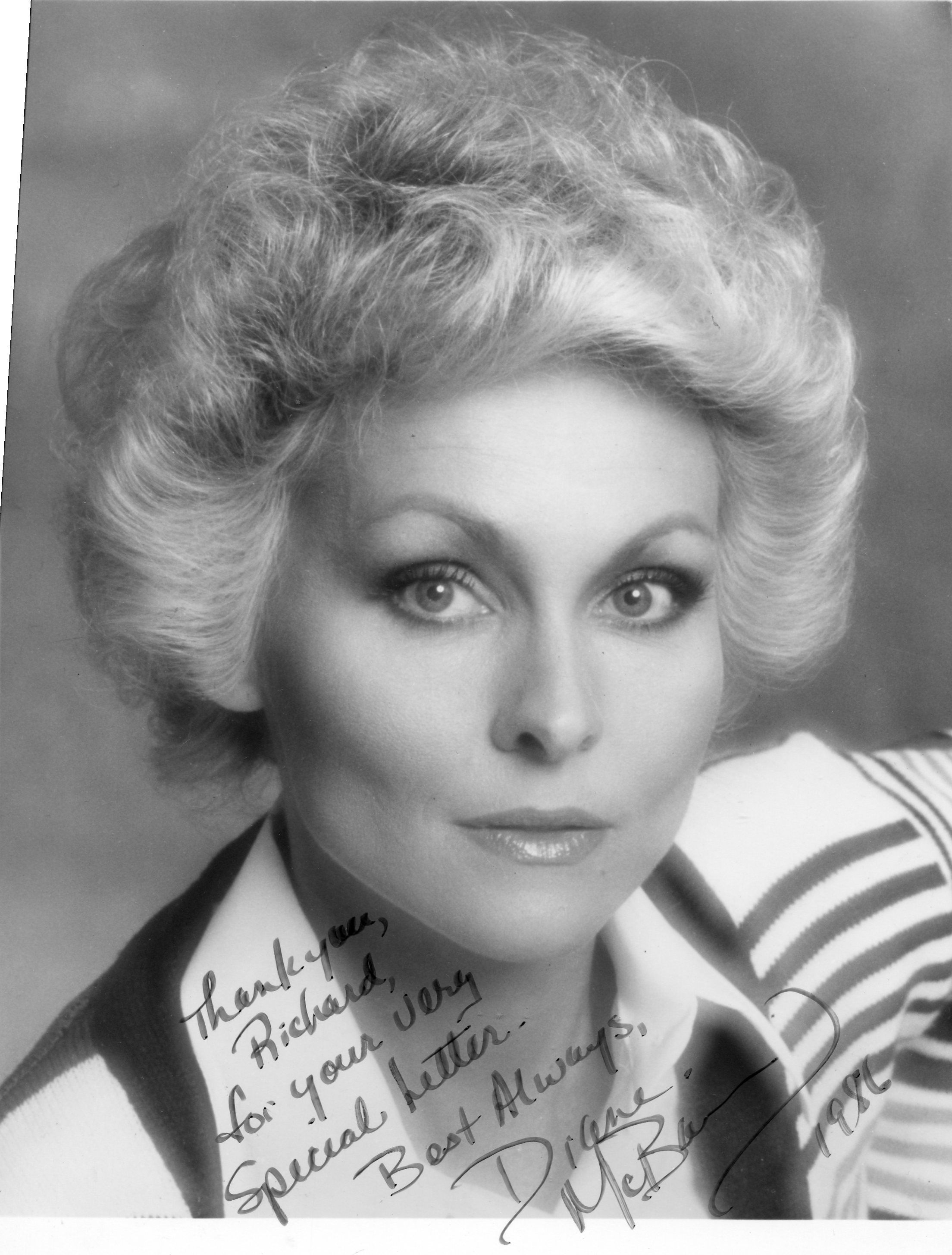 Having received a positive reaction to McBain's initial performances, the studio realized that it had a potential star under contract. The young blonde was beginning to be seen as Warners' possible answer to Carroll Baker, Grace Kelly and even Marilyn Monroe. She was given a prominent ingenue role in her first feature Ice Palace, a top-budget 143-minute generational saga based on the Edna Ferber novel which dramatized the lives and families of the pioneers who settled and developed Alaska between World War I and statehood. McBain, whose character appeared only in the last part of the film, held her own against the three female leads, Martha Hyer, Carolyn Jones and Shirley Knight as well as stars Richard Burton and Robert Ryan. The filmed-on-location Technicolor epic was released on January 2, 1960 to mixed reviews, but McBain's notices were generally favorable.
Warners continued to keep McBain busy during 1960 with numerous appearances on their TV shows. She returned to 77 Sunset Strip on February 26, then nine days later found herself back in the 49th state milieu with a guest role in the March 6 installment of The Alaskans. Eight days after that, she was in the March 14 Bourbon Street Beat and the following day on the March 15 Sugarfoot. Another episode of Bourbon Street Beat followed two weeks later, on March 28, and still another 77 Sunset Strip on May 6. In eight more days, on May 15, she was in an episode of Lawman and, three weeks thereafter, on June 6, a third episode of Bourbon Street Beat in as many months.
1960 was a banner year for McBain. In addition to appearing in a top feature film and guest-starring in eight TV episodes, she was assigned two more theatrical features. The first would offer her one of three ingenue roles in a major "A" film, Parrish, and the other was a title role in her own "B"-film vehicle, Erskine Caldwell's fiery coming of age story, Claudelle Inglish. She was also given what would turn to be her only regular part in a prime-time series, Daphne Dutton on Surfside 6, with costars Troy Donahue, Lee Patterson, Van Williams, and Margarita Sierra.
Warners' super-fast, corner-cutting production methods tended to stereotype actors and McBain's blonde-princess looks suggested upper-class party girls, heiresses and debutantes. The role of Daphne fit the category precisely, a flighty heiress whose yacht was moored alongside the Surfside 6 houseboat, she constantly stopped by for visits and occasionally participated in some cases. As with all multi-cast Warners shows, most installments starred a single cast member, with the others appearing at the beginnings and ends of storylines to allow for explanations and wrap-ups, thus enabling simultaneous filming of multiple episodes, each utilizing a separate film unit. While the majority of the episodes of Surfside 6 bookended Daphne's appearances, a number of them showcased her fairly prominently and a handful, such as October 9, 1961's "Daphne, Girl Detective", built the entire plotline around her.
When 77 Sunset Strip kicked off its sixth and final season in 1963 with a special five-part story entitled "Five," McBain played opposite Efrem Zimbalist, Jr. as the character of Carla Stevens.
McBain's second and third features were released at the end of Surfside 6's first season, Parrish on May 4 and Claudelle Inglish on September 20, 1961. Parrish, at 140 minutes, was nearly as long as Ice Palace, as well as being another big-budget, Technicolor "A" picture. Diane had one of three ingenue roles, Alison Post, who was Daphne Dutton taken to much higher level: a flirtatious, sexually provocative and ultimately vindictive daughter of tobacco plantation owner Sala Post (Karl Malden).
McBain also appeared in many other 1960s TV shows, such as Maverick, Burke's Law, Batman, and The Man from U.N.C.L.E., as well as such films as The Caretakers (1963), Mary, Mary (1963), A Distant Trumpet (1964) and The Karate Killers (1967). She toured Vietnam in 1966 as part of Bob Hope's USO shows.
McBain later developed an image as a villainess, particularly in movies such as Maryjane (1968) and The Mini-Skirt Mob (1968). The last movie saw her killed off as an especially vicious biker. She is remembered for a lighter role in the Elvis vehicle Spinout (1966), for playing opposite Annette Funicello in the stock car racing movie Thunder Alley (1967), and appearing in the cult biker film The Sidehackers (1969).
During the 1970s McBain slowed her career somewhat to care for her son Evan, though she continued to make guest appearances in a number of television series. She was featured in the horror film Wicked, Wicked (1973), in yet another bad girl role. She remained active through the 1990s and into the new millennium, playing such character roles as a grandmother on Sabrina, the Teenage Witch, and appearing in such films as Puppet Master 5: The Final Chapter (1994) and The Broken Hearts Club: A Romantic Comedy (2000).
In 1982, McBain was accosted and raped by two men in West Hollywood, and began a second career as a rape victim counselor.