The film was released theatrically in the United States on March 7, 1986. It was released in the United Kingdom on June 6, 1986.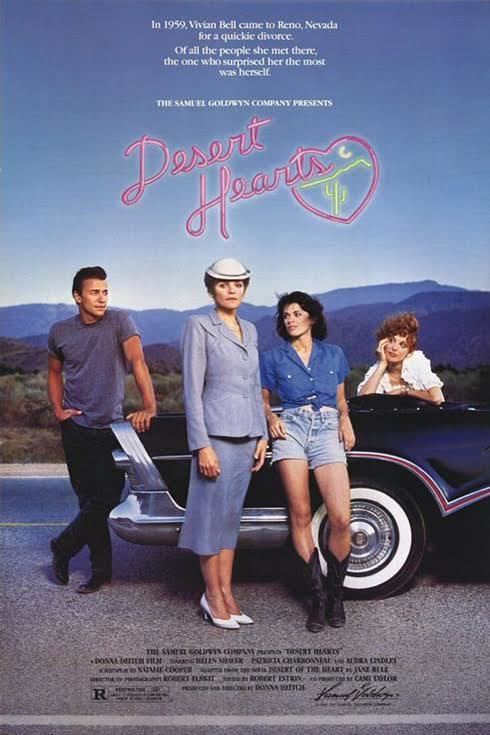 In 1959, Vivian Bell, a 35-year-old English professor at Columbia University in New York City, travels to Reno to establish residency in Nevada (a process that takes six weeks), in order to obtain a quickie divorce. She stays at a guest house ranch for women who are waiting for their divorces to be finalized. The guest ranch is owned by Frances Parker.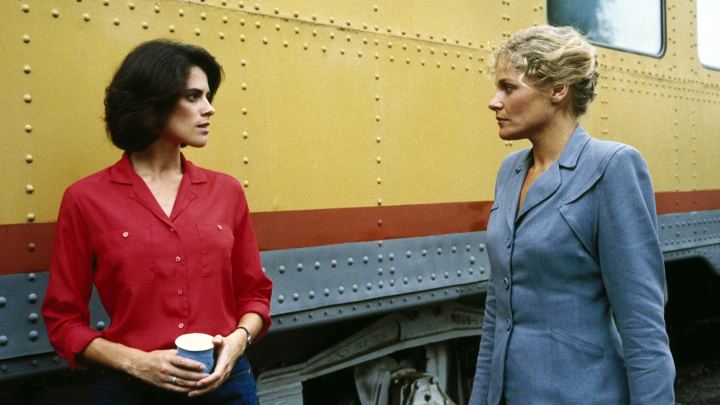 Vivian meets Cay Rivvers, a younger, free-spirited sculptor whom Frances loves as if she were her mother. Cay works at a casino as a change operator in Reno, and is ending a relationship with Darrell, her boss, because as she put it, she "allowed (her)self to be attracted to his attraction" for her. When Vivian arrives, Cay notices her immediately, and the tightly controlled and elegant Vivian, in turn, is taken aback by Cay's boldness and lack of concern of what others think of her (and her romantic/sexual preferences). Cay reveals that she has had relationships with women in the past. Frances jealously notices that Vivian is becoming a bigger and bigger part of Cay's life, and resents her for it, afraid that Cay will leave her and the ranch, and she will be left alone. Frances sees Cay as her only "family," even though Cay is not her actual child, but rather the daughter of Frances' "man" Glenn who has been dead several years.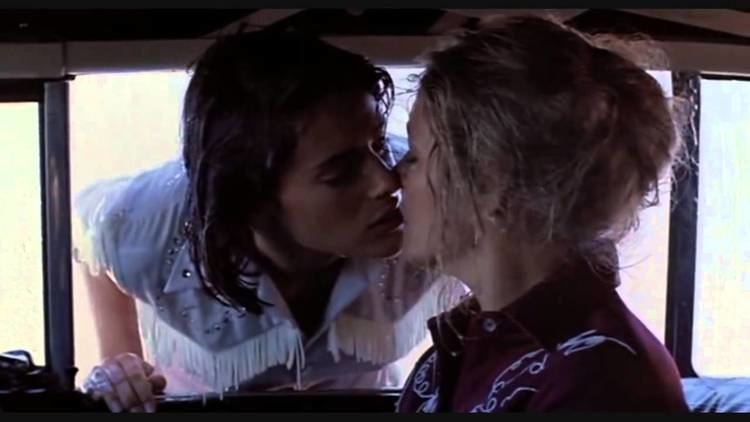 When everyone attends an engagement party for Cay's best friend and co-worker, Silver, Cay drives a drunken Vivian to see Lake Tahoe afterwards and kisses her. Vivian returns the kiss passionately and is so surprised by her response to Cay's advance that she begs Cay to take her home. When they return to the ranch in the early morning, Frances has Vivian's bags and a taxi waiting for her, furious that (Frances presumed) she has seduced Cay. Cay leaves the ranch immediately, and Vivian transfers to a hotel room at the Riverside Casino for the rest of her stay.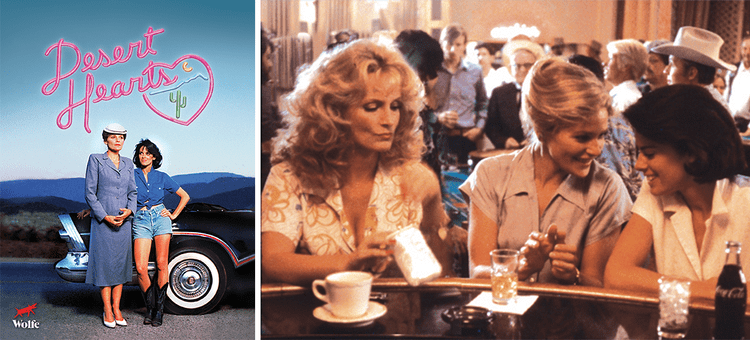 After some days apart, both Cay and Vivian are clearly confused and hurt. Cay goes to visit Vivian at the hotel and overcomes Vivian's resistance to making love with her, and they start a relationship. With the impending finalization of Vivian's divorce, the two must sort out the future of their relationship. Vivian is afraid of what people in her academic circle will think of her being in a relationship with another woman, and Cay is unsure of what she would ever do in New York City. At Silver's wedding, Vivian and Cay are in attendance, Frances and Cay are brought back together, and Cay admits to Frances that Vivian has "reached in and put a string of lights around my heart."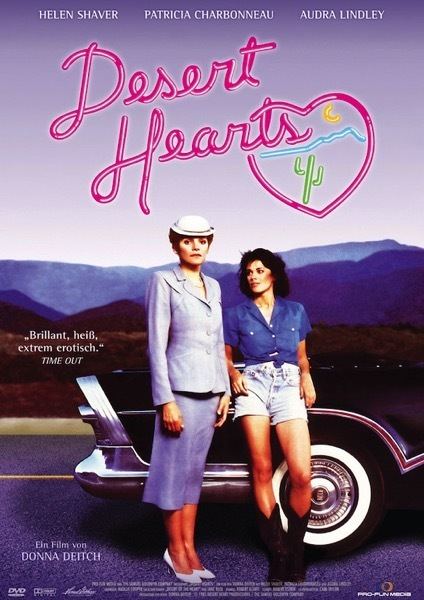 In the final scene, after Vivian's divorce has become finalized, she packs up and goes to the train station to return to New York. Cay accompanies her to the station, and as the train is pulling out, Vivian convinces Cay to come with her, at least as far as the next station.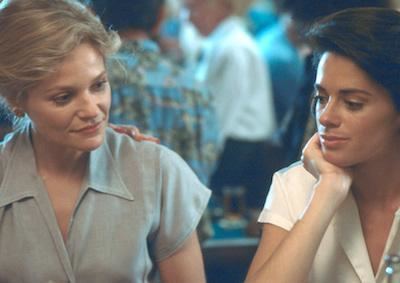 Desert Hearts is loosely based on the 1964 romance novel Desert of the Heart by Jane Rule. In 1979, Donna Deitch was searching for a story about a lesbian romance that "was mainstream, not in the context of the women's community or (New York's) the Village." The first draft of the screenplay, written by Deitch, followed the original story, but when Natalie Cooper was hired as the screenwriter she veered away from it. The names of the main characters were changed: Evelyn Hall became Vivian Bell and Ann Childs became Cay Rivvers. Other characters were minimized or excluded, subplots were eliminated, and the love scene was made explicit. Jane Rule described the film as "beautifully simplified".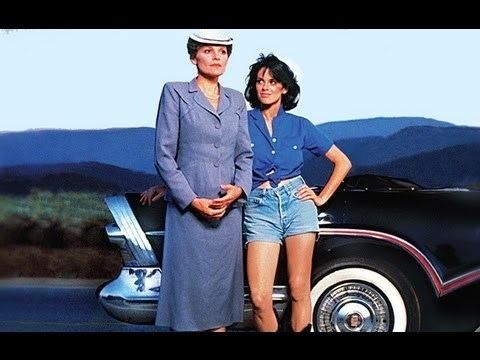 Deitch raised the $1.5 million needed for the production budget with a $20,000 grant from the National Endowment for the Arts and sales of $15,000 shares to stock brokers and individual investors (the largest group of investors were lesbian and feminist women in several cities of the U.S., and the largest single investor was a gay man). She gave fundraising parties and published a regular newsletter to keep investors informed about the project's development. Raising funds took almost four years. She eventually sold her house to cover completion costs. In a 1991 interview with The Guardian, Deitch said that: "In San Francisco I sold it as politics. In New York as Art. In LA I convinced them it would be a box office hit." It took nearly six years for Deitch to bring Desert Hearts to theater screens.
Deitch encountered difficulty finding actresses who would portray lesbians without reserve with many refusing to audition for the film. Patricia Charbonneau was the first actress to be cast and went to Los Angeles with Deitch so she could audition with those reading for the role of Vivian Bell. Deitch noticed the chemistry between Charbonneau and Helen Shaver immediately. She persuaded actors to work for scale, and after casting completed, the film was shot on location in Reno in 31 days. Limited funds often necessitated filming two scenes in one day, with little room for retakes. Renting space in a real casino was out of the question and a dressed set in a room of an abandoned hotel served as the gambling casino in the film.
The contract with Charbonneau and Shaver obligated them to perform the sex scene in the hotel room without body doubles and to be nude on camera from the waist down. The scene was shot on the second-to-last day of filming, with cinematographer Robert Elswit and a boom operator as the only crew members present. The Samuel Goldwyn Company insisted in having the scene cut down but Deitch refused. In a 1986 Los Angeles Times interview, Helen Shaver described it as being "profoundly intimate". Deitch became the first lesbian director to have a sex scene between women seen by general movie theater audiences.
In a 1986 Globe and Mail interview, Shaver said that she was being considered for a role in Joshua Then and Now, which would have promoted her career much farther than Desert Hearts. Donna Deitch assured her over the phone that she was right for her movie and told her she refused to hang up the phone until she got an answer. After five minutes, Shaver accepted the role. Shaver explained her feelings about the film. "I was scared, not about the lesbianism — the script said, 'The passion builds' in the love scene, so once I knew how the passion built and where the camera would be, that was fine — but because someone wanted me to do what I'd wanted to do all along, and here it was, and all I had to do was say yes. I had always wanted to carry a movie. Now, if I never make another one, I've done this. For the first time, I feel I've done a complete work on film."
Desert Hearts was Patricia Charbonneau's film debut. In a separate interview, Charbonneau said, "When I first read it, I thought, 'Well, everything that I've done so far people have taken a risk with me. I wanted to do something that at least people would talk about. Even if they hated it, they'd be talking about it." Commenting on doing such an explicit love scene, Charbonneau said, "Kissing Helen wasn't the hard part, really. The hard part was just walking out on the set naked and just standing there."
Donna Deitch was surprised to learn 20 years after the film's release that Helen Shaver and Patricia Charbonneau were told by their friends and agents that the film would ruin their careers.
An original 35 mm print of Desert Hearts was donated to the Outfest UCLA Legacy Project for LGBT Film Preservation at the UCLA Film & Television Archive.
In celebration of its 30th anniversary, Deitch's personal 35 mm print was screened at The Museum of Modern Art in December 2016.
Desert Hearts was digitally restored by the UCLA Film & Television Archive and the Criterion Collection/Janus Films in conjunction with the Outfest UCLA Legacy Project and the Sundance Institute, with the debut of the new version screened at the 2017 Sundance Film Festival on January 24, 2017 (followed by a Q&A with director Donna Deitch, cinematographer Robert Elswitt, and production designer Jeannine Oppewall). It was thereafter screened in Los Angeles by the UCLA Film & Television Archive on February 4, 2017.
In April 2016, Donna Deitch announced that she was fundraising to produce a sequel to Desert Hearts, to be set in New York City during the women's liberation movement.
Desert Hearts made its North American debut at the 1985 Telluride Film Festival in September 1985. It had its world premiere at the 1985 Toronto International Film Festival in September 1985. The film screened at the 1985 Chicago International Film Festival on November 15, 1985, and the 1986 Sundance Film Festival in January 1986.
It was wide released in the U.S. by The Samuel Goldwyn Company on March 7, 1986, and in the U.K. by Mainline Pictures Ltd. on June 6, 1986.
The reaction by film critics was mixed. In his scathing review for The New York Times, Vincent Canby criticized the screenplay as "unimaginative", described its characters as having "so little life", and the film as lacking a "voice or style of its own", but did add that it "is so earnest and sincere that it deserves an A for deportment". In comparison, Gene Siskel of the Chicago Tribune wrote that the film was "elegant, traditional story-telling" with "complete characterizations and performances, a genuinely tender and erotic love scene and a sweetly satisfying finale"; adding "the filmmaking and performances are so seamless that "Desert Hearts" may accomplish on film what hasn't been achieved in society—the de-sensationalizing of lesbianism."
In the review for The Body Politic, Ed Jackson said the screenplay was "spiked with hilarious one-liners", described the love scene as "a luminous study in gentle eroticism, almost painfully intimate", and the film as "a treat that is both soft-centred and sugar-coated", "handsome, well-constructed", and "much more dense than the simple propaganda that it might at first resemble." Michael Musto wrote in The Saturday Review that "Lesbianism isn't exploited for angst a la Children's Hour, or touched upon then summarily dropped as in Personal Best; it's handled tenderly and optimistically, if not with a lot of levity and wit." Paul Attanasio of The Washington Post praised the film highly, calling it "astonishingly polished and nuanced"; and although some aspects of the cinematography were criticized, remarked "Donna Deitch's first feature, touches something about love that few movies even hint at — not the tremulousness, or the hiding and jousting (although there is that), but the way the attraction of two lovers warps the world around them, throws it out of whack." In the Los Angeles Times, Sheila Benson wrote that although it was not "easy to sympathize with her character", Charbonneau was a "magnetic presence" and both she and Audra Lindley gave "crackerjack performances"; stating "although you can feel the budget limitations with every truncated scene, it's clear that Deitch is adept with actors and with the camera". In the Chicago Sun-Times, Roger Ebert gave Desert Hearts two and a half stars for the simplicity and directness of the film, but noted the surprising power of the romantic scenes. In City Limits, Amanda Lipman wrote that it was "a passionate, lovingly shot romance" and that "one of the most important differences between [Desert Hearts] and most heterosexual romances is the equality with which it treats each of its central characters." Geoff Brown in The Times praised the film wholeheartedly, including both actors in the leading roles, writing "Fuelled by vibrant performances and an expert script that articulates feelings without ascending into wordy clouds, Desert Hearts rises far above such pigeon-hole categories as the nostalgic period drama or the lesbian love-story. Deitch's film is a passionate, beautifully controlled drama about making choices and exercising the heart: in a word, about living." Desert Hearts has an 86% rating at Rotten Tomatoes.
In his seminal critical study about homosexuality in the movies, The Celluloid Closet, film historian Vito Russo wrote: "Desert Hearts is a love story that recreates with perceptiveness and tenderness what it might have been like for two women of different generations and backgrounds to fall in love in the Fifties....Deitch's refusal to feature the straight world's reaction to lesbianism as the focus of her film made all the difference in the way the relationship between the women was perceived by audiences." He remarked about Vincent Canby's review of the film: "In the New York Times, Vincent Canby complained that we are not given enough information about the quality of Vivian's broken marriage, asking if perhaps her lesbianism was a hysterical reaction to her divorce. This is the point at which many heterosexual critics disqualify themselves from perceptively reviewing gay films."
Desert Hearts was the only lesbian film out of nine films selected for screening at the first London Lesbian and Gay Film Festival in 1986.
With the passage of time, Desert Hearts has gained recognition for its quality and impact on lesbian cinema. In 1996, The Sydney Morning Herald declared, "Donna Deitch's 1985 Desert Hearts is widely regarded as one of the best and most significant mainstream fiction films about lesbians." The Globe and Mail referred to it as "one of the first and most highly regarded works in which a lesbian relationship is depicted favourably."
PlanetOut defined it as "One of the seminal lesbian/gay films of the 1980s, and arguably the most romantic lesbian film of all time"; and "historically important because it was the first lesbian-themed feature film written and directed by a woman." In 2002, Desert Hearts was a nominee in the American Film Institute list of greatest love stories in film in 100 years. In 2013, The Guardian named Desert Hearts one of the ten most romantic films and characterized the final scene of Vivian and Cay at the train station as "a subversive take on hollywood endings". Curve described Desert Hearts as "possibly the first feature film with fully-rounded female characters who are attracted to each other without that attraction being contested by a male."
Helen Shaver revealed that screen legend Greta Garbo was so impressed with her performance in the film that they attempted to meet but due to Garbo's poor health instead talked over the phone. Patricia Charbonneau, in turn, learned that model Gia Carangi patterned herself after Cay's character.
Author and lesbian literary critic Camile Paglia praised the movie for its "riveting performances", having seen it 11 times in theaters. She claimed that Patricia Charbonneau's "magic" came from hormonal glow, as she had found out she was pregnant before shooting began. In her landmark work Sexual Personae, Paglia wrote: "The closest thing I have ever seen to Shakespeare's Rosalind is Patricia Charbonneau's spirited performance as a coltish Reno cowgirl in Donna Deitch's film Desert Hearts."
Actress Jane Lynch said she had never "seen in celluloid such real passion and desire between two women" and had watched the video "over 50 times". C.J. Prince, author and executive director of North Jersey Pride, wrote in 2014 that Desert Hearts "was refreshingly different, not only because the characters weren't psychotic, but also because it didn't end in depressing, unrequited love...or death", adding "the film holds up as a bold, beautifully rendered story about the search for authenticity and love, and the sacrifices one has to make to find them...For a coming-out movie, it's as good as it gets."
In 2007, Outfest named Desert Hearts one of the "25 Films That Changed Our Lives". It was one of "The 25 Most Important LGBT Films" in a 2014 IndieWire reader's poll.
In an assessment of lesbian genre films since the 1980s, Slate said the film was "immensely popular with lesbian audiences" and earned "cult classic status...years after it was released".
By the fall of 1986, Desert Hearts had grossed $2.5 million. The revenue from its rental by independent distribution companies was $1.1 million.
In the director's commentary bonus feature of the special edition DVD released by Wolfe Video, Donna Deitch said that approximately 20% of her budget went to obtaining the rights to the original music in the film. Deitch asked the Goldwyn Company to extend the rights to the music to release a soundtrack on album or compact cassette, but the studio declined.
The music for Desert Hearts was supervised by Terri Fricon and Gay Jones.
The VHS of Desert Hearts was released by Vestron Video in the United States in December 1986, and in the United Kingdom by Vestron Video International on April 3, 1987. The DVD was released by MGM Home Entertainment in Region 1 on January 23, 2001. A 2-Disc "Vintage Collection" special edition DVD for Region 1 was released by Wolfe Video on June 5, 2007. The DVD's extra features included original theatrical trailer, previously unseen footage of the love scene, slide show of production photographs, a commentary by Donna Deitch and interviews she conducted with Helen Shaver and Patricia Charbonneau.
The digitally restored version will be released in Blu-ray and DVD by The Criterion Collection on November 14, 2017; featuring new interviews with Helen Shaver and Patricia Charbonneau, an excerpt from a 1995 documentary about Jane Rule, an essay by film critic B. Ruby Rich, conversations between Donna Deitch and film crew plus Jane Lynch, and the audio commentary by Deitch included in the 2007 release by Wolfe Video.