Covid-19
8

/

10

1

Votes

Alchetron

8

Rate This


Krzysztof Kieślowski


Zbigniew Preisner




15 March 1990 (Italy)




Zbigniew Preisner






Ryszard Chutkovski




Ewa Smal




Krzysztof Kieślowski






Krzysztof KieślowskiKrzysztof Piesiewicz




Krystyna JandaAleksander BardiniOlgierd Łukaszewicz




Krzysztof Kieślowski, Krzysztof Piesiewicz




Edward Kłosiński, Wieslaw Zdort




Krystyna Janda, Artur Barciś, Aleksander Bardini, Olgierd Łukaszewicz, Stanisław Gawlik




Dekalog: One, Dekalog: Three, Dekalog: Four, Dekalog: Five, Dekalog: Eight
Dekalog: Two (Polish: Dekalog, dwa) is the second part of the television series Dekalog by Polish director Krzysztof Kieślowski.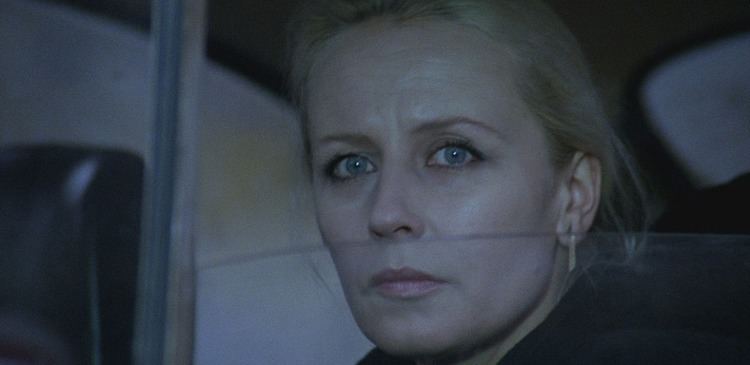 Dorota Geller, a married woman, faces a dilemma involving her sick husband's prognosis. Her husband's doctor, who believes in God, is made to swear by his prognosis, but gets it wrong.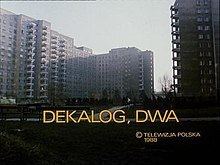 The episode focuses on two people: an elderly doctor (Aleksander Bardini), who lives alone in the ubiquitous Dekalog apartment block and works in a local hospital; and Dorota Geller (Krystyna Janda), a violinist with the Philharmonic Orchestra, who is in her 30s and lives in the same building.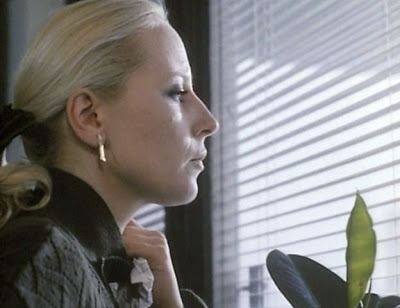 The doctor lost his family during the war and has remained a bachelor ever since. He spends his free time raising plants and birds in his house and telling bits of his life story to his cleaning lady, Barbara.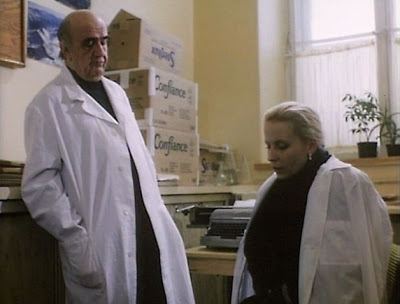 The doctor meets Dorota coming out of the lift one day, as she is smoking a cigarette by the window. She apparently wants to talk to him, but is not courageous enough at first. The doctor goes out to buy milk and runs across Dorota again, since she has not moved from the spot where they met earlier that morning. She follows the doctor to his apartment. She asks him if he remembers her - he does, because she in fact ran over the doctor's dog with her car two years ago. After this unpleasant beginning of conversation, Dorota reveals what she urgently wants a prognosis of her husband's condition, who is seriously ill in hospital. The doctor is reluctant to do so, saying that Dorota has to come to the hospital during visiting hours, and closes his door. He then takes pity on her and asks her to come to the hospital later that day. He asks for Andrzej Geller's file. Later that day Dorota comes in and the doctor tells her that Andrzej is very ill and that things are not looking good, but he also says that in his experience patients with even less chances than him have recovered, so his prognosis is very reserved.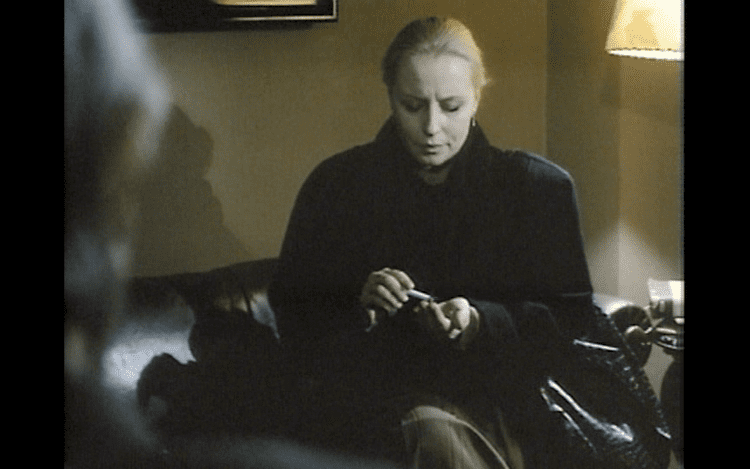 Dorota does not give up and visits the doctor at his apartment again. She reveals important information: she is pregnant but not by her husband, and this could be her last chance to get pregnant. She wants to know if Andrzej will live. She has decided that if he dies, she will carry to term - if he survives, she will abort. The doctor suddenly finds himself in a situation to decide on the life of others. He takes a keen interest in Andrzej's case and conducts many studies. Dorota is having a lot of problems of her own. She goes to the gynaecologist and schedules an abortion anyway. She also meets with an acquaintance of her lover's, also a musician who is on tour. She receives a passport from her lover and a request to bring some scores along when she joins him abroad. She also angrily confronts an alpinist friend of her husband's who has come to return Andrzej's mountaineering gear to her, telling him that Andrzej is still alive and that his gear belongs in the mountaineering club. The team will be leaving for India, probably to climb Mount Everest.
In an ambiguous scene in a laboratory, the doctor seems to come to the conclusion that Andrzej's disease is progressing (although the scene seems to suggest that Andrzej could be recovering). Dorota tells him that he does not escape liability by his reserved prognosis and that she is going to have an abortion the following day. He tells her not to go ahead with the abortion because Andrzej is dying. She has him swear by his prognosis, which he does.
In a typically "Kieślowskiesque" scene, Andrzej opens his eyes and sees a bee miraculously swimming out of a glass with strawberries that Dorota had brought to him. Andrzej stands up and goes to the doctor's office. The doctor says that he is surprised (although he doesn't look it) that he recovered. Andrzej says that he came back from "beyond" and is happy to have a baby with Dorota. He asks the doctor if he understands what it means to have a child, to which the doctor (evidently getting emotional) replies, 'I do'.
Krystyna Janda - Dorota
Aleksander Bardini - the doctor
Olgierd Łukaszewicz - Andrzej
Artur Barciś - laboratory assistant
Stanisław Gawlik - postman Wacek
Krzysztof Kumor - gynaecologist
Krystyna Bigelmajer - nurse
Karol Dillenius - patient in Andrzej's hospital room
Jerzy Fedorowicz - Janek, friend of Andrzej
In other roles
Krystyna Bigelmajer
Ewa Ekwinska,
Piotr Siejka
Aleksander Trąbczyński
In 2009 a Bengali film Dwando, directed by Suman Ghosh was based on this film where Ananya Chatterjee played the role of Dorota, Kaushik Sen played the role of Andrzej and Soumitra Chatterjee played the role of the doctor
Dekalog: Two Wikipedia