6.2

/

10

Alchetron

Rate This




Music director

Berto Pisano




Genre

Horror, Mystery, Thriller




Writer

Claudio Bernabei

,

Romano Scandariato

Release date

11 July 1973 (1973-07-11)

Screenplay

Joe DAmato, Romano Scandariato, Claudio Bernabei

Cast

Ewa Aulin

(Greta von Holstein),

Klaus Kinski

(Dr. Sturges),

Angela Bo

(Eva von Ravensbrück),

Sergio Doria

(Walter von Ravensbrück),

Luciano Rossi

(Franz),

Attilio Dottesio

(Inspector Dannick)




Similar movies

The Spy Who Loved Me

,

Hitman

,

Seed of Chucky

,

Cobra

,

Wild Things

,

Zodiac



Death Smiles on a Murderer (Italian: La morte ha sorriso all'assassino) is a 1973 Italian horror film directed by Joe D'Amato, starring Klaus Kinski, Luciano Rossi and Ewa Aulin.
Contents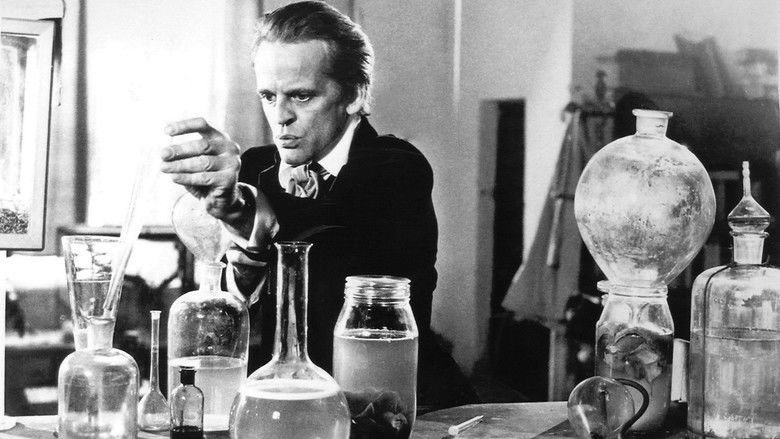 Plot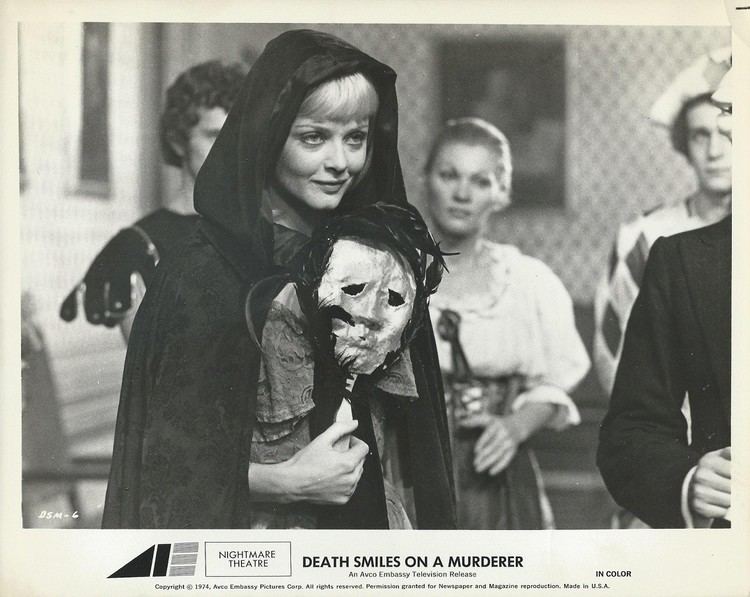 In 1906 Austria, a beautiful young girl named Greta von Holstein (Ewa Aulin) is taken advantage of and betrayed by the men in her life. Her hunchbacked brother Franz has been molesting her for years, and later when she falls in love with a rich man, Dr. von Ravensbrück, he impregnates her and then deserts her, leaving her to die painfully in childbirth.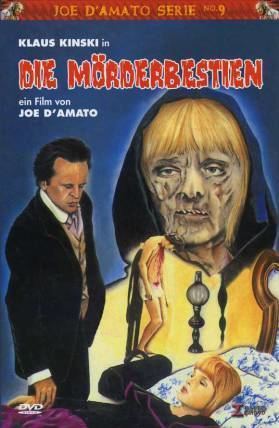 In 1909, her perverted brother brings her back to life in her tomb, using a magical medallion which she must wear around her neck. When he attempts to restart their incestuous relationship, Greta kills Franz with black magic, throwing a vicious house cat into his face which claws out both of his eyes as he dies. Greta leaves him to rot in her tomb as she goes out into the world, a beautiful ghost seeking revenge on Dr. von Ravensbrück's entire family.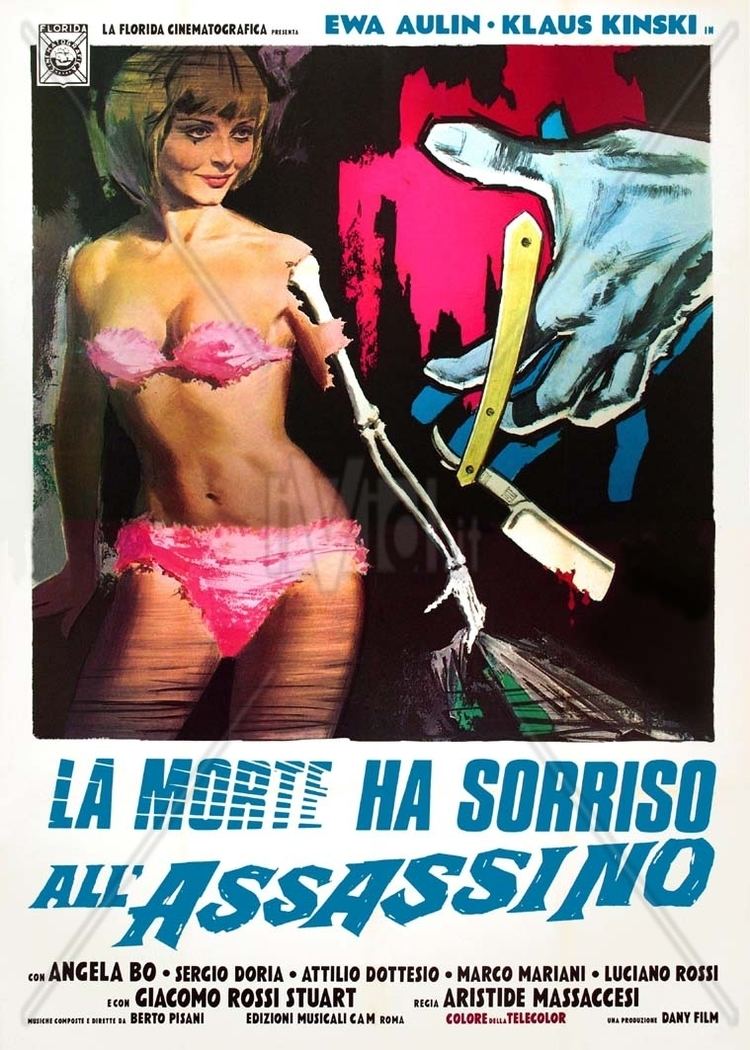 Soon after, she appears at the estate of Dr. von Ravensbrück's wealthy son Walter, and after rescuing her from a violent coach accident near his home, Walter and his young wife Eva take Greta in and allow her to live with them for a time. They both fall in love with the beautiful young girl, and eventually Eva becomes insanely jealous of Greta. Unbeknownst to her hosts, Greta does away with some of their friends and employees just for kicks. She kills their maid in the woods with a shotgun blast to the face, and murders their butler Simeon by slashing him to shreds with a straight razor in the family granary. Later when their family doctor (Klaus Kinski) learns that the symbols on Greta's amulet contain a secret formula to reanimate the dead, she strangles him in his workshop just as he succeeds in bringing back one of the corpses he was experimenting on. (She also kills his deaf mute lab assistant by bashing his head in with a metal club.)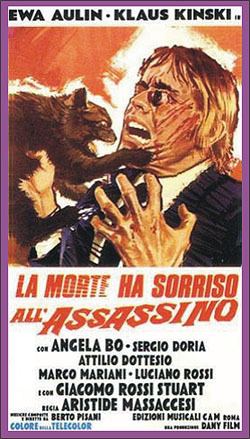 One day when Walter is away on a trip, Eva kills Greta by walling her up alive in a room in the catacombs beneath the castle. She tells Walter that Greta decided to move out, and Walter never realizes that Greta was entombed alive in his basement.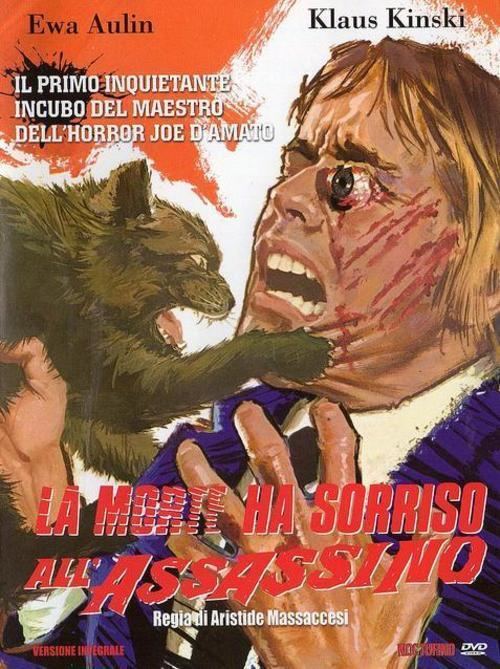 Later, at a masquerade ball held at the castle, Greta appears to Eva as an apparition, and leads her up onto the roof of the castle. Poor Eva winds up plummeting to her death, after which Greta causes Walter to suffer a fatal heart attack when she appears as a succubus in his bed that night, turning into a rotting zombie as he attempts to make love to her. Dr. von Ravensbrück shows up at his son Walter's funeral, and Greta appears to him as an apparition, leading him into an underground burial vault and then locking him in to suffocate.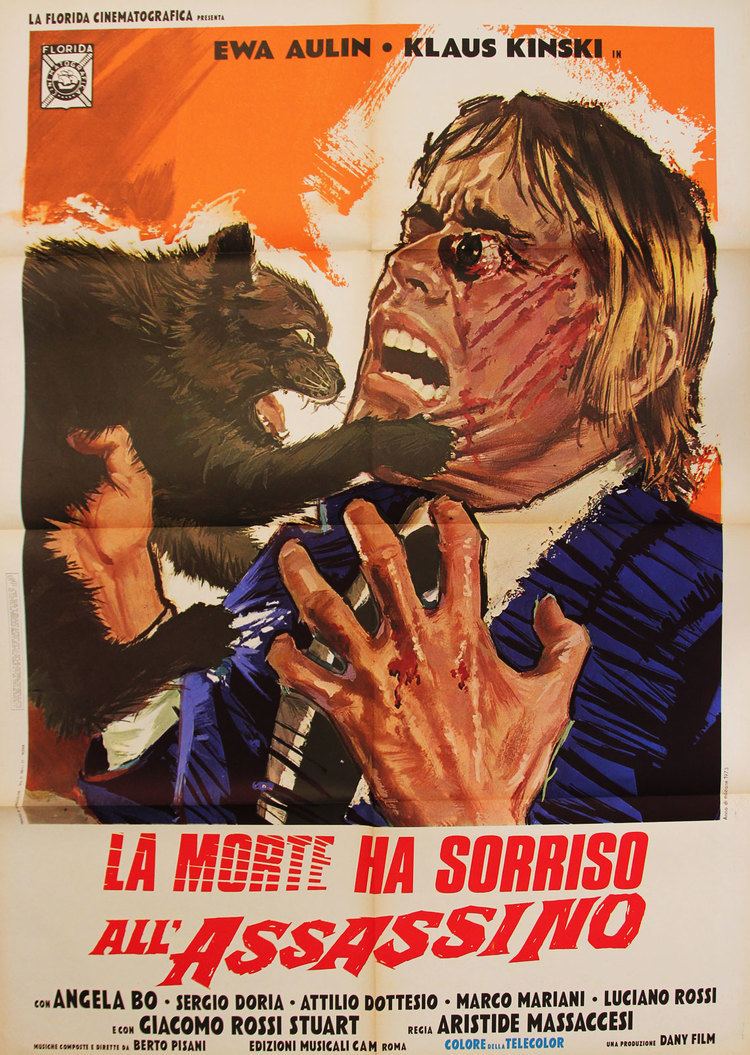 The police inspector investigating the murders pieces together the story and begins to believe it was all the work of an avenging spirit named Greta von Holstein. When he enters her tomb, he finds the corpse of her brother on the floor next to her empty coffin, and starts to believe that Greta was actually reanimated. He wonders what ever became of her. When he returns home that night, however, the audience is in for a surprise.
Cast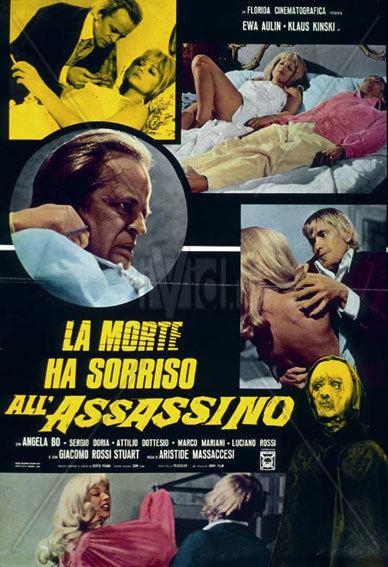 Ewa Aulin as Greta von Holstein
Giacomo Rossi-Stuart as Dr. von Ravensbrück, Walter's Father
Luciano Rossi as Franz, Greta's Brother
Angela Bo as Eva von Ravensbrück
Sergio Doria as Walter von Ravensbrück
Attilio Dottesio as Inspector Dannick
Marco Mariani as Simeon, the butler
Klaus Kinski as Dr. Sturges
Fernando Cerulli as Professor Kempte (as Franco Cerulli)
Carla Mancini as the maid
Giorgio Dolfin as Maier, Ballet dancer
Pietro Torrisi as Dr. Sturges' Mute Assistant (uncredited)
Production
Death Smiles on a Murderer was produced by Franco Gaudenzi who D'Amato had met through production manager Oscar Santaniello. Their first collaboration led to D'Amato directing [[Un bouny killer a Trinita, one of the several films directed by D'Amato with someone else taking credit. This was the first film D'Amato made himself, where he used his real name in the credits: Aristide Massaccesi.
The film credits the script to D'Amato, Romano Scandariato and Claudio Bernabei, the latter was said to just be a typist by D'Amato. The story is credited to D'Amato, which Scandariato said was "more or less one page". Scandariato stated the film was originally written with more suspense and more of a giallo, but this was changed out of necessity. The film was given a low budget of 150 million Italian lire.
Death Smiles on a Murderer was shot between November and December 1972 with a working title of 7 strani cadaveri (Literally Seven Strange Corpses). Some scenes were not in the script were improvized on set. These included a scene where Luciano Rossi was attacked by a cat, which D'Amato achieved his desired effect by throwing the cat against Rossi's face.
Release
Death Smiles on a Murderer was released in Italy on 11 July 1973. Film historian Roberto Curti referred to this box office as "scarce business" noting its unimportant distributor Florida Cinematografica. The film grossed a total of 70,990,000 Italian lire. The film was released in the United States as Death Smiles on a Murderer and Death Smiles at Murder.
References
Death Smiles on a Murderer Wikipedia
(Text) CC BY-SA
Death Smiles at a Murderer IMDb
Death Smiles at a Murderer themoviedb.org