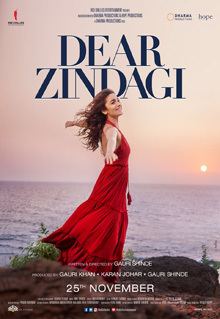 The film is set in Mumbai and Goa. Kaira is a promising cinematographer who wishes to direct her own films. Blunt and cynical, she is most comfortable when with her three best friends, Fatima, Jackie and Ganju. Kaira's life takes a downturn when Raghuvendra, a film producer for whom she breaks up with her childhood sweetheart, gets engaged to someone else. Her landlord turns her out of her apartment because the building association wants to rent apartments only to married couples. All this plus dissatisfaction with her prospects at work serves as a catalyst for her shift to Goa, where she now has to grudgingly live with her parents. She ends up spending many sleepless nights in unhappiness and uncertainty.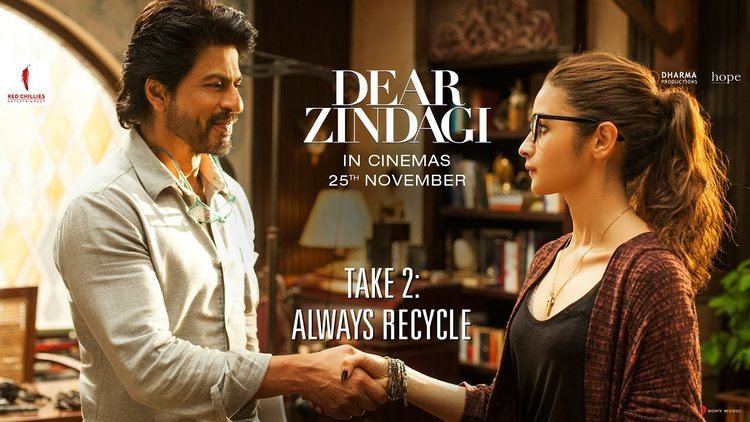 While in Goa, she seeks out Dr. Jehangir "Jug" Khan, a psychologist, for her insomnia, after inadvertently having heard him talk at a Mental Health Awareness Conference. She warms to Jug's unconventional methods, trying to use them to understand herself. Meanwhile, she meets a musician, Rumi, and she falls in love with him, but they break up before anything serious can happen when she realizes they may not be the right fit for each other. She also reunites with her younger brother, Kiddo, who is the only other person besides her best friends that she is closest to. Matters with her family come to a head when Kaira has an outburst at a family get-together where she confronts her parents about them abandoning her for years at her grandparents' house.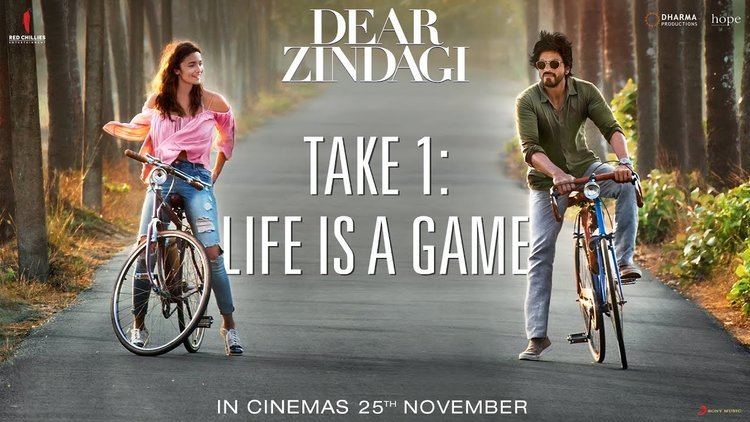 She finally narrates the story of her abandonment to Jug, who tells her that she fears abandonment so much that she doesn't allow herself to commit in relationships, leaving before they can leave her. He convinces her that she doesn't need to forgive her parents for abandoning her, but she can, as an adult, see them as two regular people who made a mistake. After this, Kaira makes an effort to reconcile with her parents and also works to finish her short film.
At their last session, Kaira admits to Jug that she has grown to like him. Jug responds that while he likes her too, she is still his patient and he, her psychologist, and a relationship would not be possible. The two share a hug before Kaira leaves.
The movie ends with a viewing of Kaira's short film, where she meets a furniture dealer who might turn out to be a prospective lover.
Alia Bhatt as Kaira, who is also referred to as "Koko". During her latest interview with Bombay Times, Bhatt spoke about her role. She said that playing the role of Kaira was altogether a very different experience.
Shah Rukh Khan as Dr. Jehangir "Jug" Khan, who helps Kaira in finding her true love. He describes his role by saying, "I am a support in the film, more like an extended cameo. I am very glad to be in this film. I have never played such a role in my entire career."
Ira Dubey as Fatima, Kaira's friend, who is also referred to as "Fatty".
Yashaswini Dayama as Jackie, Kaira's friend
Gautmik as Ganju, Kaira's friend
Rohit Saraf as Kiddo, Kaira's younger brother
Kunal Kapoor as Raghuvendra, a film producer
Angad Bedi as Sid, a restobar owner
Ali Zafar as Rumi, a musician and singer-songwriter
Aditya Roy Kapur as a furniture dealer (special appearance)
Parveen Kaur as a model for Kaira's short film (special appearance)
Made on a moderate budget, Dear Zindagi was produced by Gauri Khan of Red Chillies Entertainment, Johar of Dharma Productions and Shinde of Hope Productions. The film was directed by Shinde, her second directorial after the comedy-drama film English Vinglish (2012). In August 2015, Shinde revealed that she had "almost" completed working on the script of the film.
Pre-production work began in December 2015, when the film was picked up for the production. Shinde started working in the story for the film. She decided to set the story of the film in Goa and Mumbai.
The editing for the film was headed by Hemanti Sarkar. The dialog team consisted of Krishna Hariharan, Gauri Shinde and Kausar Munir. Laxman Utekar was the cinematographer of the film, and Rupin Suchak was the film's production designer.
India Today reported that Shah Rukh Khan and Bhatt would star together in Shinde's then-untitled film. Bhatt was very eager to work with Shah Rukh Khan. It is Shah Rukh Khan's first film with Bhatt. It was reported that there would not be any typical romance between the characters of Shah Rukh Khan and Bhatt. Shinde confirmed to The Indian Express saying, "It won't be as typical as one expects man and woman to be together." In April 2016, it was reported that Shah Rukh Khan would play a love guru who would help Bhatt's character to manage the attention of four people and figure out how to find her true love, and Bhatt would play the role of a filmmaker, whose experiences with all four characters would shape her life and work.
The other actors who were signed up for the film include Ali Zafar, who played the role of rockstar and musician; Angad Bedi, who played the role of Kaira's childhood sweetheart, a restobar owner; Kunal Kapoor, who played the role of Kaira's film producer and invested in Bhatt's film; and Aditya Roy Kapur, who played the role of a charming furniture dealer. Ira Dubey and Yashaswini Dayama played the role of Kaira's best friends, while Rohit Saraf played the role of her brother.
Principal photographing for Dear Zindagi began on 21 January 2016 in Goa. The shoot for the entire film was to be completed in two schedules; one in Goa and the other in Mumbai. The first schedule of Goa was completed in the last week of February 2016 after about 30 days, then the entire cast of the film moved to Mumbai for the second schedule of the film. Bhatt and Shah Rukh Khan enjoyed working together and were looking forward to the next schedule. Bhatt had also moved to Singapore to shoot for a song sequence for the film. The entire shooting of the film ended on 20 May 2016. Bhatt shared the entire shooting experience by posting a group selfie with her team in Singapore, via her Instagram handle.
In March 2016, Bhatt said to India.com that she was very excited about sharing screenspace with Shah Rukh Khan in the film. She had not slept for several nights during the shoot of the film. "It was lovely working with him on the show and on Gauri's film when we recently shot in Goa," she said.
On 23 June 2016, The Times of India reported that the title of the film would be Dear Zindagi.
The film was released in Canada and the USA on 23 November 2016, and worldwide on 25 November 2016. It opened in about 1200 theatres nationwide and in 600 theatres in other countries. The film also had a special screening on 23 November 2016 in Mumbai.
Dear Zindagi opened well in multiplexes in Mumbai, Mysore, Tamil Nadu and Kerala, while in North India it had a comparatively decent opening.
Dear Zindagi released earlier in North America on account of the Thanksgiving weekend holidays. The film on its first day collected ₹1.19 crore from 127 screens in the United States and ₹8.29 lacs in Canada from 16 screens. In the extended two day, the film collected about ₹1.58 crore at the North America box office.
The film earned a total of ₹94.67 crore in India, grossing ₹139.29 crore worldwide.
Dear Zindagi received mostly positive response from critics. Audiences praised both Shah Rukh Khan's and Bhatt's performances.
Raja Sen of Rediff.com awarded the film 4 out of 5 stars and applauded it as, "a lovely picture, made with finesse and heart, that goes a long way in making a viewer think of the people who matter most". Mithaq Kazimi of Wion Tv awarded the same rating noting, "Shinde has beautifully addressed the formidable topic of mental health in a story that also breaks some social conventions regarding women."
Meena Iyer of The Times of India gave the film 3.5 out of 5 stars, saying, "If you're in the mood to do some soul-searching, this film could do it for you." Saibal Chatterjee of NDTV gave the same rating again and commented, "a 'big' Bollywood movie, that the entire team can be proud of without a shred of doubt".
Namrata Joshi of The Hindu rated the film 3 out of 5 stars and said, "Only Shinde spells things out with the much dreaded word 'therapy' which many of us, may require." Ananya Bhattacharya of India Today, giving the same rating, said, "an emotional joyride which won't harm you when watched once". Sukanya Verma of Rediff.com rated the film 3 out of 5 stars, commenting, "The actors impart tremendous believability to the steadily growing unrest in Kiara's household". Verma also praised Alia for her depiction of "compelling vulnerability" in the role of Kaira. Mayank Shekhar of Mid Day also gave the film 3 stars, saying "This film, at its core, is conversational sort of feature, but mostly quiet, even indoorsy."
Rohit Bhatnagar of Deccan Chronicle gave the film 2.5 out of 5 stars, saying "The makers cleverly create a hype for the film by teasing the audiences with the film's best parts. Dear Zindagi should be blamed for its loose execution that it doesn't touch you." Bollywood Hungama also rated 2.5 out of 5 stars to the film and commented that it was "a slow-paced cerebral and contemporary slice of life tale about the challenges today's generation of girls face in a rapidly shifting landscape".
Sweta Kaushal of Hindustan Times rated the film 2 out of 5 stars, saying, "If only [the director] brought better-etched characters and delved more into the emotional turmoils of her lead, this could have been a wonderful 'slice-of-life' film with several messages to be lauded for." Shubhra Gupta of The Indian Express rated the film only 1.5 out of 5 stars and wrote, "Dear Zindagi should have been a much better film. What we get instead, in spades, is bumper-sticker self-help notes which are strictly boiler-plate."
Christine Iyer of The National awarded the film 4 out of 5 stars and praised Shah Rukh Khan by saying "he absolutely shines in the role of soft-spoken therapist Jehangir "Jug" Khan in this gentle drama by Gauri Shinde". Manjusha Radhakrishnan of Gulf News rated the film 3.5 out of 5 stars and commented, "If you are looking for a heartwarming, sensitive film about troubled twenty-somethings, then make a date with Dear Zindagi." Anisha Jhaveri of IndieWire gave the film a grade of A minus, and said its plot had a "powerful message, that gives Dear Zindagi its substance". Shilpa Jamkhandikar of Reuters stated that "The need to explain every moment and articulate every emotion pulls down Dear Zindagi; even the brilliant chemistry between the two leads cannot salvage the film from this fatal flaw". Andy Webster of The New York Times stated that "There are sentimental threads here, but Shinde's insightful movie is a resounding victory."
In the first week of November 2016, it was reported that Ali Zafar has been replaced by Tahir Raj Bhasin in the film due to the tensions created after the 2016 Uri terror attack and the subsequent ban on Pakistani actors by the MNS. However, on 15 November 2016, Pakistan's newspaper DAWN reported that Bhatt denied the rumours at an event on 14 November 2016. On being asked, she said: "Nobody is being replaced. The film will release in its full form." Ali Zafar has sung two songs for the film, but those were dubbed by Arijit Singh, whose versions were added into the soundtrack album instead of Zafar's. Later, Zafar's songs were officially shared online.
Shortly after the release of the film, Temple Street Productions sent a legal notice to Karan Johar's Dharma Productions for copyright infringement, alleging that the movie was inspired in detail by the Canadian television series Being Erica. Shinde has denied the claim.
The soundtrack was released by Sony Music India. The full album was released on 15 November 2016. Audio Jukebox was released on 21 November 2016 on YouTube.
The song "Ae Zindagi Gale Laga Le" for 1983 film Sadma written by Gulzar, and was originally composed by Ilaiyaraaja, and it was sung by Suresh Wadkar, has been recreated for the film. While, lyrics for the other songs in the album are written by Kausar Munir. The songs "Tu Hi Hai" and "Taarefon Se" are sung by Ali Zafar in the film.
All music composed by Amit Trivedi.
Suanshu Khurana and A. Kameshwari of The Indian Express praised the music and respectively said, "A fresh and enthusiastic set, with life's tales told in a breezy fashion. The album lacks variance, yet, it manages to have many sparkling moments." and, "Sensible and relatable songs making the album simplistic that automatically gets registered at the back of your mind, a poetic version of our exact feelings."
Joginder Tuteja of Bollywood Hungama, rating the music album a 3 out of 5 stars, said that it was "a series of situational songs that should sound good in the film's narrative". Rinky Kumar of The Times of India rated 3 stars to the album, saying, "this movie doesn't have songs that have a high recall value".