When two oil company executives are found dead, insurance company investigator Hugh "Bulldog" Drummond (Richard Johnson) is brought onto the case. Soon, Drummond and his young mod nephew, Robert (Steve Carlson), are circling the globe on the trail of a pair of gorgeous assassins, Irma (Elke Sommer) and Penelope (Sylva Koscina), who dispatch important businessmen after ensnaring them with their feminine wiles. The film updates a popular 1920s British mystery series for the swinging 60s.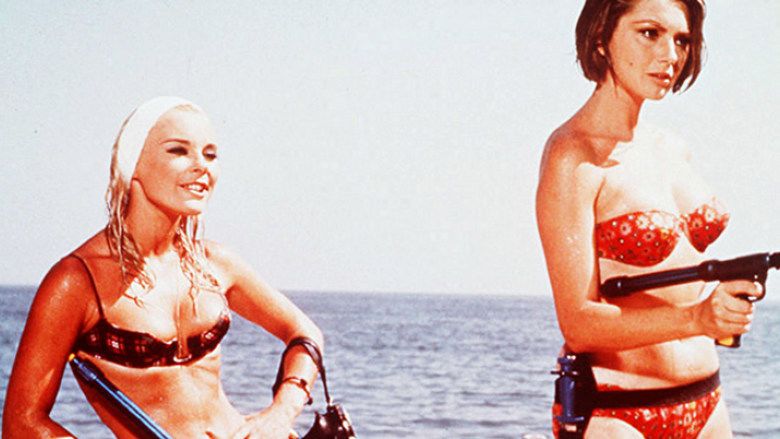 Deadlier Than the Male is a 1967 British crime and mystery film featuring the character of Bulldog Drummond. It is one of the many take-offs of James Bond produced during the 1960s, but is based on an established detective fiction hero.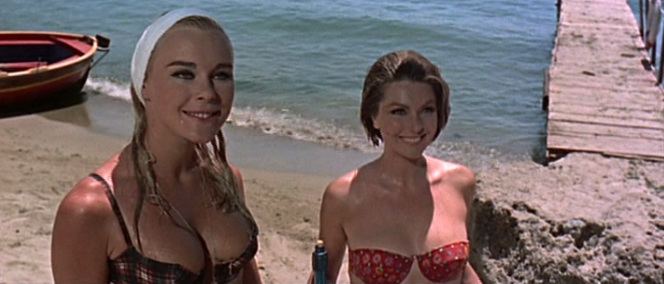 Richard Johnson (director Terence Youngs original preference to play James Bond) stars as Bulldog Drummond, updated to a suave Korean War veteran, now an insurance investigator, trailing a pair of sexy assassins (Elke Sommer and Sylva Koscina) who kill for sport and profit. Drummonds American nephew, Robert Drummond (Steve Carlson, then a Universal Pictures contract star), becomes involved in the intrigue when he comes to visit.
The title is a reference to the 1911 Rudyard Kipling poem "The Female of the Species," which includes the line, "The female of the species must be deadlier than the male", and also refers to Sappers earlier Drummond book The Female of the Species. The working title of the film was The Female of the Species. Filmed in Technicolor and Techniscope, portions of the film were shot in Lerici, La Spezia, Liguria, Italy.
The film was followed by a sequel, Some Girls Do, in 1969. The Song featured in the Film`s opening credit sequence was performed by the Walker Brothers.
British agent Bulldog Drummond is assigned to stop a master criminal who uses beautiful women to do his killings.
When a top oil executive dies mysteriously aboard his private jet, the companys board suspects foul play and hires Hugh "Bulldog" Drummond to investigate. Attempts on his own life lead him to believe two lovely females are "hit men" for an international crime syndicate.
Drummond pursues them from London to the Mediterranean, but finds himself trapped in a deadly game of cat and mouse with a diabolical mastermind. It is revealed that Carl Petersen (Nigel Green), thought to have been a victim of assassination himself, is the evil genius behind the assassinations. Using two female assassins, Irma (Elke Sommer) and Penelope (Sylva Koscina), Petersen kills anyone who comes too close to revealing his true identity or who threatens his profit margin. He captures and imprisons Drummond.
The finale involves Petersens attempt to kill King Fedra, who refuses to sell his oil fields. Grace, Petersens disillusioned mistress, is overheard confiding her dissatisfaction to Drummond. Petersen repays her by secreting a plastic explosive onto her and sending her to the Kings yacht. While playing chess against Petersen with giant motorized pieces, Drummond attempts to escape from Petersens castle. He kills Petersens bodyguard Chang (Milton Reid) and presumably kills Petersen himself by dropping him into a pit.
Drummond boards the Kings yacht to search Grace for the explosive. He strips her naked during the search; one of Fedras guards is distracted by her nudity, allowing Irma and Penelope to escape. Irma reveals that the bomb was in Graces hairclip. Penelope is aghast; having envied Graces chignon, she stole the hairclip and is wearing it during their escape. The two assassins are killed instantly when the hairclip explodes, destroying their motorboat.
Richard Johnson as Hugh Bulldog Drummond
Elke Sommer as Irma Eckman
Sylva Koscina as Penelope
Nigel Green as Carl Petersen
Suzanna Leigh as Grace
Steve Carlson as Robert Drummond
Virginia North as Brenda
Justine Lord as Miss Peggy Ashenden
Leonard Rossiter as Henry Bridgenorth
Laurence Naismith as Sir John Bledlow
Zia Mohyeddin as King Fedra
Lee Montague as Boxer
Milton Reid as Chang
Yasuko Nagazumi as Mitsouko
George Pastell as Carloggio
John Stone as David Wyngarde
William Mervyn as Chairman of the Phoenician Board
It was publicity announced in December 1964 but it wasnt filmed until 1966. In an interview, Ralph Thomas stated that the film was intended as a pilot for a television series. It was filmed in three months with Thomas admitting he did it for "greed".
The producers battled the British Board of Film Censors who strongly objected to the films use of women assassins, torture and promiscuity, earning the film an X rating.