Preceded by

Saxby Chambliss




Religion

United Methodist




Political party

Republican




Name

David Perdue





Residence

Sea Island, Georgia




Role

United States Senator




Occupation

Businessman




Spouse

Bonnie Perdue






Full Name

David Alfred Perdue, Jr.




Born

December 10, 1949 (age 66) Macon, Georgia, U.S. (

1949-12-10

)


Alma mater

Georgia Institute of Technology




Office

United States Senator since 2015




Children

Blake Perdue, David Perdue III




Parents

Gervaise Perdue, David Perdue Sr.




Grandchildren

David Perdue IV, Hudson Perdue




Similar People

John Hardy Isakson, Sonny Perdue, Richard W Dreiling




Profiles




Facebook

Twitter
Georgia governor nathan deal and david perdue for u s senate 08 02 14
David Alfred Perdue Jr. (born December 10, 1949) is an American businessman and politician; he is the junior United States Senator from Georgia, having been elected in 2014 to the seat previously held by Saxby Chambliss, who retired. Perdue won the Republican primary and defeated Democratic nominee Michelle Nunn on November 4, 2014, taking office on January 3, 2015. He is a first cousin of Sonny Perdue, former governor of Georgia and current Secretary of Agriculture.
Contents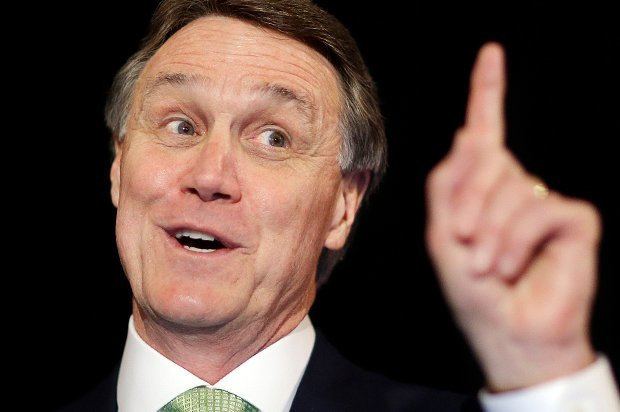 Perdue, Jr. started his business career with more than a decade as a management consultant. In 1992 he became a VP at Sara Lee Corporation. During the next decade, he worked with Haggar Clothing, and Reebok. He was unable to correct problems at Pillowtex, which he joined in 2002, leaving after nine months with a large buyout. Perdue next worked for Dollar General, where he did achieve a turnaround, and later for the Gujarat Heavy Chemicals Ltd., whose interests in India included textile mills. Before entering politics, Perdue set up a global trading firm in Atlanta, Georgia.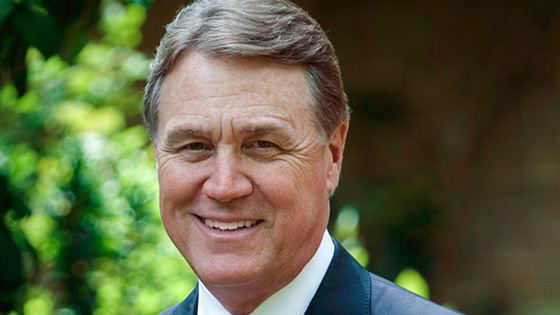 Pm netanyahu meets with senator david perdue
Early life and education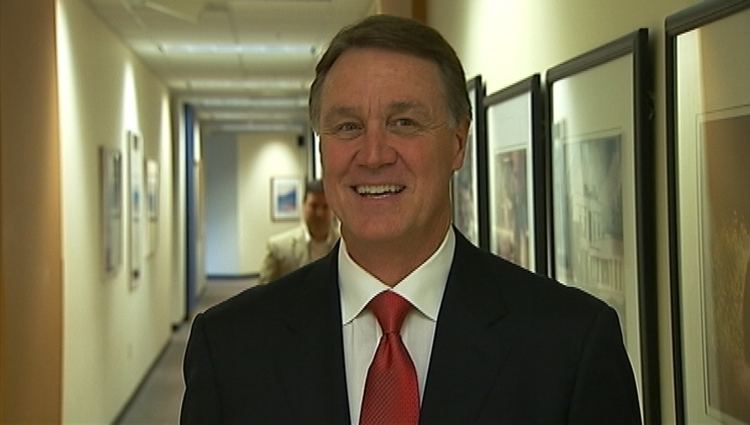 David Perdue was born in Macon, Georgia, the son of David Alfred Perdue, Sr., and the former Gervaise Wynn, both schoolteachers. He was raised in Warner Robins, Georgia.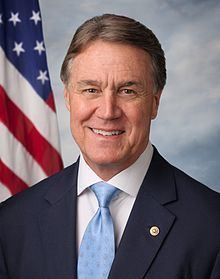 Perdue has a bachelor's degree in industrial engineering (1972) and a master's degree in operations research (1975), both from Georgia Tech. At Georgia Tech, Perdue was a brother of the Delta Sigma Phi Fraternity.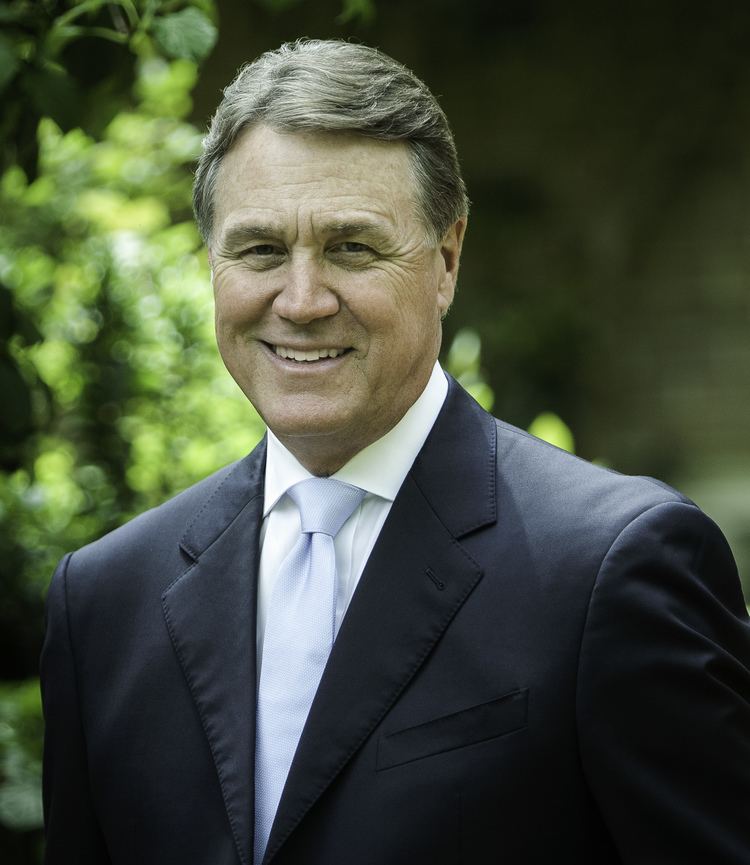 He married Bonnie Dunn. The couple now lives in the resort town of Sea Island. The couple have two sons, David A. Perdue III and Blake Perdue, and three grandchildren. David Perdue, Jr. is the first cousin of former Georgia governor and current United States Secretary of Agriculture Sonny Perdue.
Business career
Perdue began his career at Kurt Salmon Associates, an international consulting firm, where he worked for twelve years as a management consultant. His first major corporate job was as senior vice president of Asia operations for Sara Lee Corporation, a position he took in 1992. His time at Sara Lee was followed by a stint at Haggar Clothing, where he became senior vice president of operations in 1994.
In 1998, Perdue joined Reebok as a senior vice president, eventually rising to president and CEO. Perdue is credited with significantly reducing the company's debt and reviving its sneaker line. Perdue negotiated a contract with the National Football League that a former Reebok executive referred to as "revolutionary" for repositioning the company's shoe brand.
In 2002, Perdue left Reebok for Pillowtex, a North Carolina textile company. The company had recently emerged from bankruptcy with a heavy debt load and an underfunded pension liability. Perdue was unable to obtain additional funding from the company's investors and later was unsuccessful in finding a buyer for the company. He left the company in 2003 after nine months on the job and $1.7 million in compensation. Pillowtex closed several months later, leaving 7,650 workers out of work nationwide. With more than 4,000 jobs lost statewide, the closing of Pillowtex resulted in the largest single-day job loss in North Carolina history at the time.
After leaving Pillowtex, Perdue became CEO of Dollar General. Prior to his joining the company, it had recently overstated profits by $100 million and paid $162 million to settle shareholder lawsuits. Perdue overhauled the company's inventory line and logistics network, and updated its marketing strategy. After initially closing hundreds of stores, the company doubled its stock price and opened 2,600 new stores before being sold in 2007 to private equity investors.
From 2007 to 2009, Perdue worked as a senior consultant for Indian chemical and textile conglomerate Gujarat Heavy Chemicals Ltd. In April 2011, Perdue started an Atlanta-based global trading firm with Trey Childress, Heidi Green, and former Georgia governor, Sonny Perdue.
According to the Atlanta Journal-Constitution, Perdue is "known on Wall Street as a turnaround specialist who helps revive brands and reap rewards for investors."
2014 Senate campaign
Perdue touted his business experience, and particularly his experience at Dollar General, in running for political office as a Republican candidate. According to Perdue: "We added about 2,200 stores, created almost 20,000 jobs and doubled the value of that company in a very short period of time. Not because of me, but because we listened to our customers and employees." He received the endorsement of the National Federation of Independent Business.
Perdue's political opponents targeted his business career during the campaign, specifically for outsourcing work offshore. Perdue said he was "proud of" finding lower cost labor for some companies. Critics noted that he had contributed to a total of thousands of jobs lost following the final closure of Pillowtex, while Perdue left the company after nine months with a nearly $2 million buyout. After being elected, Perdue stated that he wanted to bring the perspective of "a working person" to Washington, D.C.
The race was considered to be competitive. Perdue won the general election, defeating the Democratic nominee Michelle Nunn 52.89% to 45.21%.
Committee assignments
Committee on Agriculture, Nutrition and Forestry
Subcommittee on Commodities, Markets, Trade and Risk Management
Subcommittee on Conservation, Forestry and Natural Resources (Chair)
Subcommittee on Jobs, Rural Economic Growth and Energy Innovation
Committee on the Budget
Committee on Foreign Relations
Subcommittee on Near East, South Asia, Central Asia and Counterterrorism
Subcommittee on Western Hemisphere, Transnational Crime, Civilian Security, Democracy, Human Rights and Global Women's Issues
Subcommittee on State Department and USAID Management, International Operations and Bilateral International Development
Subcommittee on International Development, Multilateral Institutions and International Economic, Energy and Environmental Policy
Special Committee on Aging
Political positions
Perdue stated that he entered politics out of concern for the rising national debt, which he has labelled as 'crushing', 'unsustainable' and 'a path to disaster'.
He supports policies to achieve energy independence, as well as 'revitalizing' American manufacturing and increasing exports to 'create quality jobs' and for 'long-term economic growth'. Additionally, he supports actions to 'strictly enforce' laws to secure the border; opposes gun control; is a supporter of the State of Israel; opposes Common Core; and supports marriage being defined as between 'one man and one woman'.
He supports repealing and replacing the Patient Protection and Affordable Care Act. He opposes abortion, except in cases of rape, incest or the life of the mother. He also supports a constitutional balanced budget amendment and comprehensive tax reform. In addition, he pledged to limit himself to two terms in the Senate (12 years).
In October 2015, Perdue voted in favor of the CISA (Cybersecurity Information Sharing Act), despite strong opposition from major companies such as Google, Apple, Facebook and Twitter. This is consistent with his record of a "Common Defense," as he also supported the NDAA (National Defense Authorization Act).
In a June 2016 speech to a conference of the Faith and Freedom Coalition, Perdue urged the audience to pray for President Obama's "days to be short".
Perdue is seen as one of the closest allies of President Trump in the U.S. Senate after the appointment of Senator Jeff Sessions as Attorney General. Sen. Perdue lobbied for the appointment of his relative and business partner, Sonny Perdue, to fill the Secretary of Agriculture post in the new administration.
During the February 2017 working recess, Perdue declined to meet with his constituents in Town Hall meetings that are typically held across the nation. He publicly stated that "Town Halls aren't my style."
Perdue was one of 22 senators to sign a letter to President Donald Trump urging the President to have the United States withdraw from the Paris Agreement. According to the Center for Responsive Politics, Perdue has received over $180,000 from oil, gas and coal interests since 2012.
In 2017, Perdue co-sponsored the RAISE Act, which would reduce legal immigration by 50% and cap refugee admissions to 50,000 individuals per year.
References
David Perdue Wikipedia
(Text) CC BY-SA