The Dassault Mercure was a French twin-engined narrow-body jet-powered airliner. It was proposed in 1967, its first production flight was in 1973 and it last flew in 1995. The aircraft flew only with Air Inter and had very little success, resulting in only 12 aircraft built, all between 1971 and 1975.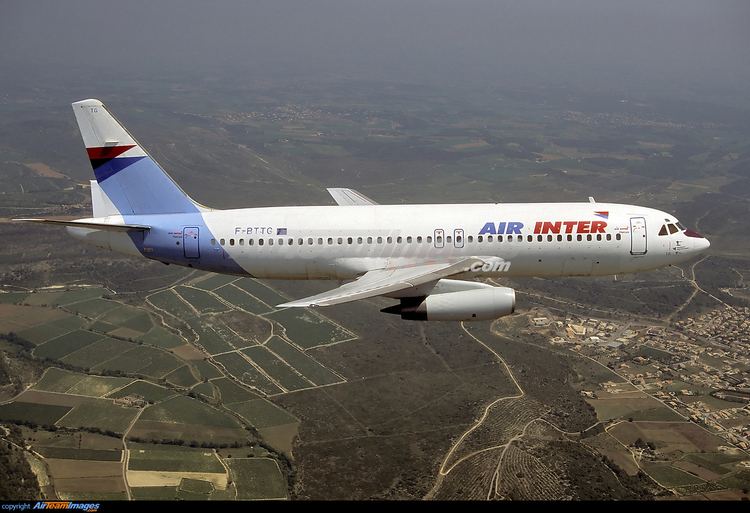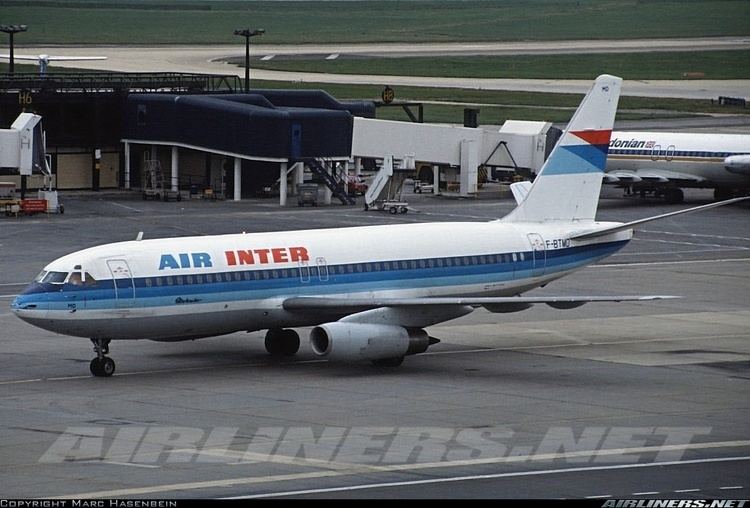 In 1967, backed by the French government, Dassault decided to propose a competitor to the Boeing 737. This would attack this market segment at the upper end with a 140-seat jetliner, compared to the 100-seat Boeing 737-100 and the 115-seat Boeing 737-200 then in production. This would be an opportunity for Dassault to show the civil market its knowledge of high-speed aerodynamics and low-speed lift capability previously developed in a long line of jet fighters, such as the Dassault Ouragan, Dassault Mystère and Dassault Mirage.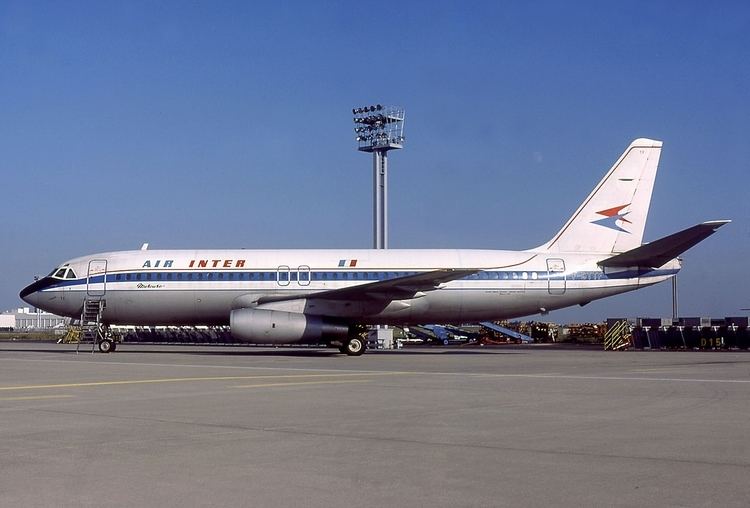 Marcel Dassault, founder and owner of Dassault, decided to name the aircraft Mercure (French for Mercury). "Wanting to give the name of a god of mythology, I found of them only one which had wings with its helmet and ailerons with its feet, from where the Mercure name.." said Marcel Dassault. Extremely modern computer tools for the time were used to develop the wing of the Mercure 100. Even though it was larger than the Boeing 737, the Mercure 100 was the faster of the two. In June 1969, a full scale mockup was presented during the Paris Airshow at Le Bourget airport. On 4 April 1971, the prototype Mercure 01 rolled out of Dassault's Bordeaux-Merignac plant. It was powered by two Pratt & Whitney JT8D-11 (6800 kg of thrust). The first flight took place in Merignac on 28 May 1971. The second prototype, powered by two Pratt & Whitney JT8D-15 (like all later Mercures), first flew on 7 September 1972. On 19 July 1973, the first production aircraft made its maiden flight. The Mercure received its Type certificate on 12 February 1974, and on 30 September 1974, was certified for Category IIIA approach all-weather automatic landing (minimum visibility = 500 ft, minimum ceiling = 50 ft). The Mercure 100 was the first commercial airliner to be operated by a 100% female crew on one flight.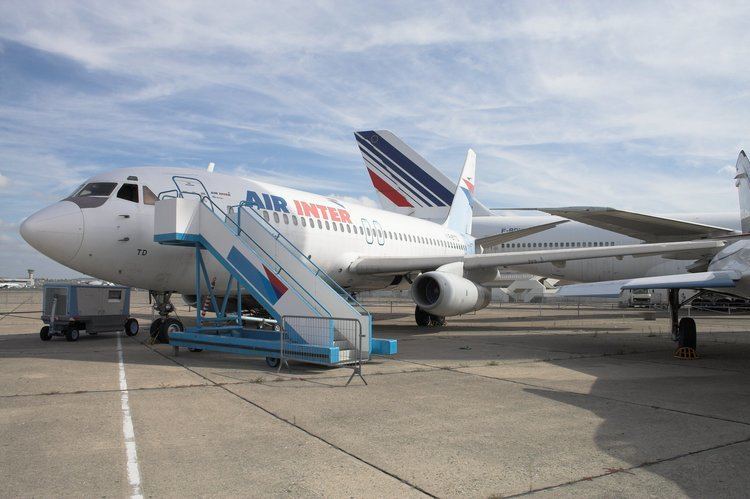 Dassault tried interest major airlines and several regional airlines, by touting the Mercure 100 as a replacement for the Douglas DC-9. A few airlines showed interest but only Air Inter, a domestic French airline, placed an order. This was due to several factors, including the devaluation of the dollar and the oil crisis of the 1970s, but mainly because of the Mercure's range – suitable for domestic European operations but unable to fly longer routes. At maximum payload, its range was only 1,700 km. Consequently, the Mercure 100 achieved no foreign sales. With a total of only ten sales with one of the prototypes refurbished and sold as the 11th Mercure to Air Inter, the airliner represented one of the worst failures of an airliner in terms of aircraft sold.
After the commercial failure of the Mercure 100, Marcel Dassault asked his engineers to develop a new version of the Mercure, the Mercure 200C in cooperation with Air France, it was to carry 140 passengers with a range of 2,200 km. Several major airlines in the United States showed some interest, but the design costs were also high. This might have been mitigated if the original Mercure had had a larger fuel capacity, or design strength allowing additional tanks.
At the beginning of 1973 an agreement was created with the French government to finance this programme. Dassault was to receive a loan of 200-million French Francs from the French government, which would be paid back based on sales after the 201st aircraft was delivered. But Air France wanted an airliner powered by the Pratt & Whitney JT8D-117, which was quieter and larger than the JT8D-15. Dassault needed an additional loan of 80-million French Francs from the government to accommodate Air France's request. The French government replied to Dassault that it had to carry half of the development costs of the Mercure 200C on their own, which was impossible after the commercial failure of the Mercure 100. The Mercure 200C project was canceled.
Later, in order to answer a request from the DGAC (Direction Générale de l'Aviation Civile, the French civil aviation authority), Dassault proposed a Mercure equipped with a new engine developed by General Electric/Snecma called the CFM International CFM56; this version came to be known as the Mercure 200. In 1975, contacts were made with Douglas and Lockheed to build and sell the Mercure 200 in the US, and with SNIAS to build it in France. But Marcel Dassault was concerned about the fact that the CFM56 had not had a single order yet, and production might end before the Mercure 200 could be built. Meanwhile, Douglas introduced a stretched version of the DC-9, which was in direct competition for orders with the Mercure 200. Contacts with Douglas logically ended at that point. Dassault then initiated contacts with General Dynamics, their primary competitor in the military jet market where the Mirage F1 was facing the F-16 Fighting Falcon. Nothing would come out of these contacts.
Hoping for mass production of the Mercure (the 300th aircraft was planned to be delivered by the end of 1979), with break-even hoped for after 125-150 aircraft, Dassault created four plants especially for the Mercure program: Martignas (close to Bordeaux), Poitiers, Seclin (close to Lille) and Istres. On January 30, 1972, Air Inter ordered ten Mercures, which had to be delivered between 30 October 1973 and 13 December 1975. Due to the lack of other orders, the production line was shut down on 15 December 1975. Only a total of two prototypes and ten production aircraft were built. One of the prototypes (number 02) was eventually refurbished and purchased by Air Inter to add it to its fleet.
Canadair was one of a few sub-contractors involved in the early development of the Mercure.
On 29 April 1995, the last two Mercures in service flew their last commercial flight. The Mercures ran in total 360,000 flight hours, carrying 44 million passengers in 440,000 flights with no accidents, and a 98% in-service reliability.
France
Air Inter
Ecole Supérieure des Métiers de l'Aéronautique used fifth produced Mercure (registered F-BTTE and painted in fictional Air Littoral colours), as a ground instructional airframe.
F-BTTB, c/n 2 is on display at the Technik Museum Speyer in Germany. The cabin of the aircraft although closed to the public can be seen through a grille. It is presented in the same condition as it left service (on its last commercial flight), complete with French magazines on the passenger seating.
F-BTTD, c/n 4 is on display at the Musée de l'air et de l'espace at Paris–Le Bourget Airport in France.
F-BTTE, c/n 5 is preserved as an instructional airframe at Montpellier–Méditerranée Airport.
F-BTTF, c/n 6 is stored at Bordeaux–Mérignac Airport in France.
F-BTTH, c/n 8 is preserved at Marseille Provence Airport.
F-BTTI, c/n 9 is preserved as an instructional airframe at Bordeaux–Mérignac Airport in France.
F-BTTJ, c/n 10 is preserved at the Musée Delta in Athis-Mons, near Paris-Orly Airport.
Data from Jane's All The World's Aircraft 1976–77
General characteristics
Crew: three: pilot, co-pilot and flight engineer
Capacity: 162 passengers (high density layout)
Length: 34.84 m (114 ft 3

 

1⁄2 in)
Wingspan: 30.55 m (100 ft 3 in)
Height: 11.36 m (37 ft 3

 

1⁄4 in)
Wing area: 116 m² (1,248 ft²)
Aspect ratio: 8:1
Empty weight: 31,800 kg (69,960 lb)
Max. takeoff weight: 56,500 kg (124,300 lb)
Powerplant: 2 × Pratt & Whitney JT8D-15 turbofans, 68.9 kN (15,500 lbf) each
Performance
Maximum speed: 926 km/h (500 knots, 575 mph)
Cruise speed: 825 km/h (446 knots, 512 mph) (range cruise)
Range: 2,084 km (1,125 nmi, 1,295 mi)
Service ceiling: 12,000 m (39,000 ft)
Rate of climb: 16.7 m/s (3,300 ft/min)

Takeoff roll: 2,100 m (6,900 ft)
Landing roll: 1,755 m (5,670 ft)