Stracult the movie epis 57 dardano sacchetti
Dardano Sacchetti (born 27 June 1944, Montenero di Bisaccia) is an Italian screenwriter best known for his work in the horror genre.
Contents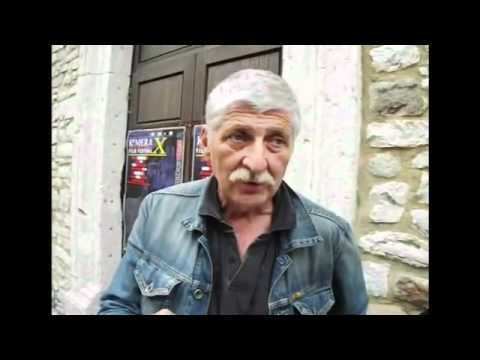 Argento! Bava! Fulci! The Giallo Gems of Dardano Sacchetti
Biography
At an early age, he became hooked on films from watching the American science fiction classic Them! (1954). In 1966, Sacchetti became friends with a group of young people in a local theater troupe and toured with them around Italy acting and writing plays for their acts. Here, he met a few prominent members of the Italian film industry and was introduced to some of them to write screenplays for their films. Sacchetti found work as a film critic, while theater and poetry continued to fill his interests.
In 1969, Sacchetti met a young Dario Argento who was directing his first movie. Sacchetti and Argento first collaborated on a series of scripts that were never realized. After the box office success of Argento's The Bird with the Crystal Plumage (1969), the screenwriting pair worked on the script for Argento's next feature film, The Cat o' Nine Tails. Sacchetti also worked on the scripts for Argento's Demons (1985) and Demons 2 (1986). His script for Cat o'Nine Tails attracted the attention of Italian filmmaker Mario Bava who hired him to write the script for A Bay of Blood (1971). Sacchetti also wrote the script for Bava's Shock (1977) and was working on another film for him titled Anomalia at the time of Bava's death in 1980.
Sacchetti is best known for writing the script for Lucio Fulci's Zombi 2 (1979) with the help of his wife Elisa Briganti. Fulci then hired Sacchetti to write other scripts for him, such as City of the Living Dead (1980), The House by the Cemetery (1981), The Beyond (1981), The New York Ripper (1982) and Manhattan Baby (1982).
In 1984, Fulci signed a deal to direct the Conan-inspired fantasy film Conquest, and failed to bring Sacchetti in with him on the project, after which Sacchetti never worked with Fulci again. Most fans feel the films Fulci made without Sacchetti after 1985 were noticeably inferior to their earlier collaborations. In 1987, Fulci accused Sacchetti of swiping the plot for his 1987 made-for-TV film Per Sempre (a.k.a. Until Death) from him, which Sacchetti said was plainly untrue. Fulci was angry that the film was directed by Lamberto Bava instead of himself, since he claimed to have given Sacchetti the original idea for the story several years earlier.
In addition to Argento, Fulci, and the Bavas (father Mario and son Lamberto), Sacchetti also penned scripts for such directors as Umberto Lenzi, Ruggero Deodato, Stelvio Massi, Antonio Margheriti, Sergio Martino, and Damiano Damiani.
In recent years, Sacchetti's productivity has slowed with the decline of the Italian film industry. Today, while continuing to write scripts for Italian television and an occasional feature film, he also teaches a number of screen writing seminars at University of Florence's Faculty of Arts, and writing courses at other schools for future generation screenwriters.
Partial filmography
The Cat o' Nine Tails (1971)
A Bay of Blood (1971) a.k.a. Twitch of the Death Nerve
Sette note in nero (1977) a.k.a. Murder to the Tune of Seven Black Notes
Shock (1977) a.k.a. Beyond the Door 2
Zombi 2 (1979) a.k.a. Zombie, a.k.a. Zombie Flesh Eaters
Cannibal Apocalypse (1980) a.k.a. Invasion of the Flesh Hunters
The Last Hunter (1980)
City of the Living Dead (1980) a.k.a. The Gates of Hell
The Beyond (1981) a.k.a. L'Aldila
The House by the Cemetery (1981) a.k.a. Zombie Hell House
Scorpion with Two Tails (1982) a.k.a. Murder in the Etruscan Cemetery
Blue Island (1982) starring Sabrina Siani
The New York Ripper (1982)
Manhattan Baby (1982) a.k.a. Evil Eye, Possessed
Amityville II: The Possession (uncredited) (1982)
1990: The Bronx Warriors (1982)
Ironmaster (1983)
A Blade in the Dark (1983) a.k.a. The House With the Dark Staircase
The New Gladiators (1984)
Monster Shark (1984) a.k.a. Devil Fish
Blastfighter (1984) a.k.a. Force of Vengeance
Cut and Run (1985) a.k.a. Inferno in Diretta
Massacre in Dinosaur Valley (1985)
Demons (1985)
The Midnight Killer (1986) a.k.a. You'll Die At Midnight
Evil Senses (1986)
Hands Of Steel (1986) a.k.a. Vendetta dal Futuro
Demons 2 (1986)
Graveyard Disturbance (1987) a.k.a. A Night in the Cemetery
Per Sempre (1987) a.k.a. Until Death
The Ogre (1987) a.k.a. Demons 3: The Ogre, a.k.a. House of the Ogre
Dinner With the Vampire (1987)
Specters (1987)
Karate Warrior (1987)
Body Count (1987) a.k.a. Camping Terror
The School of Fear (1988) a.k.a. Il Gioko / The Game
Prince of Terror (1988)
Karate Warrior II (1988)
Ratman (1988)
The Church (1989) a.k.a. Demons 3
Cy Warrior (1989)
Killer Crocodile (1989)
Killer Crocodile 2 (1990)
Karate Warrior 3 (1991)
Karate Warrior 4 (1992)
Circle of Fear (1992) aka Alibi perfetto
Karate Warrior 5 (1993)
Karate Warrior 6 (1993)
The Torturer (2005)
References
Dardano Sacchetti Wikipedia
(Text) CC BY-SA