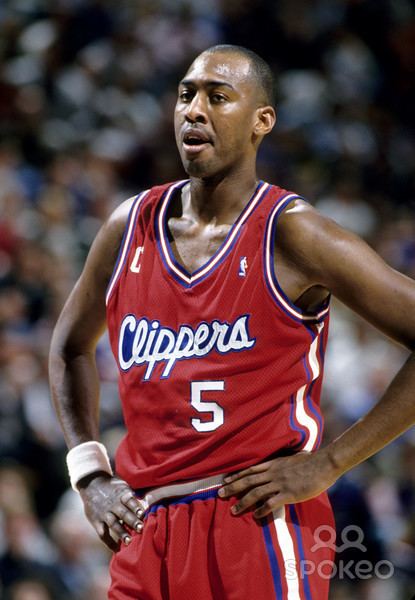 Manning is the son of the late Ed Manning, who was a longtime NBA and ABA player and professional and college coach.
As a junior at Page High School in Greensboro, North Carolina, Danny averaged 18.8 points and nine rebounds per game, leading the Pirates to a 26-0 record and the state title.
When Ed Manning became an assistant coach at the University of Kansas prior to Danny's senior year, the family moved to Lawrence, Kansas and Danny attended Lawrence High School, where as a senior he was named Kansas Player of the Year. While in Lawrence High, Manning played alongside future United States federal judge Sri Srinivasan.
Manning led the Jayhawks to the 1988 NCAA title as a senior, leaving KU as its all-time leading scorer and rebounder. He was also the all-time leading scorer in Big Eight Conference history with 2,951 career points. He won the Wooden, Naismith, and Eastman Awards as the college player of the year in 1988.
In Kansas's 83-79 victory over Oklahoma in the 1988 NCAA Final, Manning recorded 31 points, 18 rebounds, 5 steals and 2 blocked shots. For his seemingly single-handed performance in propelling the underdog Jayhawks to the title, as well as KU's unremarkable record going into the NCAA tournament (21-11, most losses of any NCAA champion), the 1988 Kansas team was nicknamed "Danny and the Miracles" and Manning was honored as Most Outstanding Player in the tournament. A two-time All-American while at KU, Manning was later named the Big Eight Player of the Decade.
Manning was selected to the last all-amateur USA national basketball team in 1988, which competed at the Summer Olympics in Seoul, South Korea. The team won the bronze medal, but was viewed as a disappointment, as they had been heavy favorites to win the gold until their loss to the Soviet Union in a semi-final game. Manning failed to score even a single point in that game, and afterward called it "one of the biggest disappointments of my life."
Manning was drafted with the first overall pick by the Los Angeles Clippers in the 1988 NBA draft, and spent 15 seasons in the league. During his NBA career Manning scored 12,367 points and averaged 14.0 points per game. He played only 26 games as a rookie after a torn anterior cruciate ligament required him to undergo arthroscopic knee surgery, but he returned for the 1989-1990 season. His most productive NBA season was 1992-1993, when he averaged 22.8 points a game for the Clippers, and was selected to play in the All-Star Game. He also was selected as an All-Star the following season. On February 24, 1994, Manning was traded to the Atlanta Hawks for Dominique Wilkins and a first-round draft pick.
Continuing knee problems forced Manning to become a part-time player in 1996 after he had undergone two more surgeries.
He won the 1997-1998 Sixth Man Award, while playing for the Phoenix Suns, as the best reserve player in the NBA, averaging 13.5 points while playing about 26 minutes a game. Manning holds the distinction of being the first NBA player to have returned to play after reconstructive surgeries on both knees (a feat since duplicated by Kenyon Martin, Amar'e Stoudemire, Greg Oden and Derrick Rose).
Manning was traded to the Orlando Magic along with Pat Garrity and a conditional first-round draft pick for Anfernee Hardaway in 1999, and was subsequently traded to the Milwaukee Bucks with Dale Ellis in exchange for Armen Gilliam and Chris Gatling prior to the start of the 1999-2000 season. He spent the final three years of his career with the Utah Jazz, Dallas Mavericks, and Detroit Pistons.
He announced his retirement from professional basketball in 2003 and served for four years at the University of Kansas as director of student-athlete development and team manager under KU basketball coach Bill Self. Manning was promoted to assistant coach at the end of the 2006-07 season as a replacement for Tim Jankovich who left the Kansas staff to take the position of head coach at Illinois State University. Manning became a key component of the Jayhawks coaching staff, filling vital roles in both recruiting and his work training the team's big men. In his role as KU assistant coach, Manning worked with the Jayhawk big men and earned a reputation as one of the best coaches of big men in the country. He coached 12 NBA draft picks, including eight first round selections. Kansas bigs among those NBA draft picks during his tenure included Wayne Simien, Julian Wright, Darrell Arthur, Darnell Jackson, Sasha Kaun, Cole Aldrich, twins Marcus Morris and Markieff Morris, Thomas Robinson and Jeff Withey. Manning recruited two McDonald's High School All-Americans, including 2010 NBA first-round draft pick and Oklahoman Xavier Henry. He also coached two Academic All-Americans - Cole Aldrich and Tyrel Reed. Aldrich was selected as the 2010 Academic All-America of the Year for men's basketball. He spent a total of nine years on the staff at Kansas.
On April 4, 2012, Manning was officially announced as Tulsa's head coach. In his first year, the Golden Hurricane posted a 17-16 overall record and an 8-8 mark in Conference USA play, finishing fifth in the league's regular season. With the fifth-least-experienced team in the nation in 2012-13 and battling injuries all season, TU advanced to the semifinals of the Conference USA Championship and played in the CBI postseason tournament. Two Hurricane players, James Woodard and D'Andre Wright, were selected to the C-USA All-Freshman Team. Tulsa improved their record to 21-13 in Manning's 2nd year, while going 13 - 3 in Conference play. Tulsa subsequently emerged as the C-USA regular season leader, and won the Conference tournament to advance onto a NCAA tournament berth for the first time since 2003. The Golden Hurricane lost in the second round to the UCLA Bruins 76-59.
On April 4, 2014, Manning agreed to become the head coach at Wake Forest University.
Manning is the son of former NBA player, Ed Manning. Manning's own son, Evan, accepted a walk-on invitation for the men's basketball team at Kansas for the 2012–13 season, while his daughter, Taylor, is a member of the Kansas volleyball team. Manning was inducted into the National Collegiate Basketball Hall of Fame on November 23, 2008. In addition to his College Basketball Hall of Fame enshrinement, in June 2008 Manning was named to the Guilford County Sports Hall of Fame for his early high school career at Page High School in North Carolina. He is also a member of the Lawrence (Kan.) High School Hall of Fame.
Drafted by Los Angeles Clippers in 1st round of 1988 NBA Draft (1st overall) on June 28, 1988
Traded by Clippers to Atlanta Hawks for Dominique Wilkins and 1994 or 1995 conditional 1st-round pick (1994 - #25 - Greg Minor) on February 24, 1994
Signed as free agent by Phoenix Suns to one-year, $1 million contract on September 3, 1994
Re-signed by Suns to six-year, $40 million USD contract with team-option for seventh year on October 12, 1995
Traded by Suns with Pat Garrity, of the New York Knicks' and Suns 2001 1st-round pick (#18 - Jason Collins), to Orlando Magic for Anfernee "Penny" Hardaway on August 5, 1999
Traded by Magic with Dale Ellis to Milwaukee Bucks for Chris Gatling and Armon Gilliam on August 19, 1999
Waived by Bucks on August 2, 2000
Signed by Utah Jazz on August 11, 2000
Signed by Dallas Mavericks on July 31, 2001
Waived by Mavericks on June 24, 2002
Signed by Detroit Pistons on February 5, 2003