Preceded by

John Campbell




Succeeded by

Loretta Sanchez




Succeeded by

Mary Bono Mack




Name

Dana Rohrabacher




Spouse

Rhonda Carmony (m. 1997)




Preceded by

Loretta Sanchez




Preceded by

Duncan Hunter




Preceded by

Dan Lungren




Role

U.S. Representative




Movies

Gods and Generals






Office

Representative (R-CA 48th District) since 2013




Previous offices

Representative (CA 46th District) 2003–2013




Children

Tristen Rohrabacher, Annika Rohrabacher, Christian Rohrabacher




Similar People

Loretta Sanchez, Ed Royce, Sam Farr, Brad Sherman, Ken Calvert




Profiles




Twitter

Facebook
Rep. Rohrabacher Likens U.S. Actions to Russian Meddling
Dana Tyrone Rohrabacher (born June 21, 1947) is the U.S. Representative for California's 48th congressional district, and previously the 46th, 45th and 42nd, serving since 1989. He is a member of the Republican Party. He chairs the United States House Foreign Affairs Subcommittee on Europe, Eurasia and Emerging Threats.
Contents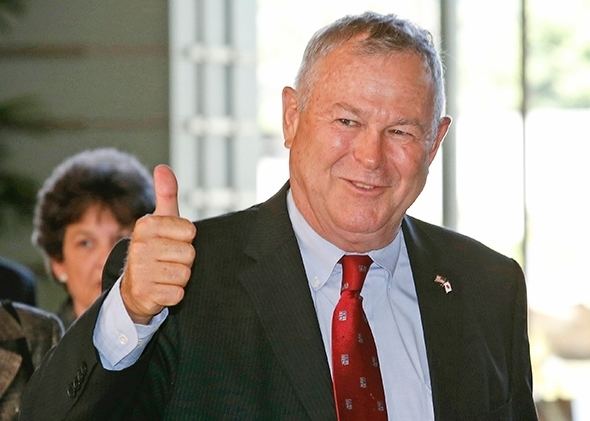 Rohrabacher's district covers the areas of Seal Beach, Sunset Beach, Huntington Beach, Midway City, parts of Westminster, Fountain Valley, parts of Santa Ana, Costa Mesa, Newport Beach, Aliso Viejo, Laguna Beach, and Laguna Niguel.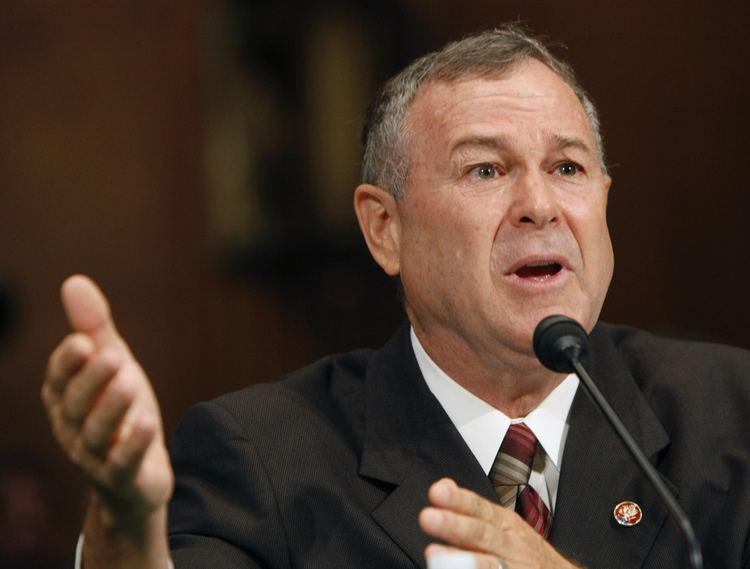 Early life, education, and early political career
Rohrabacher, who is of German and English descent, was born June 21, 1947, in Coronado, California, the son of Doris M. (nee Haring) and Donald Tyler Rohrabacher. Rohrabacher has a long history in Orange County. He attended elementary school locally, and during his college years, he lived in Sunset Beach.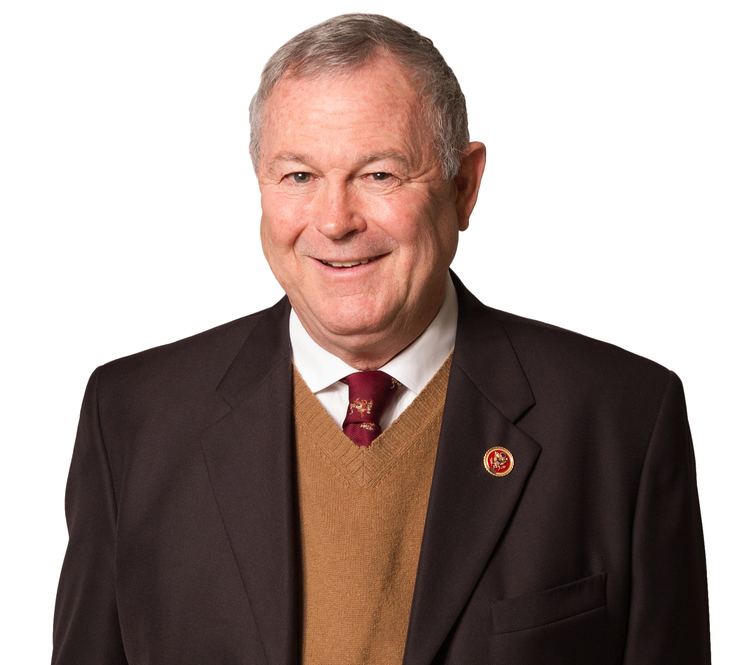 Rohrabacher graduated from Palos Verdes High School in Palos Verdes Estates, California, attended Los Angeles Harbor College, and earned a bachelor's degree in history at California State University, Long Beach in 1969. He received his master's degree in American Studies at the University of Southern California. While in graduate school and during the early 1970s, he had a side activity as a folk singer. He was also a writer for the Orange County Register. During this time he was considered a free-market anarchist and libertarian activist after his previous membership in Young Americans for Freedom. Libertarian author Samuel Konkin recalled, "The final step toward my libertarianism was provided by an anti-communist free-market anarchist named Dana Rohrabacher at the St. Louis YAF Convention. He was a charismatic campus activist, radicalized by Robert LeFevre who provided him with small funding to travel the country with his instrument and folk songs from campus to campus, converting YAF chapters into Libertarian Alliances and SIL chapters. Alas, later he fell into politics, but not the LP. The Libertarian billionaire Charles Koch supported him in two failed Republicans primary campaigns, and after Rohrabacher put in time as Ronald Reagan's speechwriter, he got his reward of a safe seat in the U.S. House of Representatives from Orange County. He is still in office today, with growing seniority. There are few issues on which he is still Libertarian. But in 1969–71, Dana Rohrabacher was the most successful and most beloved Libertarian activist."
Rohrabacher served as assistant press secretary to the 1976 and 1980 presidential campaigns of Ronald Reagan. From 1981 to 1988, he was one of President Reagan's senior speech writers. During his tenure at the White House, Rohrabacher played a leading role in the formulation of the Reagan Doctrine. He also helped formulate President Reagan's Economic Bill of Rights, which was a series of policy proposals that Reagan introduced in a speech at the Jefferson Memorial.
Elections
Rohrabacher left the Reagan administration in 1988 to pursue the open House seat recently vacated by Dan Lungren. With the fundraising help of friend Oliver North, Rohrabacher was able to win the Republican primary with a plurality of 35%. He won the general election with 64%. He only had serious primary competition twice, in 1992 and 1998. After redistricting, he won a three candidate primary election in 1992 with a plurality of 48%. In 1998, he won an open primary with 54% of the vote. As far as general elections, he only dipped below 55.0% once (2008).
2008
He defeated Democratic nominee Debbie Cook, Mayor of Huntington Beach, 53%–43%, the lowest winning percentage of Rohrabacher's career.
2010
He defeated Democratic nominee Ken Arnold 62%–38%.
2012
After redistricting, he announced that he would run in the newly redrawn California's 48th congressional district. He said "The new 48th District is a good fit and something that will enable me to serve my constituents and the country well." He won re-election in this Orange County district with 61% of the vote.
Tenure
A friend and fellow White House aide, Christopher Cox, won a southern Orange County seat in the same election.
In 2011, Rohrabacher voted against the National Defense Authorization Act for Fiscal Year 2012 as part of a controversial provision that allows the government and the military to indefinitely detain American citizens and others without trial.
2011 Visit to Iraq
During a trip to Iraq in June 2011, he said that Iraq should pay back the U.S. for all the money it had spent since the invasion, when it becomes a wealthy country. Rohrabacher also commented he would be holding a hearing with the Sub-Committee on Oversight and Investigations into if Iraq committed "crimes against humanity" at Camp Ashraf when a massacre occurred last April. The incident left 34 residents killed and over 300 wounded. The delegation was denied access to the camp by Iraqi government, citing their sovereignty. Rohrabacher's delegation was subsequently asked to leave the country.
Payment for 30-year-old screenplay
On November 4, 2005, the Los Angeles Times reported that Rohrabacher was paid 23,000 dollars for a thirty-year-old screen play of his. At issue was whether the producer paid him for the screenplay or for the introductions to congressional and federal officials. Rohrabacher claimed that the introductions were made in good faith, were nothing that was not done regularly for legitimate causes, and that the introductions have only become an issue because of Joseph Medawar's alleged misdeeds.
In May 2006, Rohrabacher announced through his press secretary that he would return the $23,000. The decision was made public shortly before Medawar took responsibility in a United States District Court for bilking $3.4 million from about 50 investors.
In a debate at Orange Coast College, he voiced his support for Proposition 8, which defines marriage in California as only between a man and a woman, and said that he "would suggest not changing the definition of marriage in our society to make a small number of people feel more comfortable."
Committee assignments
Committee on Foreign Affairs
Subcommittee on the Middle East and South Asia
Subcommittee on Oversight and Investigations (Chairman)
Committee on Science, Space and Technology
Subcommittee on Space and Aeronautics
Subcommittee on Energy and Environment
Rohrabacher chaired the Space and Aeronautics Subcommittee of the House Science Committee from 1997 until January 2005; he received a two-year waiver to serve beyond the six-year term limit.
As a senior member of the International Relations Committee, Rohrabacher led the effort to deny Most Favored Nation trading status to the People's Republic of China, citing that nation's dismal human rights record and opposition to democracy. His subcommittee assignments are East Asia and Pacific, and Middle East and South Asia.
Caucus memberships
Congressional Human Rights Caucus
International Conservation Caucus
Sportsmen's Caucus
Afghanistan
Rohrabacher's interest in Afghanistan extends back at least to the late 80s, before his time in office, when he entered the country in the company of mujahedin fighters who were intent on confronting Soviet occupation forces. Reportedly, these fighters "actually engaged Soviet troops in combat near the city of Jalalabad during the two months Rohrabacher was with them." In 2003, he defended the new Afghan constitution against those who saw in it mainly empowerment of warlords, saying
I've heard a lot of negative posturing about...these people who happened to have been the guys who sided with the United States ...Dostam, Atta, Khan...these were the people who defeated the Taliban... Just keep that in mind if you're an American. They came to help us defeat people who slaughtered our own people [September 11, 2001]. And I'm grateful for that. And I'm not about to label them in these pejorative terms [as warlords], especially when the Taliban are still on the border...I would admonish [you] not to go so quickly in getting rid of people who helped us defeat the Taliban.
Rohrabacher has since become a proponent of withdrawing from Afghanistan. He protested against the troop build up to Afghanistan by President Obama saying "If the Taliban is going is be defeated, it's got to be by the Afghan people themselves, not by sending more U.S. troops, which could actually be counterproductive." When Congressman Jim McGovern offered an amendment earlier this year requiring the Pentagon to draw up an exit plan from Afghanistan, Rohrabacher was just one of six Republicans to sign on. Rohrabacher further voted for McGovern's Amendment to the National Defense Authorization Act, requiring an exit plan from Afghanistan. The bill failed by 204–215 margin.
Rohrabacher is against President Obama's gradual draw down of troops supporting a full withdrawal. Saying "If we're going to leave, we should leave." Rohrabacher has gone on to state "The centralized system of government foisted upon the Afghan people is not going to hold after we leave," continued Rohrabacher. "So let's quit prolonging the agony and inevitable. "Karzai's regime is corrupt and non representative of Afghanistan's tribal culture. This failed strategy is not worth one more drop of American blood. Under the current strategy, our military presence alienates more Afghans that it pacifies. So if you're going to pull the plug, then we need to get the hell out now." Rohrabacher has repeatedly raised high-level concerns in the US Congress and Washington, D.C., about the significant corruption in Afghanistan, including the Kabul Bank scandal where hundreds of millions of U.S. taxpayers' dollars allegedly disappeared in a short period of time at the apparent hands of close Karzai family members, including brothers Mahmoud Karzai (a.k.a. Mahmood Karzai), Ahmed Wali Karzai and others. Rohrabacher worked to bring attention to the systemic corruption in the Karzai government and cut U.S. taxpayers' funding for these wasteful projects and programs, involving corruption within the Hamid Karzai government.
In April 2012, CNN reported that "A top Republican on the House Foreign Affairs committee was asked by the State Department not to go to Afghanistan because President Hamid Karzai objected to the visit. ... Dana Rohrabacher, R-California, told Security Clearance he was readying to travel with five other Republicans from Dubai to Afghanistan's capital, Kabul, when the State Department requested he stay behind."
Second Iraq War
Rohrabacher voted in support of the Authorization for Use of Military Force Against Iraq Resolution of 2002, a position that he later admitted was "a mistake."
Iran
In August 2012, Rohrabacher noted on his official website that he had written a letter written to the U.S. State Department noting he supported U.S. sponsorship of separatist movements in Iran, which elicited criticism from the Iranian-American community that included challenging Rohrabacher's understanding of the historical background he included in his letter to the Department of State.
Uzbekistan
During a US Congressional delegation's visit to Uzbekistan in February 2013, Rohrabacher made several controversial statements. The chief among those statements was that the United States should treat Uzbekistan like Saudi Arabia by disregarding the former's human rights abuses in achieving America's national interests, particularly in selling armaments and drones to Uzbekistan.
Patent reform
Rohrabacher is a huge opponent of the America Invents Act, a bill that is attempting to change the current Patent System. Rohrabacher opposes changing from a "first to invent system" to a "first to file system" claiming it "hurts the little guy." Rohrabacher commented "Make no mistake, "first to file" weakens patent protection. It is likely to make vulnerable individual and small inventors, who don't have an army of lawyers on retainer. These "little guys" have been the lifeblood of American progress and competitiveness for more than 200 years. Our system was designed to protect individual rights, and it has worked for all – not just the corporate elite." Rohrabacher went on to comment in a Politico article "We're told this is necessary to harmonize with Japanese and European patent law. But those systems were established by elitists and economic shoguns interested in corporate power, not individual rights."
Marijuana
Rohrabacher is a supporter of the medicinal use of marijuana as a right of the state. He and Maurice Hinchey have jointly offered the Hinchey-Rohrabacher medical marijuana amendment to a Commerce Justice and Science appropriations bill that would prohibit the Department of Justice from prosecuting patients in states that have legalized marijuana for medicinal purposes. Rohrabacher said that conservatives should take states' rights into consideration when they consider the issue of marijuana. In July 2014, Rohrabacher announced his support for the legalization of marijuana for recreational use in the state of California.
Space
Rohrabacher was chairman of the Subcommittee on Space and Aeronautics from 1997 to January 2005 and has been active on space-related issues. In 2000, Space.com described Rohrabacher as "a strident advocate for supremacy in space, a philosophy shaped along a winding road from libertarian activist to White House speech writer in the Reagan administration." In 2007, Rohrabacher introduced a bill that would direct NASA to develop a strategy "for deflecting and mitigating potentially hazardous near-Earth objects." Rohrabacher has applauded the Apollo astronauts claiming them as unofficial ambassadors. Rohrabacher stated "I applaud their efforts and accomplishments over the past fifty years. And I encourage all Americans to join with me in thanking them for their accomplishments and for the international role they have played in serving as unofficial Ambassadors to the world on our behalf."
Aid to Pakistan
In May 2011 Rohrabacher introduced a bill to stop aid to Pakistan in the wake of Osama Bin Laden's death, claiming the Pakistani's were either sheltering Bin Laden or completely incompetent. "We can no longer afford this foolishness," said Rohrabacher. "The time has come for us to stop subsidizing those who actively oppose us. Pakistan has shown itself not to be America's ally." Rohrabacher also demanded the return of the US helicopter that crashed in the operation to kill Bin Laden. "If this is not done immediately, it is probable, given Pakistan's history, that our technology has already found its way into the hands of the Communist Chinese military that is buying, building, and stealing the necessary military technology to challenge the United States," Rohrabacher stated.
Foreign policy
In February 2013, Rohrabacher gave a poignant speech urging the right to self-determination for the Baloch people in Pakistan at a UNPO conference in London.
In March 2005, Rohrabacher introduced HR 1061, the American Property Claims Against Ethiopia Act, which would "prohibit United States assistance to the Federal Democratic Republic of Ethiopia until the Ethiopian government returns all property of United States citizens." The bill was introduced by Rohrabacher at the behest of Gebremedhin Berhane, a former Eritrean national and friend of the Rohrabacher family, after his business was expropriated by the Ethiopian government.
On March 7, 2006, Rohrabacher introduced HR 4895, an amendment to the Foreign Assistance Act of 1961, "to limit the provision of the United States military assistance and the sale, transfer, or licensing of United States military equipment or technology to Ethiopia."
On September 8, 2008, at a House of Representatives Foreign Affairs Committee meeting, Rorabacher argued that the Georgians had initiated the recent military confrontation in the ongoing Russian-South Ossetian conflict. .
During an appearance on MSNBC's The Ed Show, Rohrabacher accused Barack Obama of allowing violence in Iran to get out of hand because he did not speak forcefully enough against the country's leadership. He also claimed that Gorbachev tore down the Berlin Wall because Reagan told him to ("Tear down this wall").
In early 2010, he went to Honduras to commend the election of the new president. His entourage included a group of Californian property investors and businessmen, a dealer in rare coins, and CEOs from San Diego biofuels corporation (which is headed by a family friend).
According to a 2015 article by Politico reporter Luke O'Brien, Rohrabacher is known for his long-time friendship with Russia's Vladimir Putin and his defense of "the Russian point of view."
Bosnia and Kosovo independence
Rohrabacher was opposed to American ground troops in the Yugoslav Wars. He advocated for the direct bombing of the Serb military on Serbian soil, criticizing the ineffectiveness of western forces against the Serbs, NATO was limited to small fixed attacks, as the Serbs penetrated UN safe areas and attacked Bosnian forces. Rohrabacher said they "should bomb Serbia's military infrastructure, in Serbia – get that, in Serbia – rather than dropping a couple of duds on tents, which only proves the West's gutlessness, and emboldens Serbian cutthroats." Rohrabacher considered the events in Bosnia to constitute genocide. In 1995, Rohrabacher personally visited Sarajevo in Bosnia, criticizing the devastation Serb forces inflicted on the city, saying "This is a loss to all mankind, not just to the people of Sarajevo,". He also encountered vagabond children asking for money.
The leader of the Albanian American Civic League ethnic lobby group, Joseph J. DioGuardi, praised Rohrabacher for his support to the Kosovo Liberation Army (KLA), saying "He was the first member of Congress to insist that the United States arm the Kosova Liberation Army, and one of the few members who to this day publicly supports the independence of Kosova." Rohrabacher gave a speech in support of American equipping the KLA with weaponry, comparing it to French support of America in the Revolutionary War, saying "Based on our own experience, the Kosova Liberation Army should have been armed." "If the U.S. had armed the KLA in 1998, we would not be where we are today. The 'freedom fighters' would have secured their freedom and Kosova would be independent."
Support for Mohiuddin Ahmed
In 2007 Rohrabacher supported Mohiuddin Ahmed, detained in the USA, who was involved in a coup in Bangladesh during which several people were murdered. Rohrabacher halted his deportation to Bangladesh when they requested his extradition and voiced concern about his legal rights, saying that he should be sent somewhere with no death penalty. His support was applauded by both Amnesty International and the Conference of Catholic Bishops.
Defense of interrogation techniques and extraordinary rendition
On April 17, 2007, while defending the Bush administration's program of extraordinary rendition. During a House hearing on trans-atlantic relations, Rohrabacher stated that the unfair treatment of one innocent suspect is an acceptable "unfortunate consequence" of holding others who would otherwise be free to commit terror acts. After he received boos and groans from the gallery, Rohrabacher responded, "Well, I hope it's your families, I hope it's your families that suffer the consequences", and "I hope it's your family members that die". Rohrabacher was subsequently interrupted by protesters wearing orange jumpsuits who were removed from the gallery. For his comment that imprisoning and torturing one innocent person was a fair price to pay for locking up 50 terrorists who would "go out and plant a bomb and kill 20,000 people," Rohrabacher was named Countdown with Keith Olbermann's "Worst Person in the World" on April 25.
Terrorism
In 2006, Rohrabacher chaired the Subcommittee on Oversight and Investigations of the U.S. House Committee on International Relations, which investigated whether the Oklahoma City bombers had assistance from foreign sources and determined there was no conclusive evidence of a foreign connection. In the 113th Congress, Rohrabacher is chair of the House Foreign Affairs Subcommittee on Europe, Eurasia and Emerging Threats.
Rohrabacher has stated that he sees radical Islam as the source of a major terrorist threat to the U.S. Speaking about radical Islam he said during a hearing in April 2013, "I hope we all work together against a religion that will motivate people to murder children and other threats to us as a civilization."
In 2014, Rohrabacher suggested that Iraq's borders be redrawn in response to the establishment of the Islamic State of Iraq and the Levant.
Illegal immigration
Rohrabacher was an advocate for the state of California's Proposition 187, which prohibited illegal immigrants from acquiring government services. In 2004, he sponsored an amendment that would have prohibited federal reimbursement of hospital-provided emergency care and certain transportation services to undocumented aliens unless the hospital provided information about the aliens' citizenship, immigration status, financial data, and employer to the Secretary of Homeland Security. Aliens who were in the country illegally would receive reimbursement only after they were deported. The proposed bill was defeated 88 – 331.
In early 2008, Rohrabacher endorsed Mitt Romney in the Republican presidential primary, citing his positions on stemming illegal immigration and criticizing John McCain. About McCain, he said, "He's been the enemy of those of us who have stemmed the flow of illegals into our country, whereas Romney has made some very tough commitments."
In 2011 Rohrabacher proposed the bill H.R. 787 known as the "No Social Security for Illegal Immigrants Act of 2011." The bill "Amends title II of the Social Security Act to exclude from creditable wages and self-employment income any wages earned for services by aliens performed in the United States, and self-employment income derived from a trade or business conducted in the United States, while the alien was not authorized to be so employed or to perform a function or service in such a trade or business."
In 2013, an 18-year-old student visited Rohrabacher's office to discuss immigration reform. At some point their conversation became disagreeable, and the student claims the congressman yelled at her "I hate illegals," and threatened to deport her family, statements which Rohrabacher's spokesperson has disputed. The spokesperson claims that it was the student who started the confrontation by yelling at her and telling her to "butt out."
Global warming
Rohrabacher doubts that global warming is caused by humans. During a congressional hearing on climate change on February 8, 2007, Rohrabacher mused that previous warming cycles may have been caused by carbon dioxide released into the atmosphere by "dinosaur flatulence." He stated, "In fact, it is assumed at best to be unproven and at worst a liberal claptrap, trendy, but soon to go out of style in our new Congress." On May 25, 2011, Rohrabacher expressed further skepticism regarding the existence of man-made global warming. However, he suggested that if it is an issue, a possible solution could be clear-cutting rain forests, and possibly replanting. This was strongly criticized by scientists, including Oliver Phillips, a geography professor at the University of Leeds. They noted the consensus that intact forests act as net absorbers of carbon, reducing global warming. In response, Rohrabacher stated,
Once again those with a global agenda have created a straw man by misrepresenting the position of their critics. I do not believe that CO2 is a cause of global warming, nor have I ever advocated the reduction of CO2 through the clearing of rainforests or cutting down older trees to prevent global warming. But that is how my question to a witness during my subcommittee hearing on May 25th is being reported. I simply asked the witness, Dr. Todd Stern, who is a supporter of a global climate treaty that would dramatically hurt the standard of living for millions of human beings, if he was considering a policy that would address naturally emitted carbon dioxide, which makes up over 90% of emissions. To suggest that I'm advocating such a radical approach instead of simply questioning the policy is a total misrepresentation of my position.
Organ Harvesting in China
In 2012 Rohrabacher stated,
the CCP and its state security machine uses a wide range of repression techniques including, not only limited to, censorship, beatings, home imprisonment, forced labor camps, those labor camps called the Laogai of course. And the most ghoulish manifestation of this gangsterism is the forced harvesting of organs of the political prisoners and religious followers that it arrests, particularly of the Chinese religious movement known as the Falun Gong.
and
to rip open the body of someone who is simply involved in a religious or personal or political idea that is contrary to the wishes of the ruling elite, to rip a body open of someone like that especially if that person's religious or political beliefs are pacifistic and not a physical threat to the regime, this is about the most monstrous crime that I can conceive of.
Ukraine
Rohrabacher supported the right of Crimea to secede from Ukraine and join Russia in 2014. On March 6, 2014, he was one of 23 members of the House of Representatives to vote against a $1 billion loan guarantee to support the new government of Ukraine. In the March 11, 2014, House of Representatives vote (402 voting yes; 7 opposed) to condemn Russia for violating Ukraine's sovereignty, Rohrabacher voted "present." Commenting on the issue, he stated, "Starting with our own American Revolution, groups of people have declared themselves, rightfully, to be under a different government or a government of their choosing. People forget that's what our Declaration of Independence is all about." He also said, "The sanctions are an abomination of hypocrisy. This is ridiculous: What we were doing with the violence and military action we took to secure the Kosovars' right to self-determination was far more destructive and had far more loss of life than what Putin's done trying to ensure the people of Crimea are not cut off from what they would choose as their destiny with Russia."
Personal life
Rohrabacher is married to his campaign manager, Rhonda. They have been married since 1997, and in 2004 they became parents to triplets: Annika, Christian and Tristen.
Rohrabacher was described by the Los Angeles Times as "an avid surfer."
References
Dana Rohrabacher Wikipedia
(Text) CC BY-SA