Portrayed by

Kyle MacLachlan




Played by

Kyle MacLachlan




Occupation

FBI Special Agent




First appearance

"Pilot"






Religion

Unitarian Tibetan Buddhist




Movies and TV shows

Twin Peaks, Twin Peaks: Fire Walk with Me




Similar

Laura Palmer, Audrey Horne, Log Lady, Killer Bob, Leland Palmer
FBI Special Agent Dale Bartholomew Cooper, portrayed by Kyle MacLachlan, is a fictional character and the protagonist of the ABC television series Twin Peaks. He briefly appears in the prequel film Twin Peaks: Fire Walk with Me.
Contents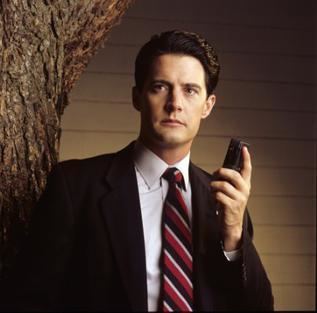 Cooper is an eccentric FBI agent who arrives in Twin Peaks in 1989 to investigate the brutal murder of the popular high school student, Laura Palmer, falling in love with the town and gaining a great deal of acceptance within the tightly knit community. He displays an array of quirky mannerisms such as giving a 'thumbs up' when satisfied, sage-like sayings, and distinctive sense of humor along with his love for a good cherry pie and a "damn fine cup of coffee" (which he takes black). One of his most popular habits is recording spoken-word tapes to a mysterious woman called "Diane" into his microcassette recorder that he always carries with him, that often contain everyday observations and thoughts on his current case.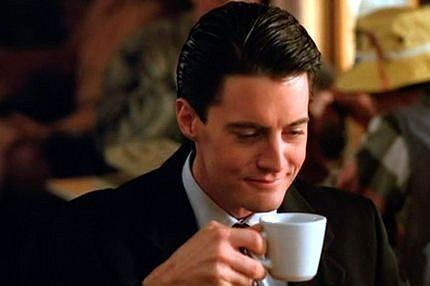 On January 12, 2015, it was announced MacLachlan will return as Cooper for the continuation of Twin Peaks.
Concept and creation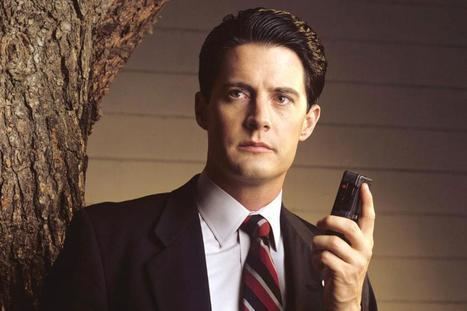 Lynch named Cooper in reference to D. B. Cooper, an unidentified man who hijacked a Boeing 727 aircraft on November 24, 1971.
MacLachlan has stated that he views Cooper as an older version of his character in Blue Velvet, a previous David Lynch collaboration. "I see my character as Jeffrey Beaumont grown up. Instead of being acted upon, he has command on the world."
Character arc
Born on April 19, 1954, Cooper is a graduate of Haverford College. He is also revealed to be something of an introspective personality, due to his profound interest in the mystical, particularly in Tibet and Native American mythology. Much of his work is based on intuition and even dreams; this is in contrast to other fictional detectives who use logic to solve their cases. On joining the Federal Bureau of Investigation, Dale Cooper was based at the Bureau offices in Philadelphia. It was here Cooper was partnered with the older Windom Earle. At some point, Cooper would be placed under the authority of FBI Chief Gordon Cole, which sometimes meant being handed the mysterious 'Blue Rose' cases. Some time after Cooper joined the Bureau, Earle's wife, Caroline, was a witness to a federal crime. Earle and Cooper were assigned to protect her, and it was around this time that Cooper began an affair with Caroline. However, one night, whilst in Pittsburgh, Cooper let his guard down - and Caroline was murdered by her husband. Cooper's former partner had "lost his mind", and was subsequently sent to a mental institution. Cooper was absolutely devastated by the loss of the woman he would later refer to as the love of his life, and swore to never again get involved with someone who was a part of a case to which he was assigned.
Three years before his arrival in Twin Peaks, Cooper has a dream involving the plight of the Tibetan people, and revealed to him the deductive technique of the Tibetan method. Deeply moved by what he saw in this dream, it is indicated it was this event that formed the basis of his unconventional methods of investigation. Cooper reveals to his boss, Cole, of the portents of a strange dream. While in the meantime, Special Agent Chester Desmond disappeared while investigating a bizarre murder case. Cooper picks up the case, but is unable to find any evidence which could lead to the discovery of what happened to Desmond or Theresa Banks, the murder victim. Roughly a year later, in 1989, Cooper tells Rosenfield in the Philadelphia offices of how he senses Banks' killer will strike again soon, and that his victim will be a young woman, who has blonde hair, is sexually active, using drugs, is crying out for help, and presently preparing a great abundance of food. Rosenfield is quick to dismiss Cooper's notion.
On February 24, 1989, Cooper comes to the town of Twin Peaks to investigate the murder of Laura Palmer. He eventually helps the Twin Peaks Sheriff's Department in investigating other cases as well. While in Twin Peaks, he learns of the mysterious places called the Black Lodge and the White Lodge and the spirits inhabiting them. In the final episode of Twin Peaks, Cooper enters the evil Black Lodge to rescue his love interest, Annie Blackburn. In the Black Lodge, he encounters his evil doppelganger, who eventually leaves the Black Lodge while Cooper remains there, his ultimate fate unknown.
The feature film Twin Peaks: Fire Walk with Me subtly expands on the events of Cooper's fate in the series finale, while at the same time functioning as a prequel that details the last week of Laura Palmer's life. At one point while experiencing a strange dream involving the Black Lodge and its residents, in the non-linear realm Laura encounters Cooper at a point after he has become trapped there. Cooper implores her not to take "the ring," a mysterious object that gives its wearer a sort of connection to the Black Lodge. Shortly thereafter, Laura also has a vision of a bloody Annie Blackburn beside her in her bed, who tells her: "My name is Annie. I've been with Dale and Laura. The good Dale is in the Lodge, and he can't leave. Write it in your diary." (While it is unknown if Laura did in fact transcribe this to the diary in her possession at the time, one of Twin Peaks' head writers, Harley Peyton, suggested in a later interview that she did. Reconstructing interviews from those intimately involved in the TV series seems to confirm that a Season Three story arc would have included the finding of Laura's diary entry and a rescue mission, headed by Major Briggs, to retrieve Cooper from the Black Lodge.)
At the film's conclusion, Laura's spirit sits in the Red Room, and is looking up at Cooper whose hand is resting on her shoulder, and is smiling at her. Shortly thereafter, Laura's angel appears and the film ends. Although the film's final image of Laura cast in white indicates that she has ascended to the White Lodge, the meaning behind Cooper's presence alongside her, and indeed, his ultimate fate—if he ever escaped the Black Lodge—is unknown.
With the recent news of the series relaunch, it was confirmed that Kyle MacLachlan would be returning to the series, revealing the truth of what happened.
Relationships
Much like how he relates to the town itself, Cooper gains an instant rapport with many of the townspeople on arrival to Twin Peaks - most particularly Sheriff Harry S. Truman and his deputies, Deputy Tommy "Hawk" Hill and Deputy Andy Brennan. While Truman is initially skeptical of Cooper's unconventional investigation methods and other-worldly ideas, he is most often willing to accept Cooper's judgment. (Even referring to Cooper as "the finest lawman I have ever known" to agents investigating Cooper's alleged drug-running to Canada). Over time, a deep bond emerges between the two, as displayed in various scenes: when Truman assists Cooper in rescuing Audrey Horne from One-Eyed Jack's, Truman deputizing Cooper following Cooper's suspension from the Bureau, and Truman waiting patiently for two days at Glastonbury Grove for Cooper to emerge from the Black Lodge in the series finale.
Cooper's strongest relationship outside of the townspeople is that of his friendship with his colleague, Agent Albert Rosenfield. Though he has strong respect and admiration for Rosenfield's medical skills, and is seemingly not intimidated by Rosenfield's sarcastic manner, he has little tolerance or patience for Rosenfield's treatment of the town's citizens - most particularly his animosity towards Sheriff Truman (which notably thaws over time).
Prior to Twin Peaks, Cooper's strongest romantic relationship was his affair with Caroline Earle, the wife of his former partner, Windom Earle. Caroline had been under Cooper and Earle's protection for witnessing a federal crime Earle committed when he lost his mind, but on one night when Cooper's guard was down, Caroline was murdered by Windom. Caroline's death and his failure to protect her continues to haunt Cooper on his arrival to Twin Peaks, referring to a "broken heart" when discussing women with Truman and his deputies. He also relates a version of the story of Caroline to the teenage Audrey Horne.
On arrival to Twin Peaks, Cooper becomes quickly aware that 18-year-old Audrey Horne, the daughter of local businessman Benjamin Horne, harbors a crush on him. The attraction appears mutual, as Cooper is clearly drawn to Audrey - but he is quick to rebuff her advances when Audrey turns up in his hotel bed. Cooper explains she is too young, but he does genuinely want to be her friend. However, following her disappearance orchestrated by Jean Renault, Cooper privately confesses to Diane that in Audrey's absence all he can think of is her smile. Following her rescue, there remains a close and affectionate friendship with the two, most notably when Audrey arrives to his hotel room for comfort following her father's arrest and her sad farewell when she believes Cooper is leaving Twin Peaks for good. Audrey later gives Cooper a surprising kiss when she discovers evidence that clears him of drug charges, and they later dance at the Milford wedding.
However, during the production of the series' second season, Kyle MacLachlan (as he notes during an interview on the 2007 Gold Edition Twin Peaks DVD set) vetoed the possibility of a romantic relationship, as he felt his character should not sleep with a high school girl. Following the series' cancellation, it is often said by the writers that the Cooper-Audrey relationship was to be the main plot following the resolution of the Laura Palmer murder mystery - forcing them to focus more on the supporting characters.
Following his reinstatement to the FBI, Cooper meets Annie Blackburn, the sister of Norma Jennings, whom he instantly falls in love with. Annie is established as being a kindred spirit, experiencing the world with curiosity and wonder. Much like Cooper's pain over Caroline Earle, Annie also nurses a broken heart from someone in her past. (Which is implied may have resulted in suicide attempts, and affected her decision to later attend a convent.) Cooper helps her to prepare for participation in the Miss Twin Peaks contest. However, during the contest she is kidnapped by Windom Earle and taken to the Black Lodge to use her 'fear' to open the gateway.
In other media
During the second season of Twin Peaks, Simon & Schuster's Pocket Books division released several official tie-in publications, each written either by its creators or members of their family, which offer a wealth of character back-stories; Cooper's, in two such publications, is one of the best-developed of these back-stories.
The Autobiography of F.B.I. Special Agent Dale Cooper: My Life, My Tapes
Many of the details of Cooper's history as previously cited are drawn from a book that producer Mark Frost's brother Scott Frost wrote as a companion to the series, titled The Autobiography of F.B.I. Special Agent Dale Cooper: My Life, My Tapes. The book is catalogued as ISBN 978-0-330-27280-3.
"Diane..." - The Twin Peaks Tapes of Agent Cooper (audio book)
Early in the second season of Twin Peaks, Simon & Schuster Audio released Diane ... The Twin Peaks Tapes of Agent Cooper, a cassette-only release that Kyle MacLachlan also performed. The tape consists of newly recorded messages from Cooper to his never-seen assistant, Diane, mixed in with monologues from the original broadcasts. The tape begins with a prologue monologue in which Cooper discusses his pending trip to Twin Peaks, continues with the initial monologue heard in the pilot, and continues to a point after his recovery from being shot. For his work on this release, MacLachlan was nominated for a Grammy Award for best spoken-word performance.
Saturday Night Live sketch
When Kyle Maclachlan guest hosted Saturday Night Live in 1990 at the height of Twin Peaks' popularity, the episode contained many references to the series throughout. Also featured was a sketch parodying the show and in particular Dale Cooper. Cooper is portrayed in the sketch as being extremely attentive to detail in his messages to Diane, including informing her of how many hairs he found in his shower the night before. Sheriff Harry S. Truman (Kevin Nealon) then visits Cooper, telling him that Leo Johnson (Chris Farley) has confessed to the murder of Laura Palmer and that he can go home. Cooper raises concerns that the investigations may not be over because he had a dream last night in which "A hairless mouse with a pitchfork sang a song about caves." He discards Leo's confession in spite of the overwhelming evidence. He is then visited by several Twin Peaks residents all played by SNL cast members: Audrey Horne, played by Victoria Jackson, who gives Cooper a going away gift and ties the ribbon with her tongue; Leland Palmer, played by Phil Hartman, who requests that Cooper dance with him; Nadine Hurley (Jan Hooks), who wants Cooper to take her silent drape runners to the patent office; The Log Lady, also played by Hooks, following Truman's observation that there were only two female SNL cast members; and finally Leo in custody of Deputy Andy Brennan (Conan O'Brien). Cooper protests that the case can't be over so soon and insists in vain that he and Truman perform several pointless tasks in order to aid him in the already solved investigation, including going to a graveyard at midnight disguised as altar boys. As everyone begins to leave, Cooper declares that they can't leave because they still don't know who shot him at the end of Season One. Leo, however, confesses to shooting Cooper, adding that Cooper himself saw him do it. Cooper reluctantly goes to bed as The Man from Another Place (Mike Myers) begins to dance at the foot of his bed.
References
Dale Cooper Wikipedia
(Text) CC BY-SA