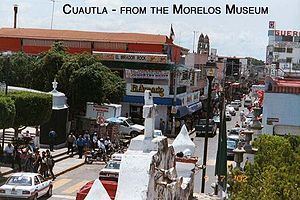 Cuautla was the scene of one of the fiercest battles of the War of Independence during a siege which began on February 19 and ended on May 2, 1812. The city was taken by forces of the priest and General José María Morelos y Pavón, who defended it against the Spaniard General Félix María Calleja for weeks before having to retreat.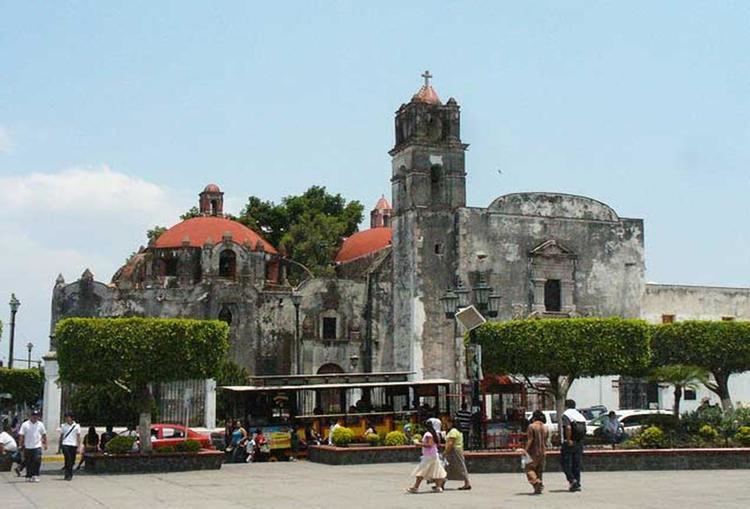 During the Mexican Revolution Cuautla was the first city conquered by the forces of Emiliano Zapata, who was born in Anenecuilco, just south of Cuautla.
In most family households, both parents work full-time, while their child either attends school or follows his parents' career. Children of this area have little access to computers and internet, unless of course the household income is above average. Those who do attend a school of any sort typically have little to no homework and spend their free time outdoors. Many children enjoy trips to small family-owned stores, which have games which are referred to as "las maquinitas," which are used for social gatherings and, to some extent, gambling. Also, many families attend the nearest chapel regularly, but many do not have the time for this.
Given that Cuautla lies in the heart of Southern Mexico, cultural diversity is inevitable. This city is not only made up of Mexican born men and women. Cuautla is home to many from other parts of Mexico, and even some from the South American countries El Salvador and Honduras. Many acquire nicknames for that very reason, such as Catracho, which is a common nickname for people from Honduras, or Mojarra, for someone from a further South American country. Along with the nicknames, traditions and ways of life vary due to the many nationalities in Morelos.
Keeping in mind these are only some of many, here are some celebrations, that do not only originate in Mexico, that the people of Cuautla consider traditions:
January 6: Día de Reyes
February 5: Día de la Constitución
March 8: Día Internacional de la Mujer
August 25: Noche que Nadie Duerme
September 16: Día de la Independencia
This city is the heart of the sugar market in Morelos. Fields cover much of the rural areas, and have been around since the 1600s. Sugar has been a large part of Morelos' economy, and continues to be so today. Many spend their days tending only to the sugar cane, and after the season (typically the harvest is made in the dry season), campesinos cut the cane, extract the sugar, and burn the fields. Also another large contributor to Cuautla's economy, is the construction workers, and the cement business. Building homes with nothing but metal rods, cinder blocks, concrete, and occasionally tile, young men, middle aged men, and even men considered senior citizens in countries such as the United States of America, work from sun up to sun down making on average 100 Pesos a day. 100 Pesos today (February 14, 2015) is equivalent to $6.71 USD. Apart from that, cement companies such as Cemex and Moldes de Colima fuel economic competition in this city, many of which not only make cement, but also try to compete in the production of asphalt, cinder blocks and gypsum.
Some roads in Cuautla are not paved.
Public transportation is mainly dominated by a metro-bus system. These buses are referred to as "combis." These buses are small, and can hold up to roughly 10 people. Also, taxis are available, but less common. Cuautla contains many bus terminals, for long distance travels, such as the Terminal Central de Autobuses del Norte, with destinations as far as Monterrey, Nuevo Laredo and Ciudad Juarez.
Cuautla is located on the eastern side of Morelos, on the geographic coordinates 18°49' N Latitude and 99°01' E Longitude, with an altitude of 1294 feet above sea level.
Also, Cuautla borders the cities of Atlatlahucan, Ayala, Yautepec, Yecapixtla and Oaxtepec.
Ciudad de México - 71 km
Monterrey - 777 km
Ciudad Juarez - 1,617 km
Veracruz - 299 km
Yucatan - 1,054 km
Cancun - 1,292 km
Cuautla covers roughly 153,651 km², which is about 3% of the overall size of Morelos.
The area is a tourist-friendly region with abundant hot springs and health spas/resorts. It features many archeological sites such as Chalcatzingo and indigenous communities such as the Tepoztlán and Tetelcingo among others. Agua Hedionda (Spanish: Stinky Water), classified as one of the important water springs of the world due to its chemical composition, is also located in this little city. These waters have a characteristic smell reminiscent of rotten eggs because of their sulfur content.
The Morelos Museum contains artifacts and descriptions about Mexico's War of Independence from Spain. It honors José María Morelos, whose rebel troops managed to hold off Royalist troops for 58 days. The Museum adjoins the old narrow-gauge railroad which was used to haul sugar cane to the local mills. The narrow-gauge was retired in 1973. The tomb of the famous Mexican revolutionary hero Emiliano Zapata is also located in this city, and every year several festivities are held around the anniversary of his death.
The Tren Escénico is a 3 ft (914 mm) narrow gauge tourist railroad offering train rides pulled by an historic steam locomotive once used by the former Interoceanic Railway of Mexico.
The vast majority of buildings in Cuautla, are made of stone and cement with metal rod reinforcements. Also, many homes in this city, are made with only cinder blocks, cement, and a tin roof. Many of these homes also lack electricity and running water. Nearly all homes have a "tinaco," which is a large plastic container for water, which is refilled regularly by the city. These containers let water out into pipes which can be opened or closed to wash clothes and dishes, or to bathe.
The city is quite warm year-round. In the winter, there is a slight decrease in both the daytime and nighttime temperatures, and because of Cuautla's proximity to the Tropic of Cancer and its altitude (about 4,500 feet above sea level), the nighttime temperatures year-round usually average about 57 °F (14 °C). On the other hand, because Cuautla is somewhat close to the Equator, temperatures year-round tend to reach into the mid 80s to lower 90s°F (upper 20s°C to the lower 30s°C) even during the winter, and in spring on many days the daytime temperatures may reach well into the upper 90s°F (upper 30s°C).
The dominant religion in Cuautla is Roman Catholicism, followed by Evangelicanism and Judaism. There are 22 registered churches in the municipal area.