Nationality

Israel, UK




Name

Craig Gotsman





Fields

Computer Science




Doctoral advisor

Eli Shamir






Born

July 28, 1964 (age 51) Birmingham, UK (

1964-07-28

)


Institutions

Cornell Tech, Technion - Israel Institute of Technology




Known for

Founding Director of the Jacobs Technion-Cornell Institute (NYC), entrepreneur




Alma mater

Hebrew University of Jerusalem




Residence

New York City, New York, United States
Technion cornell innovation institute craig gotsman interview
Craig Gotsman is an academic innovator and hi-tech entrepreneur. He is a Distinguished Professor and the Dean of the Ying Wu College of Computing at the New Jersey Institute of Technology (NJIT). Before NJIT, he was Professor and the Founding Director of the Jacobs Technion-Cornell Institute at Cornell Tech in New York City. Gotsman has also co-founded several technology startup companies and consulted to many large technology corporations.
Contents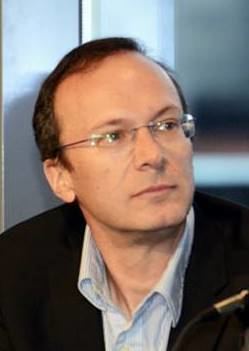 Life
Born in the UK, Gotsman spent his early childhood in South Africa. His family immigrated to Israel in 1973.
Education
Gotsman was awarded all his degrees, including a PhD in Computer Science, from the Hebrew University of Jerusalem
Military Service
During 1984-89, Gotsman served as an officer in the Technological R&D Unit of the Israel Defense Forces, retiring from active reserve duty in 2005 with the rank of Major.
Academic career
Specializing in computer graphics and geometry processing, Gotsman joined the Computer Science Department at the Technion – Israel Institute of Technology in Haifa as an Assistant Professor in 1991. In 2005 he co-founded the Center for Graphics and Geometric Computing, and in 2006 he became the first incumbent of the Technion's Hewlett-Packard Chair in Computer Engineering.
Gotsman was Visiting Professor at Harvard University and Research Scientist at MIT during 2003-2004, Visiting Professor at INRIA, Sophia Antipolis in 2006 and Visiting Professor at ETH Zurich in 2010. During 2013-2016 he was on the faculty of Cornell Tech in New York City.
Gotsman has mentored over 50 students at the postgraduate level, served on the editorial boards of computer graphics international journals and served on the program committees of international conferences in computer graphics. He has published over 150 research papers and holds 10 US patents.
Gotsman is best known for his work on online maps and aerial imagery and its combination with 3D terrain elevation data (a precursor to Google Earth), compression of 3D datasets, which was incorporated into the MPEG-4 compression standard, the use of spectral methods in geometry processing, and various methods for analyzing and processing discrete geometric data sets, in particular triangle mesh data, both static and dynamic. In recent years, Gotsman has developed a number of software applications taking advantage of the emerging new generation of range imaging cameras.
Gotsman was elected to the Academy of Europe (Academia Europaea) in 2015.
Jacobs Technion-Cornell Innovation Institute
Gotsman played a leading role in the formation of the Jacobs Technion-Cornell Innovation Institute at Cornell Tech. Cornell Tech is an applied sciences campus dedicated to fostering innovation and producing entrepreneurial engineers, a project conceived and driven by former Mayor Michael Bloomberg and the New York City Economic Development Corporation, with the purpose of growing the tech sector of NYC.
In 2011, Gotsman helped write the proposal to establish an Applied Sciences campus, submitted by Cornell University and Technion to the City of New York. The proposal subsequently won the bid, competing against a number of groups of international universities, including Stanford University. Technion was cited as a key player in recognition of its innovation culture and contribution to the emergence of Israel as a global technological superpower, as documented in the book "Startup Nation".
In 2011, Gotsman was appointed Deputy Senior Vice-President (equivalent to Vice Provost) at Technion, responsible for the joint Technion-Cornell venture. In Feb 2012 he was appointed Founding Director of the joint Jacobs Technion-Cornell Innovation Institute at the Cornell Tech campus in New York, a position he held for two years. In April 2013, the Institute received a $133M naming gift from Joan and Irwin M. Jacobs of San Diego.
New Jersey Institute of Technology
In 2017, Gotsman was named Dean of the Ying Wu College of Computing at New Jersey Institute of Technology. This college educates over 2,500 students at all levels and graduates over 750 computing professionals every year, making it the largest generator of computing talent in the tri-state area.
Entrepreneurship
Gotsman co-founded three startup companies: Virtue3D was founded in 1997 and developed advanced technologies for Web-based 3D computer graphics based on Technion intellectual property. The principal investors were Zohar and Yehuda Zisapel and Eurofund. The technology was eventually acquired by German Mental Images, itself later acquired by NVIDIA. Estimotion - a precursor to Waze – was founded in 2000 and developed technologies for real-time traffic-based applications for cellular phones. The principal investors were Partner/Orange Communications and Shlomo Group. Estimotion was acquired by British ITIS Holdings, itself later acquired by INRIX. CatchEye – commercializing 3D camera-related video-processing technology that Gotsman developed with colleagues at ETH Zurich - was founded in 2014.
Gotsman also co-founded in 2006 an active consulting company - Geometrika – which develops graphics and geometric software technologies.
Outreach
While at Technion, Gotsman served as Associate Dean for Computing during 2001-2003. He also founded its Industrial Affiliates Program and Alumni Program and served as Associate Dean for External Relations during 2005-2008.
Industrial Activity
Gotsman served as consultant for HP Labs in Haifa and spent summers during 1993-1996 at HP Labs in Palo Alto. He has also consulted for companies in Israel, Europe and the USA, including Nokia, Shell Oil, Disney, Intel, Rafael, Geodetics and Samsung.
Public Service
In 2014, Gotsman served as a technology expert on the New York City Metropolitan Transportation Authority Reinvention Commission, appointed by the governor of NY State. In its report, the commission recommended a number of reforms to the public transportation systems in New York City. Gotsman is also active in the entrepreneurial community in New York City, in particular through the New York City Economic Development Corporation.
References
Craig Gotsman Wikipedia
(Text) CC BY-SA