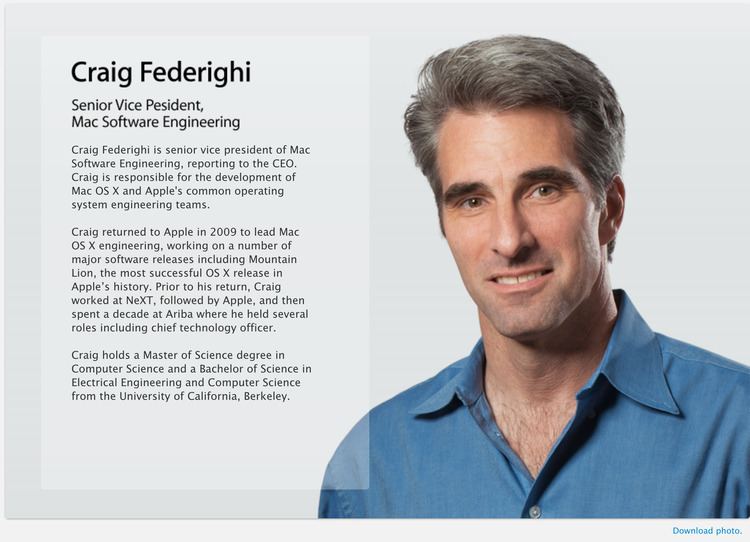 After graduating from Acalanes High School in Lafayette, California, Federighi earned a Master of Science degree in Computer Science and a Bachelor of Science in Electrical Engineering and Computer Science from the University of California, Berkeley. He is of Italian descent. Federighi was married as of 2014.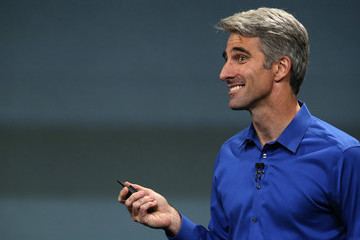 Federighi worked under Steve Jobs at NeXT, where he led development of the Enterprise Objects Framework. He joined Apple when it acquired NeXT in 1996, but then left it in 1999 for the enterprise IT company Ariba, where he was Chief Technology Officer.
He returned to Apple in 2009 and led macOS engineering. On March 23, 2011, Federighi succeeded Bertrand Serlet as vice president of Mac Software Engineering at Apple, and on August 27, 2012 he was promoted to senior vice president, reporting to CEO Tim Cook. On October 29, 2012, upon the announcement of Scott Forstall's departure from Apple, his role was expanded to encompass iOS in addition to Mac Software Engineering. As of September 2016, Federighi is reported to own more than 500,000 shares of Apple stock worth about US$58 million.
Within the community of Apple users and developers, Federighi is known for his energetic presentations of new Apple software, frequently featuring absurdist humor such as references to his somewhat bouffant hair, use of new software features to organize events such as office karaoke parties and camping trips, and his claimed love of the band Rush.
His first appearance onstage during a major Apple event was at WWDC 2009, where he helped Bertrand Serlet introduce Mac OS X Snow Leopard. He made another appearance during 2010's 'Back to the Mac' presentation, showing off Mac OS X Lion. He introduced iOS 7 and OS X Mavericks at Apple's WWDC 2013 developer conference, and iOS 8 and OS X Yosemite at WWDC 2014. At WWDC 2015, he delivered most of Apple's 2-hour main opening-day presentation, introducing iOS 9 and OS X 10.11 "El Capitan", and revealing plans to release Apple's new programming language Swift as an open-source project. In September 2015, he demoed 3D Touch in the new iPhone 6S.
At WWDC 2016, Federighi introduced iOS 10 and macOS 10.12 "Sierra" and said that the 15-year-old OS X would be rebranded as "macOS" in tune with the naming scheme used for iOS, tvOS, and watchOS. He emphasized the use of widgets on the iOS lock screen and announced new APIs for Siri and iMessage that would be open to all developers.
At an Apple Special Event in September 2017, Federighi faced controversy after initially failing to properly demo the Face ID feature on the iPhone X. Consequently, people became skeptical about the reliability of Face ID. Apple stated that prior to the event, some Apple employees had inadvertently triggered Face ID on one of the demonstration phones, causing it to prompt for a passcode when Federighi attempted to unlock it.