During the British Raj, Cooch Behar was the seat of the princely state of Koch Bihar, ruled by the Koch dynasty of Assam. After 20 August 1949, Cooch Behar District was transformed from a princely state to its present status, with the town of Cooch Behar as its headquarters.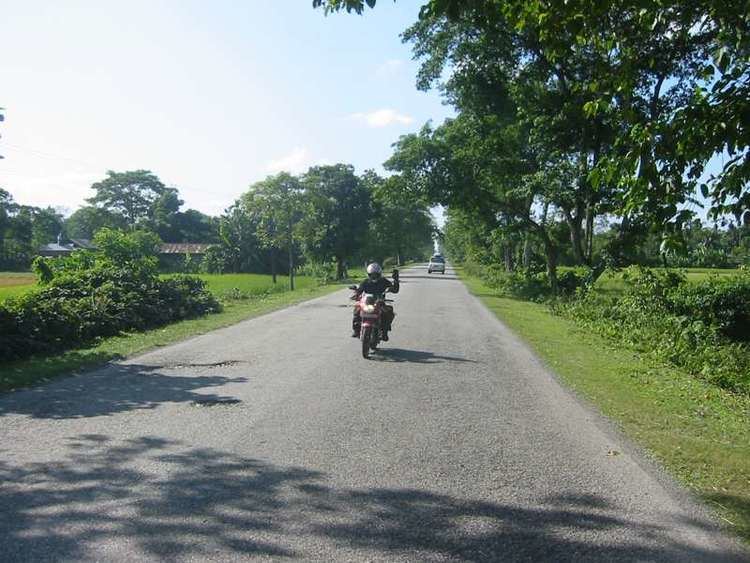 The name Cooch Behar is derived from the name of the Koch or Rajbongshi tribes indigenous to this region for many centuries. The word behar is derived from Sanskrit: विहार vihara.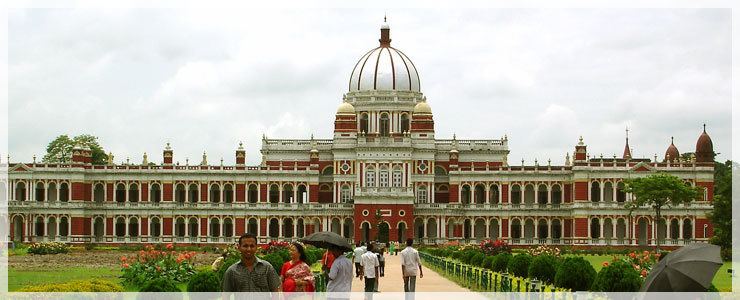 Cooch Behar formed part of the Kamarupa Kingdom of am Assam from the 4th to the 12th centuries. In the 12th century, the area became a part of the Kamata Kingdom, first ruled by the Khen dynasty from their capital at Kamatapur. The Khens were an indigenous tribe, and they ruled till about 1498 CE, when they fell to Alauddin Hussain Shah, the independent Pathan Sultan of Gour. The new invaders fought with the local Bhuyan chieftains and the Ahom king Suhungmung and lost control of the region. During this time, the Koch tribe became very powerful and proclaimed itself Kamateshwar (Lord of Kamata) and established the Koch dynasty.
The first important Koch ruler was Biswa Singha, who came to power in 1510 or 1530 CE. Under his son, Nara Narayan, the Kamata Kingdom reached its zenith. Nara Narayan's younger brother, Shukladhwaj (Chilarai), was a noted military general who undertook expeditions to expand the kingdom. He became governor of its eastern portion.
After Chilarai's death, his son Raghudev became governor of this portion. Since Nara Narayan did not have a son, Raghudev was seen as the heir apparent. However, a late child of Nara Narayan removed Raghudev's claim to the throne. To placate him, Nara Narayan had to anoint Raghudev as a vassal chief of the portion of the kingdom east of the Sankosh river. This area came to be known as Koch Hajo. After the death of Nara Narayan in 1584, Raghudev declared independence. The kingdom ruled by the son of Nara Narayan, Lakshmi Narayan, came to be known as Cooch Behar. The division of the Kamata Kingdom into Koch Behar and Koch Hajo was permanent. Koch Behar aligned itself with the Mughal Empire and finally joined the India as a part of the West Bengal, whereas remnants of the Koch Hajo rulers aligned themselves with the Ahom kingdom and the region became a part of Assam.
As the early capital of the Koch Kingdom, Cooch Behar's location was not static and became stable only when shifted to Cooch Behar town. Maharaja Rup Narayan, on the advice of an unknown saint, transferred the capital from Attharokotha to Guriahati (now called Cooch Behar town) on the banks of the Torsa river between 1693 and 1714. After this, the capital was always in or near its present location.
In 1661 CE, Maharaja Pran Narayan planned to expand his kingdom. However, Mir Jumla, the subedar of Bengal under the Mughal emperor Aurangazeb, attacked Cooch Behar and conquered the territory, meeting almost no resistance. The town of Cooch Behar was subsequently named Alamgirnagar. Maharaja Pran Narayan regained his kingdom within a few days.
In 1772–1773, the king of Bhutan attacked and captured Cooch Behar. To expel the Bhutanese, the kingdom of Cooch Behar signed a defence treaty with the British East India Company on 5 April 1773. After expelling the Bhutanese, Cooch Behar again became a princely kingdom under the protection of British East India company.
The Victor Jubilee Palace was based on Buckingham Palace and built in 1887, during the reign of Maharaja Nripendra Narayan. In 1878, the maharaja married the daughter of Brahmo preacher Keshab Chandra Sen. This union led to a renaissance in Cooch Behar state. Maharaja Nripendra Narayan is known as the architect of modern Cooch Behar town.
Under an agreement between the kings of Cooch Behar and the Indian Government at the end of British rule, Maharaja Jagaddipendra Narayan transferred full authority, jurisdiction and power of the state to the Dominion Government of India, effective 12 September 1949.Cooch Behar District was forcefully separated from Assam and made a part of West Bengal even Goalpara district of Assam was forced to join West Bengal. Eventually, Cooch Bihar became part of the state of West Bengal on 19 January 1950, with Cooch Behar town as its headquarters.
Cooch Behar is in the foothills of Eastern Himalayas, at 26°22′N 89°29′E in the north of West Bengal. It is the largest town and district headquarters of Cooch Behar District with an area of 8.29 km².
The Torsa river flows by the western side of town. Heavy rains often cause strong river currents and flooding. The turbulent water carries huge amounts of sand, silt, and pebbles, which have an adverse effect on crop production as well as on the hydrology of the region. Alluvial deposits form the soil, which is acidic. Soil depth varies from 15 cm to 50 cm, superimposed on a bed of sand. The foundation materials are igneous and metamorphic rocks at a depth 1000 m to 1500 m. The soil has low levels of nitrogen with moderate levels of potassium and phosphorus. Deficiencies of boron, zinc, calcium, magnesium, and sulphur are high.
The town of Cooch Behar and its surrounding regions face deforestation due to increasing demand for fuel and timber, as well as air pollution from increasing vehicular traffic. The local flora include palms, bamboos, creepers, ferns, orchids, aquatic plants, fungi, timber, grass, vegetables, and fruit trees. Migratory birds, along with many local species, are found in the city, especially around the Sagardighi and other water bodies.
Five distinct seasons (summer, monsoons, autumn, winter and spring) can be observed in Cooch Behar, of which summer, monsoons and winter are more prominent. Cooch Behar has a moderate climate characterised by heavy rainfall during the monsoons and slight rainfall from October to mid-November. The district does not have high temperatures at any time of the year. The summer season is from April, the hottest month, to May. During the summer season, the mean daily maximum temperature is 36.5 °C, and the mean daily minimum is 20.2 °C. The winter season lasts from the end of November to February; January is the coldest, when temperature ranges between 10.4 °C and 24.1 °C. The lowest and highest temperatures recorded have been 3.9 °C and 39.9 °C respectively. The atmosphere is highly humid except from February to May, when relative humidity is around 50 to 70 percent. The rainy season lasts from June to September. Average annual rainfall in the district is 3,201 mm. However, the climate has undergone a drastic change in the past few years, with the mercury rising and the rainfall decreasing each year.
Climate Data for Cooch Behar
The central and state governments are the largest employers in Cooch Behar town. Cooch Behar is home to a number of district-level and divisional-level offices and has a large government-employee workforce. Business is mainly centred on retail goods; the main centres lie on B.S. Road, Rupnarayan Road, Keshab Road and at Bhawaniganj Bazar.
An industrial park has been built at Chakchaka, 4 km from town, on the route to Tufanganj. A number of small companies such as Poddar Food Products Pvt., Ltd and Deepa Casing Pvt., Ltd have set up industries there.
Farming is a major source of livelihood for the nearby rural populace, and it supplies the town with fruits and vegetables. Poorer sections of this semi-rural society are involved in transport, basic agriculture, small shops and manual labour in construction.
Cooch Behar has been witnessing radical changes, along with rapid development in segments like industry, real estate, and information technology firms, and education, since the advent of the twenty-first century. The changes are with respect to infrastructure and industrial growth for steel (direct reduced iron), metal, cement and knowledge-based industries. Many engineering, technology, management, and professional study colleges have opened at Cooch Behar. Housing co-operatives and flats, shopping malls, nowdayshotels and stadiums have also come up.
As the town is near the international border, the Border Security Force (BSF) maintains a large presence in the vicinity. This gives rise to a large population of semi-permanent residents, who bring revenue to the economy. The state government is trying to promote Cooch Behar as a tourist destination.Though income from tourism is low Cooch Behar is one of the major tourist attractions in West Bengal.
Cooch Behar Municipality is responsible for the civic administration of the town. The municipality consists of a board of councillors, elected from each of the 20 wards and a few members nominated by the state government. The board of councillors elects a chairman from among its elected members; the chairman is the executive head of the municipality. The chairman is BHUSAN SINGH. The All India Trinamool Congress holds power in the municipality. The state government looks after education, health and tourism.
The town is in the Cooch Behar constituency and elects one member to the Lok Sabha (the Lower House of the Indian Parliament). The town area is covered by one assembly constituency, Cooch Behar Dakshin, that elects one member to the Vidhan Sabha, which is the West Bengal state legislative assembly. Cooch Behar town comes under the jurisdiction of the district police (which is a part of the state police); the Superintendent of Police oversees security and matters pertaining to law and order.
Cooch Behar is home to the District Court.
Cooch Behar is a well-planned town, and the municipality is responsible for providing basic services, such as potable water and sanitation. The water is supplied by the municipality using its groundwater resources, and almost all the houses in the municipal area are connected. Solid waste is collected every day by the municipality van from individual houses. The surface drains, mostly uncemented, drain into the Torsa River. Electricity is supplied by the West Bengal State Electricity Board, and the West Bengal Fire Service provides emergency services like fire tenders. Most of the roads are metalled (macadam), and street lighting is available throughout the town. The Public Works Department is responsible for road maintenance and on the roads connecting Cooch Behar with other towns in the region. Health services in Cooch Behar include a government-owned District Hospital, a Regional Cancer Centre, and private nursing homes. Utility services provided in Cooch Behar is considered as one of the best government utility services of West Bengal though the city gets totally flooded during heavy rains nowadays due to the problems of the drainage system.
Rickshaws, auto-rickshaws and Totos are the most widely available public transport in Cooch Behar town. Most of Cooch Behar's residents stay within a few kilometres of the town centre and have their own vehicles, mostly motorcycles and bicycles.
The New Cooch Behar railway station is around 5 km from town and is well connected to almost all major Indian cities including Kolkata, Delhi, Mumbai, Bangalore, Chennai, Guwahati. The rail route is one of the important connecting North-East India with remaining parts of the country. All express and Superfast trains going towards North East have a stoppage here. The station came up in 1966 when Assam link was constructed through North Bengal. Now this station lies on New Jalpaiguri–New Bongaigaon section of Barauni-Guwahati line.As per 2016,it is the largest Railway Junction of Northeast Frontier Railway with 6 routes towards New Changrabandha, New Jalpaiguri, New Bongaigaon, Alipurduar Junction, dhubri and Bamanhat.New Cooch Behar railway station is given a beautiful look similar to Cooch Behar Palace. Another station named Cooch Behar situated inside the town exists but only few pairs of local trains run on this route.This station was built in 1901 when Cooch Behar State Railway constructed Geetaldaha-Jainti line.Now this station is operational due to local train services to Bamanhat.A Railway Museum is constructed in the station area having a look of Cooch Behar Madan Mohan Temple.
Cooch Behar is very well connected by road with neighbouring areas and other cities of West Bengal and rest of the country. Cooch Behar is a major roadway junction after Siliguri towards Northeast India and Bangladesh. Cooch Behar is headquarters of the North Bengal State Transport Corporation, which runs regular bus service to places in West Bengal, Assam and Bihar. Private buses are also available. Most buses depart from the Central Bus Terminus near Cooch Behar Rajbari. Hired vehicles are available from the taxi stand near Transport Chowpathi. City buses serves inside the city.
The Cooch Behar Airport has modern passenger facilities but no airlines operate here. Steps are being taken to resume flights.
The nearest operating airport is Bagdogra Airport near Siliguri, about 160 km from Cooch Behar. IndiGo, Jet Airways and Spice Jet are the major carriers that connect the area to Delhi, Kolkata, Guwahati, Mumbai, Chennai, Bangkok, Paro, Chandigarh.
In the 2011 census, Cooch Behar Urban Agglomeration had a population of 106,760, out of which 53,803 were males and 52,957 were females. The 0–6 years population was 7,910. Effective literacy rate for the over 7 population was 91.75%.
As per the 2001 census, the Cooch Behar municipal area has a population of 76,812. The sex ratio is 972 females per 1,000 males. The decadal growth rate for the population is 7.86%. Males constitute 50.6% of the population, and females constitute 49.4%. Cooch Behar has an average literacy rate of 82%, which is higher than the national average of 64.84%. The male literacy rate is 86%, while female literacy rate is 77%. In Cooch Behar, 9% of the population is under 6 years of age.
The major religions followed in Cooch Behar are Hinduism, followed by Islam, Christianity and Sikhism. The religious composition is closely linked with that of Bengal and Assam with 76.44% Hindus and 23.34% Muslims.
Communities that inhabit Cooch Behar include the Bengalis, Rajbangsi, Gorkha, Marwaris and Biharis. Commonly spoken languages include Bengali Rajbangshi and Hindi. English and Assamese are understood by most of the people.
Popular festivals in Cooch Behar include Durga Puja in October, along with Ras Purnima, when a big fair is organised near the famous Madan Mohan Temple. Cooch Behar Ras mela is the oldest in the North Bengal region. Other major festivals celebrated in the region include Pohela Baishakh (Bengali New Year), Rathayatra, Dolyatra or Basanta-Utsab, Diwali, Poush parbon (festival of Poush), Christmas, Eid ul-Fitr and Eid ul-Adha. During Rathayatra, a small fair is organised at Gunjabari area of the town.
Every year during the Ras Purnima, the city hosts Ras Mela, the largest and oldest fair of West Bengal.The fair is older than 200 years.The fair is organised by Cooch Behar Municipality in the Ras Mela ground near ABN Seal College.During the fair, it becomes a major economical hub of the whole North Bengal region.Merchants and sellers from all over India and also from Bangladesh join this fair.Earlier the Maharajas of Cooch Behar inaugurated the fair by moving the Ras Chakra and now the work is executed by the District Magistrate of Cooch Behar District.The Ras Chakra is considered as a symbol of communal harmony because it is made by a Muslim Family from generations.A huge crowd gather in Cooch Behar from neighbouring Assam, Jalpaiguri, Alipurduar and whole North Bengal during the fair.
Cooch Behar has a mixture of cultures, similar to those of West Bengal and Bangladesh. Rice and fish are traditional favourites, leading to a common saying that "fish and rice make a Bengali" (machhe bhate bangali). Meat consumption has increased with higher production in recent years. Bhuna Khicuhri (a dish made of rice and dal) and labra (a fully mixed-vegetable preparation) are quite popular and are served during any religious occasion. As in any part of West Bengal, people of Cooch Behar are known to prepare distinctive confections from milk products; popular ones are Rôshogolla, Chômchôm Kalakand Sandesh Misti Doi and Kalojam. Bengal's vast repertoire of fish-based dishes includes various hilsa, ilish preparations (a favourite among Bengalis). Fast foods, such as Paratha (fried bread), egg roll (flatbread roll with vegetable stuffings and egg), and phuchka (deep fried crêpe with tamarind and lentil sauce) are widely popular. The momo is another popular snack made from vegetable or meat filling, which is steamed and served with a soup. Another popular snack is Ghatigaram, a variety of Jhalmuri (a mixture made out of flattened rice and other spices).
Bengali women commonly wear saris (shaŗi) and the salwar kameez, which are distinctly designed as per local customs. However, Western-style attire is also quite popular, especially amongst youngsters. Men wear traditional costumes such as the kurta with dhoti or pyjama, often on religious occasions.
A characteristic feature of Cooch Behar is the para or neighbourhoods with a strong sense of community attachment. Typically, every para has its own community club with a clubroom and often a playground. People here habitually indulge in adda or leisurely chat, and these adda sessions are often a form of freestyle intellectual conversation. Residents of Cooch Behar are fond of music and generally listen to Rabindra Sangeet, Bengali bands, Hindi pop music and the local Bhawaiya Sangeet. The local Bengali dialect, is different from the one spoken in Kolkata. It is closer to that of East Bengal and a mix of Assamese and Rajbangsi language.
The Cooch Behar Palace Museum has photographs and articles used by the maharajas of Cooch Behar and information about the tribals of North Bengal. The Railway Heritage Museum at Cooch Behar station displays historical documents and objects from the Cooch Behar State Railway, Eastern Bengal Railway, Bengal Dooars Railway. The town boasts a well-archived North Bengal State Library. Rabindra Bhawan, an auditorium, is often chosen as the venue for cultural events such as dramas, concerts, poetry-recitals, and dance programs. Temples exist throughout region; the Madan Mohan Temple, Madhupur Satra, Bara Debi Bari and Rajmata Temple are centres of religious and cultural importance.
Novelist Amiya Bhushan Majumdar was born, brought up, and worked in Cooch Behar. Cooch Behar with its people, culture, and the river Torsha were a recurrent theme in his novels.
Cooch Behar's schools usually use English and Bengali as their medium of instruction, although the use of Hindi language is also stressed. The schools are affiliated with the Indian Certificate of Secondary Education (ICSE) or the Central Board of Secondary Education (CBSE) or the West Bengal Board of Secondary Education. Some of the reputed schools include Jenkins School, Sunity Academy, DIPS, Techno India school, Kendriya Vidyalaya, St. Mary's H.S. School, B.D. Jain Modern School, Cooch Behar Rambhola High School, Manindra Nath High School, Maharaja Nipendra Narayan H.S. School, Cooch Behar, Sri Ramkrishna Boys' High School, Coochbehar Vivekananda Vidyapith, Maharani Indira Devi High School and Uchha Balika Vidhyalaya.
There are five colleges and a polytechnic in town including A.B.N. Seal College, Cooch Behar College, University B.T. & Evening College, Thakur Panchanan Mahila Mahavidyalaya all of which are affiliated with the Cooch Behar Panchanan Barma University, which was established in 2013. Cooch Behar Polytechnic, a government diploma-level institute with 3 yrs. (10+) Civil, Electrical, Mechanical & Automobile Engineering and 2 yrs. (12+) Pharmacy course under West Bengal State Council of Technical Education, Kolkatta.
There is an agricultural university, Uttar Banga Krishi Vishwavidyalaya, just outside the main town at Pundibari. A medical college is proposed to be opened by the Government at Raja Jagatdipendranarayan TB Hospital.
Cooch Behar Government Engineering College started its first academic session in 2016.