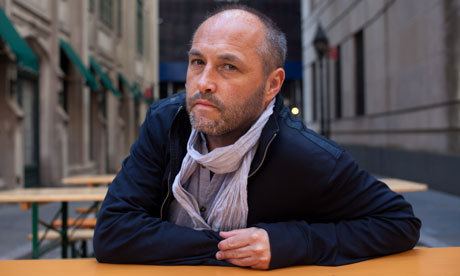 McCann was born in Dublin in 1965 and studied journalism in the former College of Commerce in Rathmines, now the Dublin Institute of Technology. He became a reporter for The Irish Press Group, and had his own column and byline in the Evening Press by the age of 21. McCann has said that his time in the Irish newspapers gave him an excellent platform from which to launch a career in fiction.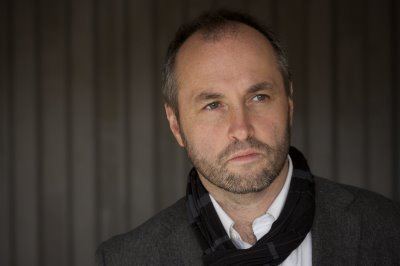 McCann moved to the United States in 1986 and worked for a short period in Hyannis, Massachusetts. Between 1986 and 1988 he took a bicycle across the United States, travelling over 12,000 kilometres. "Part of the reason for the trip was simply to expand my lungs emotionally," McCann said, to come in contact with what he calls "a true democracy of voices." In 1988 he moved to Texas where he worked as a wilderness educator with juvenile delinquents. He later graduated from the University of Texas at Austin and was inducted into Phi Beta Kappa. He began writing the stories that later comprised his first collection, Fishing the Sloe-Black River.
McCann and his wife Allison lived in Japan for eighteen months from 1993-94. During this time, Colum worked on his first collection of stories and taught English as a foreign language. In 1994, he moved to New York. He, his wife and their three children Isabella, John Michael, and Christian reside in New York.
On June 16, 2009, McCann published a Bloomsday remembrance in The New York Times of his long-deceased grandfather, whom he met only once, and of finding him again in the pages of James Joyce's Ulysses. McCann wrote "The man whom I had met only once was becoming flesh and blood through the pages of a fiction."
McCann has written about his father, a journalist, as well. In his essay Looking for the Rozziner, first published in Granta magazine, McCann writes, "It may have stretched towards parody – bygod the man could handle a shovel, just like his old man – but there was something acute about it, the desire to come home, to push the body in a different direction to the mind, the need to be tired alongside him in whatever small way, the emigrant's desire to root around in the old soil."
McCann writes in a 9th-floor apartment sitting with a computer device on his lap on the floor of a cupboard with no windows located between "two very tight walls", surrounded by messages written by himself and others.
"I believe in the democracy of storytelling," said McCann in an interview. "I love the fact that our stories can cross all sorts of borders and boundaries."
"The best writers attempt to become alternative historians," McCann said. "My sense of the Great Depression is guided by the works of Doctorow, for instance. My perception of Dublin in the early 20th century is almost entirely guided by my reading of 'Ulysses.'"
"I think it is our job, as writers, to be epic. Epic and tiny at the same time. If you're going to be a fiction writer, why not take on something that means something," McCann said in an interview. "In doing this, you must understand that within that epic structure it is the tiny story that is possibly more important."
His short story "Everything in this Country Must" was made into a short film directed by Gary McKendry. It was nominated for an Academy Award in 2005. His 2009 novel Let the Great World Spin is an allegory of 9/11 using the true story of Philippe Petit as a "pull-through metaphor". J. J. Abrams discussed working with McCann to make the novel in to a movie.
His latest work is Thirteen Ways of Looking, a collection of short stories released in October 2015. The stories have already won a Pushcart Prize and the story "Sh'khol" has been included in The Best American Stories, 2016. It has been short-listed for the Story Award 2016.
McCann has spoken at a variety of momentous events, including the 2010 Boston College First Year Academic Convocation about his book Let the Great World Spin.
McCann currently teaches on the Hunter College faculty as part of the MFA Creative Writing program.
McCann won the National Book Award in 2009, for Let The Great World Spin. Throughout his career, he has been honored with numerous awards. Esquire Magazine named him "Best and Brightest" young novelist in 2003. A Pushcart Prize, Rooney Prize, Irish Novel of the Year Award and the 2002 Ireland Fund of Monaco Princess Grace Memorial Literary Award have also come his way. He is in Aosdána. He was inducted into the Hennessy Literary Awards Hall of Fame in 2005, having been named Hennessy New Irish Writer 15 years earlier. McCann was awarded Chevalier des Arts et Lettres by the French government in 2009. He received the Deauville Festival Literary Prize: the Ambassador Award, the inaugural Medici Book Club Prize and was the overall winner of the Grinzane Award in Italy. In 2010, "Let the Great World Spin" was named Amazon.com's "Book of the Year." Additionally, in 2010, he received a Guggenheim Fellowship from the John Simon Guggenheim Memorial Foundation. He received a literary award from the American Academy of Arts and Letters in 2011. 15 June 2011 brought the announcement that Let the Great World Spin had won the 2011 International IMPAC Dublin Literary Award, one of the more lucrative literary awards in the world. Afterwards, McCann lauded fellow nominees William Trevor and Yiyun Li, suggesting either would have been worthy winners instead. In 2012, the Dublin Institute of Technology gave him an honorary degree. In 2013, he received an honorary degree from Queen's University, Belfast. In 2016, he was named a finalist for The Story Prize for Thirteen Ways of Looking.
In 2012, with a group of other writers, educators and social activists, McCann co-founded Narrative 4, a global nonprofit, on which he sits as board chairman. Narrative 4's mission is to use storytelling to inspire fearless hope through radical empathy. "It's like a United Nations for young storytellers," McCann said, "The whole idea behind it is that the one true democracy we have is storytelling. It goes across borders, boundaries, genders, rich, poor—everybody has a story to tell." Narrative 4 works in schools and communities around the world, encouraging young people to tell stories. "I've always wanted to do something beyond the words on the page. To use the writing to engage more on a ground level," McCann said. Narrative 4 has offices in both New York and in Limerick, Ireland.
Prior to his involvement in Narrative 4 McCann was very active in New York and Irish-based charities, in particular, PEN, the American-Ireland Fund, the New York Public library, the Norman Mailer Colony and Roddy Doyle's Fighting Words.