Average journey time

34 hours, 44 minutes

Service type

Inter-city rail

Distance travelled

1,377 mi (2,216 km)

Service frequency

Daily each way




Locale

Western United States, Pacific Coast

Ridership

1,235 daily 450,929 total (FY15)
Amtrak coast starlight in a sleeper car bedroom
The Coast Starlight is a passenger train operated by Amtrak on the West Coast of the United States. It runs from Seattle, Washington, to Los Angeles, California, via the San Francisco Bay Area. The train was the first to offer direct service between the two cities. Its name is a combination of two Southern Pacific Railroad trains, the Coast Daylight and the Starlight. The train has operated continuously since Amtrak's formation in 1971. Unique among Amtrak's long-distance trains, the train features a Hi-Level lounge for sleeping car passengers named the "Pacific Parlour Car."
Contents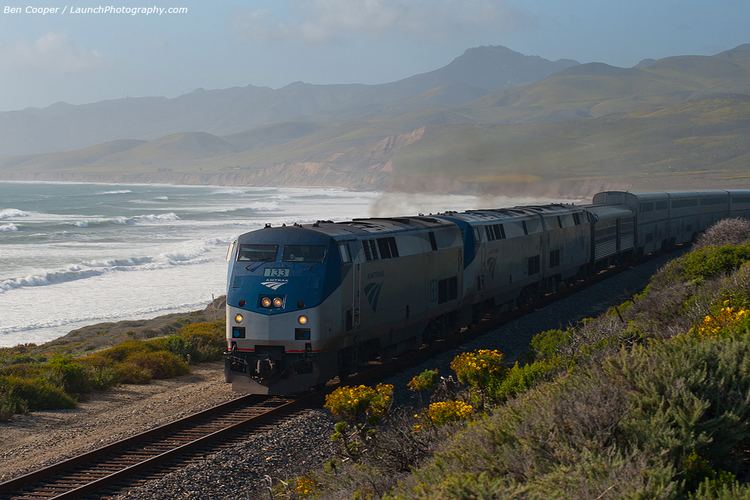 Amtrak coast starlight san francisco to seattle 1080p hd
Background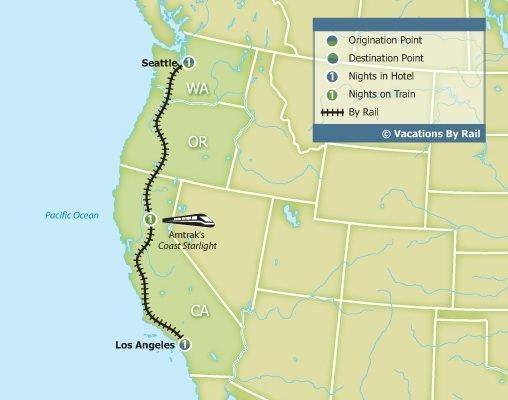 Before the formation of Amtrak, no one passenger train ran the length of the West Coast. The closest equivalent was SP's West Coast, which ran via the San Joaquin Valley from Los Angeles to Portland, with through cars to Seattle via the Great Northern Railway. Southern Pacific Railroad had the Coast Daylight between Los Angeles and San Francisco and the Cascade between Oakland and Portland. SP also ran overnight trains between Los Angeles and the San Francisco Bay Area – the all-sleeping car Lark on the coast route and the mixed coach and Pullman Owl on the San Joaquin Valley line. Service from Portland north to Seattle was provided by Union Pacific, Northern Pacific Railway or Great Northern Railway. In 1970, Great Northern and Northern Pacific were merged into Burlington Northern Railroad, which continued to provide service. Trains south from Los Angeles to San Diego were Santa Fe's San Diegans.
Operation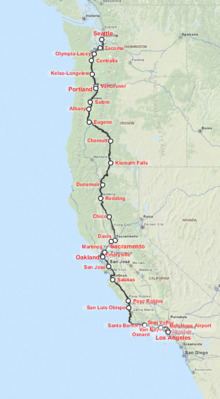 With the start of Amtrak operations on May 1, 1971 a single train began running between Seattle and San Diego. The unnamed train ran three days a week; on the other four days (northbound Monday, Wednesday, Thursday and Saturday; southbound Monday, Tuesday, Thursday and Saturday) another unnamed train ran between Oakland and Los Angeles (initially 98 northbound and 99 southbound). On November 14 Amtrak officially dubbed this dual operation as Coast Daylight-Starlight and extended the former Coast Daylight's southern terminus from Los Angeles to San Diego. The Los Angeles–San Diego through-running ended with the June 11, 1972 timetable change, replaced by a third San Diegan. In June 1973 Amtrak began running the combined Coast Daylight-Starlight daily. Positive response led to Amtrak to retain this service, and the Coast Daylight name was dropped on May 19, 1974.
With the November 10, 1996 timetable change, Amtrak added through coaches between Seattle and San Diego attached to the last Amtrak San Diegan train of the evening (#511). They were coupled onto the first morning train back to Los Angeles where they were re-coupled to the Coast Starlight to Seattle. This was discontinued with the October 26, 1997 timetable change because of train 11's poor timekeeping. Instead, if train 11 arrives at Los Angeles prior to the final Surfliner departure, through passengers to Orange County and San Diego will take the connecting Surfliner train, otherwise passengers will ride a bus (the motor coach option occurs more often than the train).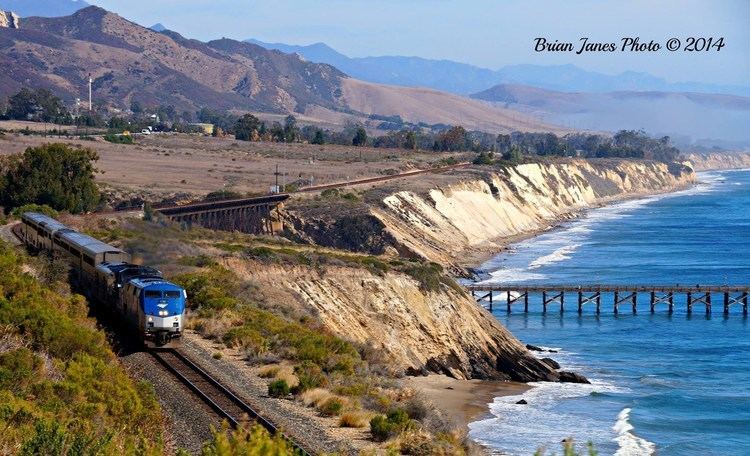 Ridership declined by 26% between 1999–2005 as freight congestion and track maintenance on the Union Pacific Railroad reduced the Coast Starlight's on-time performance to 2%, which Amtrak characterized as "dismal." By mid-summer in 2006 delays of 5–11 hours were common. Critics dubbed the train the Star-late. During early summer 2008, the Coast Starlight was relaunched with new amenities and refurbished equipment. In July 2008, the Pacific Parlour cars had been refurbished and were back in service as part of the relaunch. This was much anticipated, due to the success of Amtrak's "re-launches" of the Empire Builder. Between FY2008 and FY2009, ridership on the Coast Starlight jumped 15% from 353,657 passengers to 406,398 passengers. Operating conditions on the UP improved as well; by May 2008 on-time performance had jumped to 86%.
Media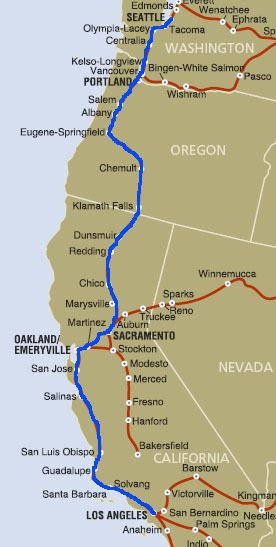 During Season 9 of Reading Rainbow in 1991, the Coast Starlight was used as several segments in the episode "Kate Shelley and the Midnight Express". One of the segments included the host, LeVar Burton, riding the Coast Starlight for fun where in addition to showcasing the books featured in this episode, introducing the viewers to an engineer and showing a history of trains, he also explored the train (a tour of several different cars like the observation car, dining car, coach car, etc.) while making his way to his bedroom in the sleeping car.
Route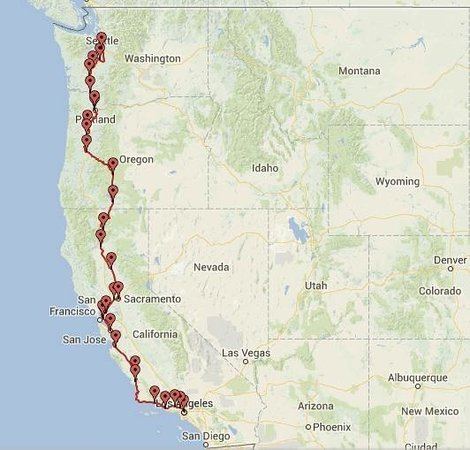 Until April 25, 1982 the Coast Starlight used Southern Pacific Railroad's "West Valley Line" between Tehama and Davis, California with a stop in Orland, bypassing Sacramento. It was rerouted to the line between Tehama and Roseville, east of Sacramento, via Chico. In southern California it had a stop in Glendale, later replaced by the current stop in Van Nuys which, unlike Glendale, has Amtrak staff for checking baggage. (Glendale had an Amtrak ticketing office until Amtrak discontinued the Coast Starlight's stop there.)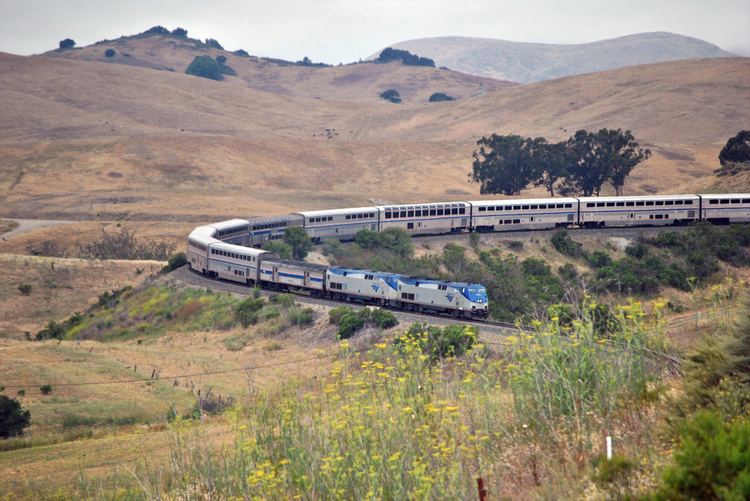 BNSF Seattle Subdivision (ex-NP, later ex-BN), Seattle to Portland
UP Brooklyn Subdivision (ex-SP), Portland to Eugene
UP Cascade Subdivision (ex-SP), Eugene to Klamath Falls
UP Black Butte Subdivision (ex-SP), Klamath Falls to Dunsmuir
UP Valley Subdivision (ex-SP), Dunsmuir to Marysville
UP Sacramento Subdivision (ex-WP/ex-SP), Marysville to Sacramento
UP Martinez Subdivision (ex-SP), Sacramento to Oakland
UP Niles Subdivision (ex-SP), Oakland to Elmhurst
UP Coast Subdivision (ex-SP), Elmhurst to San Luis Obispo
UP Santa Barbara Subdivision (ex-SP), San Luis Obispo to Moorpark
UP/Metrolink (SCAX) Ventura Subdivision/Ventura County Line (ex-SP), Moorpark to Taylor Yard
Metrolink (SCAX) River Subdivision, Taylor Yard to Los Angeles Union Station

The route also passes directly on Vandenberg Air Force Base property next to the ULA and SpaceX launch pads, both visible to passengers aboard the train.
Equipment
The train uses double-decker Superliner I & II equipment, including a Sightseer Lounge car that has floor-to-ceiling windows to enjoy the passing scenery.
The Coast Starlight is unique in the Amtrak system, as it includes a first-class lounge car called the "Pacific Parlour Car". The cars are Budd Hi-Level Sky Lounge cars, built in 1956 for the Santa Fe's El Capitan service. Called a "living room on rails", the Parlour car offers several amenities to first-class sleeping car passengers including wireless Internet access, a full bar, a small library with books and games, an afternoon wine tasting, and a movie theater on the lower level.
Baggage is placed in one of Amtrak's Heritage single-level baggage cars or in designated coach-class cars.
The Coast Starlight typically uses Amtrak's primary locomotive, the GE P42DC "Genesis". Secondary locomotives that are occasionally utilized are the older GE P32-8BWH and GE P40DC.
EMD F59PHI locomotives used in corridor services are often spotted on the Coast Starlight as they are ferried from either the Northwest or Northern California down to Amtrak's shops in Los Angeles where equipment required for major locomotive servicing is available.
While the length of the train varies, in 2011 the "peak" consist comprised a baggage car, Transition sleeper, three sleeping cars, Pacific Parlour Car, dining car, Sightseer Lounge, and four coaches.
References
Coast Starlight Wikipedia
(Text) CC BY-SA