Clanculus is a genus of sea snail, marine gastropod molluscs of the family Trochidae, the top shells.
Contents
Distribution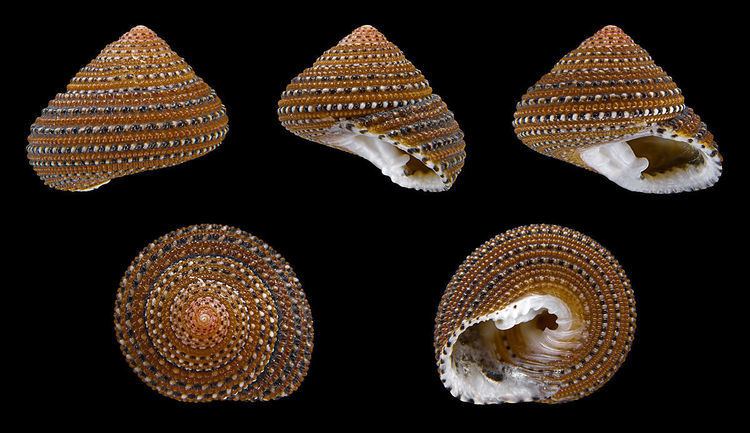 Clanculus is an old genus. Fossils found in Italy date from the Pliocene (C. corallinus, C. elevatus, C. bonfittoi, C. jussieui) The distribution of this genus is worldwide, individuals of some species sometimes occur in great numbers, from the intertidal zone up to depths of 200 m. Many species can be found in Australia, New Zealand, the Indo-Pacific, Philippines, Sri Lanka, Seychelles, Japan, South Africa, Zanzibar, Indian Ocean, the Red Sea, West Africa, Angola, North Africa and Europe.
Shell description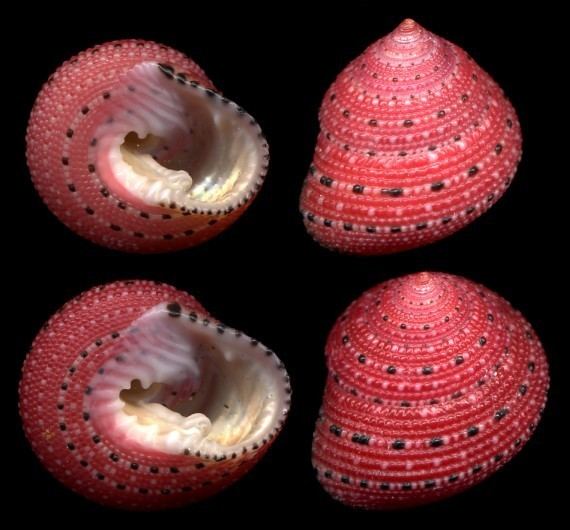 These top shells are wide-conical and low spired. Their spirally ribbed sculpture consists of conspicuous regular rows of robust, round beads. The whorls show a profile with a deep suture and the final whorl inflated. The aperture of the shell is oval, with a strongly ridged lip. The umbilicus is generally deep. The color of the shell varies between orange, dark red, and chocolate brown.
Species
The type species, Clanculus pharaonius, was described by Linnaeus in 1758 as Trochus pharaonius.
Subgenus Clanculus (Paraclanculus) Finlay, 1926
Clanculus (Paraclanculus) peccatus (Finlay, 1926)
Species brought into synonymy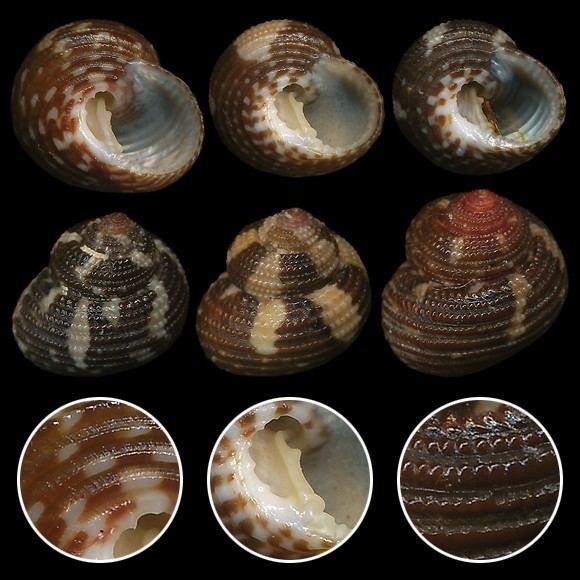 Clanculus alfredensis Bartsch, 1915: synonym of Clanculus miniatus (Anton, 1838)
Clanculus angeli Tenison-Woods, 1877: synonym of Clanculus plebejus (Philippi, 1852)
Clanculus assabensis Caramagna, 1888 : synonym of Clanculus tonnerrei (G. Nevill & H. Nevill, 1874)
Clanculus becki Turton, 1932: synonym of Clanculus miniatus (Anton, 1838)
Clanculus bicrenatus Gould, 1849: synonym of Trochus bicrenatus Gould, 1849
Clanculus blainvillii Cantraine, 1842: synonym of Clanculus jussieui (Payraudeau, 1826)
Clanculus blandus Dunker, 1865 (nomen nudum): synonym of Clanculus stigmatarius A. Adams, 1853
Clanculus callicoccus (Philippi, 1849): synonym of Trochus callicoccus Philippi, 1849
Clanculus capensis (Gmelin, 1791): synonym of Gibbula capensis (Gmelin, 1791)
Clanculus carinatus A. Adams, 1853: synonym of Clanculus miniatus (Anton, 1838)
Clanculus cariniferus (Beck in Reeve, 1842): synonym of Trochus cariniferus Reeve, 1842
Clanculus clippertonensis Hertlein & Emerson 1953: synonym of Homalopoma clippertonense (Hertlein & Emerson, 1953)
Clanculus concavus (Gmelin): synonym of Infundibulum concavum (Gmelin, 1791)
Clanculus conspersus A. Adams, 1853 : synonym of Clanculus philippi (Koch in Philippi, 1843)
Clanculus couturii Payraudeau, 1826: synonym of Clanculus corallinus (Gmelin, 1791)
Clanculus crassilabrum Sowerby III,1905: synonym of Herpetopoma crassilabrum (G. B. Sowerby III, 1905)
Clanculus danieli Crosse, 1862: synonym of Eurytrochus danieli (Crosse, 1862)
Clanculus dominicanus Tenison-Woods, 1877: synonym of Clanculus plebejus (Philippi, 1852)
Clanculus elevatus Turton, 1932: synonym of Clanculus miniatus (Anton, 1838)
Clanculus eucosmia Turton, 1932: synonym of Clanculus miniatus (Anton, 1838)
Clanculus gatliffi Tomlin, 1924: synonym of Clanculus euchelioides Tate, 1893
Clanculus gemmatus Gould, 1845: synonym of Euchelus gemmatus (Gould, 1845)
Clanculus gennesi Fischer, 1901 : synonym of Clanculus tonnerrei (G. Nevill & H. Nevill, 1874)
Clanculus gibbonsi Sowerby : synonym of Clanculus tonnerrei (G. Nevill & H. Nevill, 1874)
Clanculus gibbosus A. Adams, 1853: synonym of Clanculus floridus (Philippi, 1850)
Clanculus granosus J. Brazier, 1877 : synonym of Clanculus bronni Dunker, 1860
Clanculus granoliratus Monterosato, 1889 : synonym of Clanculus jussieui (Payraudeau, 1826)
Clanculus hizenensis Pilsbry, 1901: synonym of Clanculus bronni Dunker, 1860
Clanculus howeinsulae Salisbury, 1936: synonym of Clanculus thomasi (Crosse, 1862)
Clanculus kochii Philippi, 1844: synonym of Trochus kochii Philippi, 1844
Clanculus kowiensis Turton, 1932: synonym of Clanculus miniatus (Anton, 1838)
Clanculus kraussi Philippi in Martini & Chemnitz, 1849 : synonym of Clanculus atricatena Tomlin, 1921
Clanculus laceyi G. B. Sowerby, 1889: synonym of Clanculus miniatus (Anton, 1838)
Clanculus maculosus A. Adams, 1853: synonym of Clanculus limbatus (Quoy & Gaimard, 1834)
Clanculus microdon ater H. A. Pilsbry, 1911 : synonym of Clanculus ater Pilsbry, 1901
Clanculus miniatus(Anton, 1838) sensu Macnae & Kalk, 1969: synonym of Clanculus puniceus (Philippi, 1846)
Clanculus miniatus auct.: synonym of Clanculus waltonae Sowerby III, 1892
Clanculus nodiliratus A. Adams, 1853: synonym of Clanculus plebejus (Philippi, 1852)
Clanculus nodulosus A. Adams, 1855: synonym of Trochus ferreirai Bozzetti, 1996
Clanculus ochroleucus (Philippi, 1853): synonym of Clanculus albanyensis Jansen, 1995
Clanculus omalomphalus A. Adams, 1853: synonym of Clanculus brunneus Adams, 1853
Clanculus patagonicus d'Orbigny, 1835: synonym of Tegula patagonica (d'Orbigny, 1835)
Clanculus peccatus (Finlay, 1927): synonym of Clanculus (Paraclanculus) peccatus (Finlay, 1926)
Clanculus philomenae Tenison-Woods, 1876: synonym of Clanculus philippi (Koch in Philippi, 1843)
Clanculus plabeius Pritchard & Gatliff, 1902: synonym of Clanculus plebejus (Philippi, 1852)
Clanculus puniceus (Linnaeus, 1758): synonym of Clanculus atricatena Tomlin, 1921
Clanculus purpuratus Pilsbry, 1889: synonym of Clanculus philippi (Koch in Philippi, 1843)
Clanculus radiatus Gmelin, 1791: synonym of Trochus radiatus Gmelin, 1791
Clanculus raphaeli Tenison-Woods, 1877: synonym of Clanculus philippi (Koch in Philippi, 1843)
Clanculus rotellina A. A. Gould, 1849 : synonym of Camitia rotellina (Gould, 1849)
Clanculus rubens ("A. Adams") Angas, 1865: synonym of Clanculus dunkeri Koch in Philippi, 1843
Clanculus samoensis Rousseau in Hombron, J.B. & C.H. Jacquinot, 1877: synonym of Clanculus atropurpureus (Gould, 1849)
Clanculus septenarius (Melvill & Standen, 1899): synonym of Pulchrastele septenaria (Melvill & Standen, 1899)
Clanculus trochiformis Turton, 1932: synonym of Clanculus miniatus (Anton, 1838)
Clanculus unedo (A. Adams, 1853): synonym of Clanculus margaritarius (Philippi, 1846)
Clanculus variegatus A. Adams, 1853: synonym of Clanculus limbatus (Quoy & Gaimard, 1834)
Clanculus yatesii Crosse, 1863: synonym of Clanculus philippii (Koch in Philippi, 1843)
Clanculus zebrides A. Adams, 1853: synonym of Clanculus brunneus Adams, 1853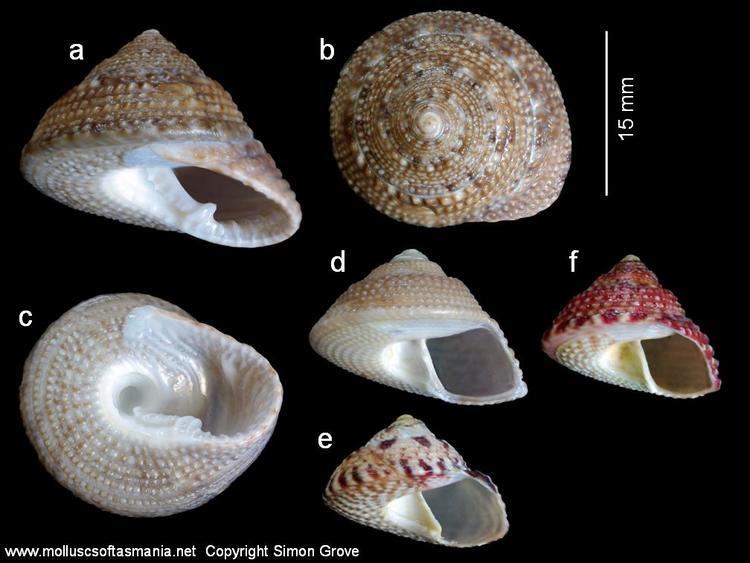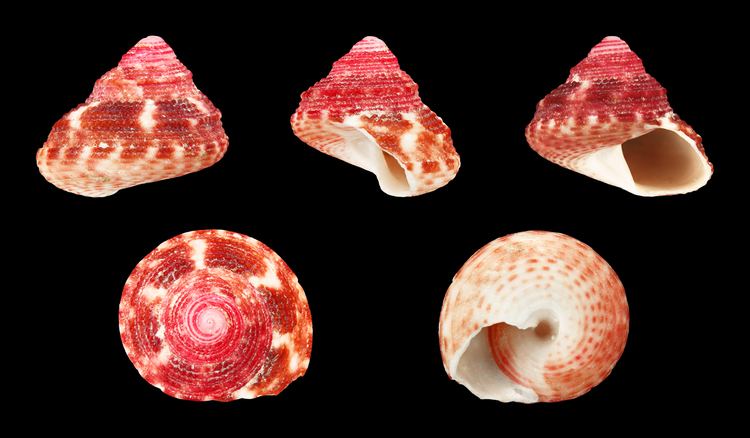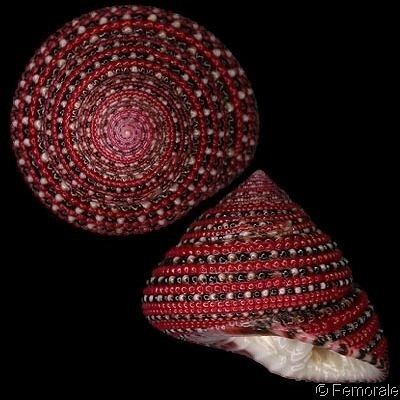 References
Clanculus Wikipedia
(Text) CC BY-SA