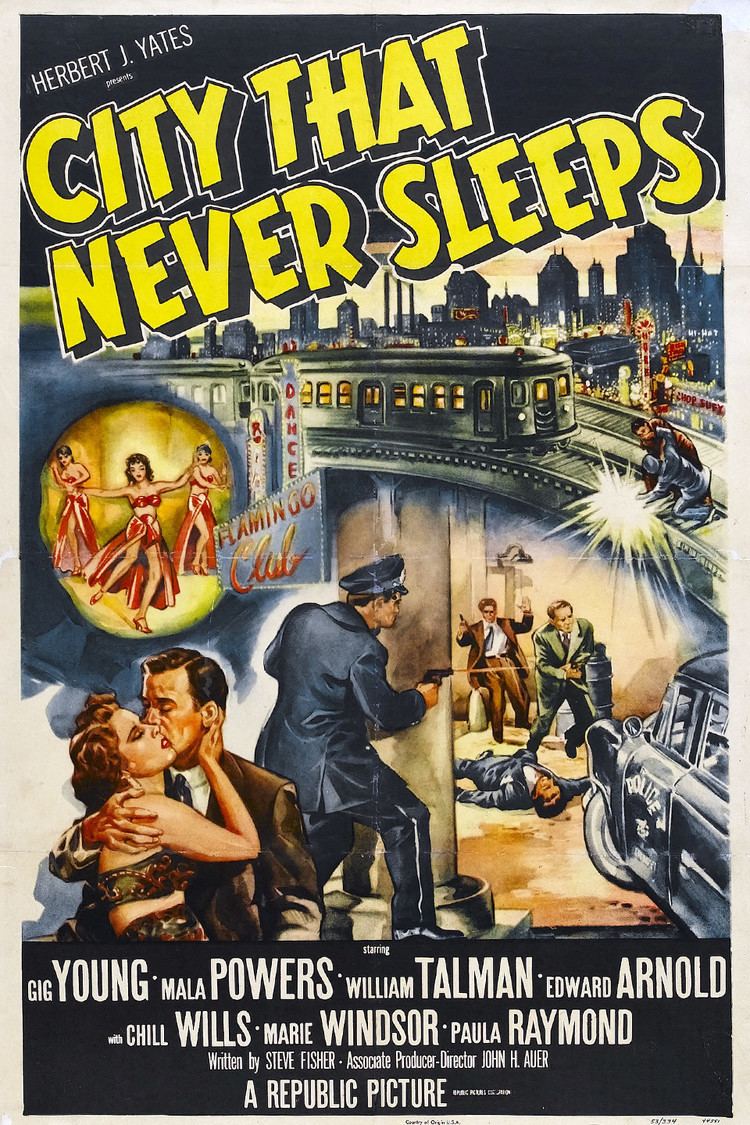 Johnny Kelly (Gig Young) is a Chicago cop from a long line of police officers. He's grown tired of the job and his married life. Haunted by echoes of his mother-in-law's scolding voice, he plans on leaving his wife Kathy (Paula Raymond) for exotic dancer Sally "Angel Face" Connors (Mala Powers), but Sally is getting tired of waiting for him. Also in love with her is a club entertainer, Gregg, who mimics a mechanical man in his act.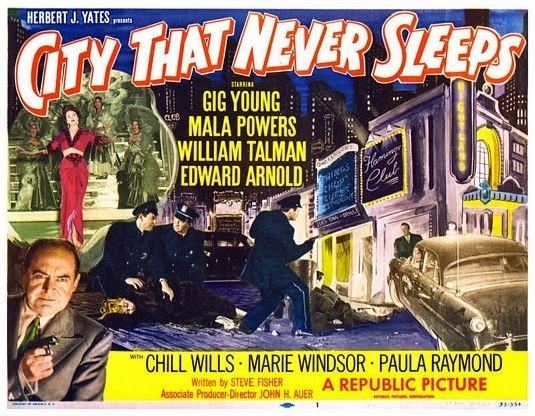 Penrod Biddel (Edward Arnold), a corrupt, powerful attorney, wants Johnny for a job. Johnny is tempted because he needs money to move to California and start a new life. While still on duty, Johnny agrees to "escort" a low-life former magician Hayes Stewart(William Talman), now a criminal, across the border to Indiana, where apparently Hayes will permanently stay out of the way.
Hayes has been attempting to blackmail Penrod, crack his safe and find documents to use against him. It turns out Hayes' accomplice is Penrod's own wife, Lydia. As soon as Hayes hears about Penrod's plan to use the cop Johnny, he confronts Penrod, who is shot. Then he kills Lydia as well, in front of an eyewitness, Gregg.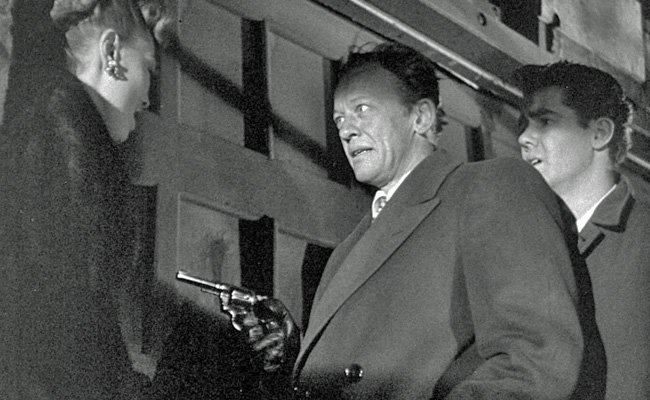 Kathy goes to her father-in-law and says she might quit her job and try to make Johnny happier at home. His mind still playing tricks on him, Johnny goes after Hayes, accompanied by a mysterious sergeant called Joe, who may or may not be a figment of Johnny's imagination. Johnny becomes more disturbed when his father, a 27-year veteran of the force, is killed by Hayes, who mistook father for son.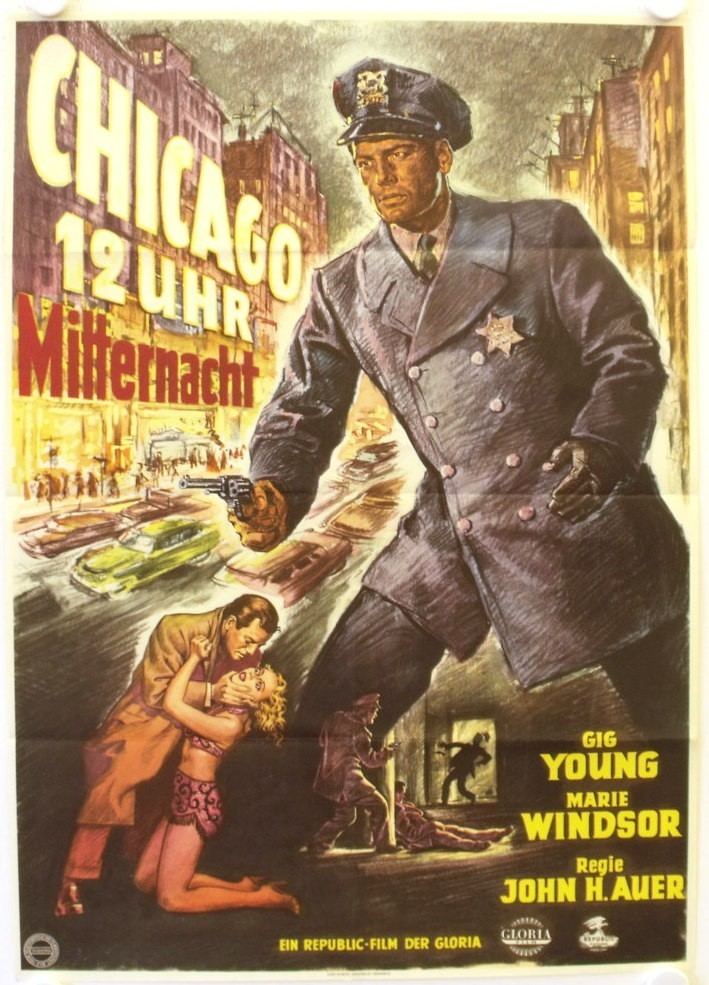 Hayes goes to the club and spots the mechanical man, but can't tell if it's a robot or man pretending to be one. Someone else notices teardrops rolling down the robot's eyes, so Hayes opens fire. Gregg is wounded but not killed and Sally suddenly realizes how much she cares for him. Johnny arrives and chases Hayes to an "el" train, where Hayes is accidentally electrocuted. Johnny decides to stay on the job, with Kathy by his side. Joe just disappears.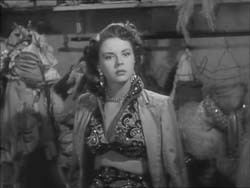 Gig Young as Johnny Kelly
Mala Powers as Sally 'Angel Face' Connors
William Talman as Hayes Stewart
Edward Arnold as Penrod Biddel
Chill Wills as Sgt. Joe, the 'Voice of Chicago'
Marie Windsor as Lydia Biddel
Paula Raymond as Kathy Kelly
Otto Hulett as Sgt. John 'Pop' Kelly Sr.
Wally Cassell as Gregg Warren
Ron Hagerthy as Stubby Kelly
James Andelin as Lt. Parker
Tom Poston as Detective (as Thomas Poston)
Bunny Kacher as Agnes DuBois
Philip L. Boddy as Maitre d'Hotel
Thomas Jones as Fancy Dan
Leonard Diebold as Cab Driver
Film critic Craig Butler wrote, "City That Never Sleeps is an uneven crime drama, one that contains enough good elements that it's frustrating the film as a whole is not better. The chief culprit is, as so often, the screenplay, which starts out promisingly. Gig Young's character seems to be one that is fairly complex, a cop who is dissatisfied with his lot in life and could fall prey to temptation. Unfortunately, the character is not developed sufficiently beyond that, which is also the case with the Wally Cassell "mechanical man" character; he, too, shows promise that goes unfulfilled, although the sheer strangeness of his job does fascinate.
The staff at Variety magazine gave the film a mixed review, and wrote, "Production and direction loses itself occasionally in stretching for mood and nuances, whereas a straightline cops-and-robbers action flavor would have been more appropriate. Same flaw is found in the Steve Fisher screen original...John L. Russell's photography makes okay use of Chicago streets and buildings for the low-key, night-life effect required to back the melodrama.
In his Aug. 8, 1953 New York Times review, critic Howard Thompson called it a "routine crime melodrama," but singled out Wally Cassell's brief role as "truly fantastic" and William Talman as the cast's standout, "a truly fine performer."